Beach Cities Restaurants
Make a free reservation
Popular Neighborhoods
Dine in the most popular neighborhoods
Treat your taste buds: Explore Beach Cities restaurants.
Earn Free Meals Faster with Bonus Points
Beach Cities's most booked Bonus Point Tables
Diners' Choice Winners: Best Overall
Beach Cities's best restaurants based upon thousands of OpenTable diner reviews
New to OpenTable
Beach Cities restaurants that recently joined the OpenTable network
Enjoy fresh American fare, with a wide selection of craft beers and cocktails, while you watch the big game. From salads to steaks, Century Bar & Grill has what you're craving. Complimentary valet when you dine-in.More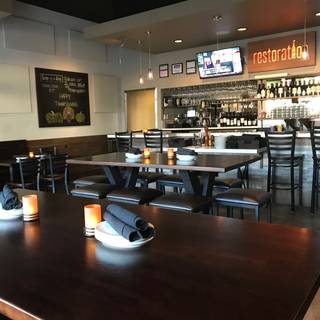 Restoration Kitchen and Wine
Booked 4 times today
Restoration Kitchen & Wine is a small neighborhood restaurant located in Historic Old Torrance that focuses on shareable small plate dishes, local Torrance Beer and Wines from California, Oregon and around the world.

The menu includes favorites like Braised Pork Belly, Mushroom Flat Bread, Roasted Beet Salad, Chicken Leg Confit and Glazed Short Ribs. Home made soup as well as pasta dishes and seasonal specials are also featured.

The owners and staff are always available to share their passion for pairing wine and beer with good food to the community of Torrance and the South Bay.More
Discover Redondo Beach
One of the LA area's many beachside cities, Redondo Beach offers a culturally diverse dining scene where you might enjoy handmade pasta one day and Thai shrimp spring rolls the next. The two main hubs for Redondo Beach are in Riviera Village and the waterfront. Waterfront restaurants focus strongly on seafood offerings like crab and oysters or a fresh catch of the day grilled to order. Craving pie? Whether it's a pizza pie or a sweet pie, you'll find more than one place to enjoy your favorite style. Feel like traveling around the world? Explore Japanese sushi, American burgers, Indian curry, lively Basque flavors or spicy Thai. With all the culinary diversity in Redondo Beach, it's easy to see why world-class chefs have set up shop here.
More Beach Cities Neighborhoods