Treat your taste buds: Explore Mooresville restaurants.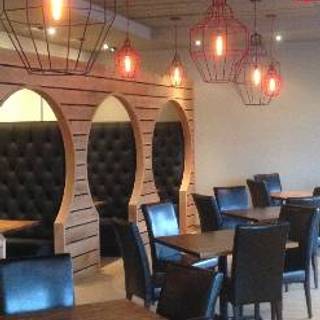 Pisces Sushi Bar & Lounge-Mooresville
Booked 5 times today
Great place for Sushi and Good Drinks. Wide range of craft cocktails. Love the Smoked Apple Bourbon. More

OpenTable Diner -
love the service -we eat here frequently and are treated like family. food excellent as always. More

OpenTable Diner -
Discover Mooresville
While it appears to be quiet and unassuming at first glance, Mooresville is truly a hidden gem of a town that's active, big on NASCAR, and host to many restaurants serving amazing food of all types. Racing fans and casual visitors alike can enjoy fine dining on Italian fare like pollo fagottini and salmone bella vista. If you're in the mood for a simple meal, enjoy a Reuben with home fries or classic shrimp with creamy grits. There are many good ethnic stops and plenty of options for vegans, vegetarians, and those who are gluten free. Don't forget to stop by the town's ice cream parlor for the perfect dessert.
Cities Nearby Mooresville
More Cities Nearby Mooresville
Explore the best restaurants near you