Treat your taste buds: Explore Concord restaurants.
Basilico Italiano
Booked 2 times today
Great family run restaurant with attention to detail. Very good Italian dishes More

OpenTable Diner -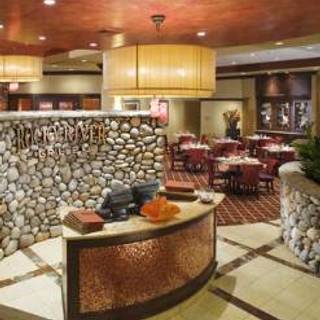 Rocky River Grille
Booked 1 time today
We where in Charlotte staying at the Embassy suites for my daughters 16th birthday. We reserved a table for 15 at the restaurant. When we arrived the staff was great getting us seated quickly. The waiter was excellent, singing to my daughter for her birthday and making everything great for her 16th birthday. The food was delicious and everything was prepared perfect for our guest. I would highly recommend this restaurant for casual dinning for any special event you may be planning. More

OpenTable Diner -
Great experience on their first weeks of business. Style is country French. Do not expect posh; this is about food, and wine, and a tranquil environment. Looking forward to trying the frog legs next time. More

OpenTable Diner -
Discover Concord
As the second-largest city in the Charlotte area, Concord has plenty to offer the intrepid foodie. Dine on Cajun fare, barbecue or even gator bites and blackened tilapia; it's all available in this North Carolina city. Enjoy raw salty oysters or spicy chicken and sausage. If Italian dinners are your thing, you'll be able to savor pizza, salads and vegetarian fare; dive into such classics as eggplant melanzane, a traditional Italian dish that combines vegetarian mozzarella, Parmesan cheese and eggplant. Casual dining in the quaint downtown area serves up high-quality roasted meats as well as unique cupcakes at dessert time. Enjoy views of a racetrack while dining on such favorites as crab legs and prime rib. Mexican, Southwestern fare and more can all be found in Concord.
Neighborhoods Nearby Concord
More Neighborhoods Nearby Concord
Explore the best restaurants near you