Treat your taste buds: Explore Blacksburg restaurants.
622 North
Booked 3 times today
The food was delicious. The oysters selection was excellent. Decent selection of craft beer. The calm chowder was very good. The steam pot seafood was enough for 2. The hostess and waitress were very accommodating and friendly. Parking on street and lot next door. More

OpenTable Diner -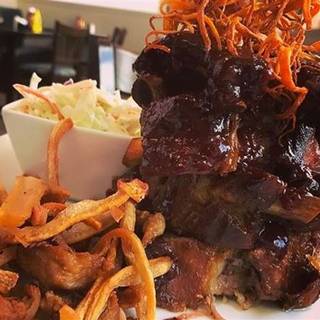 Lefty's Main Street Grille
Booked 4 times today
Great meal with friends before a Tech basketball game. Jessica was a fantastic server! More

OpenTable Diner -
Discover Blacksburg
A cozy and picturesque university town, Blacksburg is the creative heart of the Virginia Tech community and home to a rich selection of culinary delicacies to serve all tastes. Enjoy Southwestern and Mexican dishes, French cafe-style sandwiches, fresh donuts, and delicious Italian pizza. Indulge in a fine wine while enjoying fresh bruschetta and chicken marsala at one of the local upscale Italian eateries. The community is also very accommodating to people with various dietary needs. Vegans and vegetarians, along with those wishing to adhere to a gluten-free diet, will find many delicious options from black bean hamburgers to gluten-free pizzas.
More Neighborhoods Nearby Blacksburg
Explore the best restaurants near you