Although putting out excellent food is the primary focus of any restaurant, an incredible dining experience offers sustenance that goes well beyond the plate. The most successful restaurants transport their diners into a world that exists only in their unique, particular space, and create a feeling that people take with them long after they leave.
A restaurant's location, architectural elements, and small, thoughtful design touches all add to an atmosphere that elevates a meal into a lasting memory. The right environment offers anticipation, excitement, and, ultimately, satisfaction.
From bucket list-worthy fine dining in restored historic buildings to casual new restaurants providing a quietly gorgeous place to enjoy an everyday meal, the following restaurants represent the United States and Canada's most beautiful dining destinations. 
Brennan's (New Orleans, Louisiana)
Old World European elegance meets Creole pageantry at this grand New Orleans restaurant where the menu and decor borrow from historic French and Spanish influences. The pink stuccoed building located in the French Quarter dates back to the Louisiana Purchase and today houses a renovated restaurant where whimsical opulence abounds. In the main dining room, diners sip turtle soup and enjoy lacquered duck in salmon-colored chairs, surrounded by walls covered in green trellis accents, dotted with painted murals inspired by 19th century Proteus parade floats. One wall features floor-to-ceiling glass, which offers a view of the lushly planted outdoor courtyard. From the attention to service — like the bananas foster flambéed tableside — to the meticulous attention to detail, Brennan's offers a feast for all five senses.
For all of the classic, historic restaurants in New York, this stalwart located inside Grand Central Terminal remains one of the city's most iconic. Maybe it's the splendid vaulting technique dreamed up by Rafael Guastavino and his son, Rafael Guastavino Jr., in the early 20th century, or the gleaming, laminated white tiles laid in a herringbone pattern that span the walls and gravity-defying arches. Red-and-white checkered tablecloths dot the tables, and prove a welcome site to native New Yorkers and to the visitors making a pilgrimage to sample some of the 30 varieties of oysters and almost as many fish. Though change is constant in New York City, this James Beard Award-winning restaurant remains a comfort in its reliability.
Lutie's (Austin, Texas)
Contemporary design brings a modern look to country club chic at this exciting new Austin restaurant located on the historic Commodore Perry Estate. Built in 1928, it served as the country home of Commodore Edgar and Nannie Lewette Perry (known to friends as Lutie) for many years. The restaurant nods to its namesake through small touches such as vintage-inspired scalloped dishware and dessert served in ornate silver bowls. In the dining room, globe lights and a sea of green plants hang above green floral banquettes and golden accents, courtesy of legendary San Francisco-based interior designer and creative director Ken Fulk. It's an environment that makes the small plates — featuring seasonal, local ingredients by chefs Bradley Nicholson and Susana Querejazu — truly shine.
The Empress restaurant in San Francisco's Chinatown was a glamorous banquet hall for nearly half a century when it shuttered in 2014. But its recent reopening under chef Ho Chee Boon ushers in a new era — and a space fitting for the award-winning chef's seasonal Asian-inspired prix fixe menu. The sixth-floor restaurant features three distinct dining areas, each grand and offering a spectacular view of the city through large windows. Intricately carved wooden panels help define each space, and in the tea lounge, a wooden pergola reclaimed from the original restaurant serves as the focal point. With so much care and attention to detail, no matter where you sit, there's not a bad seat in the house.
Inspired by chef Brandon Kida's travels, Hinoki & The Bird strikes a tone that encourages diners to relax the moment they walk through the door. Japanese elements are woven throughout the restaurant's design, in reclaimed wood and in the banquettes clad with indigo prints sewn together to form a quilt-like pattern. The patio offers a covered oasis surrounded by greenery, made more festive with small shared plates from the eclectic menu. As with any well-designed environment, even the restrooms include thoughtful elements, such as the mirrored subway tile specially created by the design team at MAI Studio.
Canoe (Atanta, Georgia)
Situated on the banks of the Chattahoochee River, Canoe was built to feel like an extension of the natural environment and an escape from the busy city center of Atlanta. Inside the main dining room, brick walls and wooden ceilings crafted to resemble canoes are accented by artist Ivan Bailey's hand-forged iron vines, which wind their way through the space. Large arches reveal an exposed kitchen, where diners can watch chefs create new American, seasonal, fine dining dishes. Those dining al fresco on the outdoor patio have a close-up view of the surrounding gardens, in addition to passersby paddling down the Chattahoochee.
Rats (Hamilton Township, New Jersey)
A wealthy eccentric sculptor named J. Seward Johnson Jr. once longed for a world-class restaurant on his art-filled, 42-acre oasis known as the Grounds for Sculpture. His inspiration became reality with a restaurant inspired by Claude Monet's house and garden in Giverny called Rats — named for Ratty from the book The Wind in the Willows. The restaurant's interior includes five dining rooms spread over two levels. The floors and beams are made with reclaimed wood, which offers an apt setting for the 18th-century style furniture, rugs, and tableware. In nice weather, many prefer to dine al fresco, where they can sit near the beautiful manmade pond and Monet-like bridges while enjoying country-style French dishes and a glass of wine from the extensive wine list.
La Peg (Philadelphia, Pennsylvania)
When the turn-of-the-century building that houses La Peg was originally built, it served as a high-pressure pumping station, supplying water to Philadelphia's fire hydrants. Today, the FringeArt building's stunning transformation reflects a nod to its past, while also creating a show-stopping environment for a French-inspired meal from chef Peter Woolsey. The industrial-chic dining room is adorned with salvaged items from the original building, including tanks, shelves, doors, and even a map of the pumping system. Thanks to the 45-foot tall ceilings and the large windows that span the walls, every seat offers dramatic views of the nearby Benjamin Franklin Bridge, an excellent backdrop to a toast among friends.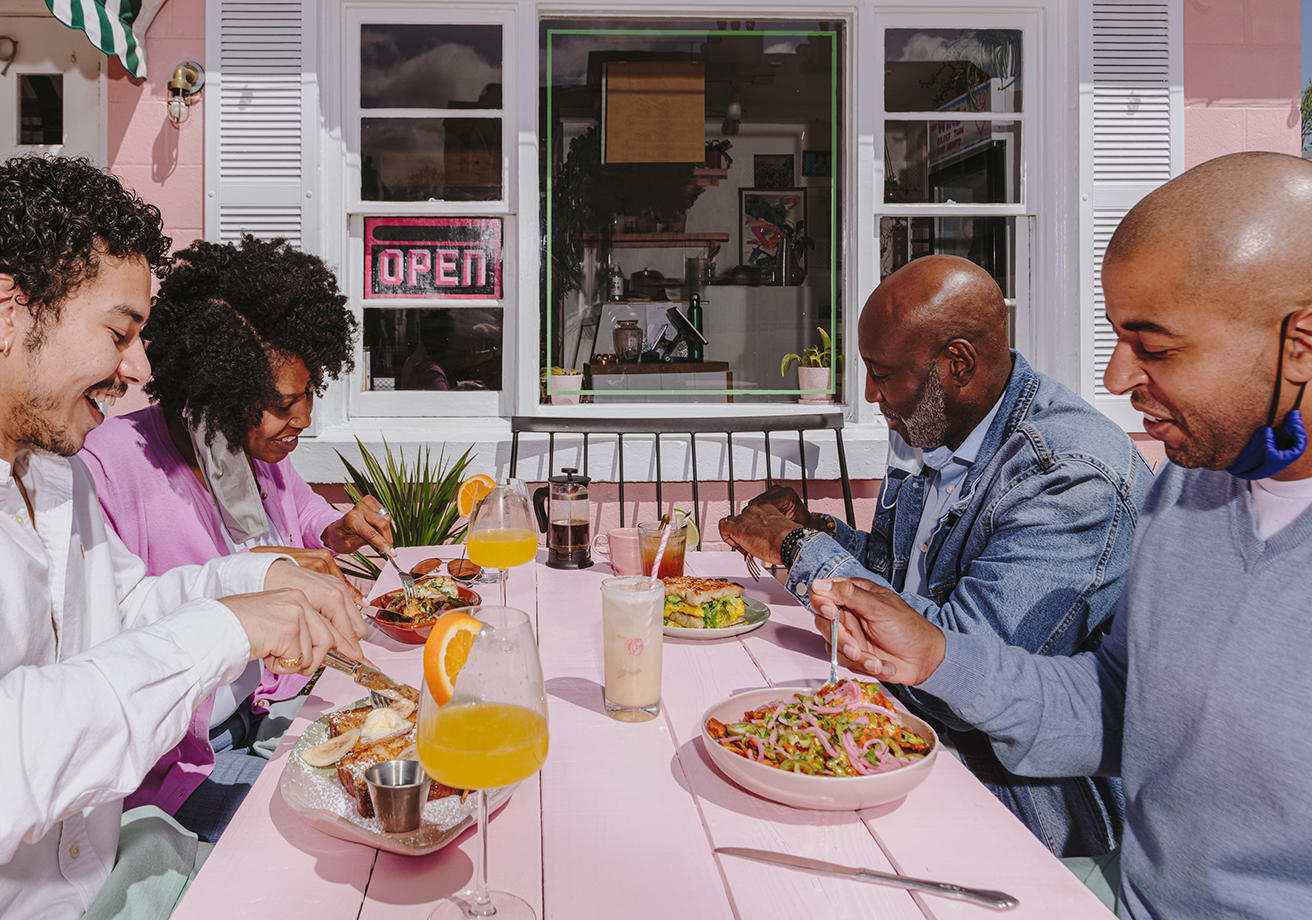 A restaurant doesn't have to be big to be big on style. For proof, one need only head to The Pink Dinghy, a small blush-colored building in Virginia Beach with an outsize personality. Tropical vibes abound in this pink- and green-accented space, where real plants line the walls inside and the perimeter of the outdoor patio. A focus on natural wine, eclectic small plates, and a fun cocktail list fits perfectly with the casual but thoughtful environment executed by chef-owner Stephanie Dietz.
It's hard to improve on paradise, but Mama's Fish House has managed to do just that with its windward location on Maui's North Shore. The family-owned restaurant's design represents its Polynesian influence, with intricate local woodwork, tropical floral arrangements, a breeze through the open windows, and an incredible beach view. Wild-caught island seafood from local fishermen is served atop tapa print tablecloths while traditional Hawaiian and Tahitian music plays in the background. Add in a colorful cocktail, and the experience is truly unforgettable — especially because reservations tend to book up months in advance, so plan accordingly.
What was once a grand heritage mansion owned by Sir George Stephen — a Scottish-Québécois business tycoon — is now the delight of diners who appreciate the beauty and sophistication of Bar George, the onsite restaurant serving English fare. The design for this all-day dining Montreal destination was carefully considered so that the building's history and grandeur could be showcased in a modern way. The result is restored original features, such as the 300-year-old stained glass windows, 15-foot Ceylon satinwood paneled walls, and 22-carat gold fixtures with a smattering of tasteful paintings for full effect. The golden light from electric candelabras creates a romantic atmosphere for sipping strong cocktails and tucking into beef Wellington.
Named for the "three arts" of drama, music, and painting, this cafe inside a century-old building in Chicago's Gold Coast Historic District boasts a stylish dining experience impossible to find anywhere else. Originally created as a collaboration between Gary Friedman, the CEO of RH, and popular restaurateur Brendan Sodikoff (behind Au Cheval), the cafe serves Mediterranean and northern California fare within a true urban oasis. Architects Holabird & Roche devised an atrium setting that showcases the huge open space, which includes an elegant restored fountain and a giant crystal chandelier. RH furniture adds a tasteful, simple refinement to the lively setting, where diners enjoy meals surrounded by olive trees and other greenery.
COTE (Miami, Florida)
When Simon Kim decided to open a Miami outpost of his Korean steakhouse, he turned to his trusted architect partner MN to create a design that would measure up to the MICHELIN-starred, James Beard Award-nominated food of the New York original. The result is a combination of elements wholly unique to COTE's Design District location, like the entry space inspired by the work of artist Olafur Eliasson, which includes ultra-saturated, mono-frequency lighting and subwoofers embedded in the walls. To complete the transition from the outside world to this new environment, custom fabricated screens reflect the traditional Korean practice of utilizing decorative screens to delineate spaces. When people sit in the main dining room, they dine beneath custom pendant lights at MN's custom-designed soapstone tables, where special heating elements allow for diners to watch as food is cooked at the table.
Why dine on the ground when you could float instead? Umami Café, located inside Portland's Japanese Garden, was designed by architect Kengo Kuma with Kyoto's Kiyomizu-dera temple in mind. The result is a compact building wrapped in floor-to-ceiling sliding glass walls on three sides, which allows for magnificent views of the garden and the illusion that the building and its inhabitants are floating over the hillside. The peaceful ambiance is heightened by the restaurant's concentration on excellent service known as omotenashi, or Japanese hospitality, and the café's demonstration of the ancient Japanese art form of chado, the way of tea. The one-of-a-kind environment creates an immersive experience that reflects the calm and beauty of the surrounding garden and the culture that inspired it.
Le Cavalier (Wilmington, Delaware)
A restaurant with good bones can stand the test of time, and nowhere is that more true than at the brasserie Le Cavalier in Hotel Du Pont. After nearly a century of operation, the hotel restaurant underwent a carefully planned renovation that would conserve the building's original splendor but bring in a 21st-century point of view. And so the ornate plaster ceiling, fumed oak paneling, and gilded Spanish chandeliers were lovingly brought back, in addition to what management calls the true pièce de résistance: the original, priceless terrazzo floor. A new marble bar was added to the dining room, which is filled with modernist artwork and lush velvet banquettes, where diners enjoy seasonal French menus from award-winning chef Tyler Akin created with locally sourced ingredients.