Treat your taste buds: Explore Greencastle restaurants.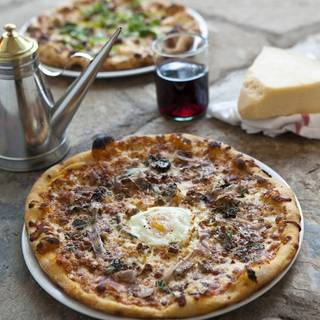 Bridges Wine Bar
Booked 10 times today
We sat at a high top table in an alcove where conversation was easy. Thanks for a wonderful time! More

OpenTable Diner -
Great service, beautiful seasonal decor, good food. Will be back! More

OpenTable Diner -
Discover Greencastle
Greencastle is a town in Indiana with plenty of unique dining options, including vegetarian restaurants. These establishments use fresh vegetables, fruits and grains to create a variety of inventive dishes, such as incredible tofu burgers that taste just like the real deal. Carnivores can also chow down at one of the many steakhouses in the area, including Italian steakhouses that give your two kinds of cuisine in one place. For a true Indiana meal, try to find a place that serves fried potatoes and onions, fried pickles, or Indiana's famed "sink pizza," which includes "everything but the kitchen sink" piled high. There may be something in it for you if you can clean your plate quickly enough, so be sure to give it a try!
More Neighborhoods Nearby Greencastle
Explore the best restaurants near you