The 13th of 15 courses to arrive at the table of fine-dining West Loop newcomer Oriole is "Gianduja." Named for a milk chocolate composed of 30% hazelnuts, it is technically a cheese course that's meant to be picked up and eaten in one or two bites. It vaguely resembles a cheese board—a thin pretzel lavash dolloped with hazelnut chocolate cremeux, Raclette cheese, and black currant sorbet with fragrant nasturtium and dots of lavender gastrique. And in a previous version, it was. But, like everything on the menu at this imaginative restaurant from executive chef/owner Noah Sandoval (of the now-shuttered Senza) and pastry chef-partner Genie Kwon (Boka, Eleven Madison Park), it evolved.
"(The Gianduja) is a pretty big evolution from how we first presented the cheese course, literally, on a wood board," says Kwon. "But we kind of took that philosophy of taking things with really delicious flavors on their own, making them taste as much like themselves as possible, then combining, re-hashing, and improving them. The guest gets all these flavors in one bite that holds together miraculously."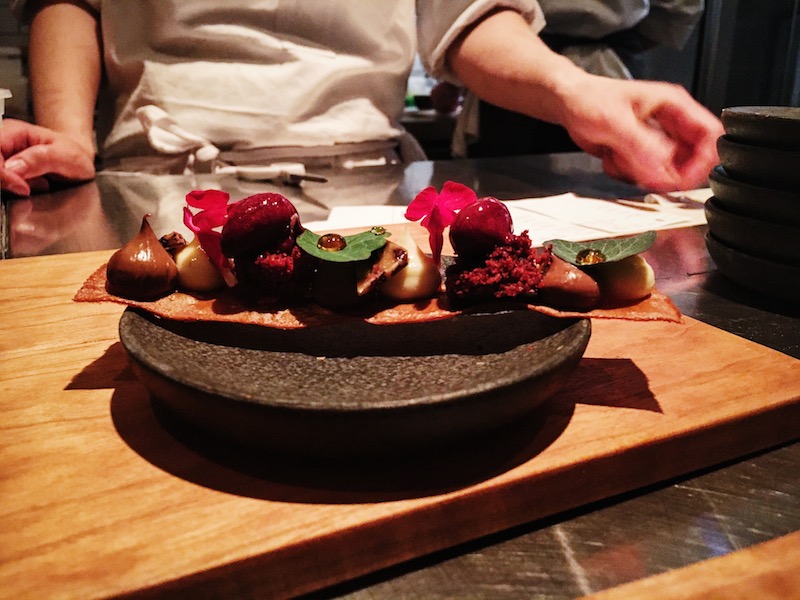 It was a group effort—involving discussions weighing whether to combine the cheese and chocolate courses and how to make the Raclette taste more Raclette-y (salt!), plus plenty of tinkering from sous chef-baker John Gorr (Publican Quality Meats) to create an edible ledge out of flatbread.
But collaboration and constant fine-tuning are the pillars of this intimate, 28-seat restaurant and its $175 tasting menu. For the four friends behind Oriole—Sandoval, Kwon, general manager Cara Sandoval (Sandoval's wife), and sous chef Tim Flores—it represents the realization of Sandoval's longtime dream for a restaurant with "as many courses as it takes" to fulfill and stretch the team creatively, while also simply "making guests happy."
"It's food we're excited about, that we would want to eat," he says.
Like other tasting menus, there are crescendos—like the salty, acidic steelhead trout capped with smoked roe and served with artichoke-marjoram broth. Seasons play a part in what appears on the plate, too, though Sandoval notes, "You'd never see me change the entire menu for spring or fall—that scares me."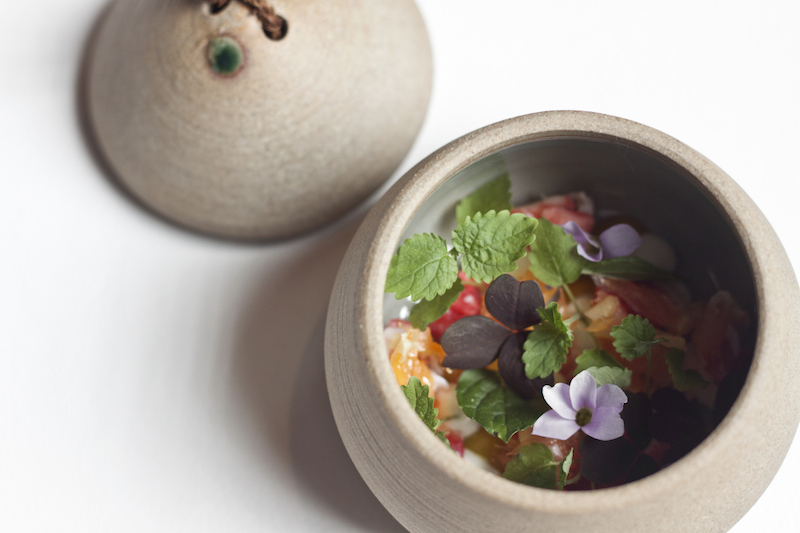 There are also plenty of seeming miscalculations that make total sense in actuality. For instance, the house sourdough arrives smack dab in the middle of the meal — "to bring your palate back down a bit" between a brightly acidic Alaskan king crab course and that smoky, salty trout. Creamy, umami-rich uni is followed by even more decadent foie gras. But for Sandoval, who cut his teeth dazzling diners at Michelin-starred (and undetectable for many) gluten-free Senza, it's as much about how things flow together as what constitutes them individually.
"The main goal of mine every time I look at the menu is to figure out how you are feeling in between each course. Then I think about what would be the perfect thing to give you, say, after super-umami uni that's kind of spicy? The answer is a really floral, bright, semi-sweet foie gras course."
An open forum
The team has thus spent its first three months in existence constantly eliciting reactions not just of the entire staff, who've each sat through the whole 15-course meal at least once since Oriole opened, but also the guests—whether close friends or first timers. Led by the affable GM Cara, the lighthearted, conversationalist approach of the servers creates a sense of ease and comfort.
The framework for this style of dining was laid long before the menu was created, in part through the restaurant design. From the lofty dining room filled with a dozen tables and gray banquette seating along the walls, windows offer views into the open kitchen with its two identical workstations.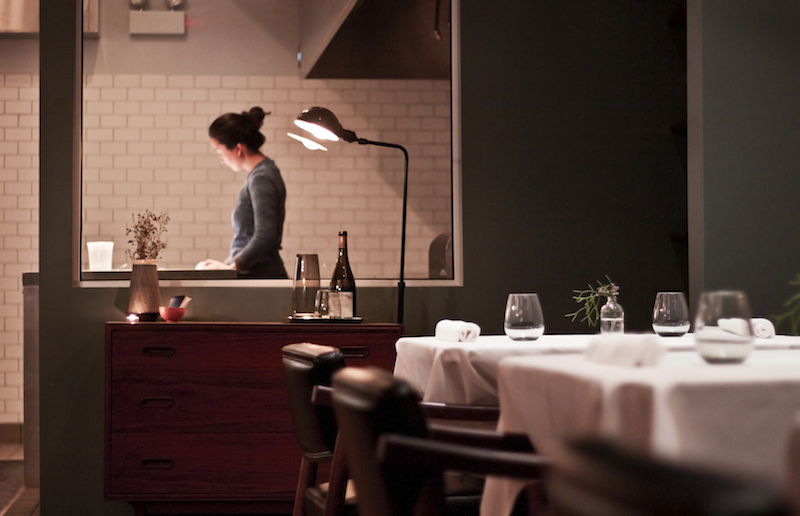 "We designed the restaurant with an open kitchen—something that's obviously trending now," says Kwon. "But for us, one of biggest challenges was really actually taking away the term 'VIP,' because everyone can see everything. We really wanted the kitchen to interact with the dining room, to break down the divide between the front of the house and back of the house."
Prep and dinner service function more like open forums than your typical, hierarchical kitchen brigade. This approach backs up to creating a culture where employees come first, which, in turn, makes for happier guests, as Kwon notes.
Sandoval adds, "I'm not going to tell my sous chef, 'This is a dish that's going on menu today.' Everything is an open discussion. Everybody knew that going in, and there's a lot of mutual respect here. Because everybody is on the same page and everybody works really, really hard, we kind of break down that traditional kitchen hierarchy and can really focus on the team and the people."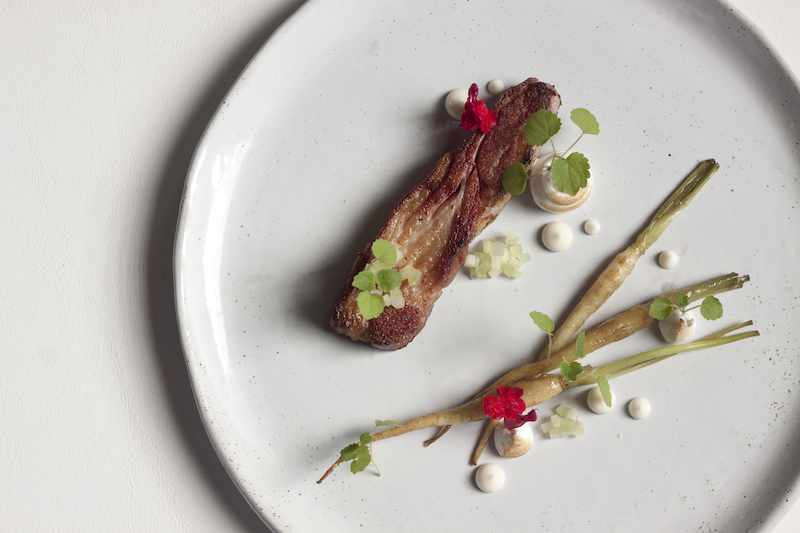 He admits that learning also takes place in traditional fine-dining kitchens at which brilliant, albeit authoritative, figures provide guidance in the form of strict standards for quality and precision. But the trust and cohesion that comes along with an environment where the owners have no qualms stepping up to wash dishes all night when the actual dishwasher gets injured make for a much more positive environment.
"There's this whole other side to the fact that the strength and cohesiveness of the team make for a really positive learning environment. There have been techniques I haven't seen or learned, and the same goes for everybody here in every role," he says.
Kwon chimes in, "Noah and I could be working all the stations and taking up the bulk of the work, but that's not what we're trying to do here. Going along with the truly open kitchen concept, we're trying to be teachers, but we're also trying to learn. That's why we surrounded ourselves with the best people in the business we know. It's a mutual give and take."
Maggie Hennessy is a Chicago-based food and drink writer who also likes food and drinking. Follow her latest musings and meals on Twitter, Instagram, and at www.maggiehennessy.com.
All photos courtesy of Oriole sous chef Timothy Flores.