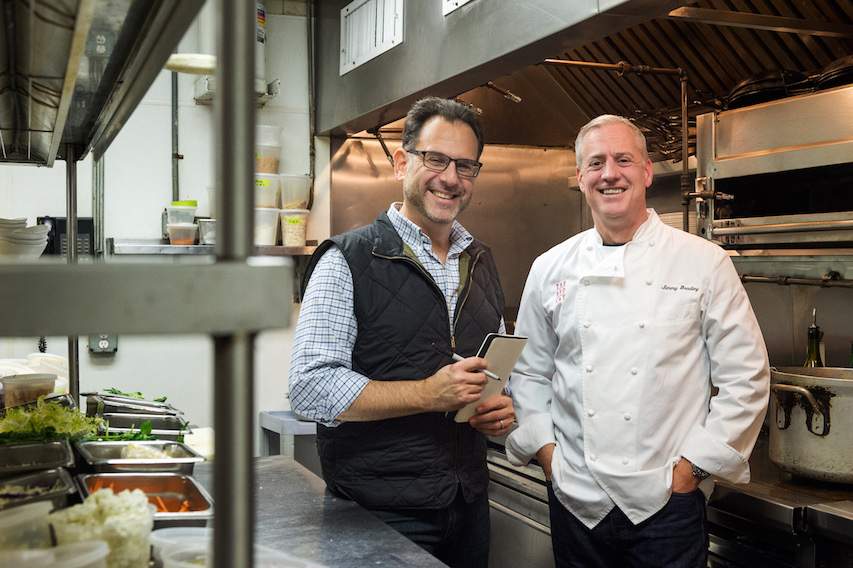 The Front Burner, Heritage Radio's new inside-the-restaurant-industry podcast, is broadcast live on Thursdays at 11 a.m. from a tricked-out shipping container annexed to Roberta's in Bushwick—a '70s lair decked out with vintage lounge chairs covered in crocheted afghans that feels like a set from Portlandia.
Hosted by writer Andrew Friedman and Red Cat chef and owner Jimmy Bradley, the show bills itself as a "weekly menu of industry commentary based on what the market has to offer," and in its short lifespan has become forum for discussing issues that matter to folks in the business: from mental health and addiction, to the review process, and the intellectual property of a chef's signature recipes. Andrea Strong appeared on the show to chat with the hosts about their starts in the business, what brought them together, their vision for the show, and the future of food. (Note: This piece is an edited version of her on-air and off-air interviews.)
Andrea Strong: I've known you guys a long time, ten years, maybe more, but I don't know a lot about how each of you started out. Andrew, I am going to start with you. You went to Columbia, where you were an English major, and then got into producing film and TV. How did all of that land you writing cookbooks with Alfred Portale and Laurent Tourondel?
Andrew Friedman: I was an assistant to a film producer trying to be a screenwriter and it's a familiar story—I got excruciatingly close to something happening and nothing happening. Eventually, I got out of the film business, and I didn't know what else to do for a living, and so I got a job with a PR firm, and one of my clients was Alfred Portale of Gotham Bar & Grill. So if he had a speech to give or letter to write or article they needed ghosted, I did that. When he asked me to do the Gotham Bar & Grill Cookbook with him I thought it would be just a one-time thing.
And that book started it all.
Andrew: You know, I never wanted to be a food writer, but I saw an opportunity through the success of that book to parlay it into something. I left my job and started looking for projects, and that was 20-something collaborations ago. I did my own nonfiction book in 2009 called Knives at Dawn about the Bocuse d'Or cooking competitions, and I'm doing my second nonfiction book, which is a history of American chefs in the '70s and '80s that will be published by Ecco next year.
Jimmy, you have had the Red Cat for almost 20 years and you've mentored some of the most beloved chefs in our industry—Aaron Sanchez, Mikey Price, Joey Campanaro, and Amanda Frietag. I read that you were awarded a scholarship to the CIA and you turned it down to drive around the country and cook and get your culinary education that way. Is that true?
Jimmy: That is mostly correct. When I was in my early 20s, I worked at an Italian restaurant in Philadelphia next to Le Bec Fin. It is no longer there now, but it was among the top five restaurants in Philly. We did charity dinner one night with Le Bec Fin, and I was the only cook in both kitchens who had never gone to culinary school. So I thought, maybe I can get one of these scholarships to CIA, and my boss and Georges Perrier [chef of Le Bec Fin] said, yeah, go for it.
So I did all the work and applied, and I got accepted, and I got the scholarship. But CIA wanted me to pay for the first semester, and I didn't have the money. I thought that was pretty unfair; I said you have 20 grand in the bank for me, but they would not take me unless I gave them the first semester's tuition. So I talked to my boss and asked for help, or an advance or something, and he said, I can't help you with that. I was devastated about the school thing and I didn't feel supported by anybody, so I quit and moved to Vail, Colorado, and within three years I was a leader of a kitchen. It was a great experience in the end, but it was one of my worst experiences. I was totally heartbroken.
What brought you to New York from Colorado?
I was approached by some customers who asked me to be the chef of their hotel's new restaurant in Colorado. I said yes, and I moved out there to this hotel, was living there waiting for the restaurant to open and one day they said, 'Actually this project is never gonna happen. You're fired.' I was like, I just moved my whole life out here. They gave me some walk-away money, but I didn't have anywhere to live. I was in a hotel room that I was kicked out of.
I called a friend and she told me that there was a furnished sublet in New York City that she could get me for three months, so I jumped on it. I arrived on a Monday in January in 1994, and within two weeks I was offered an executive chef position. Then the woman upstairs from this sublet passed away and the landlord offered me an apartment. I was like, holy hell. This is a tough town. People are talking to me and I don't know what they are saying, and here I have a job and an apartment and I didn't go looking for either one. This has gotta mean something.
After you arrived in 1994, you then worked with Jonathan Waxman opening the Bryant Park Grill, then in 1999 opened The Red Cat. Given that it has been around so long I wanted to ask you how you make a restaurant so popular for so long? There is a lot going on culinarily in New York City, and yet people are still eating at The Red Cat. What is the formula for that kind of continued success?
Jimmy: There is no formula. It's that the aim was true. It's all I ever wanted: a non-affected, non-precious place that under-promises and over-delivers. I wanted my own business, I wanted it to last forever, and I didn't want to have to go ten years and reconceptualize it. I wanted it to be the way it was from the moment it was born. It turns out that it was an idea that people were ready for in New York at the time.
And they are still loving that idea now.
Jimmy: Yes, they still are. Restaurants are about how you are made to feel, it's not just about the food. It's an all-encompassing package, which is the definition of hospitality. There is no reason waiters should be surly, there's no reason why waiters should tell you how to eat. They can make suggestions, but as a guest you should get what you want and be made to feel comfortable.
When I opened, everybody wanted to talk about comfort food, and I was like, I think you are missing it. Comfort food is meatloaf and mashed potatoes. People want comfort food, they go to an Irish diner. This isn't comfort food, but people feel comfortable eating here. Whatever you want to call it, as long as we are in business forever, that's fine.
As a chef who has been around for some time, what do you see as being a constant in the industry and what is changing?
Jimmy: Some things don't really change over time. It's a team sport; we all succeed or fail together, same as it ever was. And one secret to pleasing your guests is consistency, preparing the same dish, mixing the same cocktail, routine repetitive tasks done with pride and love. It's not always what's new that gives the best dining experience.
So, how did you and Andrew meet?
Andrew: I lived right on the block of the Red Cat, and my now wife and I were just dating at the time and went in a lot for Sunday dinners. We got friendly with Jimmy and his former business partner Danny Abrams, and that's how it started. We met in 1999, we wrote the book in 2004, and it came out in 2006.
Jimmy: I totally dig Andrew and his wife, and I knew if I had an opportunity to do a cookbook it would be with him.
Andrew: I remember testing recipes every Wednesday night with Jimmy and he said, I got this young kid, my sous chef at The Harrison, and I think I'm going to bring him in to test recipes with us, and that was a young, unknown Harold Dieterle. We would test recipes and then I would go home with an ice cream sundae in a parfait glass. I remember walking by the Half King Bar on 23rd Street with my ice cream sundae and people looking at me like I was a lunatic.
You've known each other a long time. How did the idea for this show come about?
Andrew: We had both separately guested on a couple of Heritage shows and Erin Fairbanks [Executive Director, Heritage Radio Network] and Jack Inslee [Executive Producer, Heritage Radio Network] said, you guys are good on the air and you should pitch us a show. We actually had an idea for a show called "Shift Drink" where we would go out in the field and drink with chefs and chat about what was going on.
That sounds like a good show.
Andrew: Yes, but it was a technological burden, and we knew we weren't going to be able to do it. Then this show organically came up. I don't know how it evolved.
Jimmy: We had many conversations over the years that we wanted to do something again together. I love collaborating with Andrew, and who knows what's next, a bromance?
What was your vision for The Front Burner?
Andrew: Our big-picture vision for the show was to be a "Meet the Press" for chefs. We wanted to be a weekly place to discuss news pertaining to the pro kitchen—and that's a very specific focus. We are not a restaurant show. We are not a food show. We are not a cooking show. We're not a hospitality show. We're a chef show.
It's changed a bit in that not every week presents a "big story" to be dissected, and we can't always book a guest connected to the news on short notice.  So we've opened ourselves up to other directions, such as "shop talk" episodes where we go to town on some aspect of the chef life or work or a recent episode on which we discussed a few new chef documentaries.  We're still playing with the format and the right mix of elements.
What have you learned so far in the ten episodes you've done?
Andrew: It's that we need to be flexible and willing to try new things and to find the balance between planning a thoughtful show and letting each episode take its own natural course in real time.
The show it has been getting a lot of buzz in the industry, and I think having the perspective of a writer and a chef who've been around for a while fills a real gap in the conversation about the industry. You have created a kind of a culinary living room. I love it.
Andrew: Thanks. You know, as someone who started out very much as an outsider, now I feel as much a part of the cooking trade as one can be without actually doing it. I take for granted now the stuff I am privy to see and hear about the industry. We just thought a place where people could talk like Jimmy and I and other folks in the industry might talk if we were out for a drink might be something people would be interested in listening to.
The other thing for us is that so much of what is communicated is communicated in very small bites—no pun intended. It's very common to hear chefs giving 90 minutes or an hour to a journalist and then a piece gets written that is really small. So for people who have news that is breaking and want a place to come in and have a conversation about it beyond that sentence from them in their press release, this is it.
It's not going to be edited down.
Andrew: Right, it's not going to be edited down or taken out of context. We thought a chef and a writer together would give chefs a trusted space to come in and talk.
Since we touched a little on food writing and how it is all edited down, tell me what you think about how the food journalism business has evolved.
Andrew: Food journalism has obviously changed a lot from when I first got into it about 20 years ago. I think it's a much more open field and easier to break into one way or another, which cuts both ways: it's less of a club than it once was with more opportunities for worthy scribes to find an audience, but there's also a lot of unserious, sloppy stuff out there. Readers have to filter out a lot to find what's really worthy, with smart and dumb often co-existing on a single website or in a single magazine.
As far as how the current climate affects restaurants, the short attention span created by the constantly churning hype machine creates all kinds of problems for them; many are increasingly finding it tough to last beyond their first two or three years because diners are constantly on to the next thing; we actually had a terrific round table discussion about this on this on our first episode, titled "Staying Alive."
Jimmy, as a chef, any particular trends that drive you crazy? 
Jimmy: Perhaps a disturbing trend these days could be the lack of thoughtfulness or loyalty when making reservations. Guests who make reservations and do not honor them or try to contact you to cancel is an example and hurtful to a small business or one who could not fill those empty seats with walk-in guests.
Where do you find your inspiration?
Jimmy: Inspiration usually comes from travel and reading, when I'm letting my mind wander. Absorbing how others approach their craft, what ingredients they are working with and flavors they can coax out of those ingredients. I like to travel once or twice a year with chef friends or my partners in 4J Foods (a chef-created line of sauces and coffees coming to a store near you—from Jonathan Waxman, Joey Campanaro, Jason Giagrande). I always return fired up, inspired and ready to play with food and work out some new ideas.