In the cold winter months, nothing satisfies like a hot bowl of soup. This country is home to some famous and a few perhaps less well known (but still delectable) regional and adapted ethnic soups — from New England Clam Chowder and New Orleans Gumbo to South Asian Laksa, Pennsylvania Mushroom, and Wisconsin Beer Cheese Soup. Here are 10 of our favorite classic soups and where to get yourself a bowl.
Cioppino, Cioppino's, San Francisco, California
The name says it all. This beloved Fisherman's Wharf restaurant has been churning out bowls of this uniquely San Franciscan spicy fish stew since 1997. Their namesake soup brims with mussels, Dungeness crab, shrimp, snapper, clams, calamari, and tomatoes swimming in fennel- and wine-scented broth. Thick hunks of sourdough toast served alongside are perfect for sopping every last bit of that spicy, rust-colored broth. Make a reservation at Cioppino's.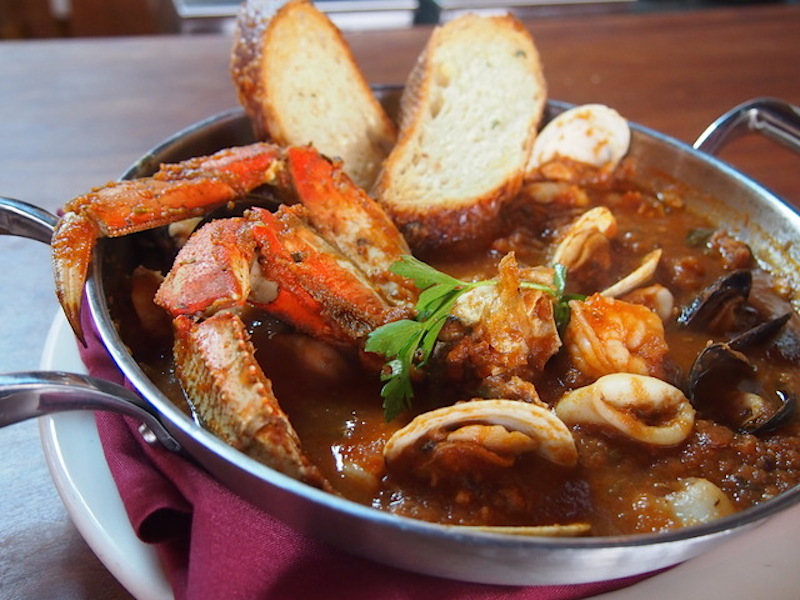 Mushroom Soup, Parc, Philadelphia, Pennsylvania
Half of America's mushrooms are grown in the tiny Chester County borough of Kennett Square, about 40 miles southwest of Philadelphia. So if you find yourself in the City of Brotherly Love, you'd be remiss to pass up on mushroom soup. At Rittenhouse Square French brasserie Parc, the velvety mushroom soup combines cremini mushrooms, shallots, garlic, thyme, tarragon, and bay leaf with mushroom and chicken stock and a touch of cream. The soup is pureed and then garnished with a mix of roasted exotic mushrooms (beech, piopini, maitake, and more creminis) for texture, minced chives, and a drizzle of olive oil. Make a reservation at Parc.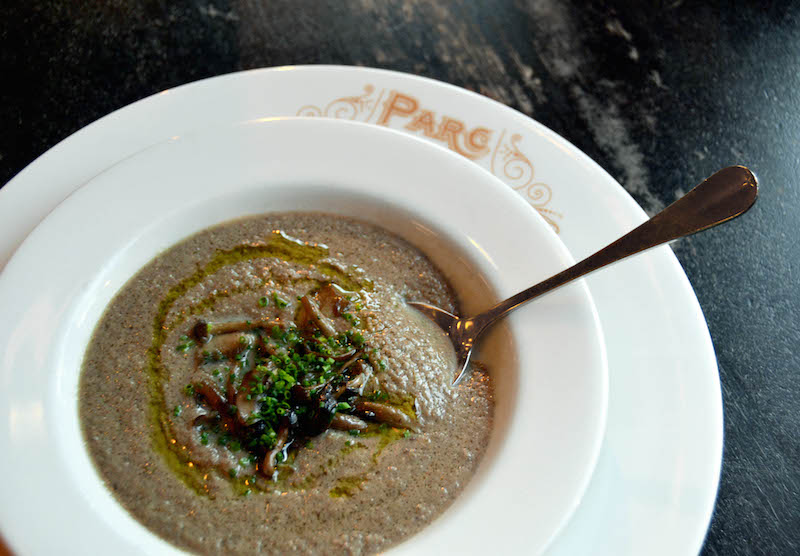 Laksa, Cassia, Santa Monica, California
This popular soup slurped on the streets Malaysia, Indonesia, and Singapore has numerous adaptations, though its common elements are chili-infused coconut milk broth and a generous portion of noodles. At Asian-influenced L.A. brasserie Cassia, Bryant Ng's seafood laksa combines shrimp, mussels, rice noodles, herbs, and a hardboiled egg in a thick, fiery coconut curry broth with the subtle funk of shrimp paste. Make a reservation at Cassia.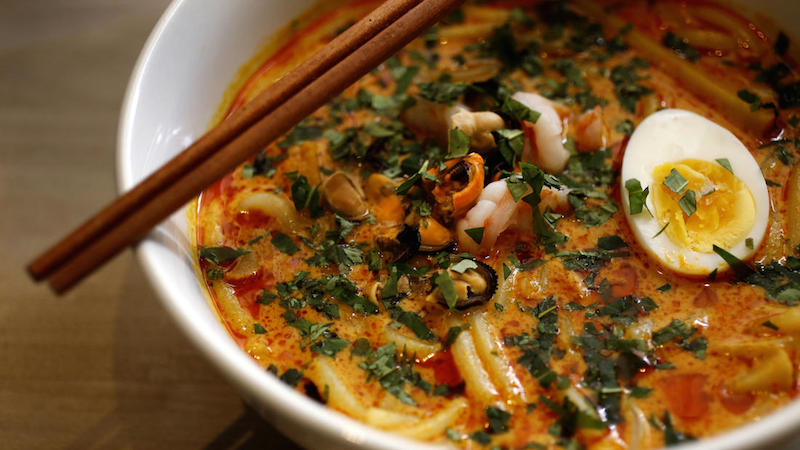 French Onion Soup, Bistro Campagne, Chicago, Illinois
There's no shortage of terrific French bistros around the country — nearly all of them offering some variation on this beefy soup teeming with caramelized onions and topped with bubbling Gruyere croutons. At this little spot in Chicago's residential Lincoln Square neighborhood, the soup a l'oignon gratinée is simple yet beautifully executed, with a tangle of sweet, caramelized onions bobbing in savory, beefy broth capped with a dense layer of nutty, blistered Gruyere —enough cheese to have some in every bite. Make a reservation at Bistro Campagne.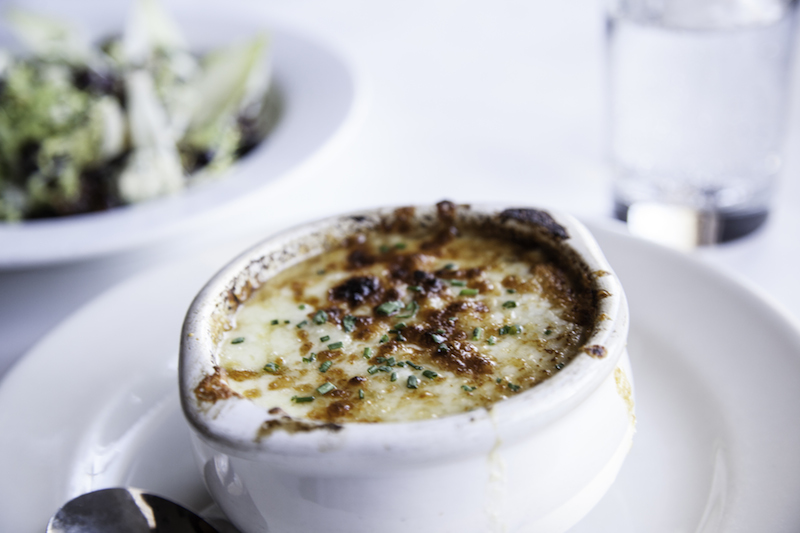 Ramen, Bar Chuko Izakaya, Brooklyn, New York
There's a reason Americans have fallen hard for this Japanese soup made from thick, savory broth and slurpable noodles. As one of the first U.S. cities to embrace ramen, New York has no shortage of great options, but this Prospect Heights spot from three Morimoto alums is surely a top contender. Their delectable kimchi ramen packs ground pork, toothsome hand-pulled noodles, seaweed, egg, and thin scallion ribbons. But the vegetarian — with seasonal veggies, kimchi, spiced tofu cubes, and noodles bobbing in miso-soy broth — is a sleeper hit. Make a reservation at Bar Chuko Izakaya.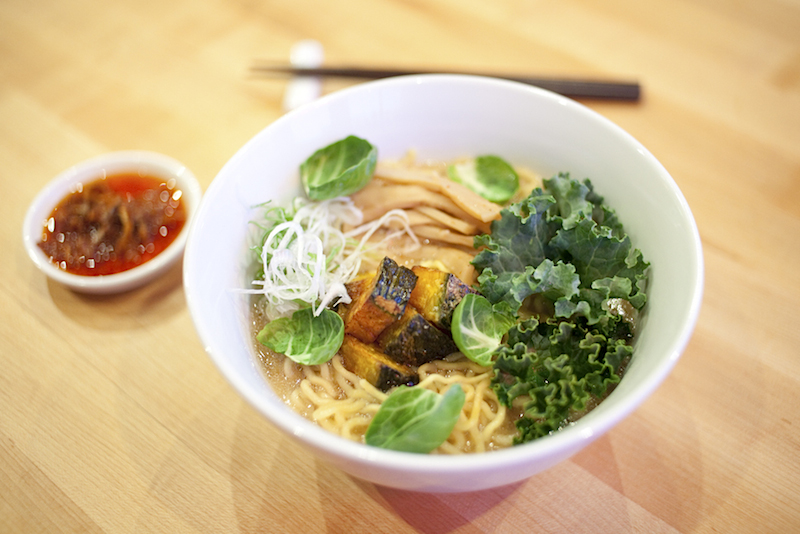 Beer Cheese Soup, Rumpus Room, Milwaukee, Wisconsin
As the nation's top cheese-producing state that also ranks in the top 10 for craft breweries, Wisconsin takes its cheese and beer very seriously, so it's no surprise there's a soup that embodies the best of both. The Rumpus Room's version blends creamy, tangy Carr Valley cheddar and bright, mildly tart Weiss beer, topped with airy morsels of house-spiced popcorn for a rich, comforting bowl to warm you through after braving the bitter Lake Michigan winds outside. If you're really starved for comfort, throw on an optional brown sugar bacon topper. Make a reservation at Rumpus Room.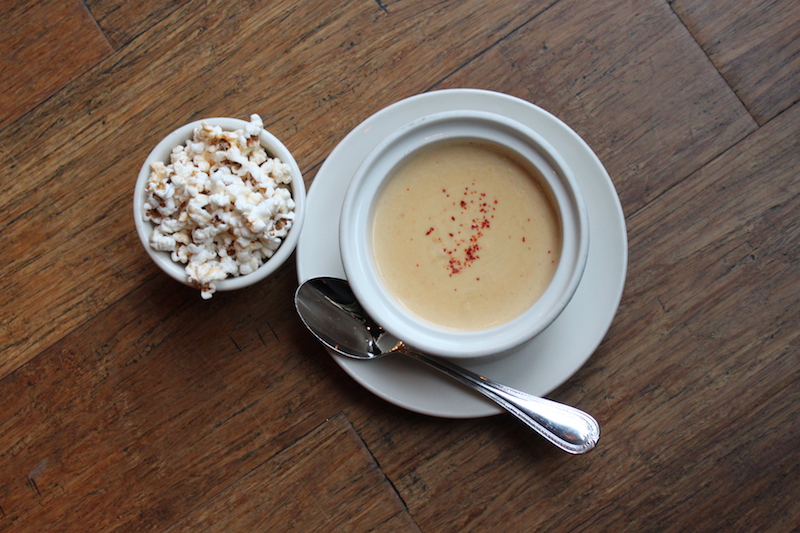 Seafood Gumbo, Galatoire's, New Orleans, Louisiana
Few dishes embody the rich culinary tradition of New Orleans quite like the French-Creole classic gumbo. And few places make you feel like you could only be in NOLA like this 100-year-old, jacket-required spot in the French Quarter. Like all true gumbos, Galatoire's starts with a roux, made by constantly whisking oil and flour in a heavy cast iron pan until it's a deep brown. The roux helps thicken the crab stock-based soup, which teems with crabmeat, shrimp, onion, celery, tomatoes, okra, and a hefty sprinkling of cayenne. It's topped off with a generous spoonful of white rice for a hearty, spicy meal that will have you sweating long before you step out into the Louisiana heat. Make a reservation at Galatoire's.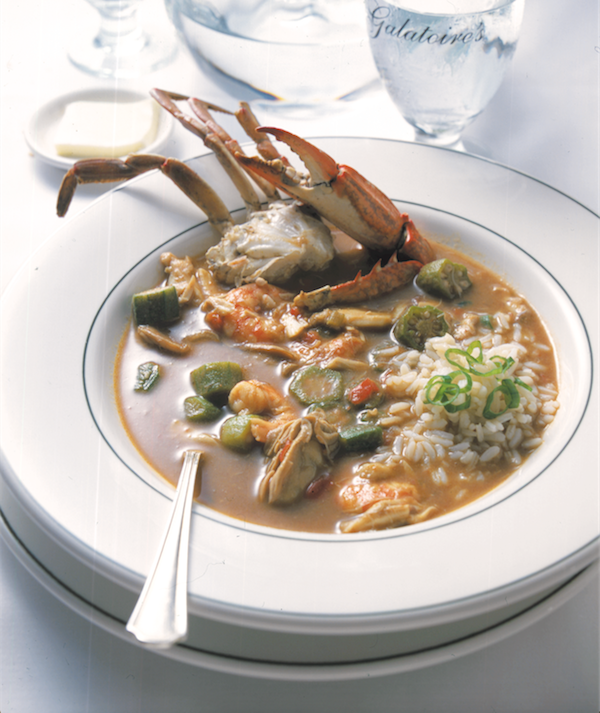 Tortellini en Brodo, Osteria Morini, New York, New York
You may think of minestrone or pasta e fagioli first when Italian soup comes to mind, but the quiet-yet-essential tortellini en brodo is a staple on many an Italian table at the start of a big meal. Osteria Morini's simple, elegant version comprises golden broth made from Parmesan rinds teeming with pillowy pasta rings stuffed with pork loin, prosciutto, and mortadella. The end result is a light yet richly flavored starter for your Emilia-Romagna-inspired feast. Make a reservation at Osteria Morini.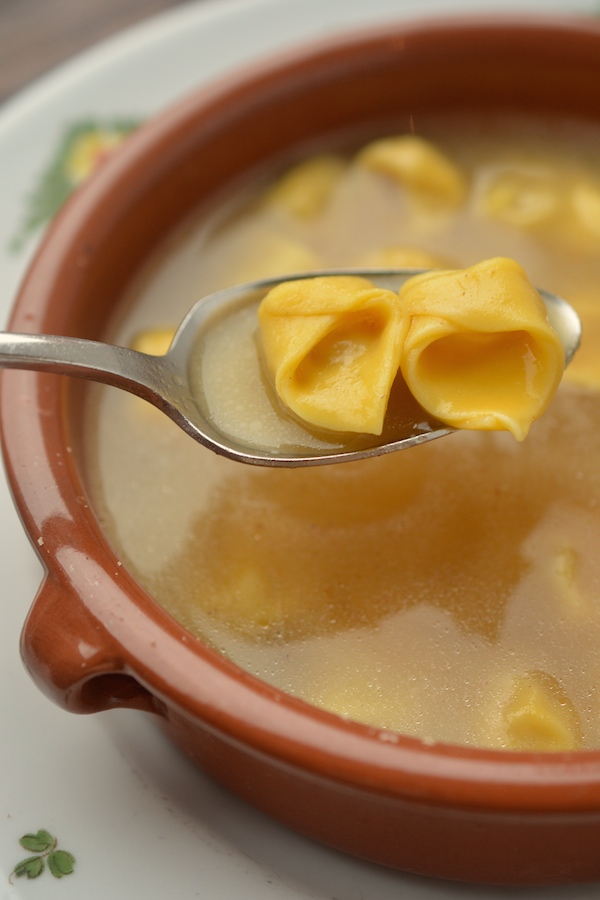 She-Crab Soup, Hank's Seafood Restaurant, Charleston, South Carolina
This silky, elegant Low Country bisque of cream, crabmeat, roe (hence the "she" crab name), and a splash of sherry traces its roots back to the early 1900s in Charleston when Mayor R. Goodwin Rhett was entertaining U.S. President William Henry Taft. In award-winning seafood spot Hank's velvety rendition, crab stock is simmered with garlic, celery, onion, butter, white wine, dry sherry, cream, and a hint of Tabasco before crab roe goes in and it's pureed to its signature pale pinkish-orange hue and then garnished with fresh crab meat. Make a reservation at Hank's Seafood Restaurant.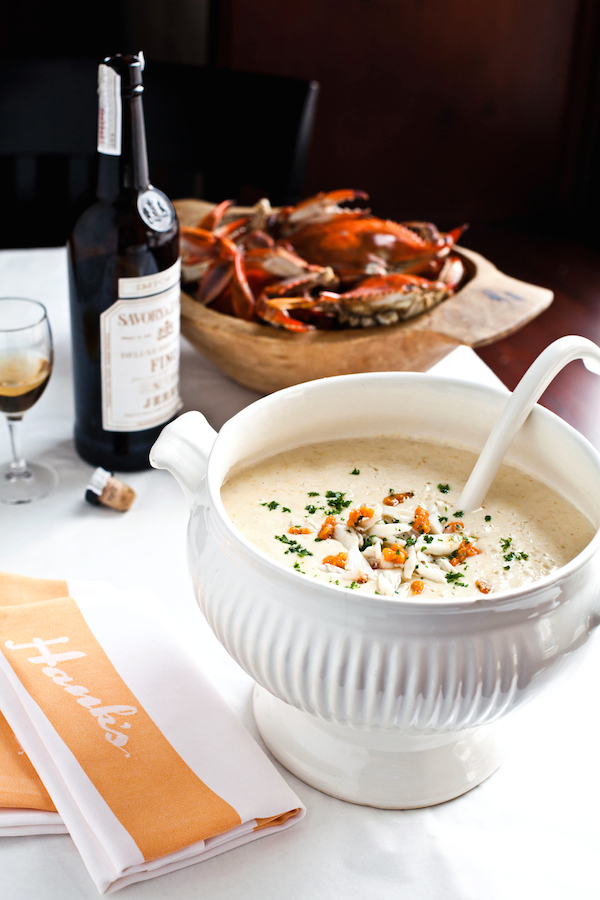 Clam Chowder, Union Oyster House, Boston, Massachusetts
Like Chicago-style hot dogs or Southern fried chicken, New England clam chowder stokes serious passion among its followers. Where better to have the veritable marquee dish of Boston than at its oldest restaurant and a national historic landmark? Union Oyster House's classic rendition (tomato-free, Manhattanites!) comprises diced fresh clams, salt pork, potato cubes, onion, and celery in a rich clam stock thickened with flour and half and half. Garnished with crisp oyster crackers and hunks of buttered bread, it's a meal in and of itself. Make a reservation at Union Oyster House.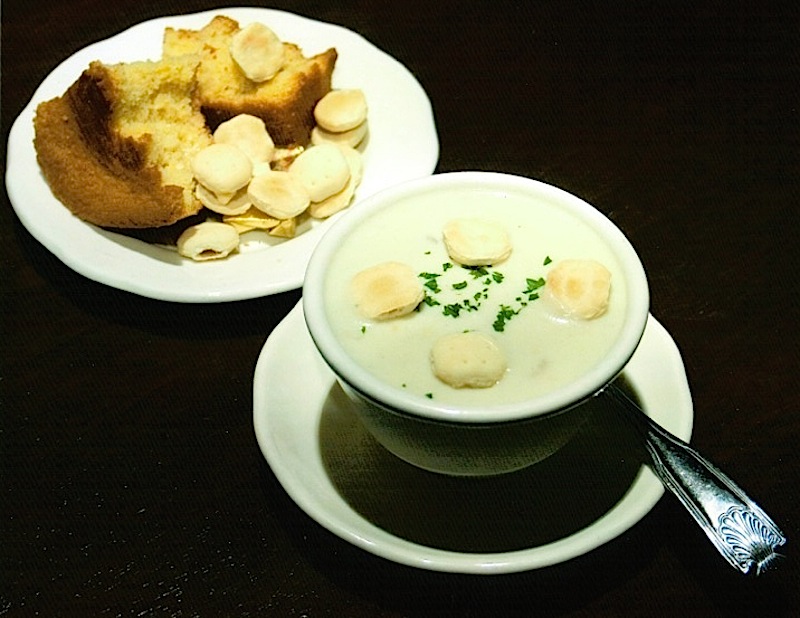 Which of these classic soups do you crave during the cold months? Share your favorites here or Facebook, G+, Instagram, Pinterest, or Twitter.
Maggie Hennessy is a freelance food + drink writer and chef based in Chicago. Follow her on Twitter @edible_words and read her other published works at maggiehennessy.com.
Photo credits: Louis Sahuc (Galatoire's); Dan Paz (Bistro Campagne).