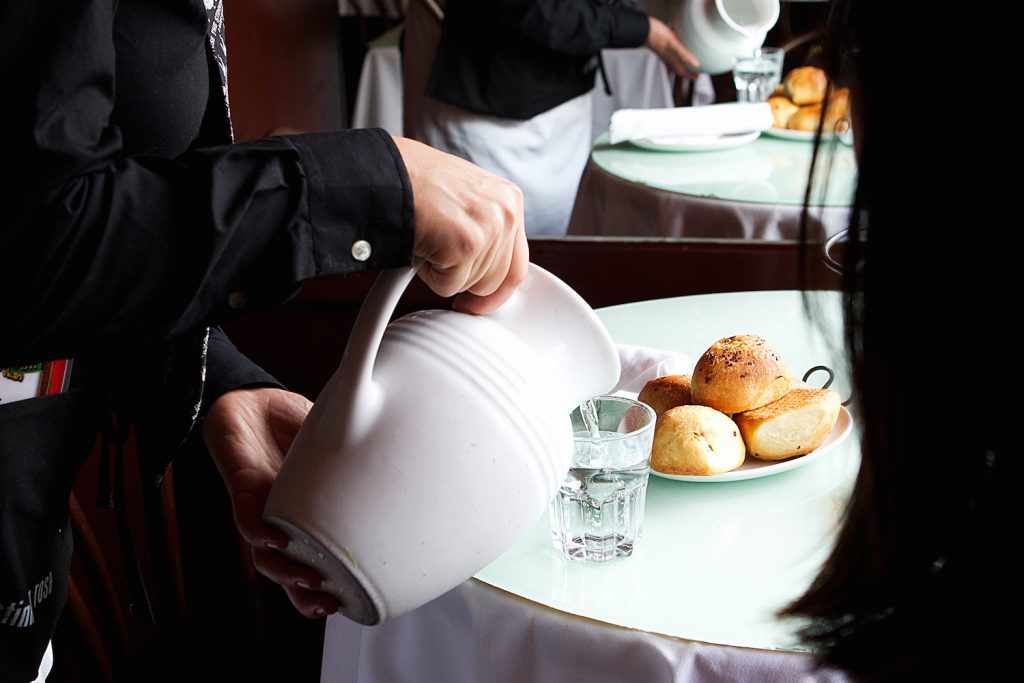 Once upon a time, when you got water at a restaurant it was tap water. But as demand for bottled water has increased in recent years, it's become one of the most profitable items a restaurant can sell. It's certainly not the only alternative to tap water a restaurant should consider. In fact, some environmentally conscious diners prefer filtered water due to concerns about bottles being shipped around the world. With more and more bottled water being certified as carbon neutral, restaurants need to answer several questions. First of all, they need to choose between bottled and filtered water. And they also need to decide whether and how much to charge for water.
When restaurants decide to go with filtered water, they need to choose a water filtration system, which can be purchased outright or rented on a monthly basis. Typically, filtration costs a few hundred dollars every six months for filter changes and maintenance. The CO2 needed for sparkling water runs upward of $60 a week. Reusable glass bottles are also needed to serve filtered water to tables.
Even with the best filtration system, some guests will still prefer bottle options like San Pellegrino or Acqua Panna, so it's good to have those on hand as well. Restaurants don't usually charge for filtered water even though it's a step up from tap water. Some will include a service charge, however, which can help support the extra cost.
According to Elizabeth Meltz, a restaurant sustainability expert and co-founder of Women in Hospitality United, many restaurants make the shift away from bottled water to reduce their carbon footprint. Bottles, after all, some are made from plastic and even those made from glass are heavy and shipped across the ocean. She also points out that not having a ton of glass bottles to store is another huge plus, and not having to recycle all those bottles is also incredible for both the bottom line and the environment.
San Francisco's Waterbar and Epic Steak restaurants are two restaurants serving filtered water instead of bottled. Managing Partner Pete Sittnick cites sustainability issues as one reason, adding that doing so eliminates the hassle of storing bottled water. At his restaurants, the costs are considered overhead and are not passed on to the guests.
While some restaurateurs choose not to charge for filtered water, still or sparkling, others do. Vero Water, a leading brand in water systems for hospitality, is one filtration company that's created a premium brand that can justify the cost. According to Vero co-founder David Deshe, the brand offers more profitability over high-margin bottled waters with a minimal per-customer charge for unlimited refills. The price charged per guest varies and is recommended by Vero Water based on the style of the restaurant.
According to Deshe, "The reasonable cost and continuous refills offer a value for guests and an opportunity to 'trade up' tap water consumers." At a price as low as $1 Deshe says the customer opt-in is as much as 99%, while it can drop to as low as 30% for a charge of $8.
Considered one of the top experts in bottled water, Martin Riese is a hospitality veteran and water sommelier. He's developed water menus for restaurants that include up to 20 different glacial, spring, and mineral waters from 10 different countries. When restaurants choose to serve bottled waters, Riese gives them the full wine treatment. A bottle of water gets ample space on the menu, where guests will see a photo of each bottle, a background story about the water, and sourcing details. Riese recommends showing the mineral composition divided by TDS (total dissolved solids), for magnesium, calcium, and sodium, as well as a descriptive taste profile for every water—fruity to salty and smooth to complex.
The key to a successful water menu is the staff's ability to recommend a specific type of water to a guest based on a conversation. Without the proper training, he says, a water menu would be useless. He provides training in water tastings to give hospitality professionals a deep understanding of how water can be paired like wine and how it impacts other beverages and food.
Like so many other issues in the restaurant industry, there's no one-size-fits-all solution to water service: it's a delicate balance between sustainability, profitability, and hospitality.