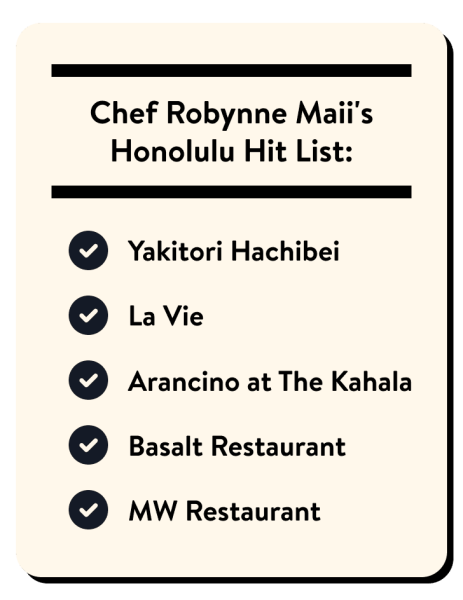 When it comes to selecting restaurants, no one has a more discerning palate than a chef. In Honolulu, Hawaii, chef Robynne Maii ranks among the best. Maii, who is the chef and owner of Fête, a farm-to-table New American restaurant nestled in the city's bustling Chinatown, won the 2022 James Beard Award for Best Chef, Northwest and Pacific, making her the first Native Hawaiian woman to receive an honor from the James Beard Foundation.
Though Maii's culinary resume includes a stint in New York City, where she worked at Gourmet Magazine, the Waldorf Astoria hotel, and earned a master's degree in food studies from New York University, she remains firmly linked to her palm-fringed hometown. At Fête, which she opened in 2016, Maii serves up succulent seasonal plates such as twice-fried chicken with grits and collard greens and an impressive range of locally harvested seafood. When she's not there, here's where she likes to eat.

What to expect: Japanese-style grilled meat and vegetable skewers in a sleek space with counter and table seating—and a showstopping paper lantern.
What Maii says: "Everything is cooked perfectly and chef Robert Yamazaki's sake knowledge is hands down the best Honolulu.  Really, you can order anything off the menu…end with a bowl of their superb ramen that comes in a 'Cup Noodle'-themed ceramic bowl."

What to expect: Modern French plates, ocean views, and nightly live piano entertainment on Waikiki Beach.
What Maii says: "The chef de cuisine, Patrick Collins, thoughtfully crafts a tasting menu where you can mix and match courses as you please. If you want to order cheese and then [just] desserts, you can. But chef Patrick's fish is not to be missed.  I love this dining room—open air and gorgeous views of Waikiki."

What to expect: Innovative, seafood-forward Italian dishes at a luxury beachfront resort. 
What Maii says: "Arancino has the best takeout—a few of my favorites are the spaghetti with uni, white wine garlic tomato cream sauce, and the arancini Siciliani, a bolognese and mozzarella croquette with arrabiata sauce. 

What to expect: Island-accented comfort food, inspired by area ingredients and traditional Hawaiian recipes.
What Maii says: "I love eating from the appetizers and salads section of the menu, [which includes the] poke, smoked fish dip, duck empanadas, pork belly buns, and fattoush salad."

What to expect: A beloved husband-and-wife team are the brains behind this swanky, tropically flavored spot, where the size of the prolific dessert menu rivals the main one.  
What Maii says: "You must save room for dessert and order everything—the brulée, Makaha mango shave ice, banana cream pie, MW candy bar—which features Hawaiian sea salt macadamia nut caramel—and mud pie."
Aarti Virani is the blog editor at OpenTable. She has covered the South Asian diaspora for publications including Vogue India, The Wall Street Journal, and The Juggernaut, and is most energized when telling stories about communities and culinary traditions that don't always get the spotlight. 
Tried them all? Check out other options here.