In our 2015 Summer Road Trip Restaurant Guide, we happily highlighted must-stop restaurants in Newport and Providence, Rhode Island. Today, we're happy to return to the region as Michelle Seekamp looks at how local aquaculture is changing the culinary landscape there with this deep dive into Rhode Island oysters and where to order them, in honor of National Oyster Day!

Summer in New England brings to mind warm days, cool ocean breezes, and fresh seafood served dockside. And nothing is fresher than an oyster shucked with a shandy in hand and served on a bed of crushed ice, feet from the salt pond where it was harvested.
The Ocean State, with its more than 400 miles of rocky coastline, has a long history of oyster cultivation dating back to the native tribes that first inhabited the area. Known for fine briney selections that grow in calm shallow waters, the state's oyster bounty can be found in restaurants coast to coast. If you're an oyster connoisseur, chances are you've tasted a Rhode Island oyster.
In recent years, there has been a boom in local aquaculture. The acreage of oyster farms along Rhode Island's coasts and its great salt ponds have nearly doubled in the last five years. This is thanks, in large part, to the upcrop of small independent farmers cultivating just a few acres and delivering extra special varieties with unique flavors and notes. From the crisp and bright Matunucks of Potters Pond, to the full-bodied Moonstones of Point Judith, and the Watch Hills of Winnipaug Pond in Westerly at the southernmost tip of the Ocean State, there is a wide variety of unique oyster offerings being cultivated by modest teams of dedicated oystermen.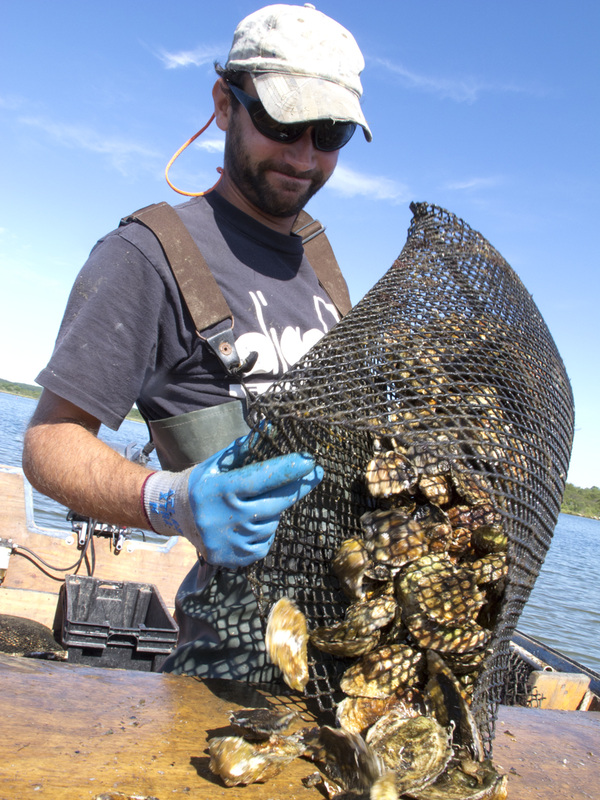 Walrus and Carpenter Oysters on Ninigret Pond in Rhode Island is one of these small, low-impact farms that have sprung up. Known for producing eastern oysters that are sweet and briney with a buttery finish,  they have been described by some as "diving into the ocean and coming up for a breath of fresh air." Count us in!
Jules Opton-Himmel is a trained marine biologist who started Walrus and Carpenter Oysters six years ago and has since seen his farm prosper, a happy by-product of the close relationships he's built with local restaurateurs. "We are able to sell 100% of our oysters locally during the summer," he says. "In fact, we can't even keep up with the demand." All of his oysters are harvested and delivered to restaurants on the same day and usually end up being served fresh that evening, giving his business and the restaurants he supplies an advantage.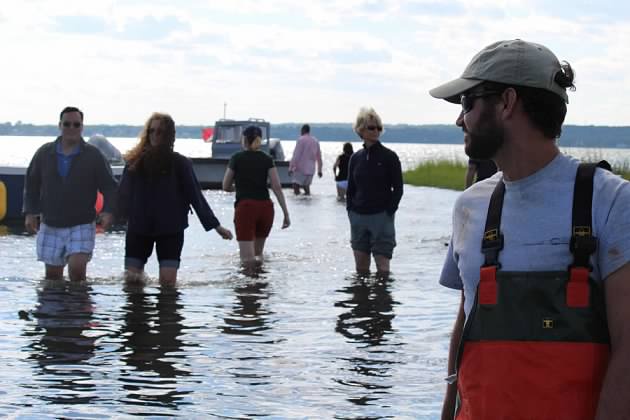 "We have a very close relationship with chefs. We want them to come here, bring their staff, and taste the oysters," says Opton-Himmel. "We want them to be able to talk more knowledgeably about the product." That's why Walrus and Carpenter hosts an educational dinner series at which local culinary professionals, as well as the public, can come to learn about raising and harvesting oysters.
The Dorrance, a popular Rhode Island restaurant nestled in a historic building in the heart of Providence's Downcity District, is taking advantage of this series and the local aquaculture boom to provide an extra special fresh seafood experience to their guests. Working closely with Opton-Himmel, the staff of The Dorrance went to the salt pond to learn about the cultivation of these special oysters and the wide spectrum of spectacular wine pairings available to enhance their flavor. The Dorrance staff shucked oysters fresh from the water and slurped them back with a splash of more than a dozen European wines. "It was an incredible opportunity to blur the lines between Jules's Rhody-fresh oysters and the white and rosé wines of France, Italy, Spain, Germany, and Austria," says Regina Curran-Lester, co-owner of the Dorrance.
The bounty of that excursion is still evident on their menu today, where they proudly offer Walrus and Carpenter oysters along with several other local Rhode Island varieties. Executive chef Alberto Lopez waxes poetic when it comes to talking about the local delights. "We love Walrus and Carpenter's 'merroir'-driven oysters because they express a strong sense of place.  With each taste, you are magically transported to a memory portal with picture perfect images of a specific, geographic location in the water, on the farm, or in the vineyard.  You can feel the warm sun and cool breeze with every sip and slurp," he says.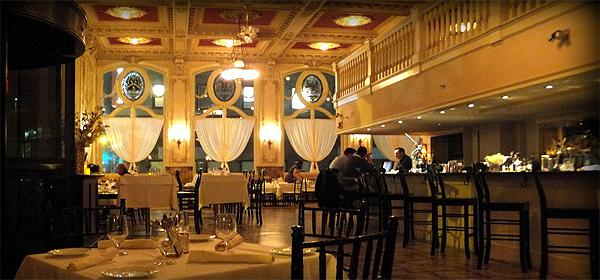 The Dorrance has always had a strong sense of place, making their home in a gorgeous historic bank building that flaunts beautiful architectural details. A vault in the back of the restaurant serves as a cozy cocktail nook, where they perfect wine and oyster pairings. "Some of our favorites are Champagne (of course), Sancerre, rosé from anywhere, Muscadet, Gavi, Albarino, Txakolina, Riesling, and Grüner Veltliner," says co-owner Michael Lester. As for the best cocktail to pair with the mollusks? That would be the "Up & Cumber" with Crop Organic Cucumber Vodka, St. Elder, fresh lime, simple syrup, and Regatta Ginger Beer.
The local experience that the Dorrance offers in their fresh oysters and terroir-driven wines is an exceptional seafood experience worthy of a stop on your Rhode Island road trip this summer.
###
Have you sampled Rhode Island oysters? Let us know which ones here or over on Facebook, G+, or Twitter. And, don't miss your chance to enter our #savortheroad giveaway for a chance to win one of ten $100 OpenTable gift cards!
Michelle Seekamp is a native New Yorker who has bounced (and eaten) her way up and down the east and west coasts. She currently finds herself enjoying the best that Los Angeles has to offer in the way of sunshine and fresh SoCal cuisine. You can follow her on Twitter @ckampy.