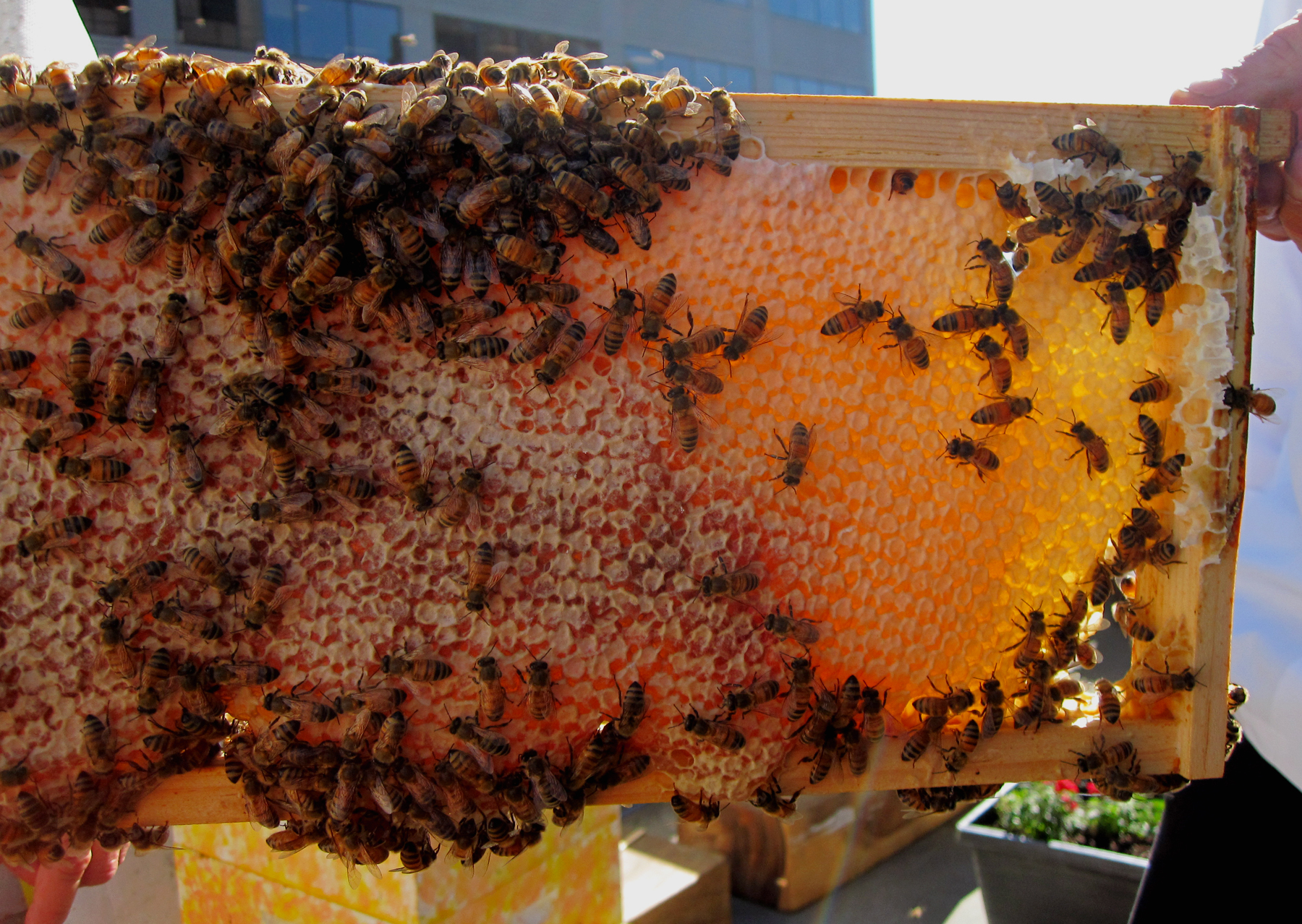 Be aware: Bees are getting a lotta love these days — in restaurants! Here are some sweet spots where you can get buzzed on cocktails as well as enjoy entrees and dishes—made with honey from on-site hives. The apiary trend is nationwide, but you'll note that in Boston, restaurants and bees are, well, a thing.
City Table, Boston, Massachusetts
The bees that buzz on the rooftop at the Lenox Hotel forage at a distance of up to three miles for flower and plant nectar, returning for turndown service each night. They get the royal treatment: Beekeeper Dean Stiglitz travels to the hotel every Monday morning in season to tend to the bees. The hotel's City Table restaurant features several honey-inspired dishes including Avocado Toast (fried egg, sticky honey, diced avocado, and red chili flake glaze). And the hotel's City Bar serves cocktails that use the honey — sip The Queen Bee (gin, green tea, honey and prosecco) or Colonel's Choice (Calvados, Maker's Mark, Combier, honey and garnished with an orange slice). Make a reservation at City Table.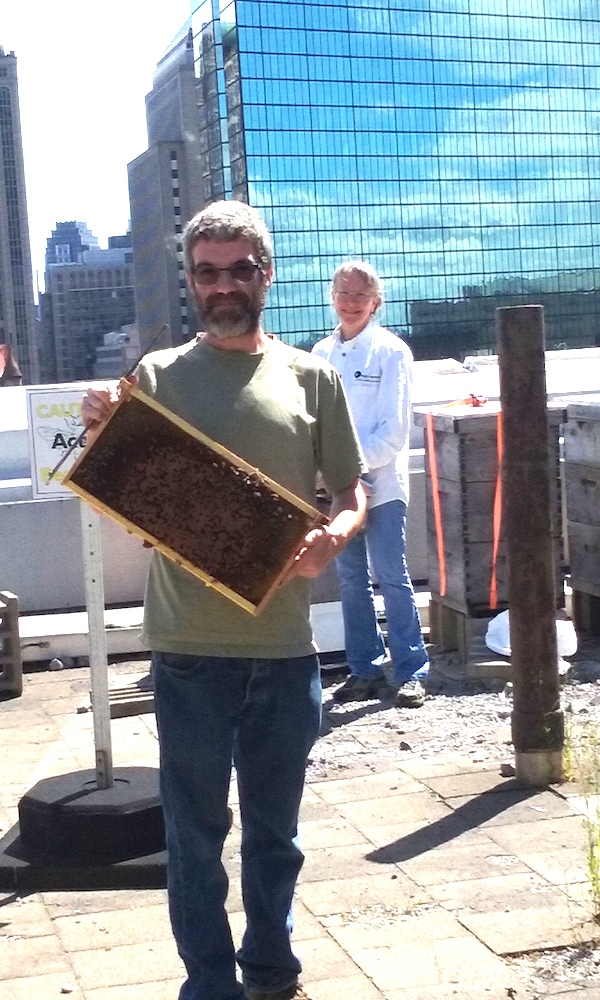 OAK Long Bar + Kitchen, Boston, Massachusetts
OAK is housed in the Fairmont Copley Plaza, which also houses three beehives located next to the rooftop herb garden. Best Bees Co. tends to the bees, which produce 30 to 40 gallons of the sweet nectar annually. The honey is used to make the Rooftop Honey Butter, which is served with the Hearth Baked Bread and the Buttermilk Panna Cotta, among other dishes. And, wait, there's more buzz. Wild mason bees are some of the most effective pollinators on Earth, and the hotel just debuted its new Bee Hotel, located in the hotel's herb garden next to the honey bee apiary. OAK will offer a selection of pollinator menu items like the Avocado & Peekytoe Crab Toast (the avocado is pollinated by the bees). Make a reservation at OAK Long Bar + Kitchen.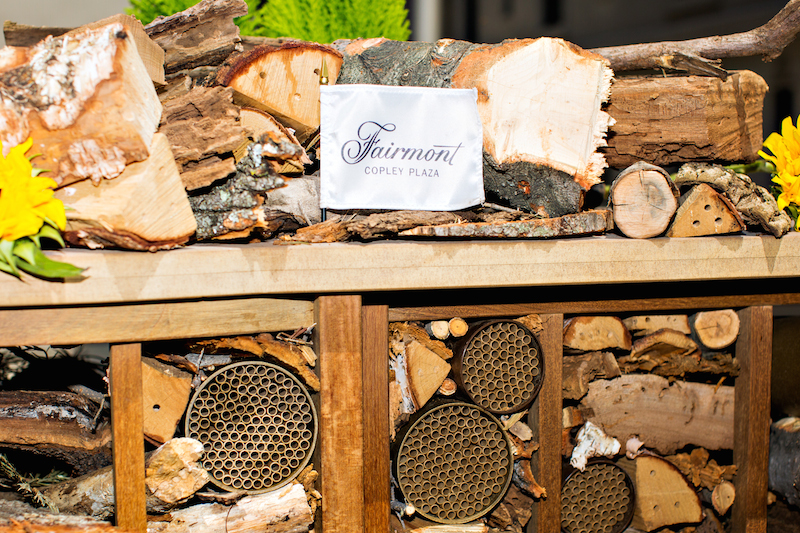 Fearrington House, Pittsboro, North Carolina
This restaurant located just outside of Chapel Hill has a beehive on property that's overseen by one of the restaurant's sous chefs and a local beekeeper who assists in the harvesting of the honey. Dishes in which the honey plays a cameo role include the Sweet & Sour Tuna with Fresh Chickpeas, Yuzu, Cucumber, Salsify, Avocado, and Fearrington's honey. Make a reservation at Fearrington House.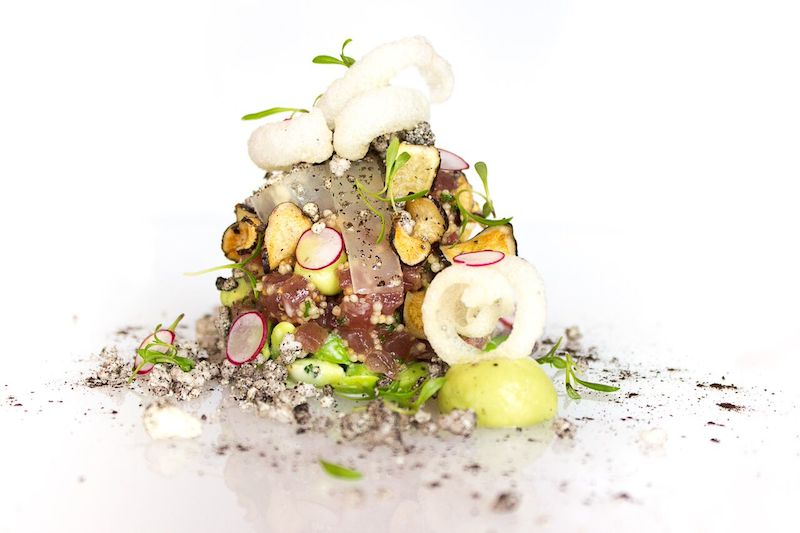 Japengo at Waikiki Beach Resort and Spa Hotel, Honolulu, Hawaii
"The global decline in honeybee population has also seriously affected the Hawaiian honeybee population, resulting in legislation at the state level to encourage honey production and sales throughout the islands," says a hotel spokesperson. And so, the hotel created its own honeybee colony and a honey program called Hula Meli, meaning "Dancing Honey." The honey that's harvested from the apiary is used in a signature cocktail served in all of the hotel's dining outlets, including Japengo; the Bee's Knees cocktail combines Hendricks Gin, triple sec, and fresh lemon juice with the honey. The cocktail is shaken with crushed ice and served in a tumbler with a garnish of fresh honeycomb from the hotel's hive. Make a reservation at Japengo.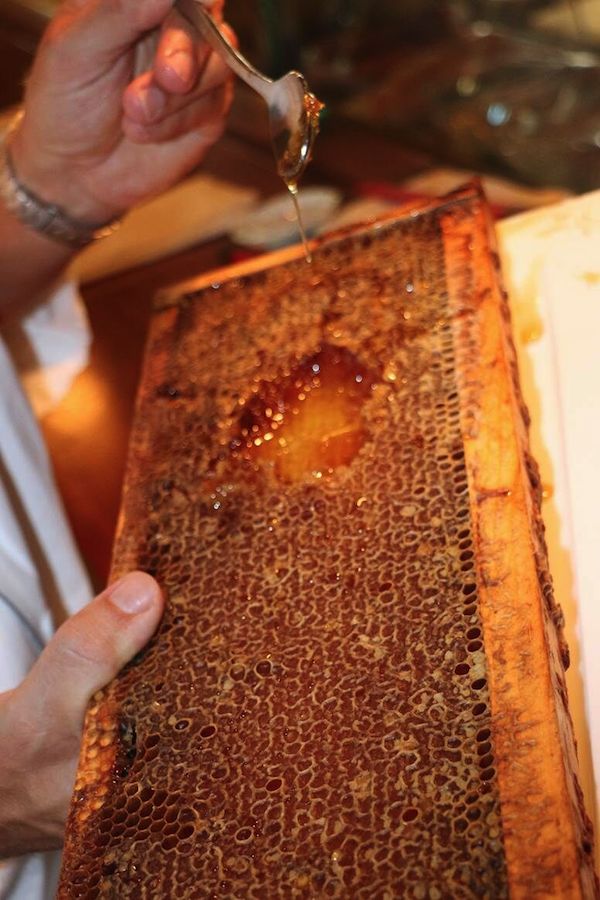 Randolfi's, University City, Missouri
James Beard semifinalist and chef-owner Mike Randolph features classic Italian here — with a twist. A unique ingredient you might not find on your nonna's menu is chef de cuisine Tommy Andrew's honey. The chef moonlights as a beekeeper — he has two hives in his backyard, as well as others at a separate location. The menu features the honey in several dishes including the oven-glazed vegetables, the cheese plate, and honey ice cream, as well as some of the cocktails. Make a reservation at Randolfi's.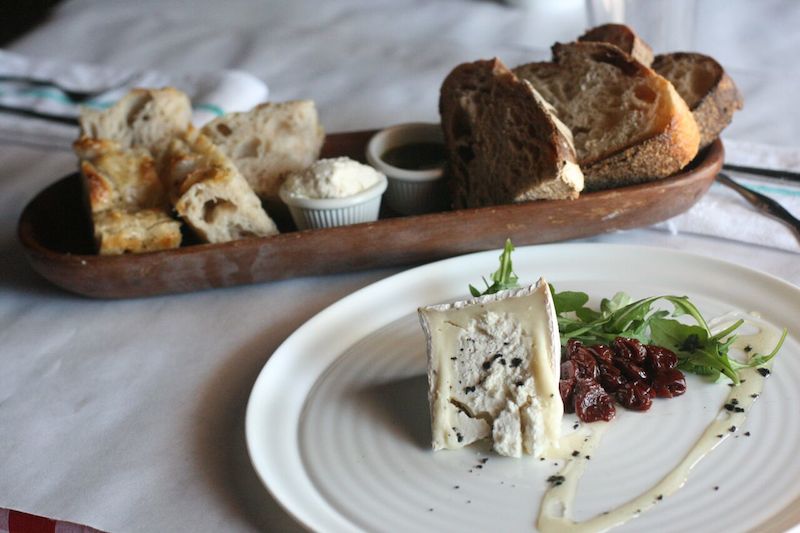 Trace, San Francisco, California
Trace is the W hotel's signature restaurant, and the hotel has been harvesting wild honey bees for four years and is now home to 40,000 bees and 10 hives located on the hotel's rooftop on the 32nd floor; 40 pounds of honey per hive are produced per year. The natural honeycomb is used in the restaurant's menus, including the Roasted Beet Salad with burrata, pistachio, baby greens, and honey, and its Ginger Pork Skewers with rooftop honey and sesame seed. Make a reservation at Trace.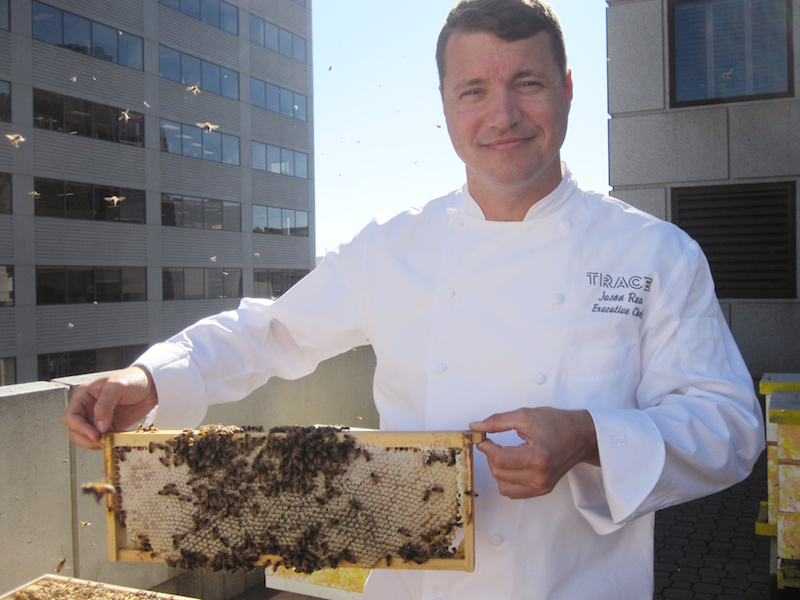 Woods Hill Table, Concord, Massachusetts
Thoreau's Walden Pond is in Concord, and we're guessing the nature-loving existentialist would approve of this restaurant's use of local honey in its menus and drinks. All of the wildflower honey used at Woods Hill Table comes from The Farm at Woods Hill, located in Bath, New Hampshire. Dishes include the Spring-Dug Parsnip Salad (honey, grains of paradise, local mesclun, hazelnuts, radish, and ricotta) and the Bee's Knees Cocktail (Privateer Tiki Gin, Woods Hill Farm honey and lemon). Make a reservation at Woods Hill Table.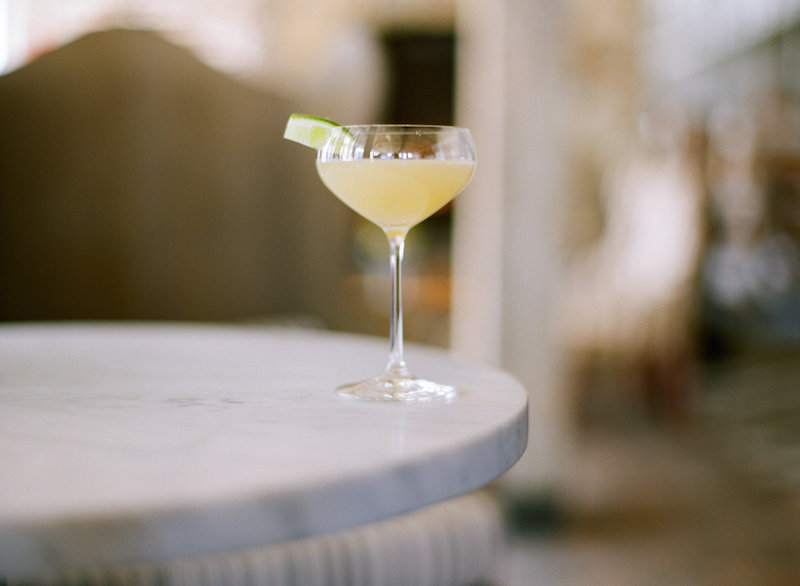 FireLake Grill House Mall of America, Minneapolis, Minnesota
Located in the Radisson Blu Hotel Mall of America, FireLake has partnered with the University of Minnesota Bee Squad to house honey bee colonies on its rooftop. The honey stars in many of the dishes and cocktails, including the Double Chocolate Honey Duet (chocolate honey ganache, honey mousse, and cremeux) and the Spicy Honey Glazed Chicken (rotisserie breast, roast honey-cider carrots, fennel, and rooftop honey glaze). Make a reservation at Firelake Grill House Mall of America.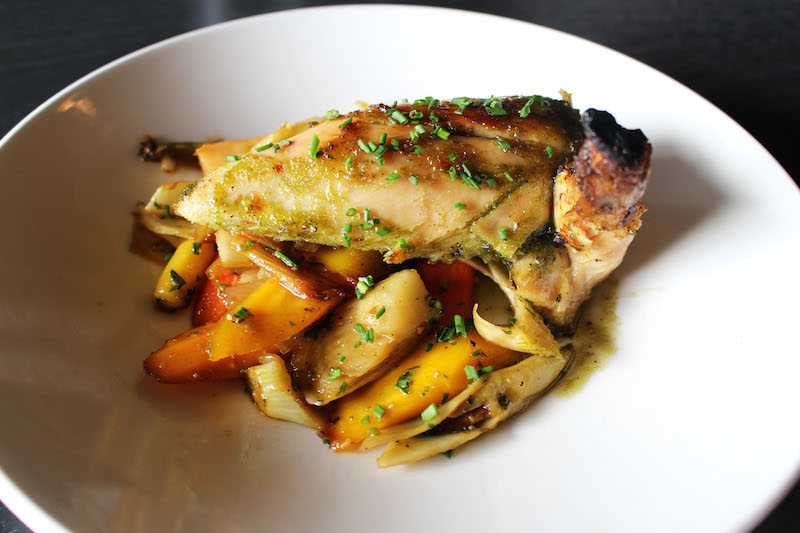 Imperial, Portland, Oregon
Imperial sits pretty in the historic Hotel Lucia. The hotel's rooftop is home to several beehives that provide sweet honey for several of Imperial's menu items. The Grilled Foie Gras is served with a sweet and sour grilled peach, caramelized honey, and pickled ginger. For brunch, it's all about the Imperial Beignets with rooftop honey and powdered sugar. At dessert, order the Salted Honey Pie or Cheese Plate with honeyed walnuts — and you'll feel like the queen bee. Make a reservation at Imperial.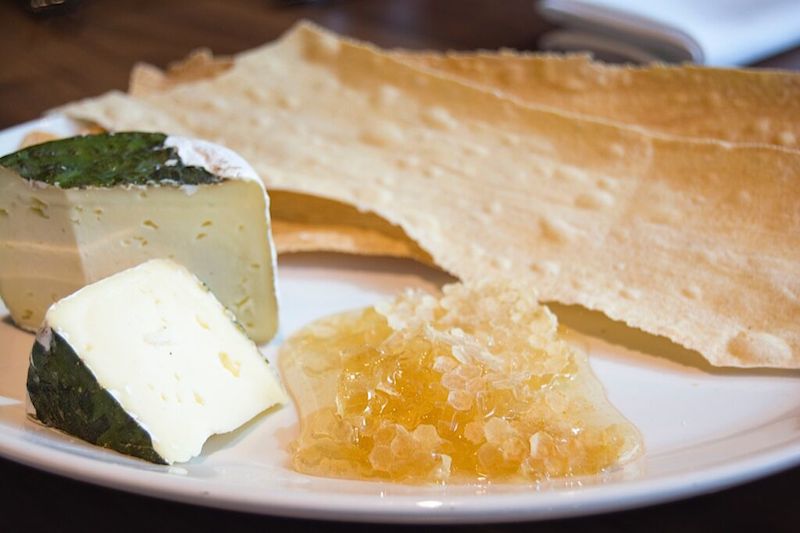 Beehive, Boston, Massachusetts
Make a beeline to this Bohemian South End hideaway for the groovy music and the buzzing crowd and order the Beehive Honey Brew, a light pilsner with a local honey- infused finish and brewed only for this honey of a restaurant by the Cape Ann Brewing Company. Make a reservation at Beehive.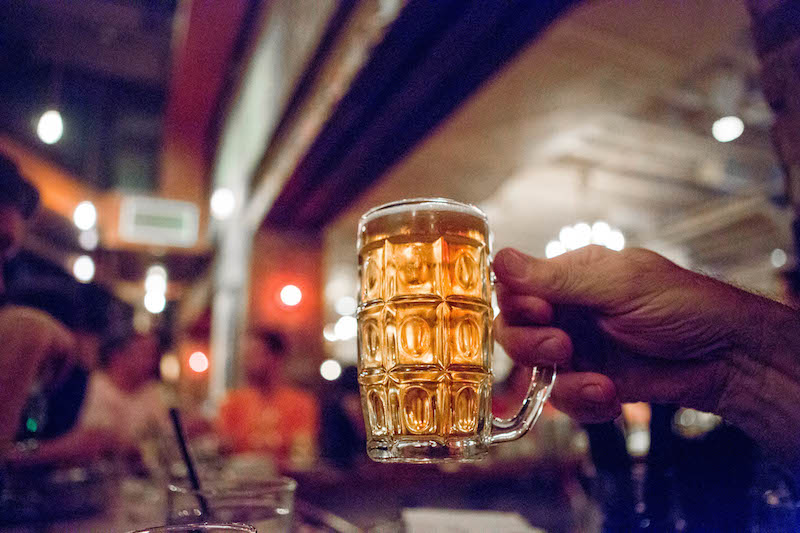 TAMO Bistro & Bar, Boston, Massachusetts
Located in The Seaport Hotel in Boston's uber-popular Seaport District, the cocktail menu at TAMO takes advantage of the hotel's rooftop hives, home to more than one million bees that are cared for by the hotel's beekeeper, Edwin Medrano. The most recent honey harvest produced 100,000 pounds of honey that is used in TAMO's custom-blend beers. Order the Seaport Honey Cider, created with Downeast Cider in Charlestown, and the Honey Saison, a light beer brewed on Harpoon Brewery's 10-barrel pilot system incorporating fresh honey collected from the bees; the brewery is located just down the street from the hotel. Also try the Steak Tips with Seaport Honey Vinaigrette (skirt steak marinated in the rooftop's honey vinaigrette overnight; the vinaigrette is made with ginger, soy sauce, brown sugar, and Seaport honey.) Make a reservation at TAMO Bistro & Bar.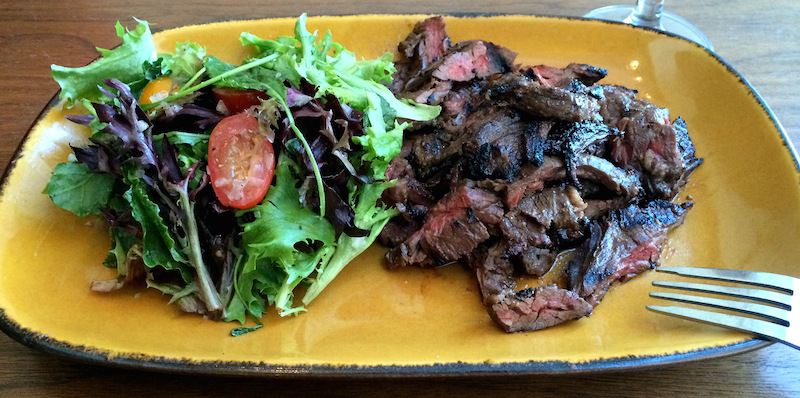 Powder-Waldorf Astoria, Park City, Utah
Powder is the Waldorf Astoria Park City's restaurant where executive chef Ryker Brown cultivates and maintains his own beehives on the property and often introduces honeycomb and honey into his menu. This summer, you can visit the chef's Bee Sanctuary to explore the bee harvesting process and then head to Powder to sip a Bees Knees cocktail (local Beehive Jackrabbit Gin, chef's honey, fresh lemon juice, dashes of rhubarb bitters, and a lemon wheel garnish) and savor the Crispy Pork Belly with Honey Coriander Glaze. Make a reservation at Powder.-Waldorf Astoria.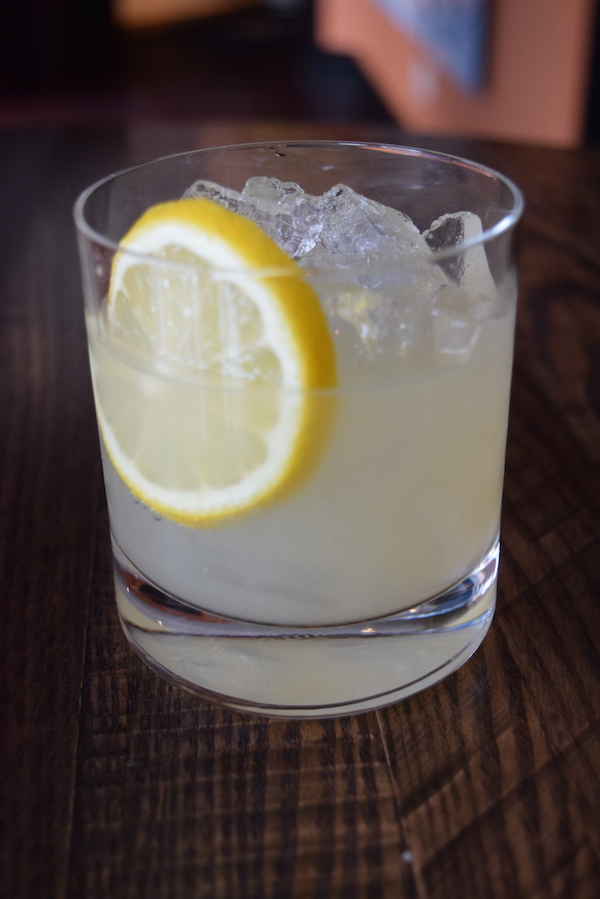 The Corn Maiden, Santa Ana Pueblo, New Mexico
The Corn Maiden is located in The Hyatt Regency Tamaya Resort and Spa, home to a honey bee colony with 40,000 bees. Some of the honey that is harvested is used in Corn Maiden's popular honey ice cream and in the hotel's signature lavender honey margarita, too, which is served as a welcome cocktail to guests. Don't mind if we do. Make a reservation at The Corn Maiden.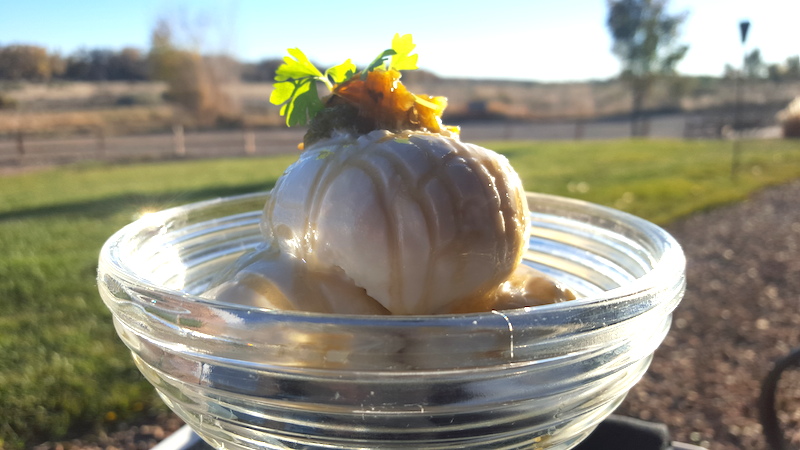 What do you think of the restaurants and bees trend? Weigh in here or over on Facebook, G+, Instagram, Pinterest, or Twitter.
Laurie Bain Wilson is a Boston-based journalist, author, and essayist who writes often about travel, food, and baseball. Find her on Twitter @laurieheather.