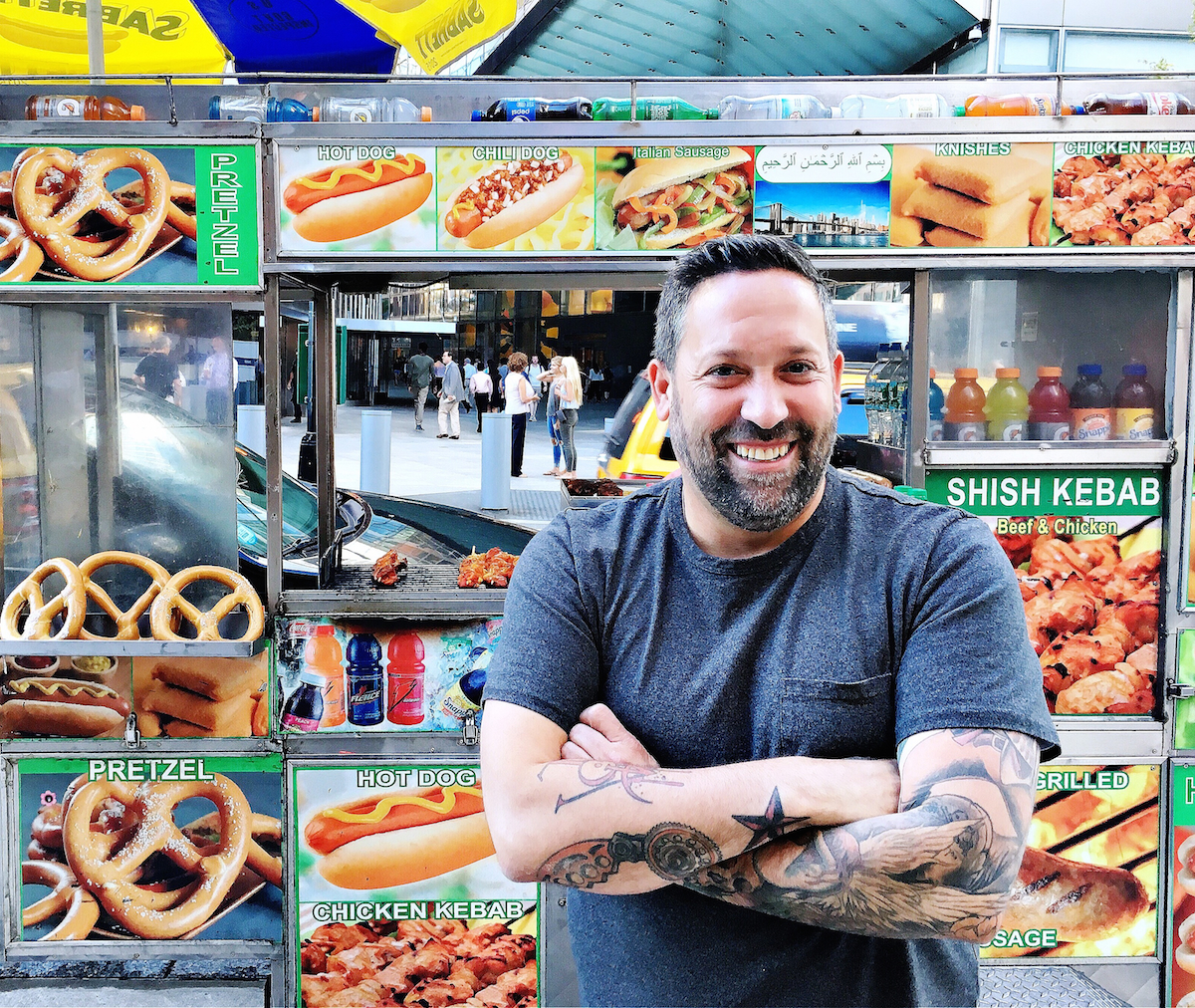 It's just after noon on a sunny, mid-Eighties summer day. The weather is as perfect as it gets in New York City during the summertime. Mike Isabella is in the back of a black SUV headed down Seventh Avenue. Sunglasses firmly in place, he's wearing jeans and a graphite t-shirt that exposes the tattoos crisscrossing his forearms. Though it's lunchtime, he's on his way to visit a couple of coffee shops and an ice cream parlor. It's not your usual eating agenda, but that's because Isabella is here to for business rather than pure pleasure.
The chef-restaurateur, who earned widespread acclaim with breakout appearances on Top Chef and Top Chef: All-Stars and recently took home the RAMMY Award for "Restaurateur of the Year" from the Restaurant Association of Metropolitan Washington, is in town for a whirlwind day of epicurean exploration. He has already been to Morocco, Spain, Portugal, Chicago, California, Philadelphia, Dallas, and Los Angeles as a part of his culinary canvassing. There are further trips planned to Cuba, Argentina, and London.
All the trips are research for his ambitious mega food hall Isabella Eatery, which is set open in the Tysons Galleria mall in McLean, Virginia in late summer 2017. The 41,000 square foot, multi-concept endeavor aims to be the crowning – and potentially defining – centerpiece of his growing restaurant empire in the D.C. area, which includes his Italian-American small plates and pizza joint Graffiato, (which also has a location in Richmond, Virginia), forward-thinking Greek eatery Kapnos, lead by fellow Top Chef alum George Pagonis, Medi-minded Requin, helmed by another Top Chef-er, Jennifer Carroll, Yona noodle bar, breezy Mexican cantina Pepita Cantina, and others.
Isabella Eatery will house 10 separate entities, including versions of Graffiato, Kapnos, Yona, Requin, and Pepita, as well as five brand-new concepts: Retro Creamery ice cream parlor, Trim steakhouse, Non-Fiction Coffee, Octagon Bar, and Arroz, a Spanish-Portuguese-Moroccan restaurant. Within the concepts there are variety of service options: full service, fast casual, and grab 'n' go. Isabella hopes the heightened service – not to mention the food – will vastly elevate it from your usual mall food courts with their bolted down chairs, plastic trays, and impersonality.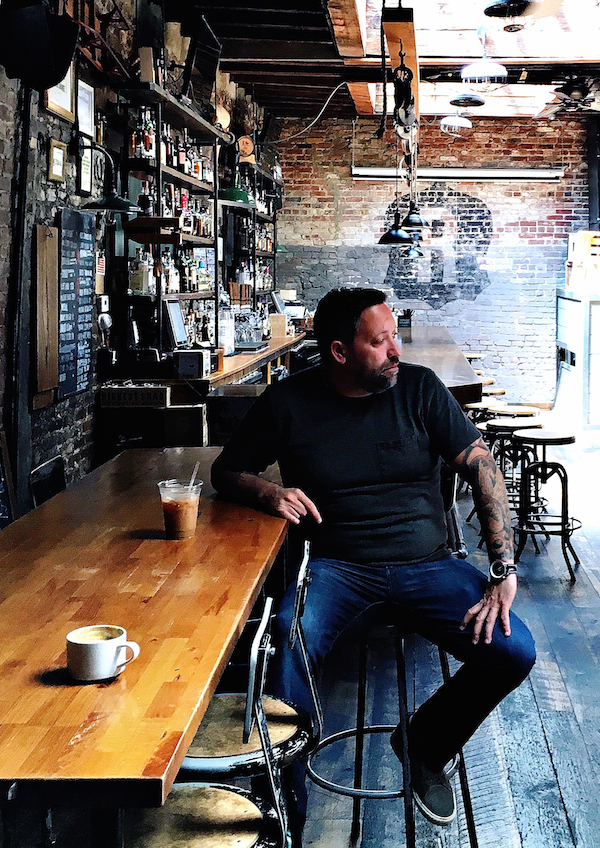 Today he's particularly focused on ideas for the café, creamery, the ramen at Yona, and the bar program at Arroz. "Hopefully, I'll see some cool presentations, design, uniforms, flavors, service steps, paper goods, and techniques," says Isabella as we near the Roost coffee shop, our first stop in the East Village.
Inside the rusticated shop with white tile walls, marble countertops and a full bar in the back hiding behind a wooden bar door, we rendezvous with James Horn. The day's unofficial tour guide previously worked as Isabella's wine and service director and is now the director of operations of New York City's Añejo Restaurant Group, which includes two locations of Añejo and Abajo. Everyone orders something different, so we can compare. The most compelling element for Isabella ends up being the double-walled glasses the latte is served in, so he takes a picture, and we Uber over to Big Gay Ice Cream.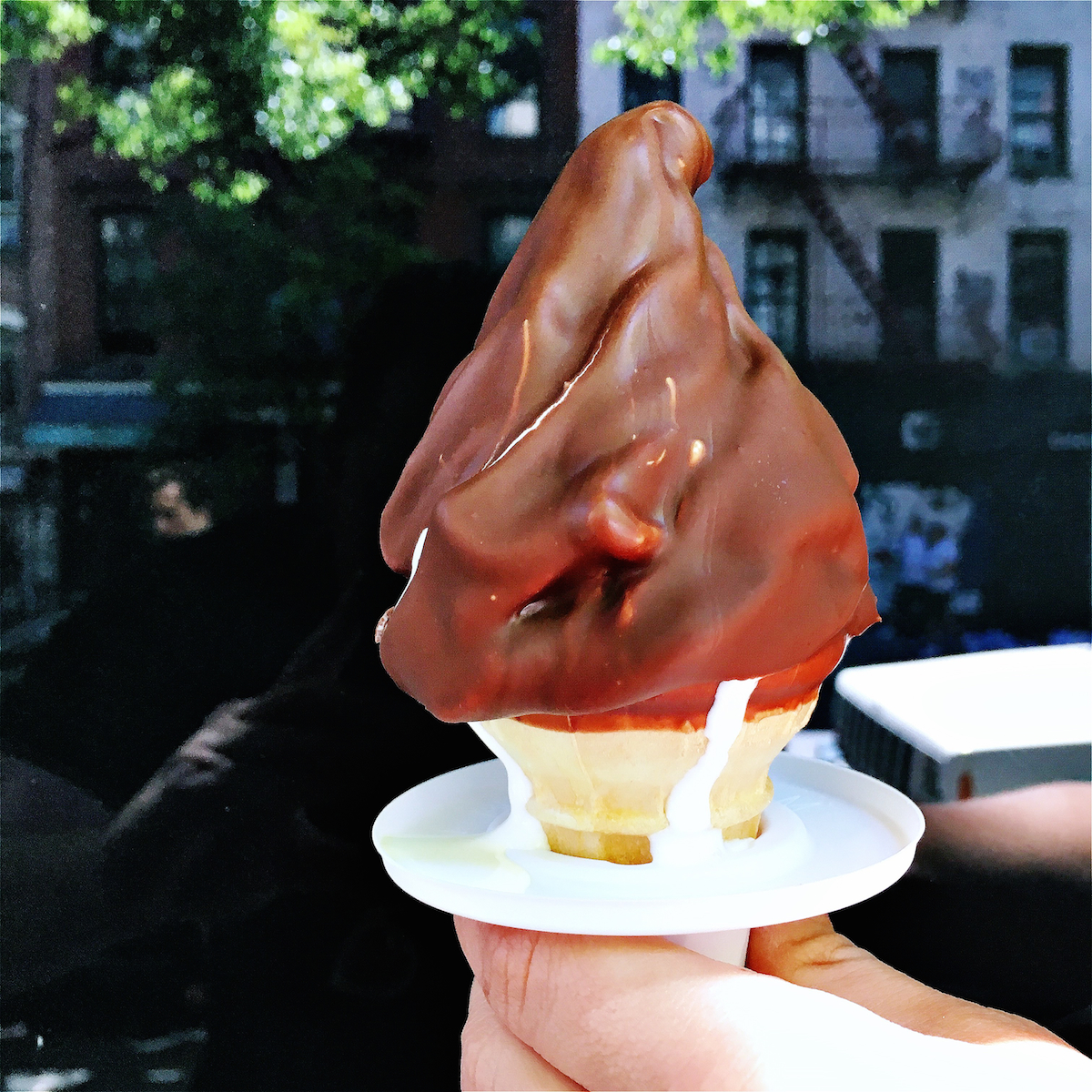 Unabashedly borrowing its aesthetic vibe Eighties cartoons – think My Little Pony and The Care Bears on MDMA – the small shop is decked out with rainbows, unicorns, and vintage action figures. The truck-turned-brick-and-mortar specializes in soft serve cones and sundaes. We sample the Salty Pimp made with vanilla ice cream, dulce de leche, and sea salt, all covered in a chocolate shell. The treat attracts Mike's attention, but not because of its flavors – there's none of the aforementioned salt – but, rather, because of plastic holder it comes in. It has a rim around the edge, so ice cream doesn't drip on your clothes while you're eating it. This thoughtful touch is filed away for potential use at Retro Creamery.
Another coffee shop – Third Rail on Sullivan Street – is next up on the agenda after another quick Uber ride. We order several espresso drinks, which don't so much as impress as amp up our jitters. "I'm jacked up on caffeine and the sugar from that ice cream," says Isabella. "Let's walk to the next spot."
Our route takes us through Washington Square Park, past the speed chess players and the food cart selling vegan dosas. As we walk, I ask Isabella whether it bothers him to know that somebody right now might be in one of his restaurants looking for ideas for their next project. "No," he says with a shrug. "Every Greek restaurateur in the country has been in Kapnos. I worked for Stephen Starr [at Alma de Cuba, El Vez, and elsewhere]. He would get inspired by different concepts around the world, and then come back to open his own versions of those restaurants in Philadelphia. I got this trait from him."
We have lunch at the garden-topped Italian trattoria Rosemary's in the West Village. Isabella hones in on their focaccias, so we end up ordering one carpeted with melted Taleggio cheese and dotted with black truffles along with half a dozen other dishes. "I'm testing my focaccia recipe right now," he says. "I had it in Milan and fell in love with it. No one is doing it. Everyone is trying to do different pizzas – thin crust, long cooked doughs, this and that. This is what I'm going to do at the Graffiato in Isabella Eatery."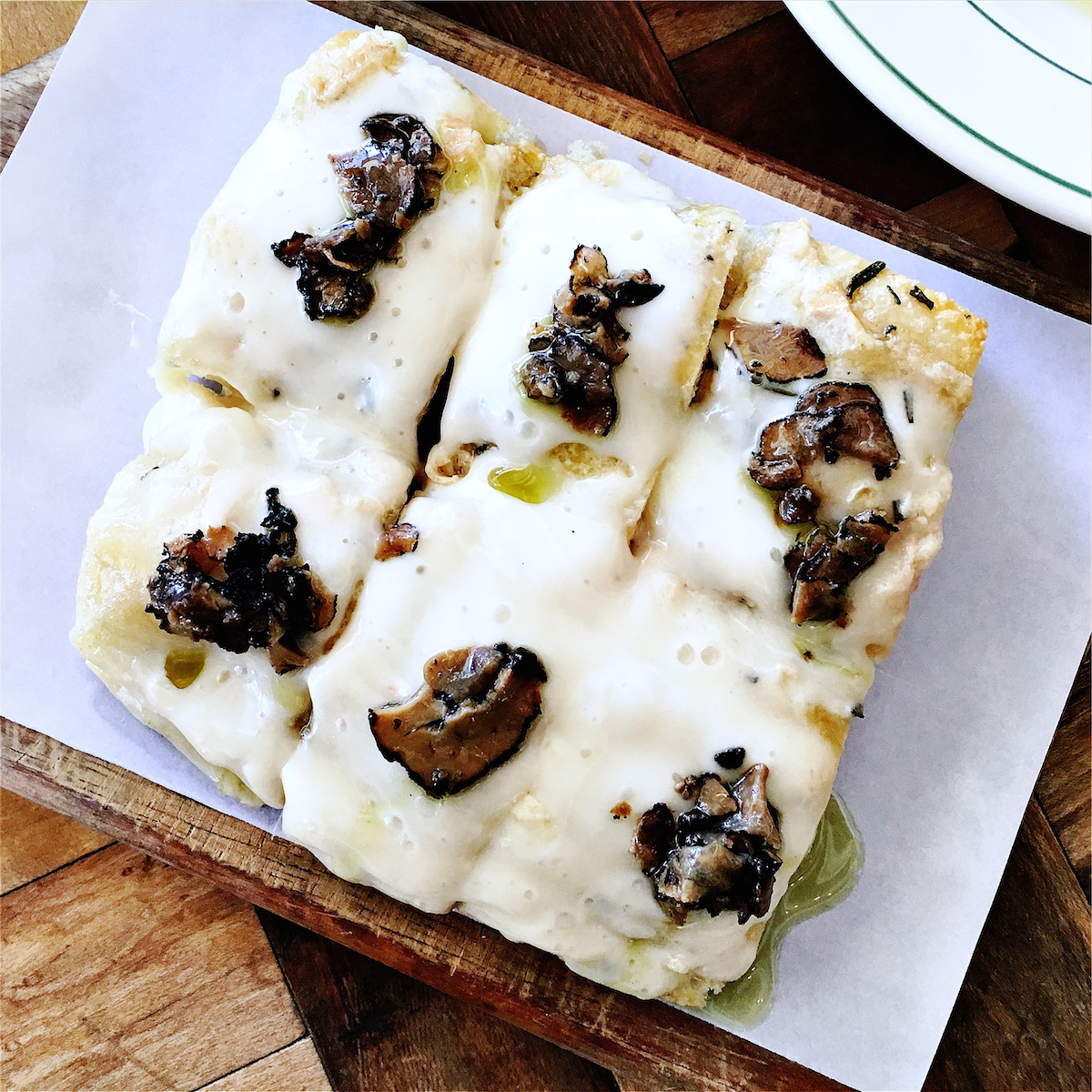 Once the bill is paid and we are on our way again, we talk about how he sized up Rosemary's. "First I checked out the space and the cool little touches," he says. "I liked the vibe. I liked the idea of it. I liked the menu layout. But once I started tasting the food, I didn't pay attention to it – it was nothing I hadn't tasted before – I was watching the service."
Our next stop is Hudson Eats food court inside Brookfield Place, just a block from the 9/11 Memorial. Isabella goes in with high hopes but leaves a little dispirited. "It was all just…whatever," he says. "I don't like coming to these places where I have to wait in line with some strings guiding me through it, then I get a plate and have to go find a seat. I don't want that. It's places like this that inspired me to do Isabella Eatery with the service, all the programs, the bars, and the different food."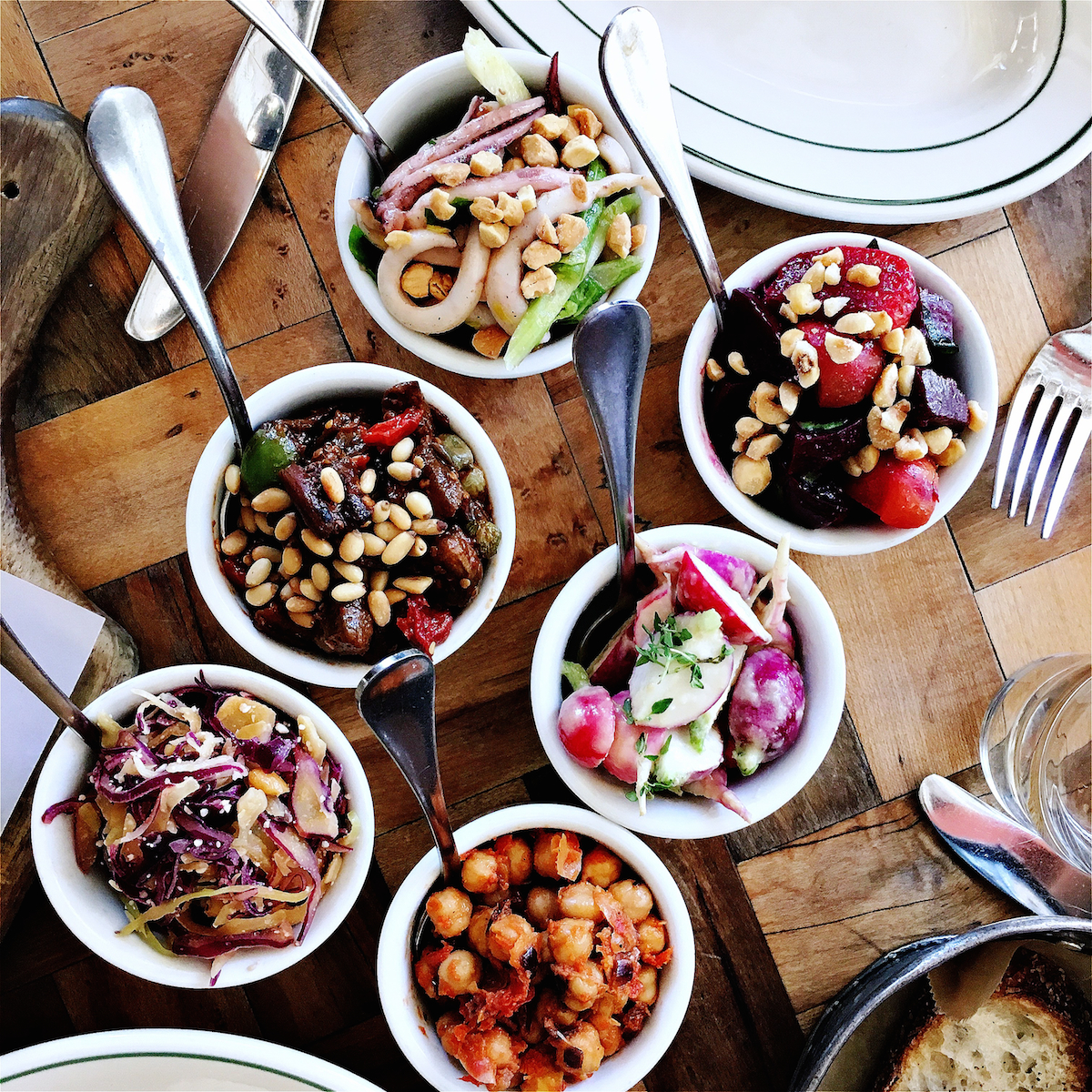 The rapid-fire gustatory expedition finishes with chilly gin and tonics served Spanish- style in large goblets at Amada and steaming bowls of ramen at Nakamura, including one standout featuring shaki shaki spicy chicken broth and a tangle of thin noodles. Then we have bolt to Penn Station to catch the Acela back to D.C. As the Manhattan skyline recedes behind us, Isabella sums up the day. "On a trip like this, you learn what to do and you learn what not to do," he says. "I saw a lot of things today that I don't want to do. But it was a successful day because I definitely learned a few things."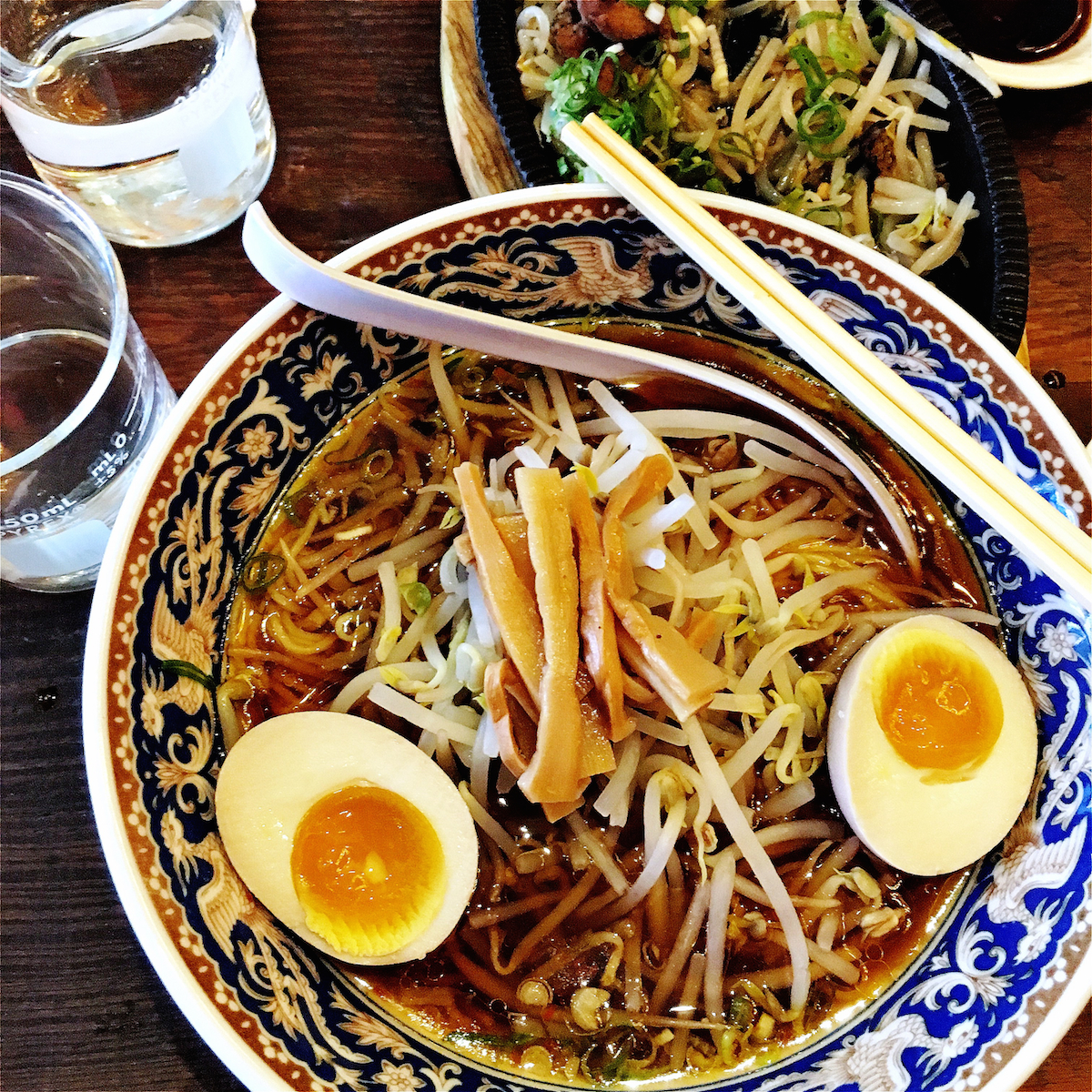 Which concept in the new DC food hall from Mike Isabella are you most excited for? Did he skip any of your favorite NYC spots? Let us know here or over on Facebook, Instagram, Pinterest, or Twitter.
Nevin Martell is a Washington, D.C.-based food and travel writer and the author of several books, including Freak Show Without A Tent: Swimming with Piranhas, Getting Stoned in Fiji and Other Family Vacations. Find him on Twitter @nevinmartell and Instagram @nevinmartell. 
Photo credits: Nevin Martell.