When the second annual 10 Days RE:Her food festival returns on March 4, Los Angeles diners will find an even more amped-up offering that spotlights more than 350 of LA's women restaurateurs and chefs. A series of pop-ups, brunches, winemaker dinners, film screenings, and limited-edition collaborations—and even an attempt to break the Guinness world record for the world's longest grazing table—will showcase the exciting breadth of what LA's female culinary cohort has to offer.
It's a powerful moment for a group of women who just over a year ago were simply trying to survive the pandemic. Regarding Her (RE:Her) was founded by nine Los Angeles female restaurateurs in November 2020, uniting the entire female culinary industry of Los Angeles during the darkest days of the pandemic, when it seemed like there was no end in sight.
The inspiration for RE:Her was born out of a few video calls when the nine co-founders, including Sylvie Gabriele (Love & Salt), Lien Ta (Here's Looking at You), Mary Sue Milliken (Socalo), and Dina Samson (Rossoblu), were discussing the unique challenges that women face with getting the funding and training they need to succeed.
Last year's festival included more than 100 participating restaurants, but everything was takeout, in accordance with LA county's dining regulations at that time. This year will be bigger and better, with a celebratory sense of survival. Events include a benefit concert, a Smorgasburg celebration, virtual talks about the industry, and more.
"Last year we all needed some positive energy and inspiration, because for so long we had just been grinding away," Gabriele says. "I think what we found with the festival was the synergy created by women collaborating together is so exciting and so energizing that it just activated and spread like wildfire."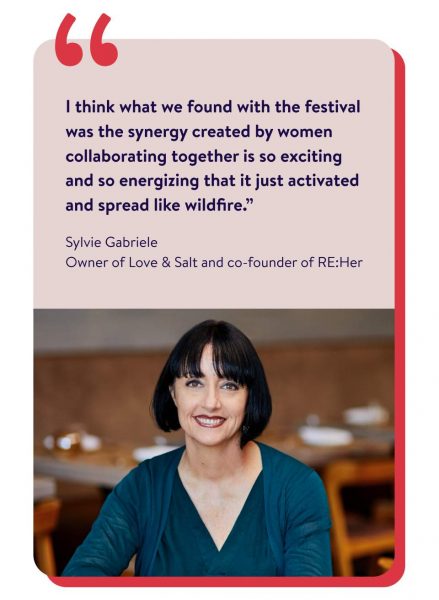 RE:Her is much more than just a food festival, though. It's a business network, event platform, and community development program to provide industry-focused resources with an emphasis on education, access, and connection. There is no fee to join and membership is open to all women food and drink entrepreneurs.
Gabriele says that she is most proud of the framework and platform that they've created in just a year that can be scaled and replicated in additional regional chapters—like Washington D.C., which will be launching next month. They're currently working on an accelerator program for members that will start this summer and include a grant component.
Last summer, RE:Her awarded 15 female-identifying food and beverage entrepreneurs in LA $10,000 cash grants via partnerships, and the James Beard Foundation recognized RE:Her last autumn for its important work. A few of the recipients include Uli Nasibova of Uli's Gelato, Nayomie Mendoza of second-generation, family-style Mexican restaurant Cuernavaca's Grill in the Arts District, Benjamas Yenbamroong of neighborhood Thai restaurant Si Laa in Beverlywood, and Chiho Suzuki Martin of Filipino restaurant Tatang in North Hollywood.
"Women are not funded, and they have to work so much harder to get funded," Gabriele says. "It's a real issue. There's a lot to it in terms of pitching and knowing how to do it. You've got to be a sophisticated businessperson to survive in this environment." Gabriele points out that many members did not receive PPP funding because they didn't have the banking relationships to support their application process and weren't sure how to navigate the process to get funding before the money ran out.
Women have historically been underrepresented and underfunded in the restaurant industry, earning less than men and battling sexism in the workplace. In their private online community, RE:Her members discuss their business challenges, including labor prices and staffing, inflation, and exhaustion.
This year, RE:Her looks forward to more community building in person, too. A recent event found 45 RE:Her members gathering one evening for a sound bath at City Libre hosted by Forestkind. It was rare to see these busy business owners so relaxed and peaceful during a much-needed night of bonding and self-care.
"I'm most proud of the fact that we could actually build this to really make a difference, and not just make a difference in LA, but with the goal to make a difference nationwide or even globally if possible," Gabriele says. "The hope is that this goes national and every region has a chapter."