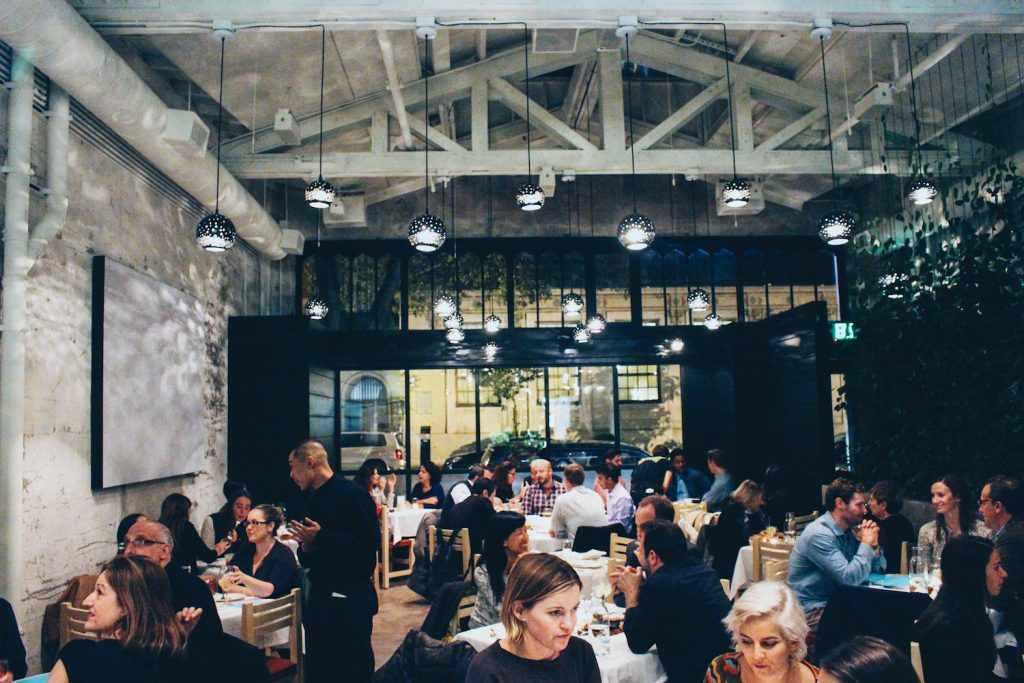 A shortage of labor is often cited as one of the top challenges to the restaurant industry, but that's not what you'll hear from restaurateurs at Cala in San Francisco, Cafe Momentum in Dallas, and Edwins in Cleveland. While each operates restaurants that are highly regarded for their food and service, they have also made a strong personal commitment to re-entry, the process by which the incarcerated are released and return to the community. Each has their own unique approach to working with the previously incarcerated (or those coming out of juvenile detention) with a foundation based on training and work. While there is no single roadmap for hiring and training those who have been incarcerated, a strong sense of mission unites them all.
Recidivism + Re-entry
Lack of job opportunities is just one part of why we have a high recidivism rate in the U.S., where according to Bureau of Justice Statistics, within three years of release about two-thirds (67.8 percent) of released prisoners are rearrested, and within five years of release about three-quarters (76.6 percent) of released prisoners are rearrested. Those numbers weighed heavily on the mind of Emma Rosenbush, the general manager of Cala in San Francisco. Rosenbush not only had experience in the restaurant industry, but she worked at the non-profit Prison Law Office, where she was first inspired to get involved in the area of re-entry, daydreaming of opening a gluten-free baked goods spot staffed with the formerly incarcerated.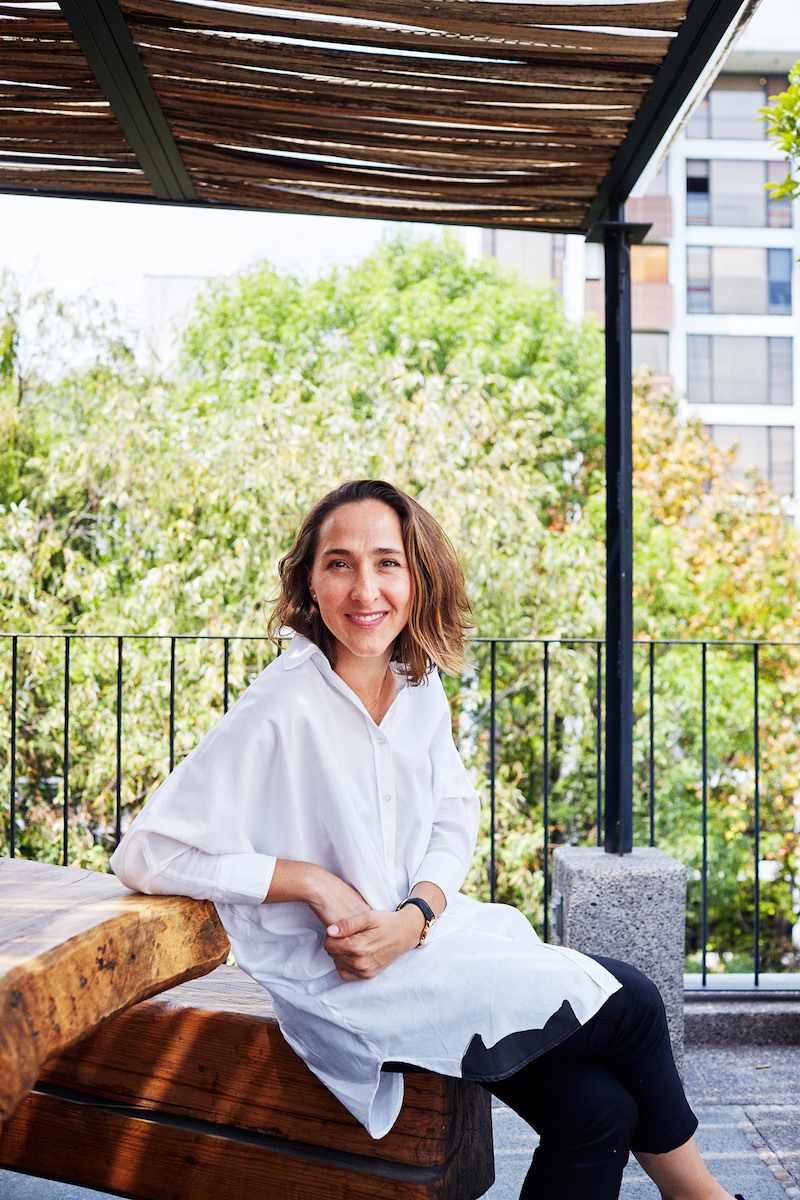 The right opportunity came to fruition, not at a bakery, but at Cala, a full-service modern Mexican restaurant, with the support of restaurateur Gabriela Cámara (pictured above). Rosenbush reached out to her contacts through the Department of Probation and Delancey Street, a program that serves drug abusers and the formerly incarcerated, to recruit staffers and the response she got was overwhelming. Says Rosenbush, "In the world of re-entry, it was as if my email went viral." Now most of her referrals for new employees come from word of mouth. 
Training
A key element at Cala, as with other restaurants working with this population, is training. Notes  Rosenbush, "The training is the way we train anyone else. Restaurants are ripe for people with no experience since the culture is about starting at the bottom and working your way up. It's a commitment and investment in time." She admits, as with other employees with no experience, it might take a couple months to move from back waiting into serving. The initial training includes polishing silverware and cleaning restrooms. But it's not all hard labor. Rosenbush says her biggest surprise since opening is just how enjoyable the process has been. "We have a really strong culture and we are not fully staffed this way. It's a combination of people from different backgrounds and they create something special every night." She says that the training is an extra cost and that it can be a challenge with a steep learning curve, especially since Cala is a for-profit business that is not associated with any non-profit training programs. "We have to understand what people need and what we need at the restaurant. If it connects, it's all good," she says.
A Comprehensive Approach
One of the people that Rosenbush reached out to prior to opening Cala was Brandon Chrostowski (pictured below). Chrostowski and his eatery Edwins are featured in the Academy Award-nominated short documentary Knife Skills. For Chrostowski, his inspiration also came from personal experience, but on the other side of the law. When he was 18, he got arrested and ended up getting probation. He applied for jobs and a chef became his mentor. His career took him to culinary school and to Michelin-starred restaurants, including Charlie Trotter's in Chicago and to France. At La Cirque in 2003, he says he kept getting calls about people being murdered or going into prison and, as he put it, "It started going through my head that I had to do something." That something was to build the best culinary school in the country for people who needed it the most.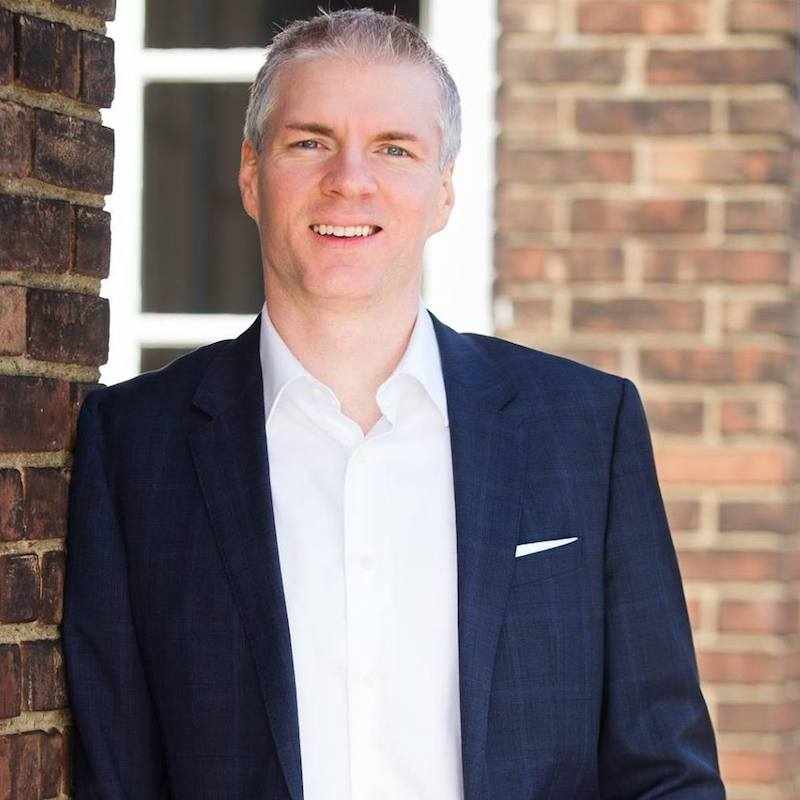 After working in prisons training inmates in culinary skills and teaching them to become culinary instructors, he created a program for those in re-entry and eventually opened Edwins, a fine dining French restaurant staffed by students in the program. His approach is much like Rosenbush's — give people a chance, train them, and help to support them but also set boundaries. Success for both Rosenbush and Chrostowski isn't just reflected in the graduates or long-term employees but in the people they have touched who have managed to escape the odds and stay out of trouble.
Understanding that the issues facing those in re-entry are diverse and include things like having a roof over one's head, Chrostowski added housing to his campus and provides his students with employment assistance, legal services, basic medical care, clothing, job coaching, literacy programs, and more. An understanding of the complexity of the environment on the outside is also what drew Chad Houser (pictured below) to create Cafe Momentum, an award-winning, non-profit restaurant and a 12-month paid, post-release internship program for kids coming out of juvenile detention. An experience working with kids in a juvenile detention center changed everything for him. Says Houser, "I realized I stereotyped the kids before I ever met them, I was thinking hoods, gangsta — and it couldn't have been further from the truth. They called me sir, looked me in the eye. They were so enthusiastic and eager to learn."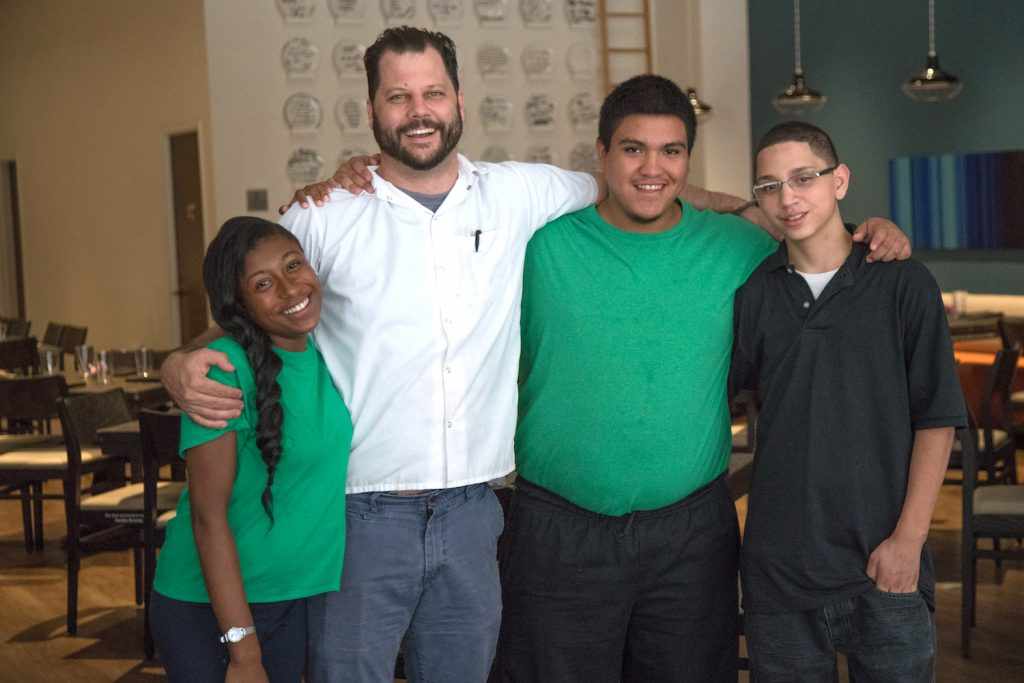 Despite their enthusiasm, Houser knew the deck was stacked against the kids. When one of the young men won a cooking competition and expressed a desire to work in a restaurant, Houser knew the chances were slim he could get a job. Says Houser, "I drove home realizing that the odds were against him. He was going to go back to the same school, house, gangs, everything. The system is rigged. I just thought that it's not fair for him—his life to date is based on a bunch of choices that were made for him before he was ever born." Houser's core realization might have that while all men may be created equal, there isn't equal opportunity, and it drove him to action.  "Somebody has to do something. I wanted something that created an intrinsic feeling of good" says Houser.
As Houser describes it, the program he created involved some trial and error. His approach, like Chrostowski's, is very holistic. "With the mentality that everything is built around the kids, I started out with asking what they needed. It's as simple as asking. We've worked with more than  300 kids and sixty-two percent are homeless. I can give them a job, but if they don't have anywhere to sleep, it's like putting a Band-Aid on a waterfall. There's a whole other set of issues. Anything short of a holistic approach is for naught," he explains. His program has many aspects, but they are centered around the restaurant, which offers income, training, and the opportunity to learn life skills. Students work through every station and each offers a unique opportunity to practice life skills and social skills they are learning as well as a chance for kids to find what they are good at and what they like doing. One example he points to regarding social skills is learning to disagree appropriately. As anyone in the restaurant industry knows, "The way in which you do that is different when you are dealing with a chef or a customer," says Houser.
Restaurants Are Redemptive
While the programs and approaches vary greatly from one restaurant to another, there is one thing that they all have in common — the core belief that working in a restaurant can be very redemptive. You've undoubtedly heard it said before that full-service restaurants are a microcosm of society or of a family (or, perhaps even, a pirate ship), but the concept is the same—all parts must work together to achieve success. For Rosenbush at Cala, while some re-entry trainees work in the kitchen, service is a primary focus. "You have the opportunity to take care of people in a restaurant. It's tangible, immediate, and not given enough respect. It's a skill and an art form. It can be learned and improved because it's an exchange with another human, that's the redemptive part," she explains.
For Chrostowski, restaurants are about opportunity, and it boils down to good honest work.  "Restaurants offer an innate experience — to cook, nourish, take care of people. Hard work is what defines you. If I work hard, I do well, and that's the redeeming quality." He points to his experience in France in the restaurant industry— "I couldn't read, write, or speak but I worked hard. And that has no languages and that has redemption in it. You can learn hands-on in the restaurant; it's accessible and forgiving."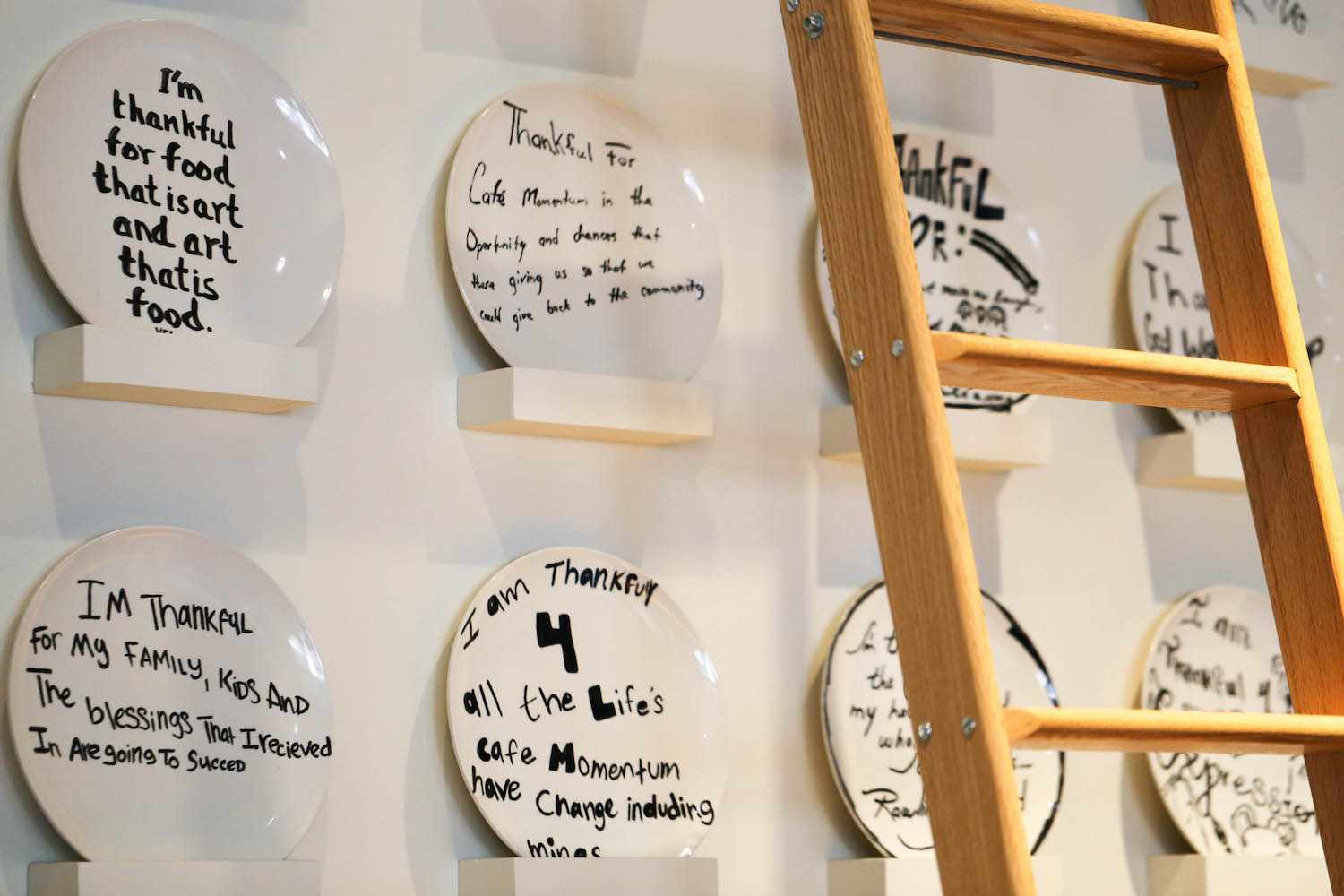 For Houser (whose "I Am Thankful" plates project is pictured above), he believes the path to advancement is a key to successful re-entry, explaining, "If you just look at the numbers the National Restaurant Association put out, ninety-five percent of all restaurant managers started off as dishwashers and eighty-five percent of owners started off as dishwashers. I think that those stats really speak to the redemptive nature of our industry." At the end of the day, being accountable both to one's self and to others is one of the greatest lessons a restaurant can teach.
Next Steps
If you're wondering if hiring the previously incarcerated is something you could do, here is some advice from Rosenbush, Chrostowski, and Houser, in their own words.
Channel Your Inner Rocky
Emma Rosenbush says, "Our industry is about hospitality and taking care of others, so start by doing that with your own staff. Restaurants have always been groups of misfits – extend that to people who haven't had those opportunities and give them visibility. Go for it! [But] hold on to your standards. If they aren't on board, then they don't deserve to be there. You need to take care of the people who are showing up."
A Little Means a Lot
"Do something in your wheelhouse. Trust your instincts. You've got to have a deeper connection and commitment. Just start doing it. If someone comes across your desk, hire them, give them a chance. Ask your vendors, 'Do you hire people out of prison?' Make it a dialogue. You don't have to go full tilt. Little by little makes a big difference. You can start by doing something now." states Chrostowski.
It Takes a Village
"Partnering is imperative. You're building an ecosystem and there are other people who have already established that ecosystem and do a wonderful job. Stick to your lane and partner with others who are good at other things like housing. Lead the charge of finding experts. Rome wasn't built in a day," notes Houser.
In addition to visiting their restaurants, you can support the educational programs at Cafe Momentum and Edwins by making a donation.
Photo credits (in order of appearance): Chloe List; Marcus Nilsson; Falls Communication; Chad Windham; Daniel Rodrigue.