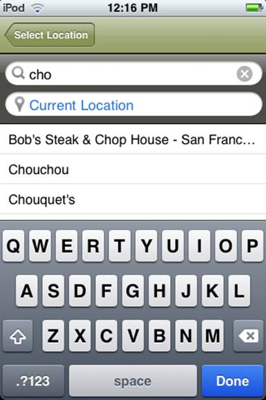 OpenTable is pleased to announce the latest and greatest version of OpenTable for iPhone. That's right, diners. We've hit the big 3.0! The new features in the OpenTable for iPhone 3.0 update were created specifically for diners like you — mobile enthusiasts who often know exactly where they want to go "without reservation" (pun intended). Of course, the application still remains essential for diners in search of suggestions and reservations on the fly.
With OpenTable for iPhone 3.0, you can now:
* Search for and book OpenTable restaurants by name — around your current location or in another city.
* Save and manage favorite restaurants right from your iPhone.
* Reserve further in advance (more than 30 days).
* Scan recently viewed restaurants plus detailed restaurant profiles, including photos, parking options, etc.
* Find 1,000-point restaurants in the search results easily, so you can earn free meals faster.
Download OpenTable for iPhone 3.0 today to enjoy all these features and others, including enhanced maps, in the U.S., Canada, Mexico, and the United Kingdom. To visit iTunes, click here.
OpenTable Mobile, which has helped seat more than 2 million diners since November 2008, will continue to evolve with new updates and releases (for our other platforms, too!), so please keep sending us your feedback — and stay tuned.