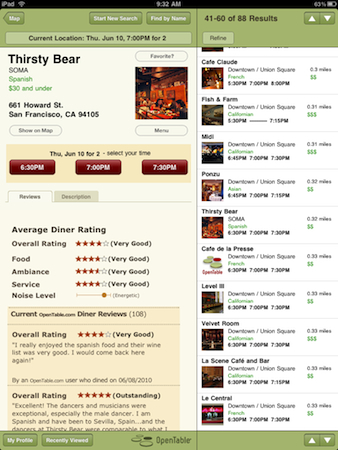 Many people have been asking when OpenTable will bring its mobile app to Apple's iPad.  We are excited to tell you that the answer is — today!  You can now download the latest OpenTable app here.
As a mobile product manager, I wanted to share our view of this exciting platform. While it's not yet entirely clear, we believe people will use the iPad in different ways than they do the iPhone. Until there are a greater number of 3G-capable devices in diners' hands, we won't know whether the primary use will be at home, at work, or on-the-go, but when the iPad is used in the home, it tends to be a communal device. Like the TV remote, it's something that is likely shared among friends and family while sitting on the couch.  Because most dining decisions are communal, the iPad, then, is a terrific platform for planning where to eat tonight (and every night). The iPad's generous screen means that you can browse more information at once, making it easier and faster than ever to find the perfect open table any time.
Developed in close collaboration with Sequence, the OpenTable iPad app incorporates all the unique features iPhone users have come to know and love while putting even more information at diners' fingertips. Where we go from here – and where you dine — is up to you, dear iPad user.
Don't delay; download the free OpenTable for iPad today.  And, please be sure to share your feedback with us at iphonefeedback@OpenTable.com.
Still not convinced? Watch a demo of the OpenTable for iPad app in action below!