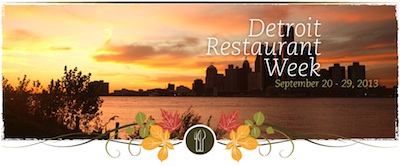 Happenings on and around OpenTable…
* Foodspotting is cooler than ever, thanks to a fancy new update of its amazing app. Find out what's new and download it today.
* The 2014 Michelin NYC Bib Gourmand honorees have been announced. Did your fave affordable eatery make the list?
* Trending on recent OpenTable restaurant reviews? Squash blossoms!
* No Kid Hungry Month continues through September 30. Make a reservation at a participating restaurant in September to help end childhood hunger.
* Santa Cruz Restaurant Week reservations are open. Reserve now for $25 three-course dinners, October 2-9.
* Detroit Restaurant Week motors on! Snap up $30 gourmet dinners through September 29.
* Spice up your summer with Miami Spice. Order up special $19 or $23 lunches and $33 or $39 dinners through September 30.
* Visit Orlando's Magical Dining Month continues. Save with $33 dinners throughout the month.
* Flavor Palm Beach Restaurant Month is in full swing. Book for $20 lunches and $30 + $35 dinners through September 30.
* Manayunk Restaurant Week is picking up speed. Three courses, three prices: $10, $20, or $30, September 22-October 4.
* Greater Kennebunks Restaurant Week end tomorrow. Catch $25, $35, and $45 three-course dinners, September 22-28.
* Catch the final weekend of Main Line Restaurant Week in Philadelphia ! Don't miss $15-$20 lunches and $20-$40 dinners
through Sunday.
* Did you send the Tweet of the Week? Click through to find out!