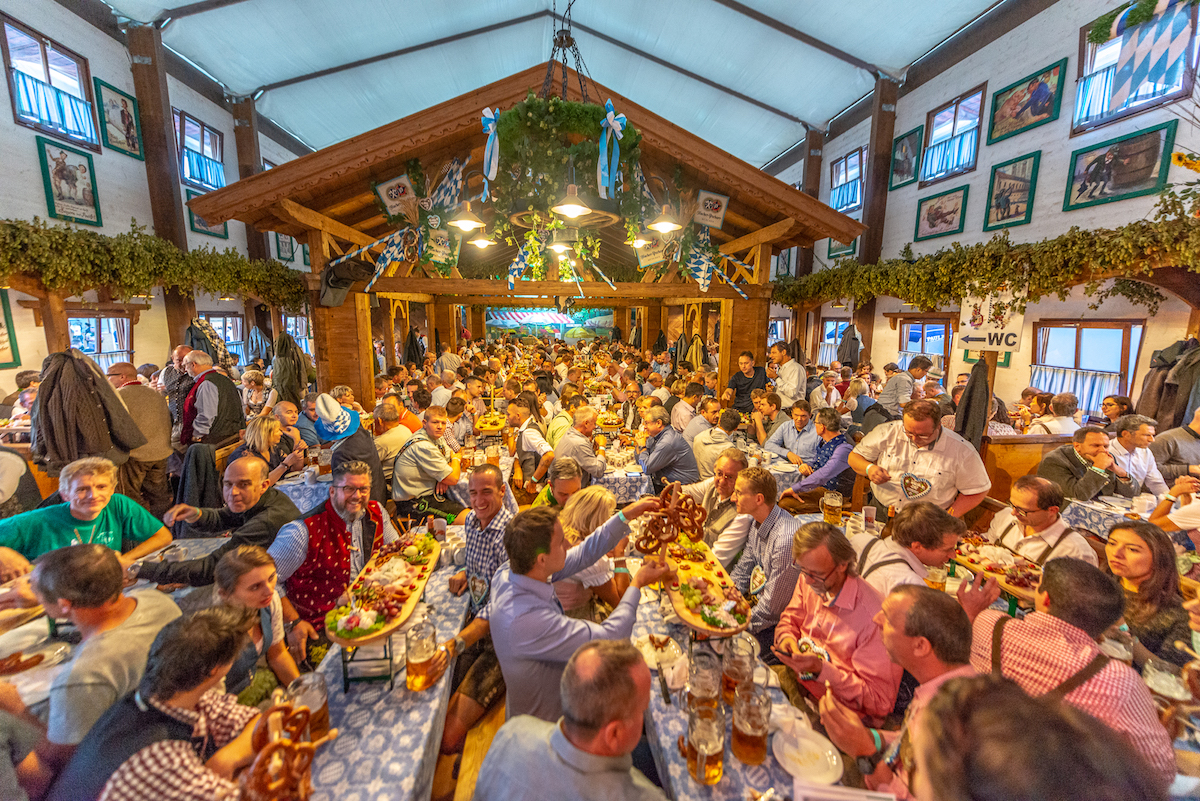 There are thousands of unique dining experiences on OpenTable, but perhaps none are more special than Oktoberfest 2019. Out of all the gatherings in the world, it stands out as number one on travelers' bucket lists, for beer lovers in particular. Over the course of two weeks, more than six million attendees quaff nearly two million gallons of beer and an array of local specialties keep the crowds energized, from hearty meats to sweets like strudel.  Oktoberfest 2019 begins on Saturday, September 21 and ends on Sunday, October 6, and OpenTable diners can get the jump on planning now. For the second straight year, you can book reservations through OpenTable at the following tents, making your trip even more convenient. Menus are subject to change throughout the weeks leading up to Oktoberfest, but here is a snapshot of some of the best options to try this year. And if you're not headed to Germany, you can find Oktoberfest celebrations at restaurants near you on OpenTable.
Heinz Wurst and HühnerBraterei
As another centennial Oktoberfest eatery, Heinzwurst HühnerBraterei is an intimate place to gather to enjoy a selection of schmankerl, fresh from the restaurant's sausage and chicken roastery. The owners describe the vibe in this welcoming tent as "hearty and homely," but the cuisine is unforgettable. The logo says it all: Cupid riding a suckling pig with the slogan, 'There's something fine about getting Heinz.' Make a reservation at Heinz Wurst and HühnerBraterei.
Münchner Knödelei
"The breadth of the dumpling kitchen makes the hearts of every Oktoberfest enthusiast beat faster." This quote from host couple Florian and Bettina Oberndorfer speaks volumes about their representation of Bavarian food and, more specifically, the knödel, or dumpling, which has earned its way to the top of every Oktoberfest goer's culinary wishlist. The 800-seat Münchner Knödelei with half and half indoor and outdoor seating offers a variety of dumplings, all bio-certified as part of preserving the history of how Bavarians prepared knödel in the form of dumpling pretzel, a trio of vegetarian dumplings, Rostbratwürstel, roast pork, and plum dumplings, among others. Visitors to the Münchner Knödelei website can dive into learning more about this practice through a dumpling film that reveals a few of their secrets. Münchner Knödelei offers a family-friendly Royal Bavarian lunch menu, but don't miss the Stenz von der Au appetizer tower. Make a reservation at Münchner Knödelei.
Wirtshaus im Schichtl 
Meatloaf has been reported as dating back to fifth-century medieval Europe (!), and a flavorful version of it happily haunts the Wirtshaus zum Schichtl tent at Oktoberfest. This variation of Bavarian meatloaf is served tavern-style alongside other traditional items, like grilled sausages, roast pork, bread dumplings, sauerkraut, and pork tenderloin, all of which are, of course, best paired with a mammoth glass of beer. Kids are welcome at Wirtshaus zum Schichtl and there is a special children's menu available. Make a reservation at Wirtshaus im Schichtl.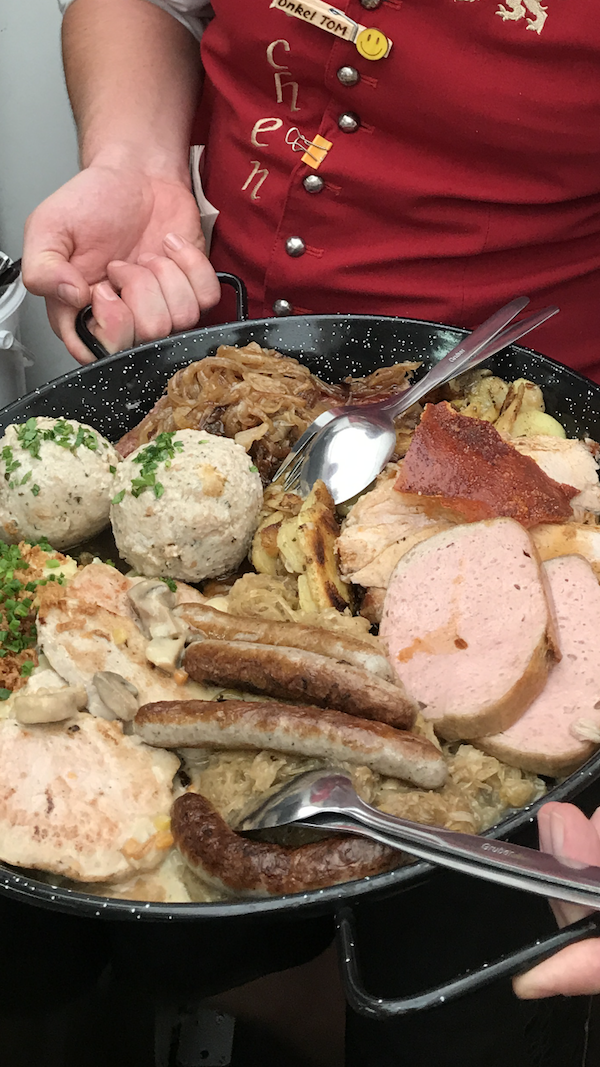 Fisch-Bäda Wiesnstadl
It's easy to think more healthful options might elude guests at Oktoberfest. Not so. At Fisch-Bäda Wiesnstadl the focus is on families and a healthy menu. Expect to find organic, vegan, fair trade, even lactose- and gluten-free items here, where the origin of ingredients is as important as the final dishes. Lots of seafood, meats, and vegetarian dishes dot this menu, but try Fisch-Bäda's variation on surf and turf with seasonal vegetables, risolee potatoes, and a green salad. This is a family-friendly tent where children are welcome and the owner offers stroller storage in the garden. Even the kids' meals are made from 100 percent organic ingredients. Make a reservation at Fisch-Bäda Wiesnstadl.
Oktoberfestzelt Zum Stiftl 
At a place that bills itself as having "friendly waitresses" and Hacker-Pschorr beer specialties, host Lorenz Stiftl and sons proudly serve their own version of farm-raised roasted chicken or duck with dumplings in their rustic, ski lodge-style tent. During Oktoberfest from 11AM to 3PM, Wirtshaus zum Stiftl offers a changing lunch menu and live music from 5-11PM. Make a reservation at Oktoberfestzelt Zum Stiftl.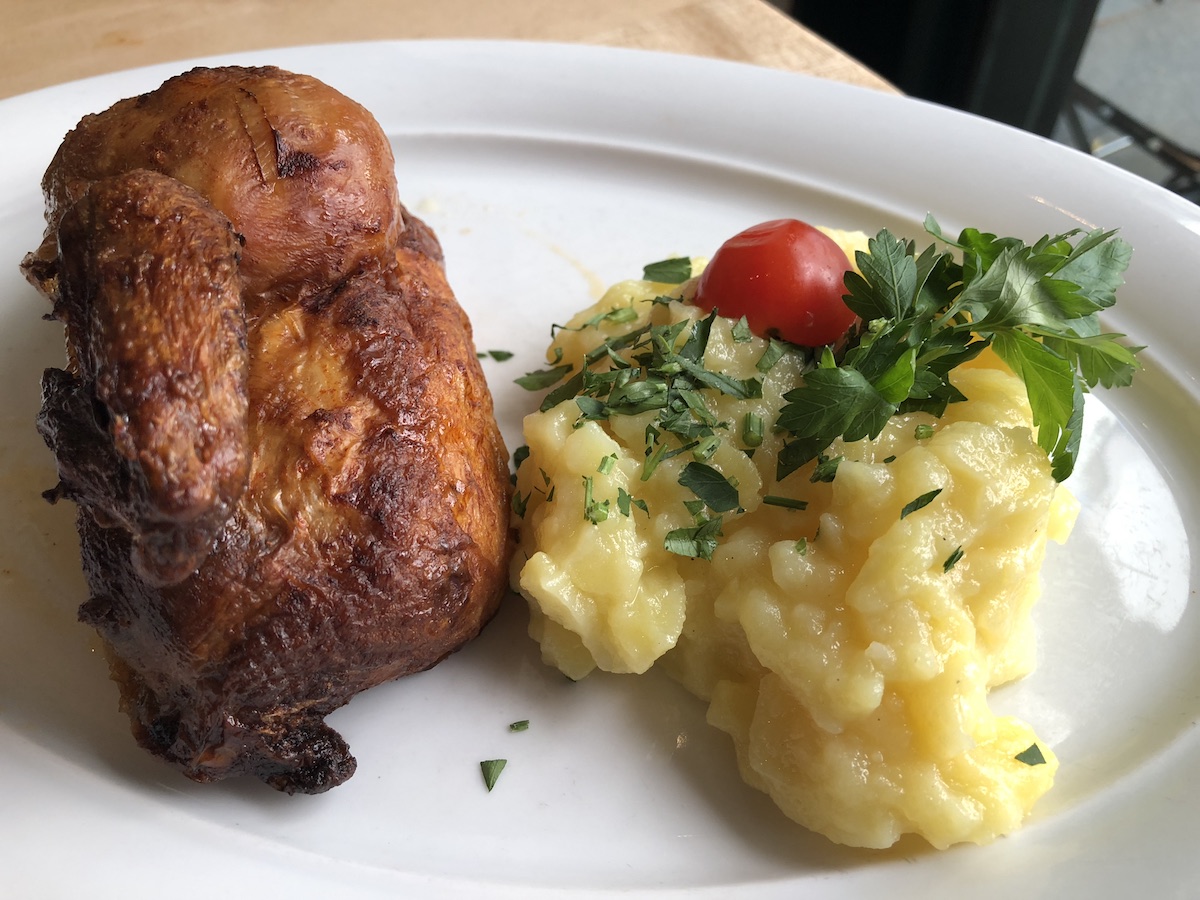 Hühner-Entenbraterei Ammer
Generations of gastronomes have graced the Ammer tent in preparation for Oktoberfest, perfecting the famous roasted organic chicken. They say this is the oldest chicken roaster in the world, but what remains undisputed is the quality of this succulent dish and the long-standing traditions behind it. The Schmidbauer family has been a fixture in these Munich Oktoberfest celebrations since 1885. Grab a spot in the beer garden for Augustiner beer from wood barrels and leave the rest to the Ammer angels. Make a reservation at Hühner-Entenbraterei Ammer.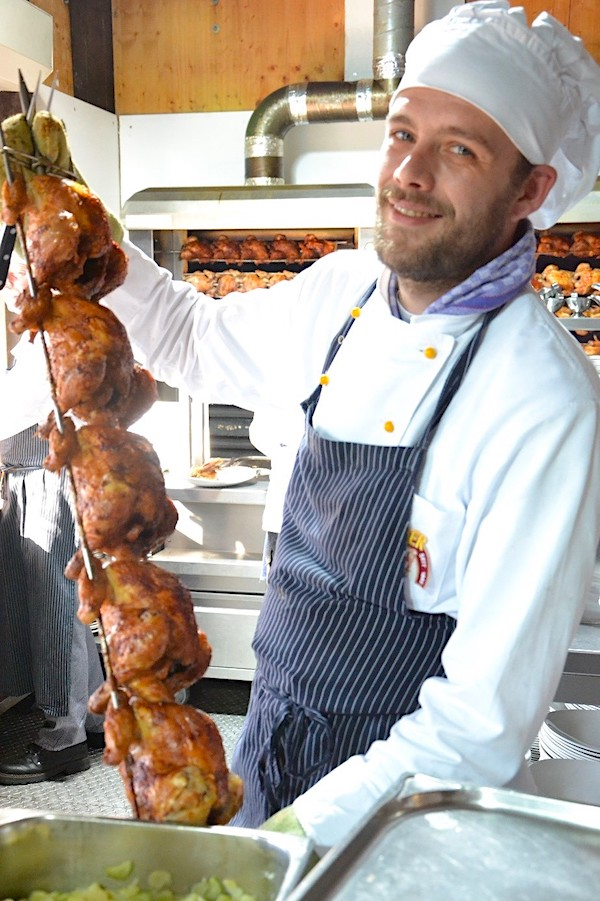 Glöckle Wirt
If you like your dining to feel personal and cozy, Glöckle Wirt is the right place for you. In a small festival tent, the ambience is rustic and fun, and you'll find a menu rich with Bavarian and international specialties. It's an Oktoberfest experience in a class of its own that offers a genuine Oktoberfest atmosphere and first-class culinary delights – a respite from the crowds. The walls and ceilings of the tent are decorated in loving detail with antique wind instruments, sleds, tendrils, kitchen utensils, pitchers and real oil paintings. Get ready to 'gram this spot. Make a reservation at Glöckle Wirt.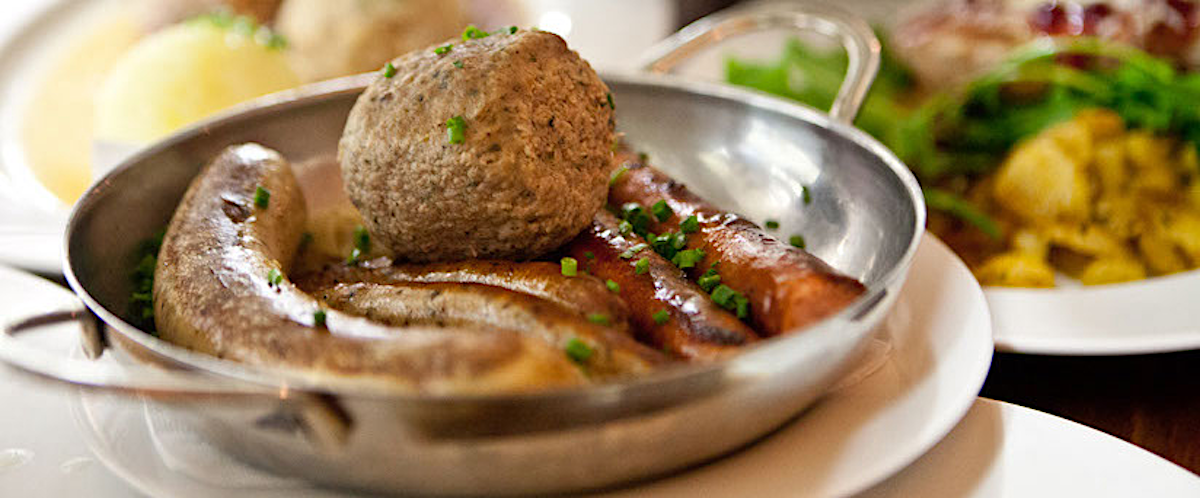 Bodo´s Cafezelt
After decades at Oktoberfest, Bodo's Cafézelt & Cocktailbar has perfected the art of sweets. In what patrons call a rousing atmosphere (thanks, in no small part, to the owner and his air guitar), guests at Bodo's have become hooked on its festive scene, welcoming atmosphere, and Bodo's famous pastries. Here the noshes to try include cakes, strudels, and kirschwasser, a traditional German jam-filled pastry variety of Krapfen similar to a doughnut but without the center hole. No one other than Bodo E. Müller, who first trained as a confectioner back in the 60s, could create something this good. Make a reservation at Bodo's Cafezelt.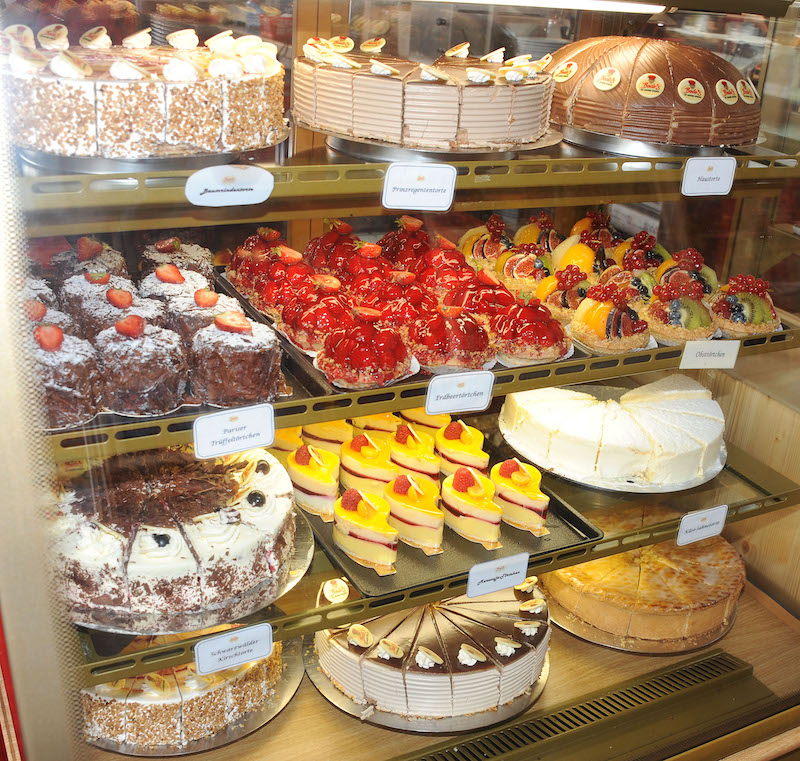 Which of these Oktoberfest 2019 tents will you be booking? Tell us here or over on Facebook, Instagram, Pinterest, or Twitter. And, remember to snap + share your #dishpics with us on Instagram for a chance to win in our weekly giveaway.
Kelly Merritt is an author and freelance journalist specializing in culinary travel. Follow her on Twitter @kellywrites + Instagram @kellymerrittwrites + Facebook at KellyMerrittWrites.