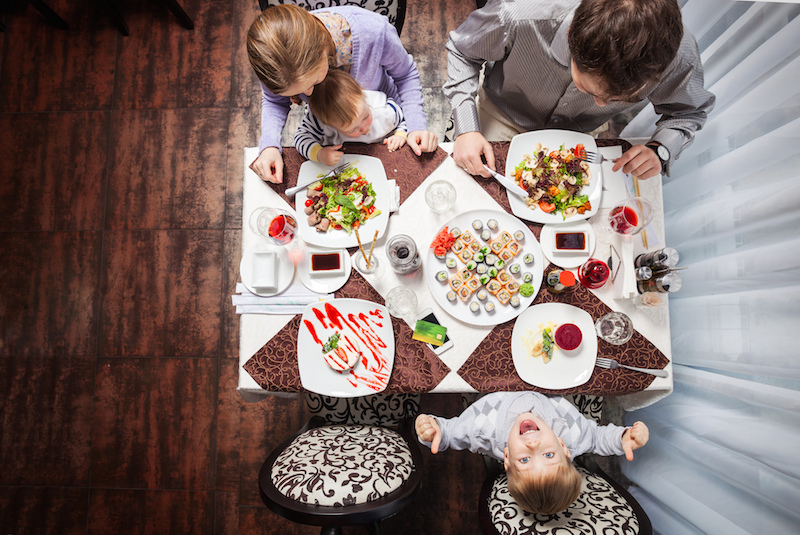 Restaurant staffers work overtime to create a warm, welcoming environment. But sometimes minors can cause them major headaches, and threaten to derail the establishment's carefully crafted dining experience. By thinking quickly and being proactive, staffers can prevent your kid's restaurant tantrums and make sure everyone goes home happy.
The Picky Eater
Walking through the dining room of the now shuttered Betony in New York City one evening, executive chef Bryce Shuman noticed something awry. A couple was dining with their six-year-old son, who clearly wasn't enjoying himself. The youngster hadn't touched the food on his plate, wore a grumpy expression, and was distractedly playing with his iPad. His dissatisfaction was impeding his parents' ability to have a good time and enjoy their meal. So Shuman decided to try to turn around their experience. He sent a staffer out to the nearest grocery store to buy a bottle of ketchup and frozen curly fries. When they brought out the nicely plated treat soon afterwards, the kid's face lit up and he dove in. The parents looked equally pleased. "It was a good moment," says Shuman. "So much of what we do goes beyond simply serving food and wine; it's about making people feel great. So anything I can do to make that happen, I'll do it."
The Young & The Restless
Trummer's on Main in Clifton, Virginia is used to hosting little diners, who usually don't require much extra attention. But a few years ago, co-owner Victoria Trummer noticed a brother and sister – aged approximately five- and seven-years-old – were getting antsy during dinner and were itching to bolt. They had already finished their meal, but their parents' entrees hadn't arrived yet, so leaving wasn't an option. The usual iPhone videos hadn't worked as a diversion, so Trummer decided to come up with a better distraction. She and the kitchen crew assembled DIY sundae platter featuring scoops of vanilla and popcorn ice cream, candy, chocolate pecans, and housemade butterscotch. "The kids and the parents were elated," she says. "The energy at the table and the dining room changed dramatically." The experience help inspire the restaurant's Petit Gourmand program, a high-end tasting menu for children that culminates with a make your own sundae that often makes the adults at the table jealous.
The Bored Ones
There's an old saying, "When the mind wanders, happiness also strays." This is certainly true with children in restaurants. Boredom can transform into a hissy fit in five seconds flat. That's why Grace Abi-Najm Shea, co-owner of the Washington, D.C. area Lebanese Taverna restaurants is proactive in engaging children. If the smaller members of a party appear to need amusement, she uses a variety of techniques. Shea might take them into the kitchen to help make the eatery's signature puffy pita bread. Another tactic is to bring them around the restaurant and introduce them to other guests, especially those with kids. If the children are a little older, she lets them play host and give guests their menus when they sit down. "The customers love it and the kids feel so important," says Shea. "And the parents get a break, which is always nice."
The Energizer Bunnies
Sometimes kids won't sit still. When Zena Polin, owner of the Daily Dish in Silver Spring, Maryland, sees a baby trying to get out of its high chair, she brings over a pair of plastic spoons. "They can eat with them, they can play with them, or they can bang on the table like they're a pair of little drumsticks," she says. The disposable cutlery has saved more meals than she can count. If there's a slightly older toddler who looks like he's about to do a Speedy Gonzalez impression around the dining room, Polin will pick up the child – with their parent's permission, of course – and let them put a fake order in the POS system. Finally, if the child is elementary school age and the weather is nice, she'll chalk out hopscotch squares on the sidewalk outside, so they can skip off their excess energy. "Which works out well until the kids take the chalk and draw a line on the wall of my restaurant down all the other shops alongside me," says Polin.
How have your hosts helped you prevent your kid's restaurant tantrums? Let us know here or over on Facebook, Instagram, or Twitter. And as you and yours vacation this season, use our list of the Best Kid-Friendly Restaurants in Top Summer Travel Destinations in America 2016 to help guide your dining decisions.
Nevin Martell is a Washington, D.C.-based food and travel writer and the author of several books, including Freak Show Without A Tent: Swimming with Piranhas, Getting Stoned in Fiji and Other Family Vacations. Find him on Twitter @nevinmartell.