If anyone needs a day off, it's moms. Racing between homework assignments and afterschool games, working, and keeping up with everyone else first, the least mothers deserve is an uninterrupted day to take a breath, relax, and, most of all, enjoy something scrumptious prepared by talented chefs.
There is no shortage of the more than 51,000 restaurants on OpenTable that are eager to make busy moms feel welcome and pampered, especially around brunch time. Here are 33 mouthwatering Mother's Day menus to give you a taste of what awaits. Not near any of these restaurants? Find one that's right for you on OpenTable. And, don't forget to join our #DiningMode challenge to give the mom in your life your undivided attention on her big day. You can learn some fun stories – and be eligible to win $400 in our #DiningMode giveaway.
Mt. Ada, Avalon, California
By helicopters or boat ride, perhaps nothing could be as picturesque as an afternoon on Catalina Island. A quick jaunt from Los Angeles is Mt. Ada. In this former Wrigley mansion, diners will find a three-course lunch with views of Avalon harbor and dishes like Dungeness crab cakes, snap pea and Asian pear salad, baked Pacific Swordfish, grilled whole branzino, rice pudding, and a chocolate croissant bread pudding with complimentary sparkling wine, mimosas, wine or beer. Make a reservation at Mt. Ada.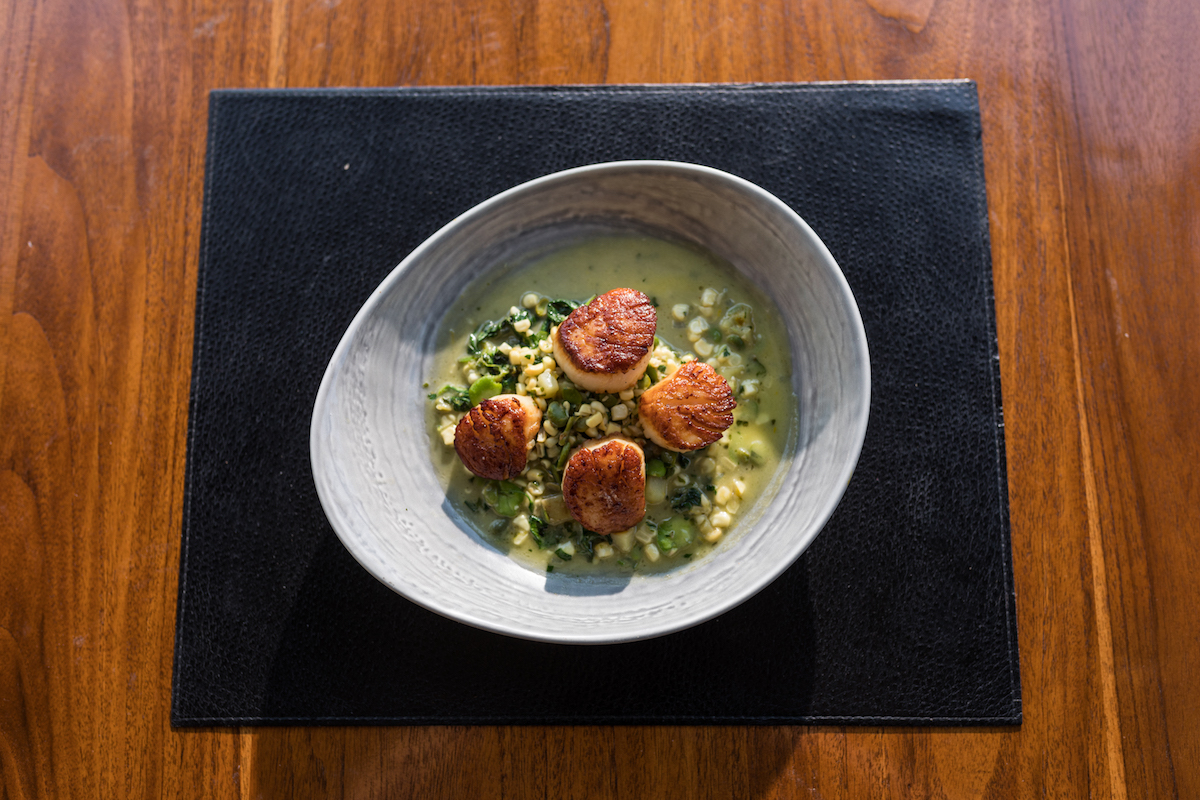 Knoxie's Table at Inn at the Chesapeake Bay Beach Club, Stevensville, Maryland
At the base of the Chesapeake Bay Bridge not far from Washington, D.C., and Baltimore, the Inn at the Chesapeake Bay Beach is home to Knoxie's Table. The Mother's Day brunch at Knoxie's includes a buffet with made-to-order omelet station, Belgian waffles, chef-carved prime rib, smokehouse bacon, country sausage, home fries, and their famous homemade pies. Make a reservation at Knoxie's Table.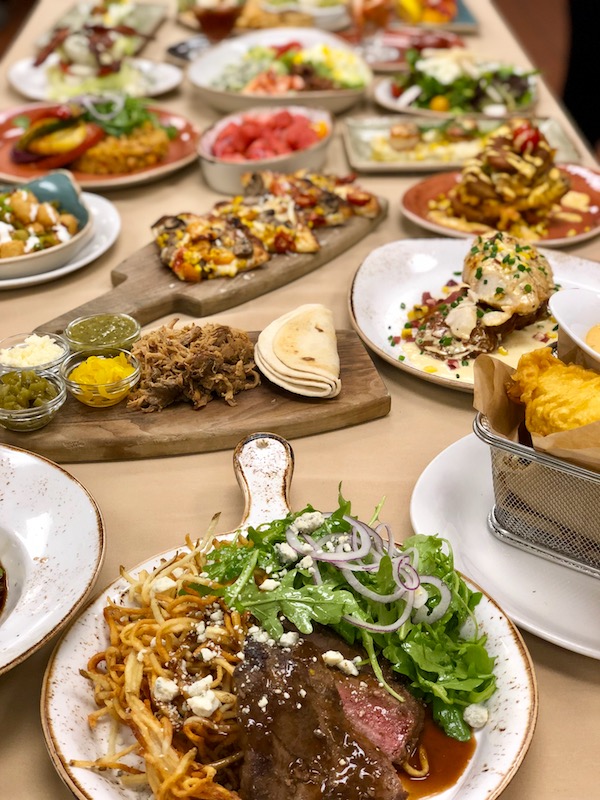 Arlo Blooms, New York, New York
Arlo Blooms is a pop-up botanical garden located inside of Arlo SoHo. For Mother's Day, families can treat Mom to this botanically inspired menu against the backdrop of floral arrangements, draped greenery, string lighting, and dimly-lit lanterns. The dishes are botanical works of art, including the potted plant cocktail with Hendrick's Gin, Campari, espresso, Mr. Black Cold Brew Coffee Liqueur, and rosemary syrup. Notable dishes include grilled spring vegetable flatbread with beets, radishes, asparagus, ricotta, and crème fraiche; green goddess soup made with yogurt, cucumbers, and romanesco, chile oil, and housemade granola, along with rainbow crudité with farmer's market vegetables and roasted eggplant dip. Make a reservation at Arlo Blooms.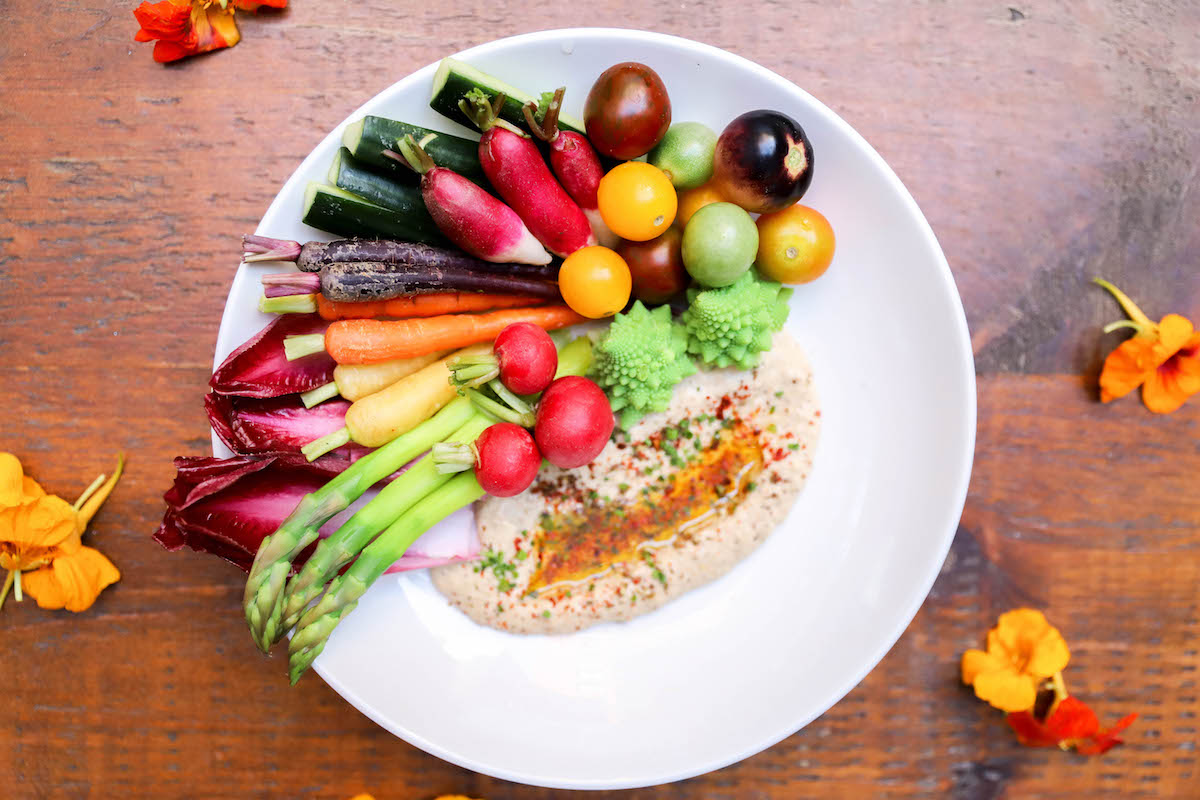 Bambara in the Kimpton Hotel Monaco, Salt Lake City, Utah
Brunch specials at Bambara will include smoked pork or spinach Benedict, grilled Scottish salmon with basil butter, Puget Sound oysters with horseradish mignonette, and housemade pastries, among other delights. Stay afterward for pop-up shopping as part of Monaco Salt Lake City's lobby partnership with City Creek Center. Make a reservation at Bambara.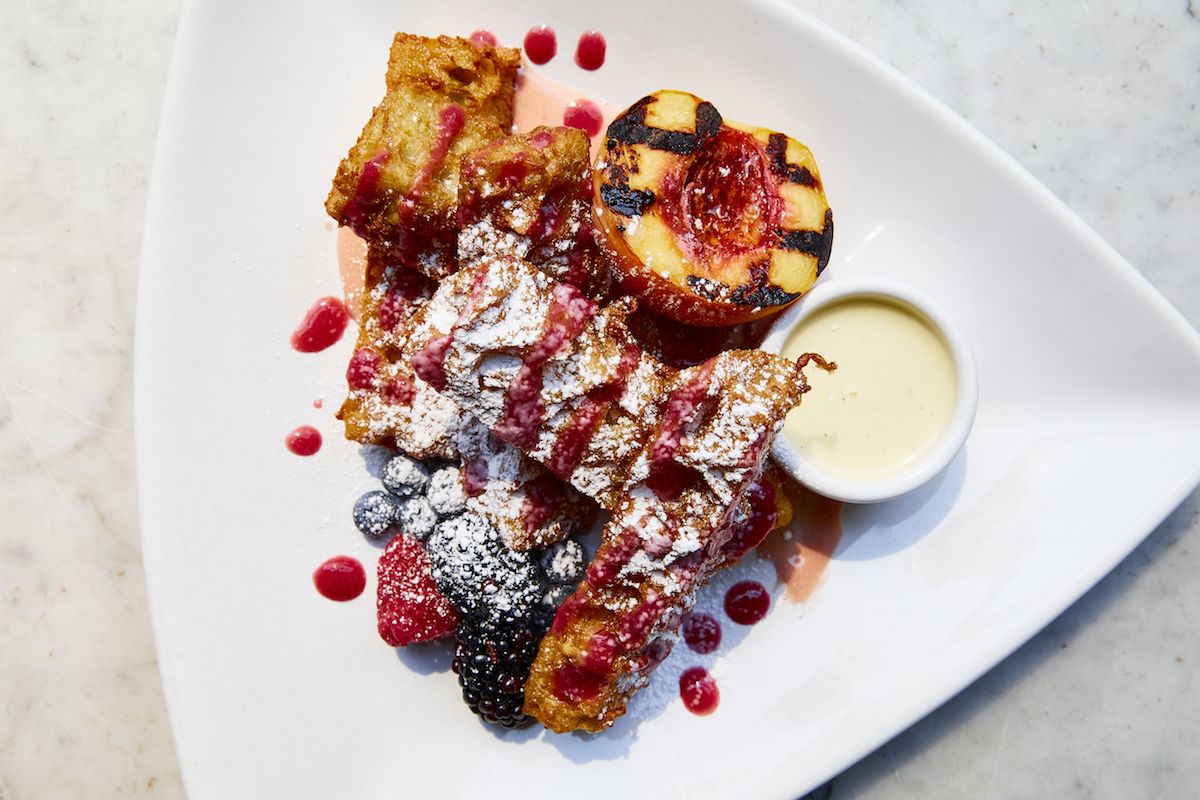 Wags & Waffles Brunch at Mari, Century City, California
Moms of the fur baby variety won't want to miss this brunch at Mari. As a partnership with the InterContinental Los Angeles Century City and Vanderpump Dogs, Mother's Day is the perfect time for the first Wags & Waffles Brunch. The garden gathering will include brunch with a waffle bar, egg station, Norwegian smoked salmon, mini Brooklyn bagels, and spring vegetable field greens and roasted chicken – and most importantly, the dog-friendly buffet. For purchase, guests can also order mimosas and Bloody Mary cocktails, just in time to shop afterward with Vanderpump Pets and pose for pictures in the doggie photo booth. Last but not least, diners will enjoy the benefit's canine fashion show with a portion of the proceeds donated to the Vanderpump Dog Foundation. Make a reservation at Mari.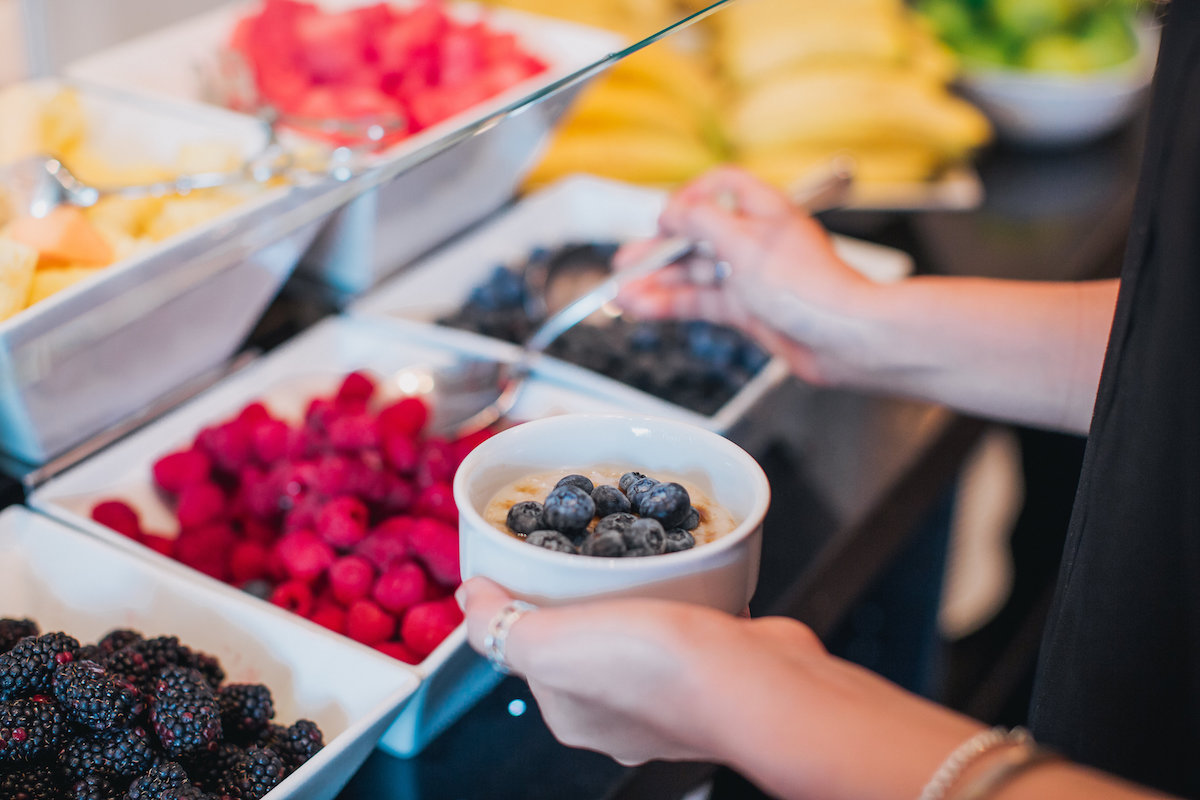 20 Twenty Grill at The Westin Carlsbad Resort + Spa,  Carlsbad, California
The last blooms may be fading at the Carlsbad Flower Fields, but the food is a living bouquet at 20 Twenty Grill. Moms can begin with chilled glasses of rosé or virgin elixirs in this fairly new resort, where the latest seasonal dishes are making a debut. New selections including Grand Marnier French toast, sweet potato hash, and homemade beignets, plus a special Mother's Day omelet station, raw bar, carving station, freshly baked desserts, and children's menu from chef Julian Quiñones. Make a reservation at 20 Twenty.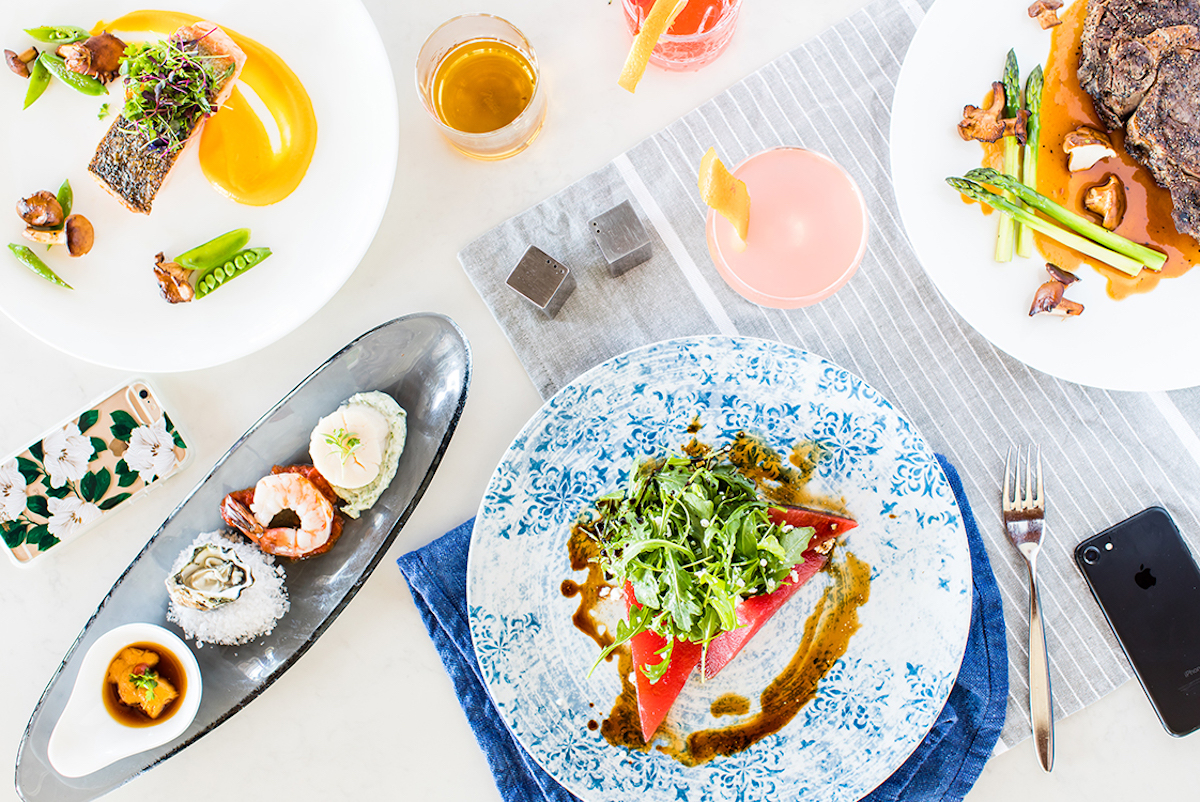 Temple Court, New York, New York
Mother's Day brunch at The Beekman, a Thompson Hotel in the Financial District, is beloved for dishes like cavatelli with smoked lamb, grilled ramps, mint spring peas, and horseradish cream, and desserts like pineapple upside down cake, baked Alaska, and the banana split with sesame ice cream and milk chocolate feuilletine. Be sure to catch a glimpse of adjacent The Bar Room for a glance upwards at the historic, nine-story atrium. Consider adding an artsy cocktail to Mom's brunch like the Frida Kahlo with Vida Mezcal or Nina Simone with Boodle's Gin, Aquavit, Pedro Ximenez Sherry, Braulio, and Earl Grey. Brunch starters include deviled eggs with smoked salmon and horseradish crème fraiche, shareables like doughnut holes with banana caramel, and main courses of salmon a la Oscar, eggs Benedict with smoked whitefish, and Niman Ranch hanger steak. Make a reservation at Temple Court.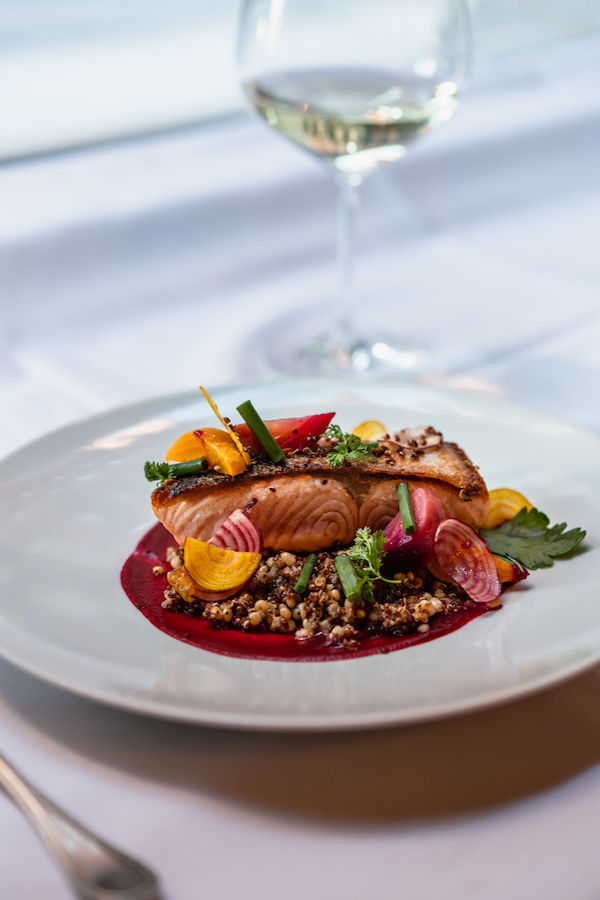 Vistal at InterContinental, San Diego, California
Bayfront views define the atmosphere at Vistal Bar + Restaurant, but diners revel just as much in chef Amy DiBiase's utterly addictive cornbread pound cake. On Mother's Day, guests can also indulge in a buffet of chilled seafood, cheese, charcuterie, salads, pastries, bottomless Veuve Cliquot mimosas, and entrees. Plus, moms can visit a bouquet-making station and on-site Kendra Scott Color Bar for customized necklaces, bracelets, or earrings. Make a reservation at Vistal.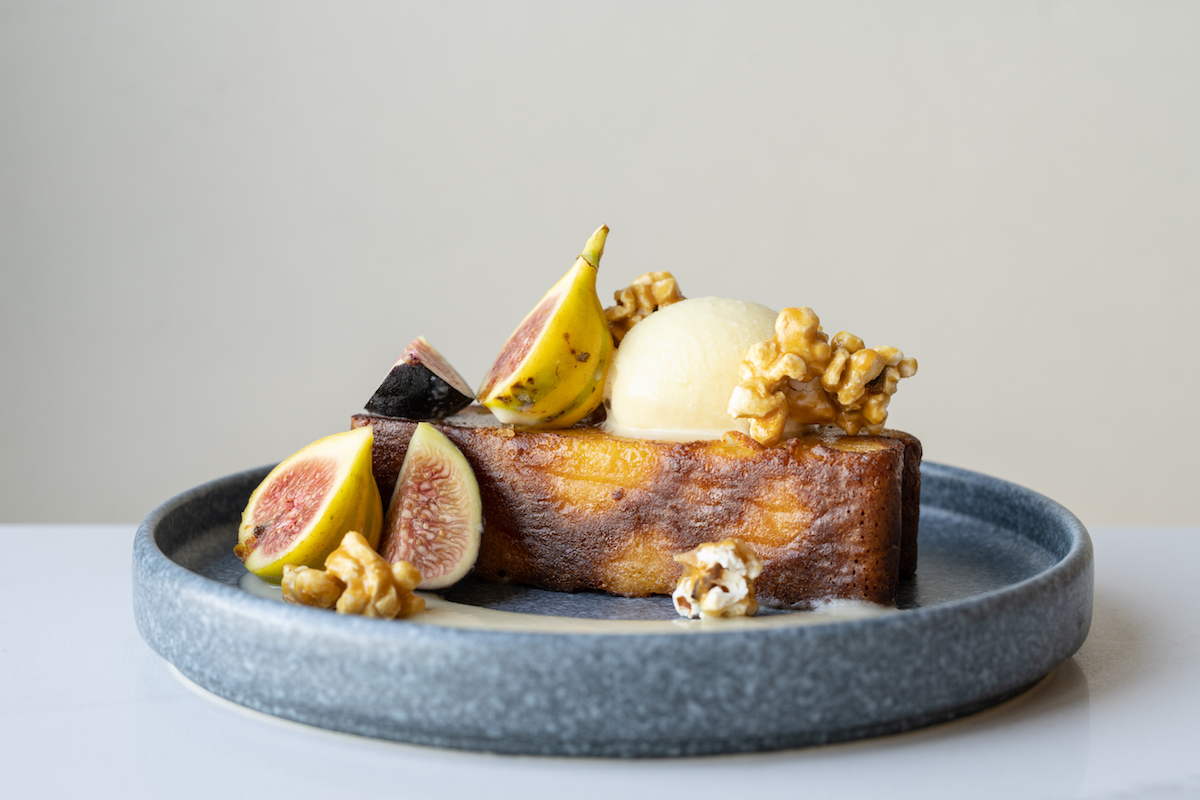 The Katharine Brasserie, Winston-Salem, North Carolina
Katharine Smith Reynolds herself would be proud to dine in this historic space, plates overflowing with tea sandwiches, breakfast pastries, deviled eggs, and Ms. Pam's famous potato salad. Diners partaking in this year's Mother's Day brunch festivities can anticipate helpings of poached Faroe Island salmon with white and green asparagus; mini smoked salmon bagels; and pasta salad with roasted red peppers, cherry tomatoes, arugula, and sheep milk feta. The carving station is slated to prepare smoked beef strip loin with a horseradish crème fraiche. Make a reservation at The Katharine Brasserie.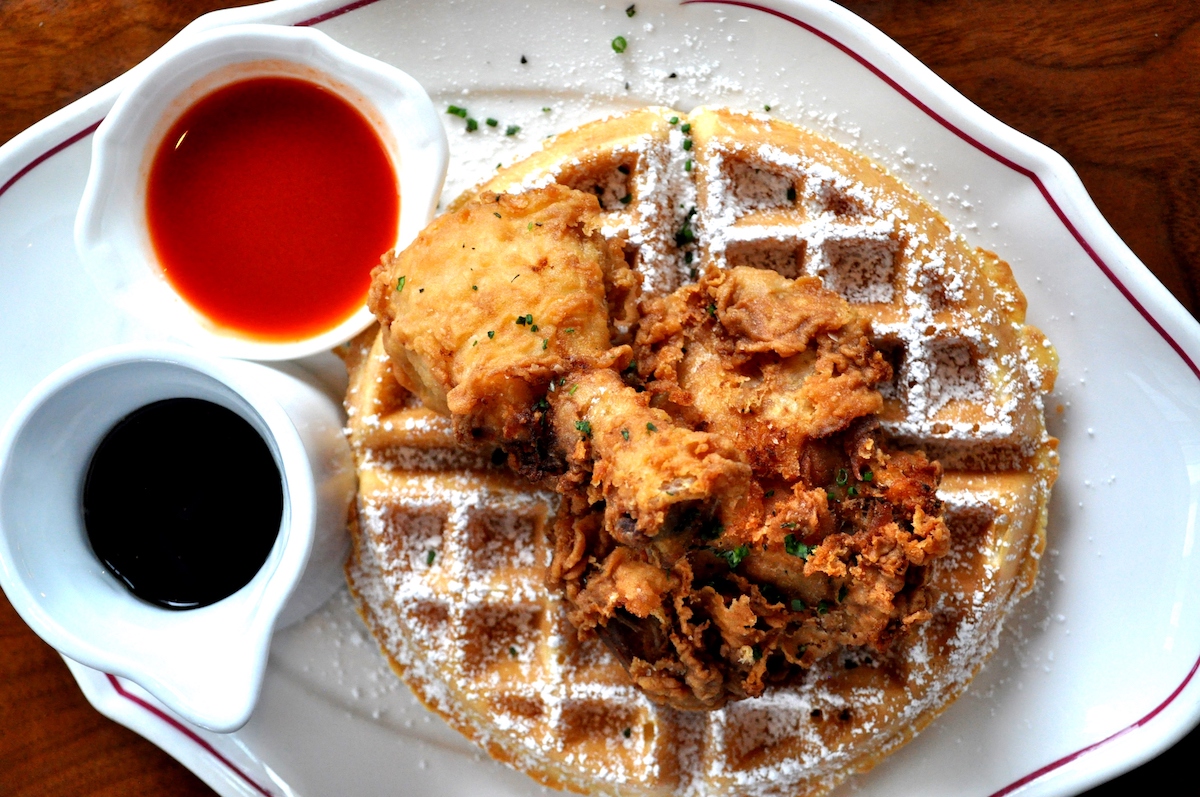 ANCORA, Vancouver, Canada
Ancora promises an exclusive menu from chef Ricardo Valverde's Peruvian-meets-Japanese Nikkei cuisine during Mother's Day brunches at his False Creek and new Ambleside locations. A few dishes to anticipate include grilled zucchini salad with soft boiled egg, queso fresco and Huancaina sauce; soft shell crab taco with mango salsa, harissa emulsion, seaweed, and ikura; free-range eggs Benedict with choice of Dungeness crab or smoked pork belly; forbidden rice Peruvian paella with black cod croquettes; and 12-hour braised short rib with miso cauliflower and queso empanada. Both locations will feature a raw bar of sashimi, nigiri, and sushi rolls with signature Ancora glacier of oysters, ceviche/tartare, crab causa, Salt Spring Island mussel Peruvian escabeche, poached prawns, and caviar service with buckwheat potato blinis and traditional accompaniments. Make a reservation at Ancora.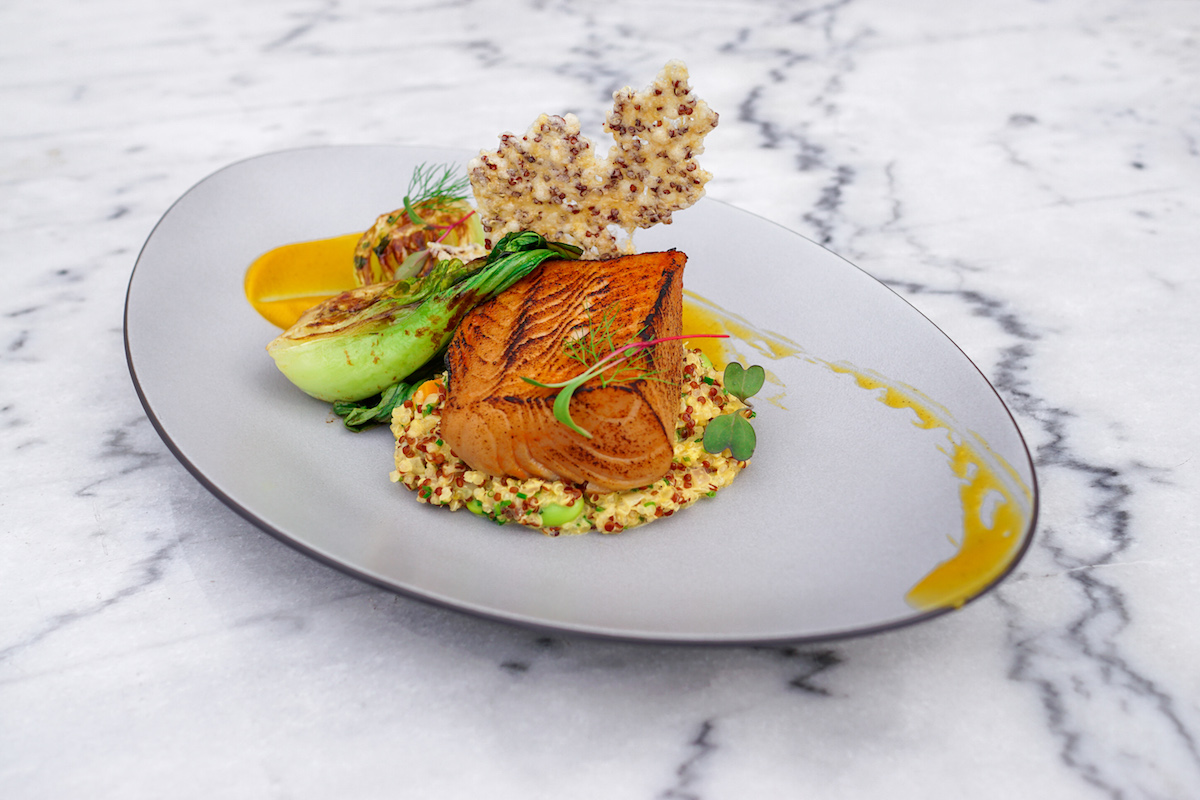 Fig & Olive, Washington, D.C.
If zucchini velouté, stuffed zucchini blossom, ricotta salata, and mushroom croquettes sound like a winning Mother's Day menu, Fig & Olive makes the grade. Using fine olive oils and savory vinegars, the food evokes images of luscious afternoons on the French and Italian Riviera and Spanish sunsets in dishes like heirloom tomato salads with local watermelon and tomatoes with cider dressing and black olive dust. Notable desserts slated for the brunch menu include strawberry crostini with rhubarb mascarpone and fresh strawberries with balsamic glaze and micro-basil and, fresh fig with almond nougatine and fig ice cream. Make a reservation at Fig & Olive.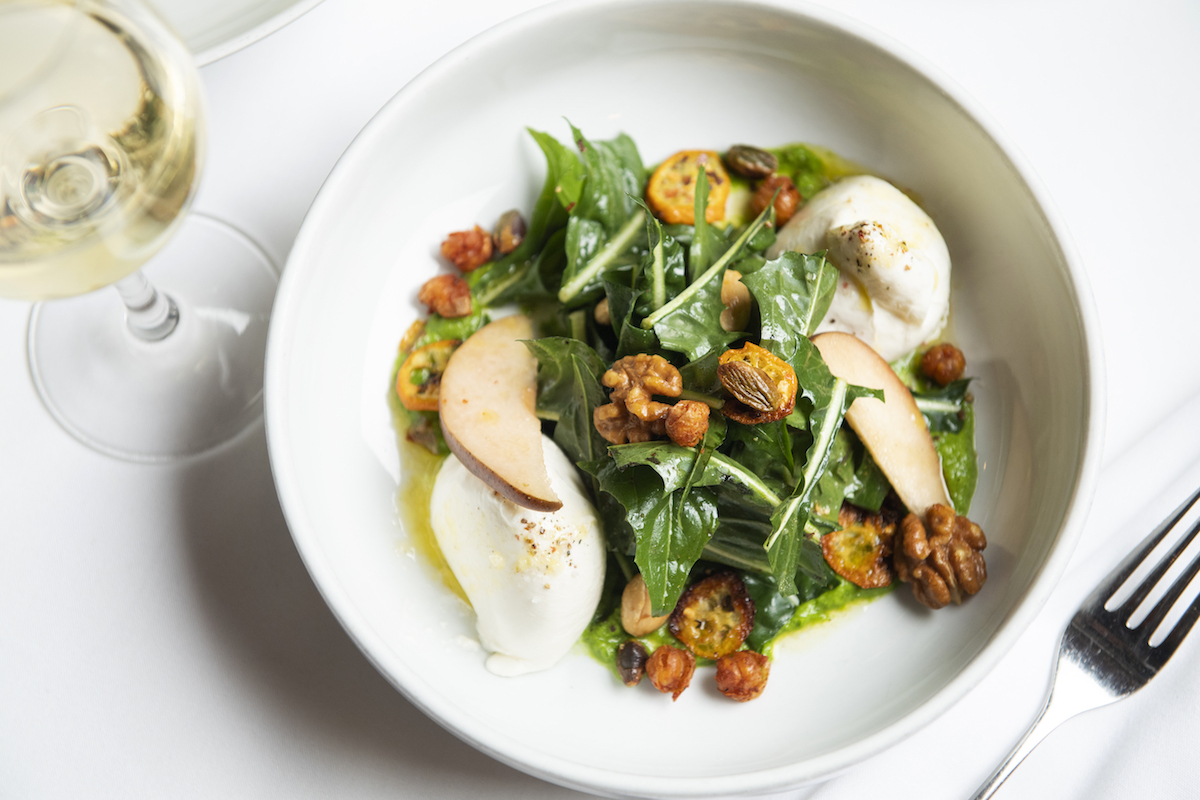 TREVI Italian Restaurant in The Forum Shops at Caesars Palace, Las Vegas, Nevada
Mother's Day at TREVI means signature Bellinis with a frozen blend of peach nectar, peach schnapps, RONDIAZ rum, and sparkling wine included with the purchase of an entree. On the moms' menu, plan to see salmon agnolotti primavera, roasted Chilean sea bass, and, of course, TREVI's signature linguine ai frutti di mare, made with lobster, shrimp, scallops, mussels, tomatoes, and scallions in a seafood cream sauce. Make a reservation at TREVI.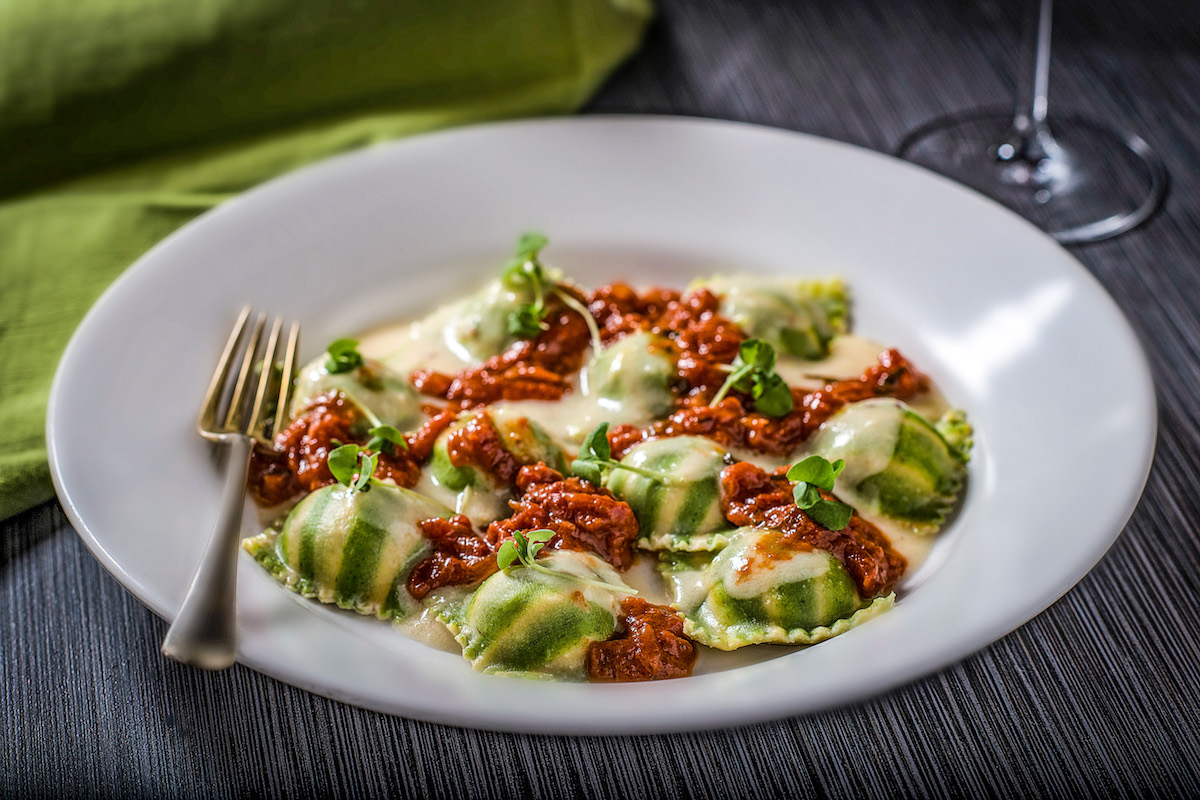 18 Oaks in the JW Marriott, San Antonio, Texas
In this river city's gathering spot for Mother's Day, diners will find fresh seafood, carved meats, and housemade pates, along with artisanal cheeses, omelets, and mimosas alongside local produce. Texas Hill Country views across the landscape make this is an ideal spot to snap a family photo. Make a reservation at 18 Oaks.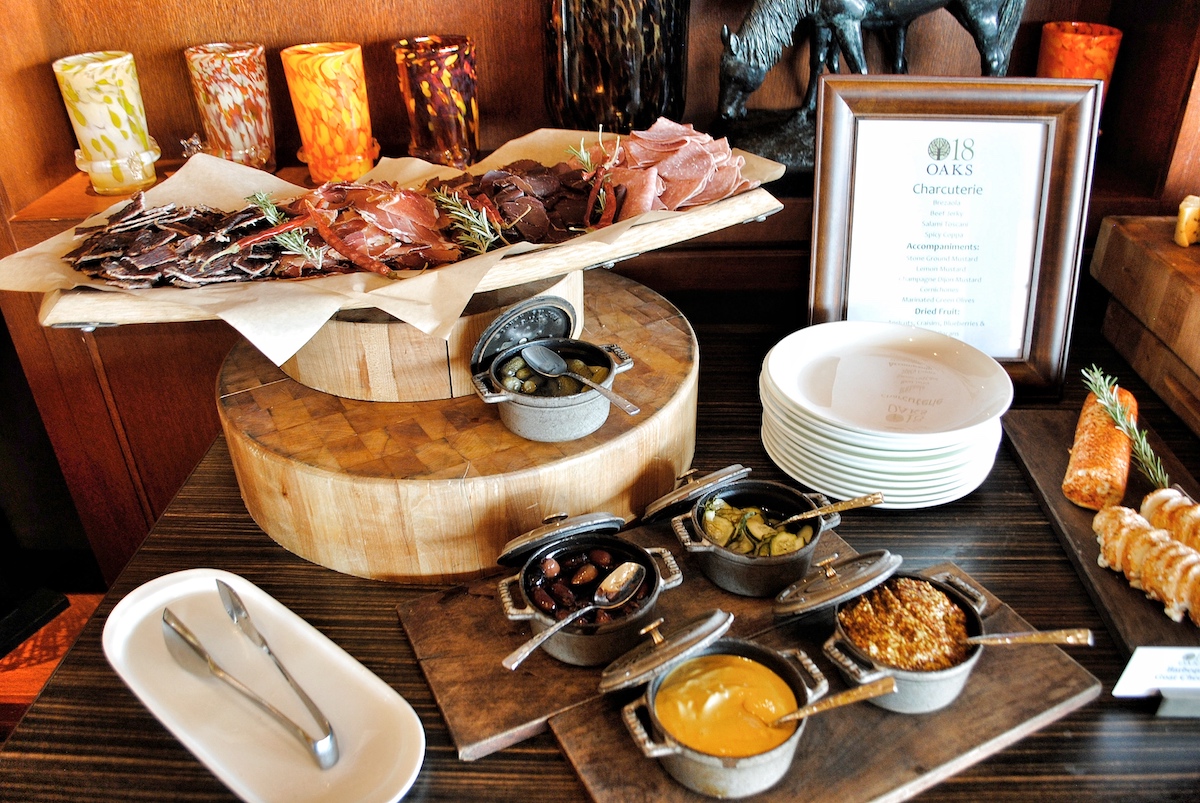 The Grill at The St. Regis, San Francisco, California
The regular brunch menu at The Grill has a thriving fan base already, but for Mother's Day, this St. Regis property is on full power. In addition to the étagère display consisting of a fresh bouquet of seasonal and exotic fruits, diners can enjoy smoked salmon with herb crème fraiche, red onion, and caper berries, plus a Little Gem Crown salad with lemon vinaigrette, asparagus tips, pickled pearl onion, and grilled prawns. Grab a bottle of Brut Rose and Rose BTG to share. Make a reservation at The Grill at The St. Regis San Francisco.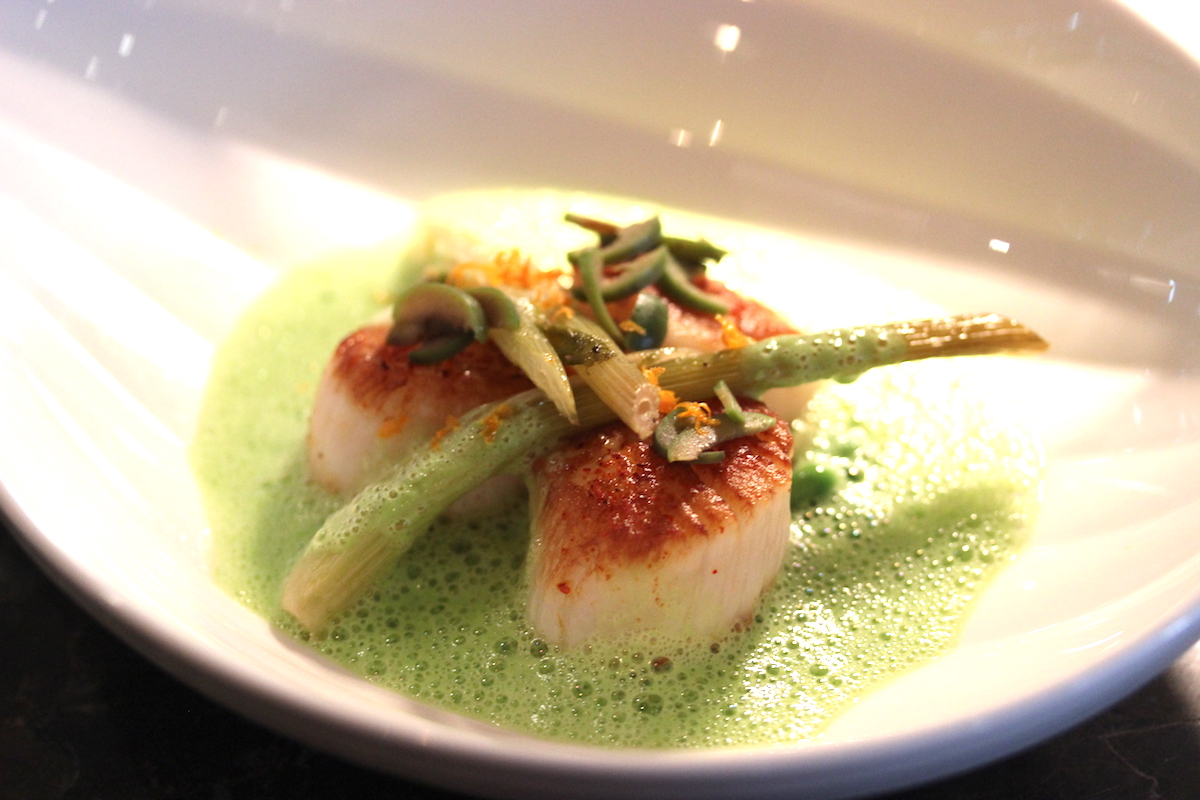 WP24 by Wolfgang Puck at The Ritz-Carlton, Los Angeles, California
For regulars, this famed downtown hotel and the 24th floor needs no introduction to the interactive dining experience with Wolfgang Puck's culinary team. Kitchen demos and discussions with the chefs at individual stations as they prepare Asian dishes will be part of the celebration on Mother's Day. Expect to learn about and indulge in steamed dumplings and buns, sushi rolls, and stir-frying hand-torn noodles, plus you can learn how to create Chinese donuts for dessert. A must, spend some time at Wolfgang Puck's Peking duck station to assemble your own duck bun and don't miss the make-your-own congee station with fresh crab. During the two seatings, guests will be able to participate in the WP24 Bloody Mary cocktail demonstration. Make a reservation at WP24 by Wolfgang Puck at The Ritz-Carlton.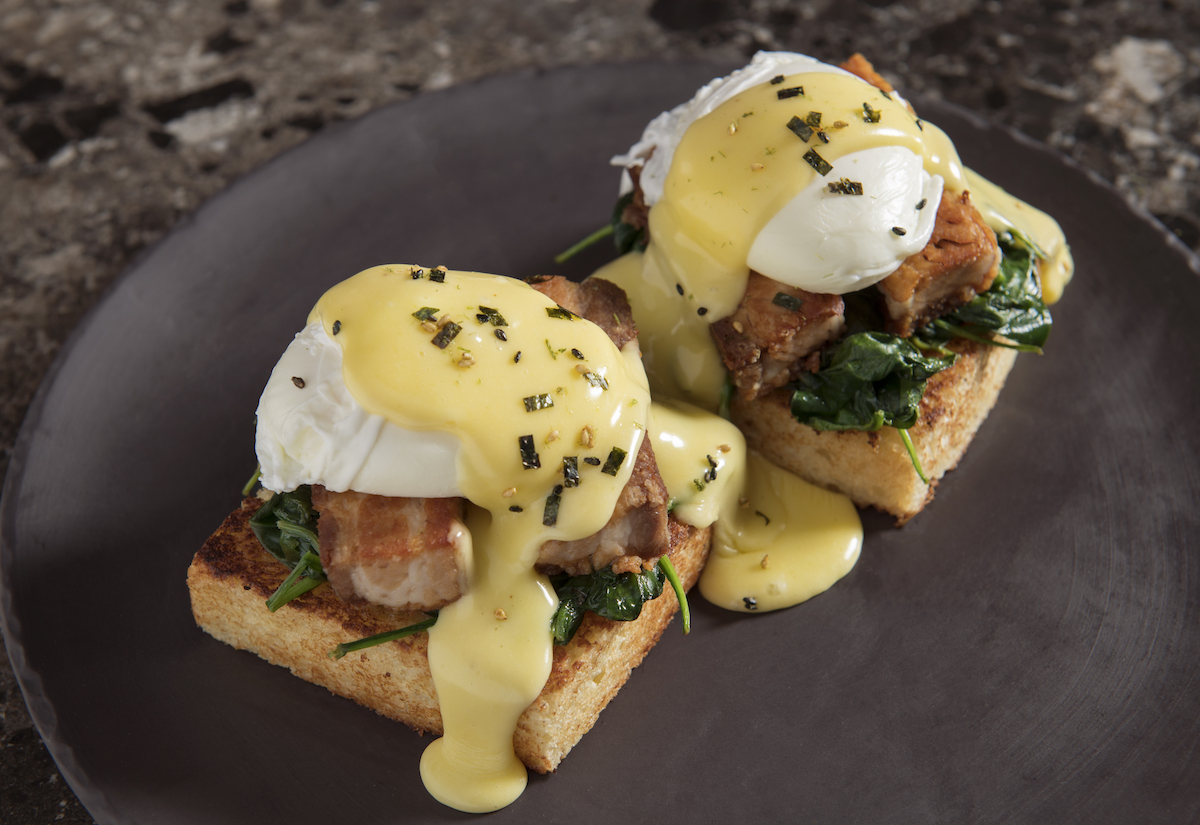 Brabo Brasserie, Alexandria, Virginia
At this French brasserie, chef Sebastien Rondier has crafted a three-course menu with basil and chive crab cakes, braised lamb shoulder, and spring risotto with roasted salmon. A special treat to be sure, the complimentary sweets cart rolling around during brunch will deliver macarons, brownies, cookies, chocolate truffles, pate de fruits, homemade marshmallow, and mini tarts. Brabo Tasting Room next door is preparing Mother's Day picnic baskets brimming with cheese and charcuterie, French baguette, potato salad with grain mustard and bacon, roasted tomato salad with cave-aged cheddar and puff pastry, macarons, and a choice of non-alcoholic sparkling cider or house red or white wine. Make a reservation at Brabo.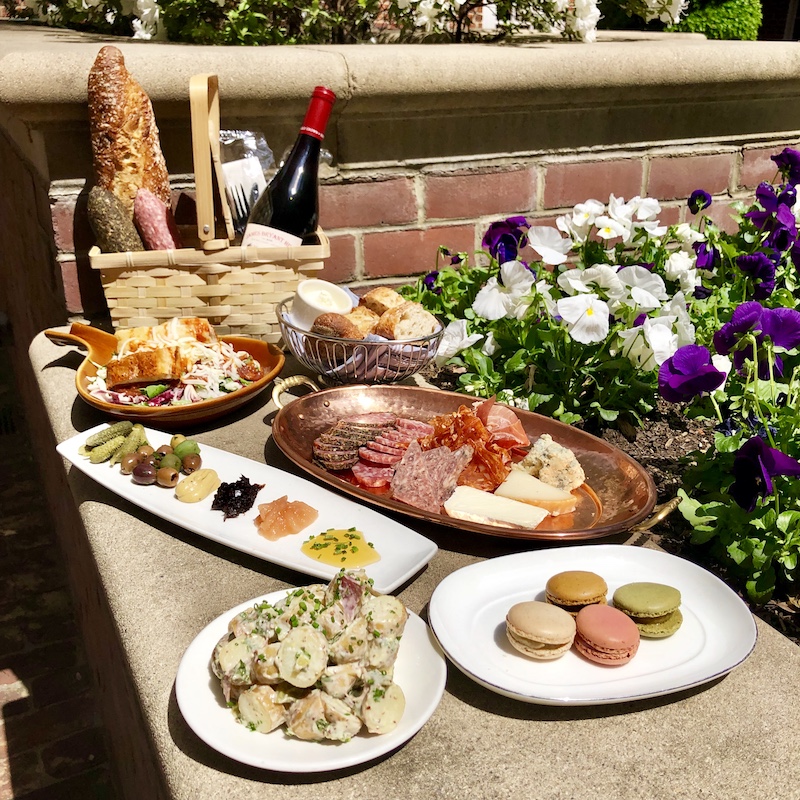 The Greenhouse at The Jefferson, Washington, D.C.
Diners at the Greenhouse can raise a glass to moms and history on Mother's Day beneath the antique 1923 skylight of The Jefferson. The lemon ricotta pancakes are reason enough to visit, but the rich history of this iconic locale is a nice bonus. Make a reservation at The Greenhouse at The Jefferson.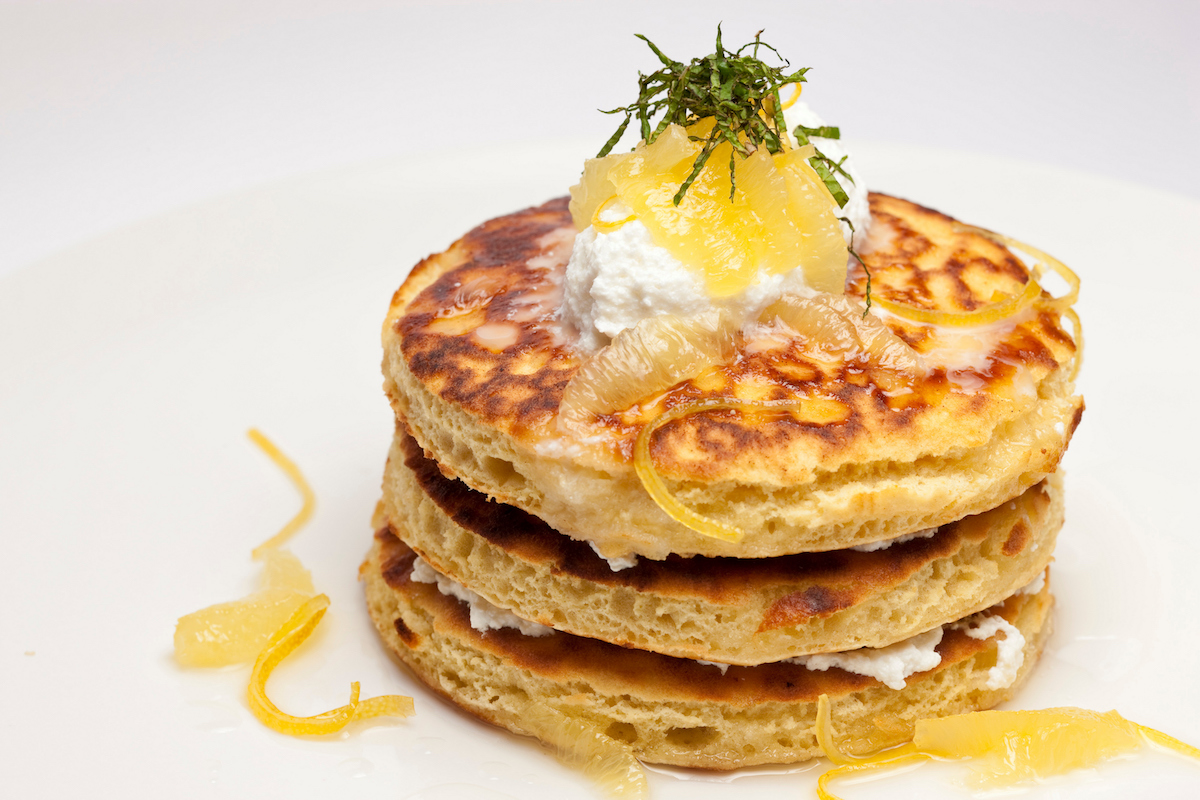 Navio in The Ritz-Carlton, Half Moon Bay, California
As part of a coastal getaway or just for a tasty meal in one of California's most gorgeous seascapes, Mother's Day brunch at Navio includes chef's carving station, egg station, cheese and charcuterie, chilled soups, sushi, and a dessert bar. Make a reservation at Navio.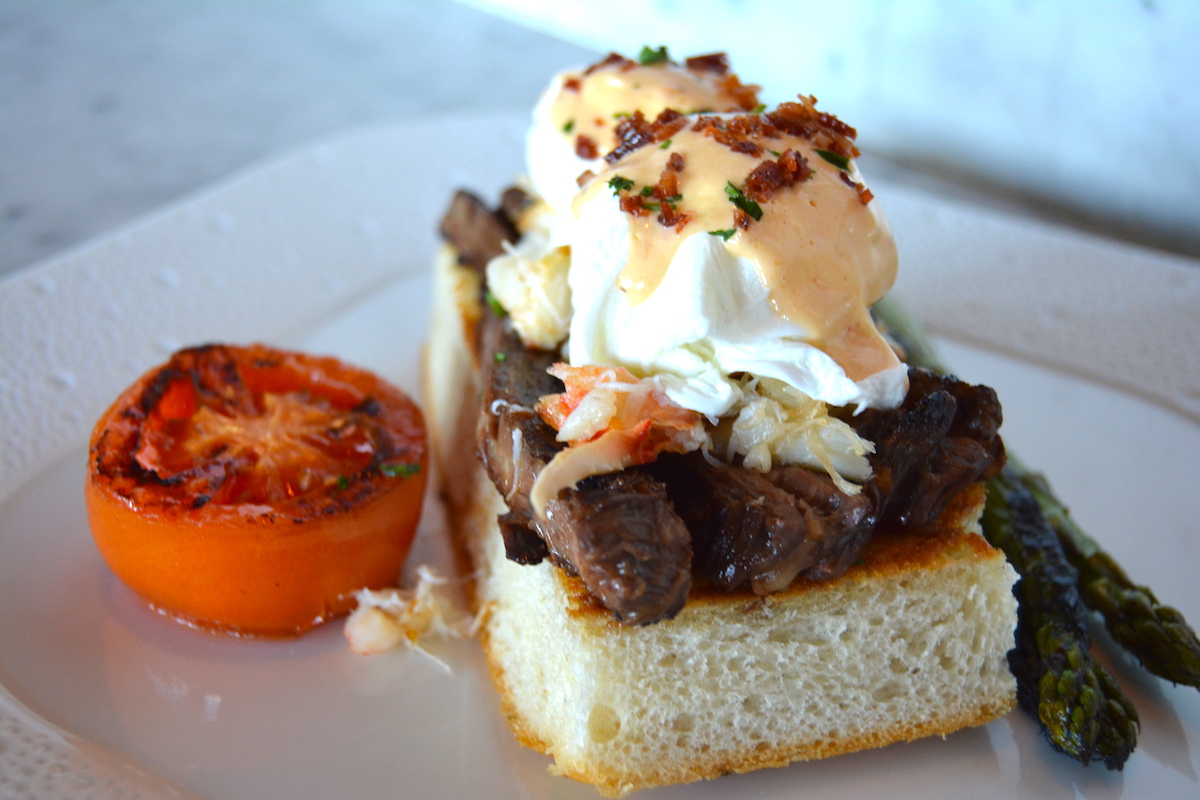 Terras at CIVANA, Scottsdale, Arizona
Terras welcomes diners to the ultra-relaxing CIVANA, home of the only five-climate Klafs Sanarium in the continental United States, where the restaurant menu for Mother's day will include a buffet with carved herb- and cracked pepper-crusted prime rib of beef with horseradish, Macadamia-crusted chicken with wild mushroom cream sauce, house-cured salmon with citrus asparagus and tomato salad, charcuterie, and dessert bars. Make a reservation at Terras.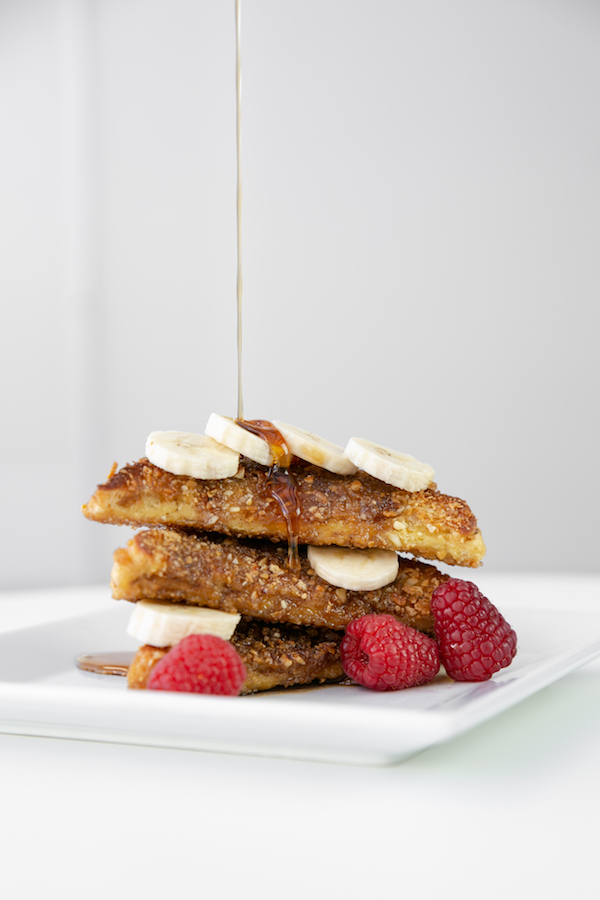 Red Star Tavern in the Kimpton Hotel Monaco, Portland, Oregon
This gem under chef Dolan Lane honors local vendors in his brunch buffet for Mother's Day. There are traditional carving and omelet stations, housemade sweet and savory pastries, eggs Benedict, and chilled seafood. Dine and stick around for a walk around the hotel, making a stop at the grand fireplace, plus participate in a card-making station specific to Mother's Day. Make a reservation at Red Star Tavern.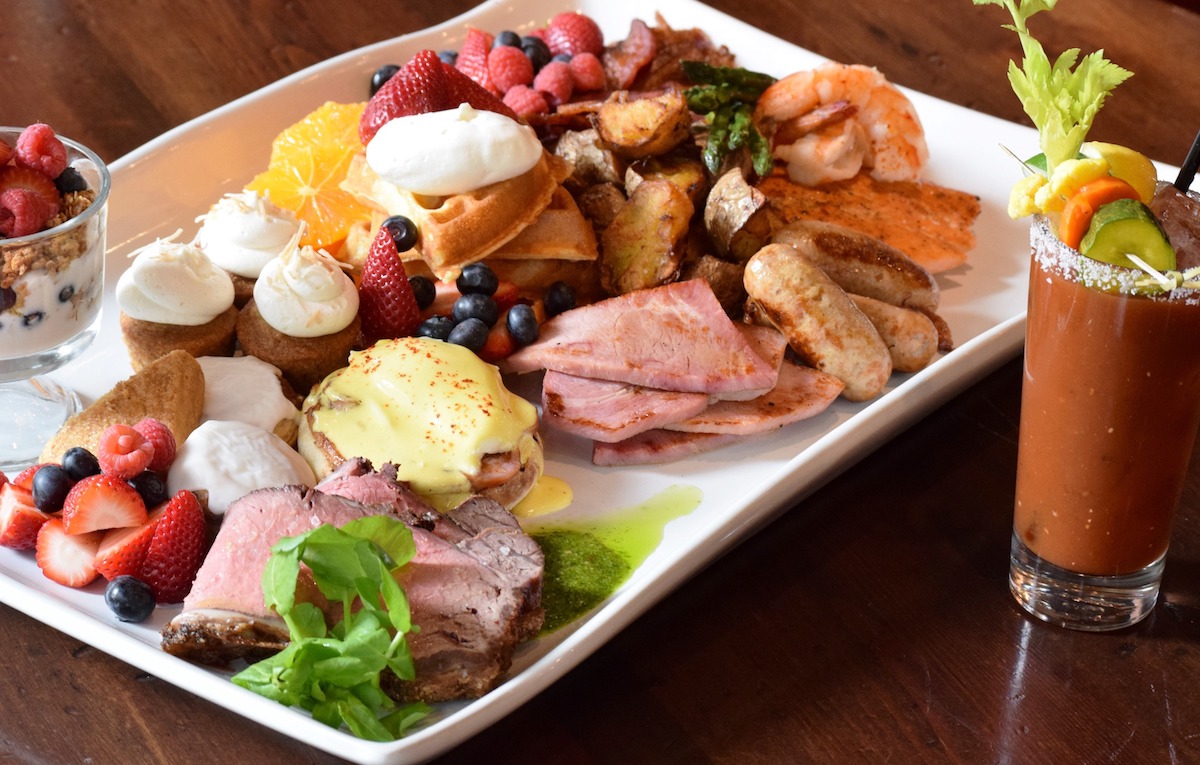 SafeHouse, Chicago, Illinois
SafeHouse is as much about the fun family experience as the yummy eats, including on Mother's Day. Diners become 'spy squads' charged with unlocking secrets, provided they pass the clearance point at the entrance. Mother's Day is for code cracking, junior spies in tow here while noshing on Licensed to Kill Mac 'n' Cheese, Bourne Identity salad, Fried C4 cheese curds, spinach and artichoke dip(lomacy), and Station Chief's salmon.Make a reservation at SafeHouse.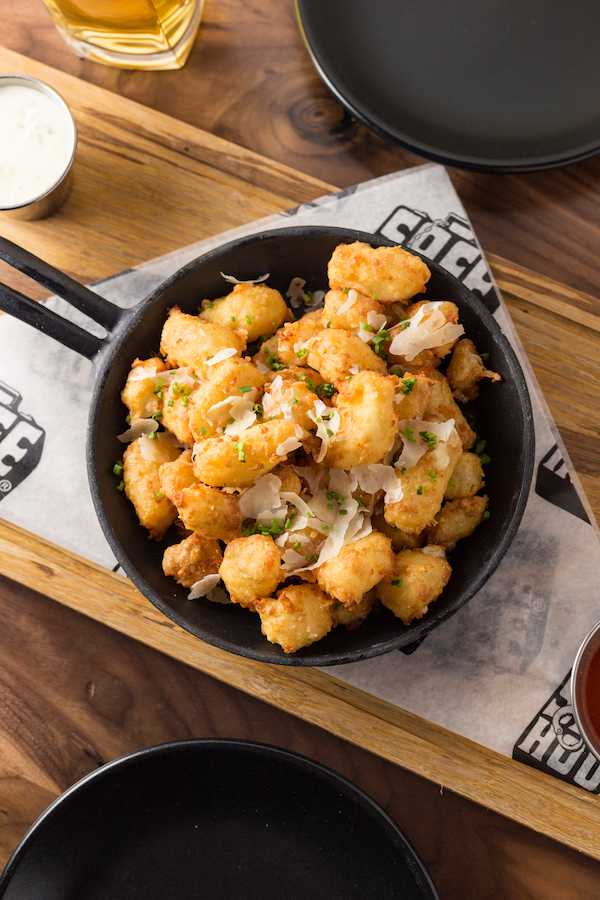 Azurea at One Ocean Resort & Spa, Atlantic Beach, Florida
The Mother's Day menu at Azurea at One Ocean Resort will include crab cake Benedict, lobster brie omelet, a smoked lobster and shrimp cocktail duo, white asparagus bisque, truffle-crusted Diver scallops, and other dishes that honor Florida cuisine. Don't miss the housemade chocolate raspberry Chambord torte and blueberry lemon zest cheese tart. Guests who have stayed at the resort love the One Ocean Docents, gladly anticipating every need in the role of a private concierge. Make a reservation at Azurea Restaurant.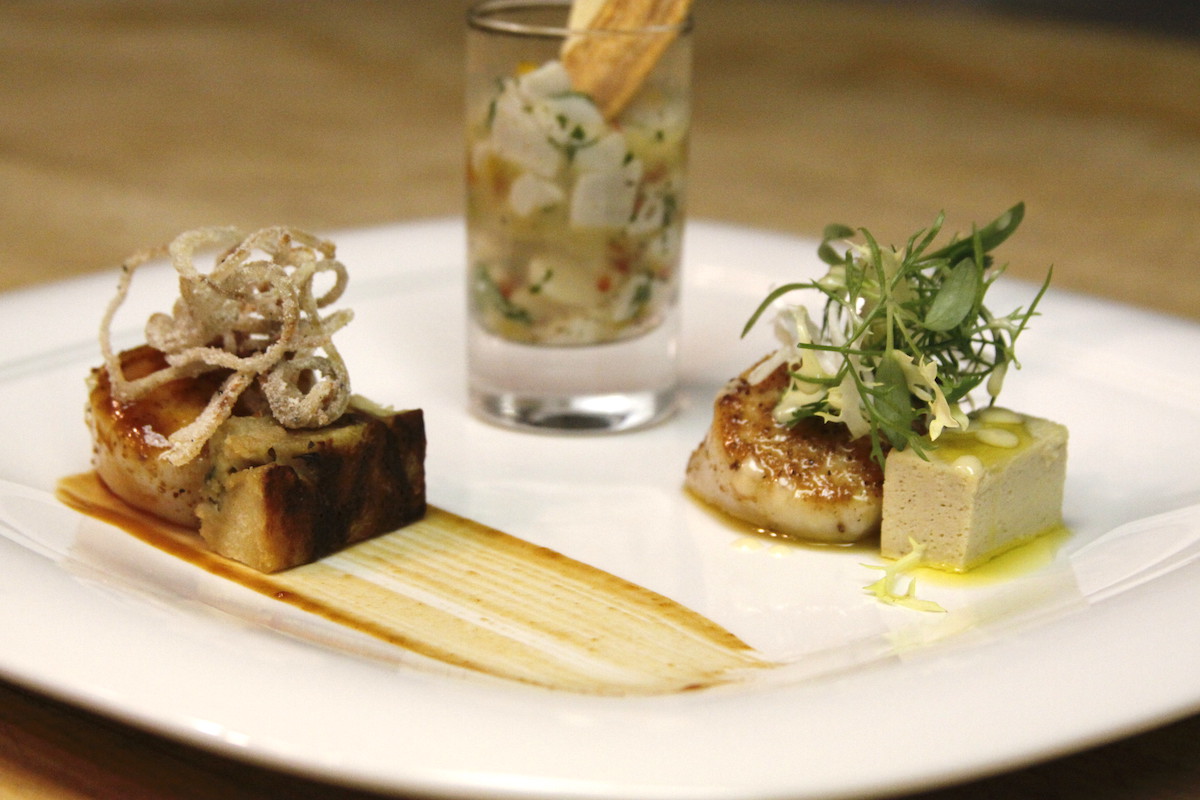 Flannel at Topnotch Resort, Stowe, Vermont
One of Vermont's best-known and best-loved mountain resorts, in the shadow of glorious Mount Mansfield, Topnotch Resort is home to Flannel. The skiing may be over for the season, but the cuisine remains sublime at this classic ski lodge. In homage to Vermont's local producers, diners can expect seared local Misty Knoll chicken with petite carrots, marble potatoes, and shallot soubise; cider-braised pork shank with creamy polenta and grilled broccolini; and duck breast with local honey carrot puree, chioggia beets, cardamom-dusted Brussels sprouts, and tea-leaf infused banyuls vinegar. Make a reservation at Flannel.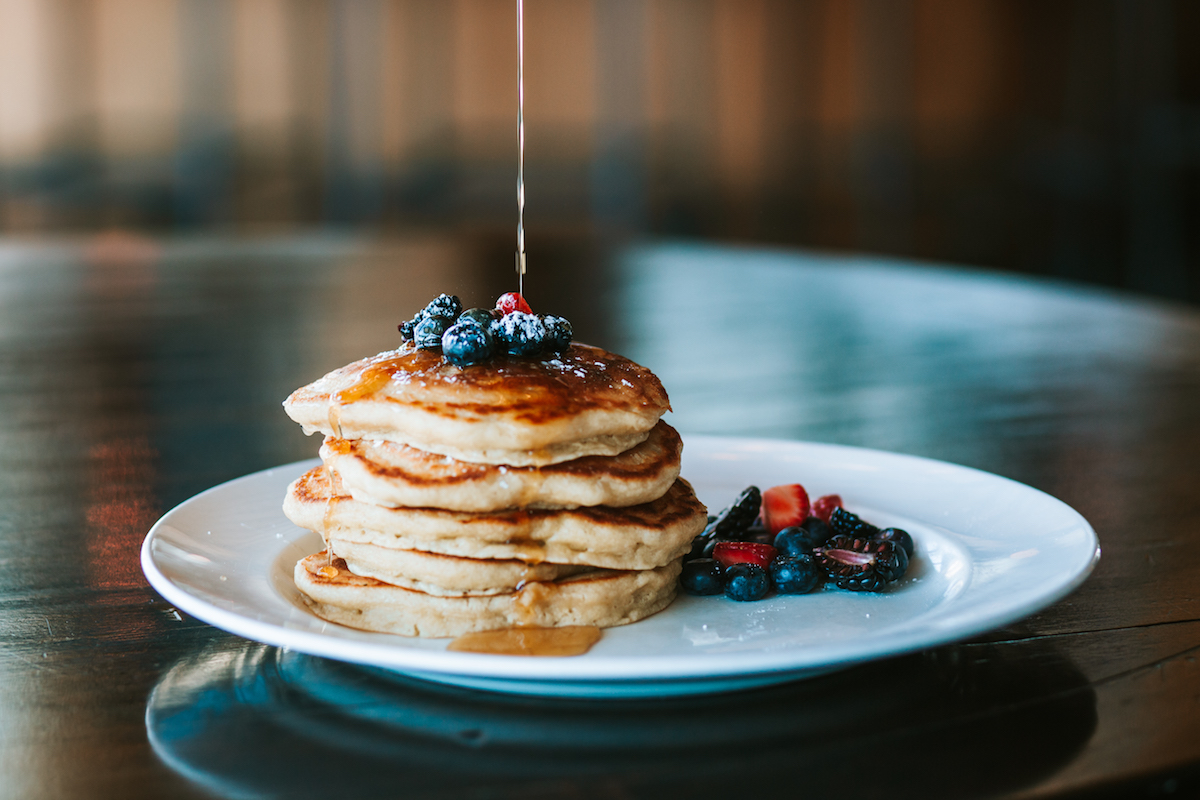 Tamayo, Denver, Colorado
Tamayo is using flower power – each mother will receive one during the Mother's Day brunch – to charm moms, along with bottomless small plates like brisket tacos, margaritas, tropical fruit mimosas, and Bloody Marias. Bonus points: Tamayo is also giving dining mothers a take-away chocolate treat and a gift card from neighboring Larimer Square neighbor Wax & Lash beauty studio. Make a reservation at Tamayo.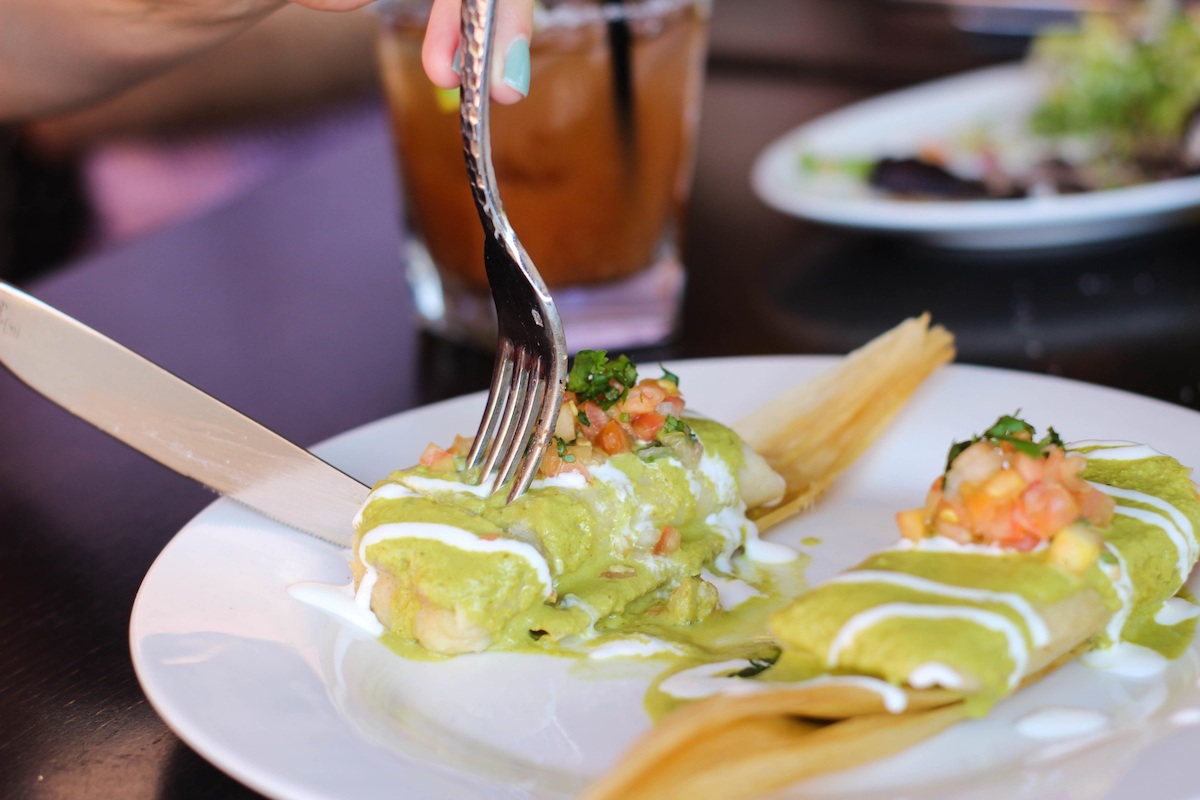 Essensia at The Palms Hotel & Spa, Miami Beach, Florida
Moms love a festive atmosphere, too. And at the Essensia in Miami Beach where pretty people and gorgeous food rule the day, brunch options include pastries, a fresh farm egg station, salads, carving station, pastas, and more. Don't be surprised to find mom wandering over to the AVEDA spa or headed for one of the plush loungers. If she's still MIA, look for her enjoying cocktails with tiny umbrellas in one of the poolside tiki cabanas. Make a reservation at Essensia.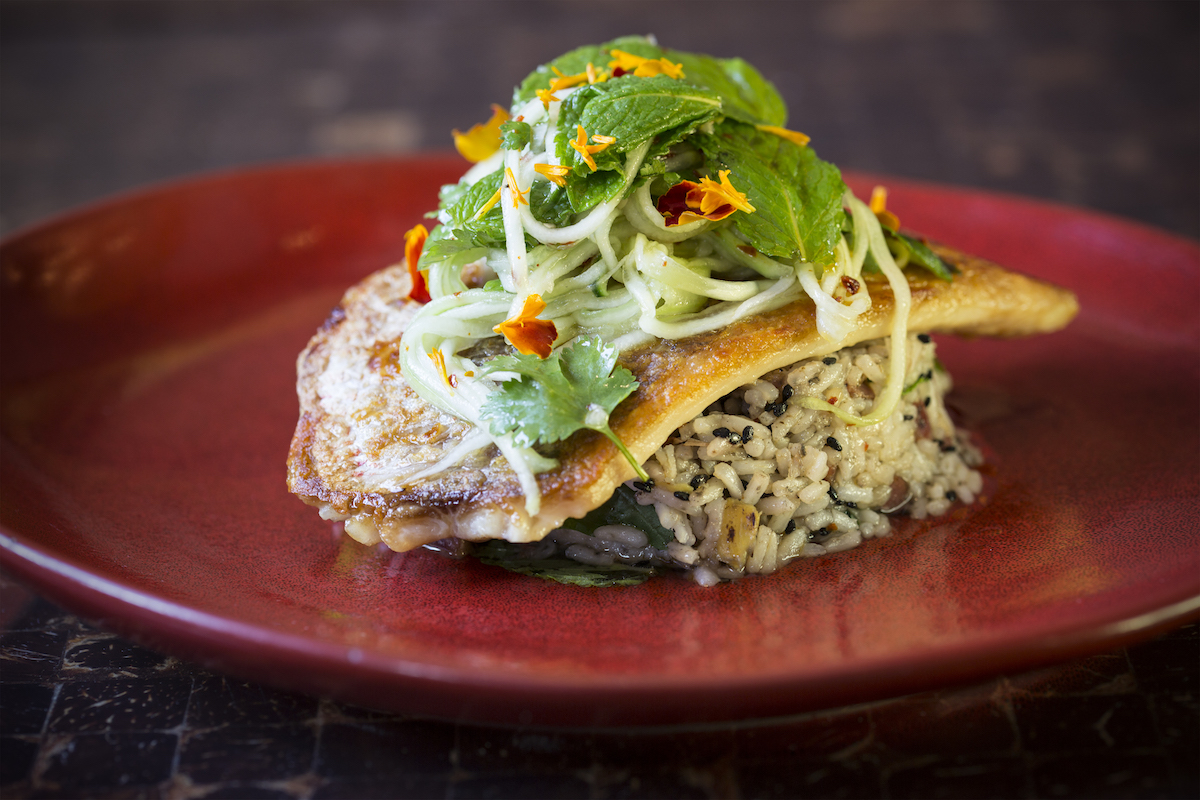 Joe Vicari's Andiamo Italian Steakhouse at The D, Las Vegas, Nevada
In what will be the first public brunch at Joe Vicari's Andiamo Italian Steakhouse at the D Las Vegas, this anticipated debut of the Detroit staple is slated to feature salmon Benedict, fresh pastries, cinnamon-apple stuffed French toast with crème Anglaise, wild mushroom-stuffed chicken breast with porcini butter sauce, and beet salad with tarragon dressing. Make a reservation at Joe Vicari's Andiamo Italian Steakhouse.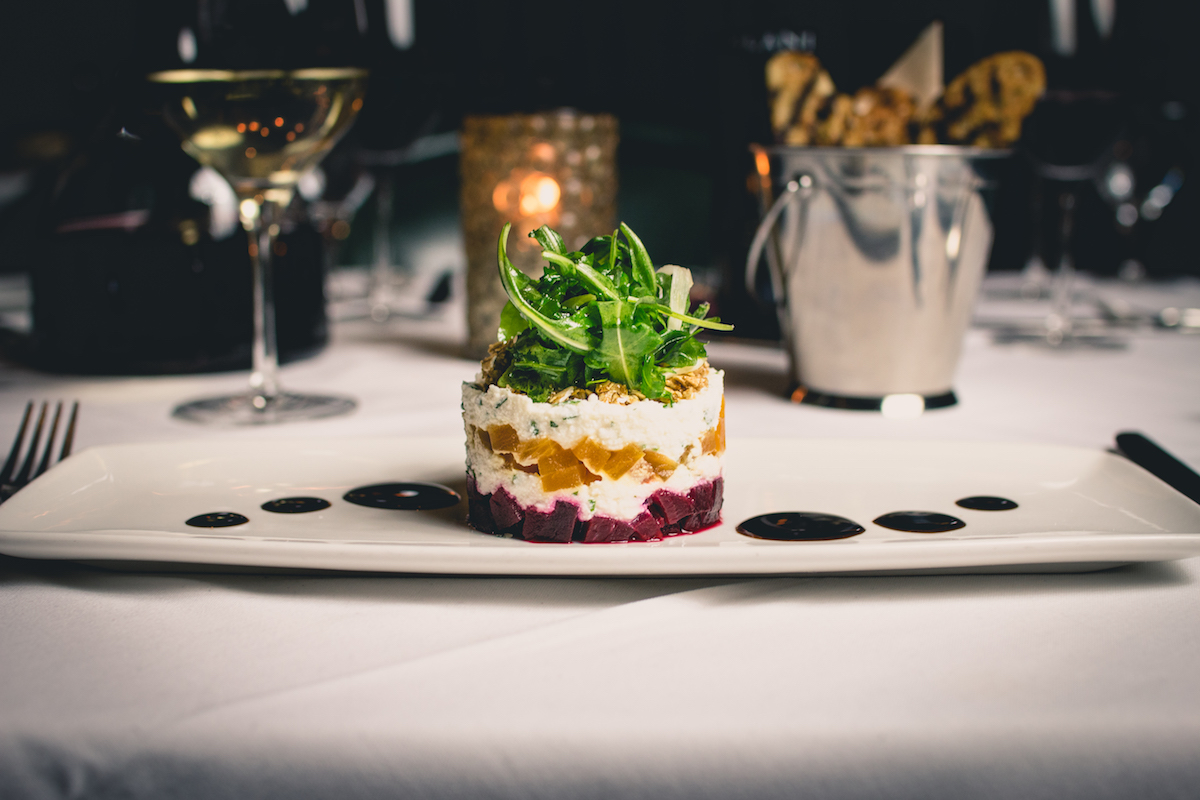 Santina, New York, New York
Forget dainty poached eggs and toast points — Santina draws moms and families with vigorous appetites for dishes like the hearty egg sandwich, almond pancakes, cecinas, mushroom frittata, and lobster fettuccine. Afterward, have a stroll through the trendy Meatpacking District and pick up a present for mom at the stores that dot the area. Make a reservation at Santina.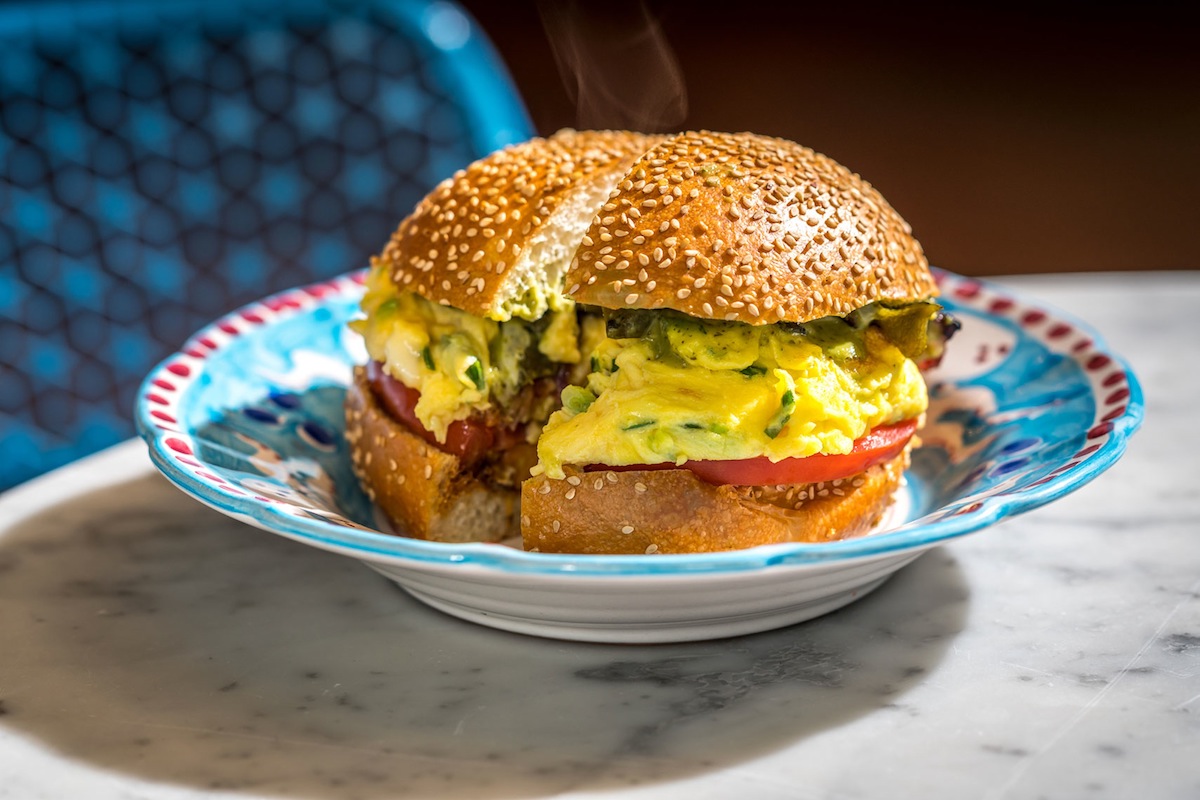 Decker & Dyer in The Westin, Nashville, Tennessee
Near the Music City Center, Bridgestone Arena and Music Row, Decker & Dyer is one of the city's best Mother's day brunch bets. The new menu from chef Jake Stang includes dishes like eggplant caponata and fresh burrata with golden raisins and wild mushroom flatbread, plus a hearty Decker & Dyer burger topped with over easy egg, and chicken and waffles with housemade Bourbon maple syrup. Make a reservation at Decker & Dyer.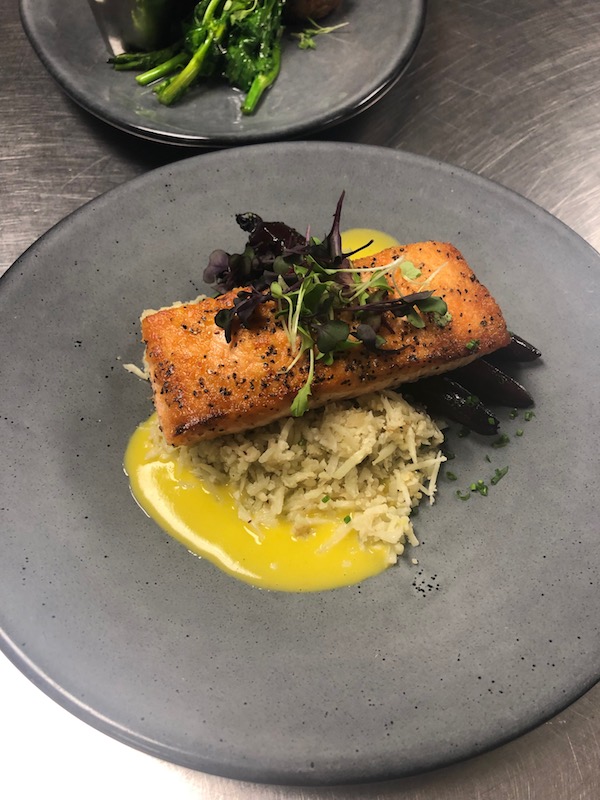 The Broadmoor's Lake Terrace Dining Room, Colorado Springs, Colorado
Mother's Day dining plans for the Broadmoor include a Champagne holiday brunch in the Lake Terrace Dining Room. The beloved brunch tradition at this historic property showcases more than one hundred brunch items with cooking stations, prepared-to-order entrees, and Broadmoor's famed bananas Foster. Walk off the calories afterward grooving to live piano music and a stroll around the lake. Make a reservation at The Broadmoor's Lake Terrace Dining Room.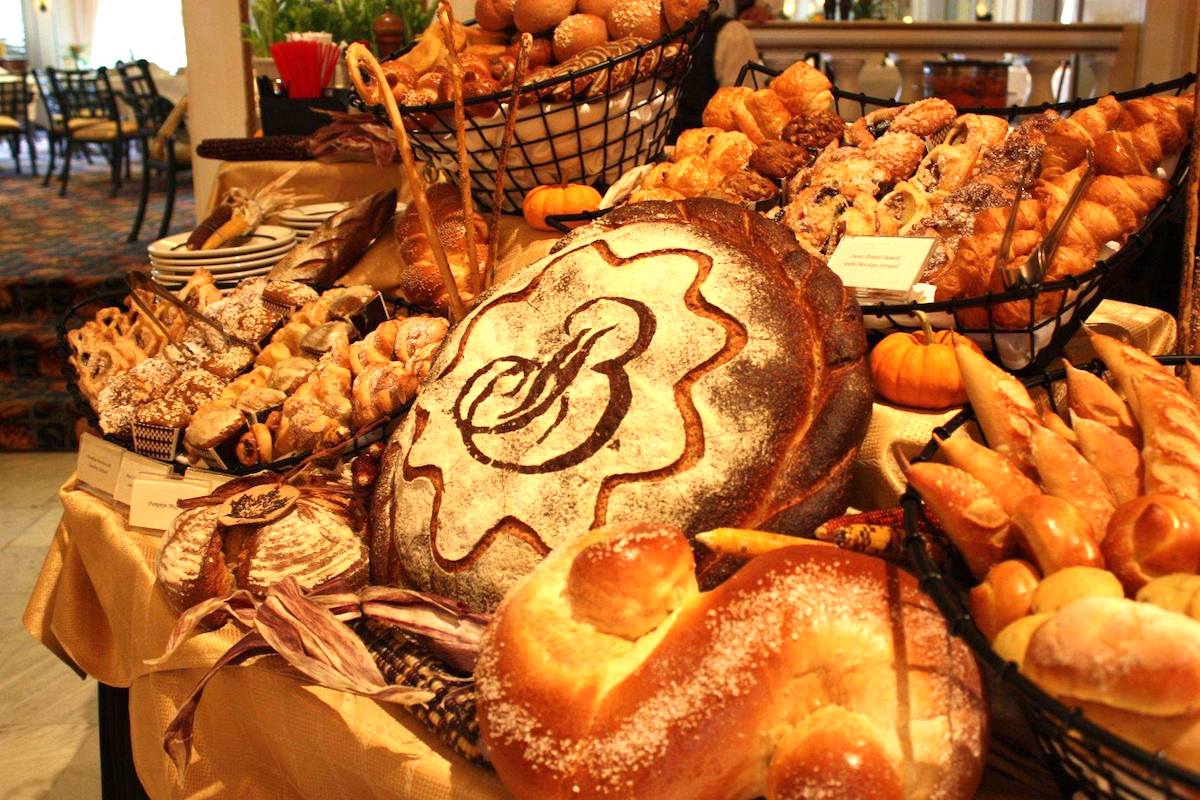 Hakkasan, New York, New York
Brunch may conjure images of traditional eggs and pastries, but at flavorful Hakkasan, diners get to experience Cantonese dishes like spicy prawns with lily bulb and almond; steamed dim sum platters like scallop shumai and chive flower dumplings; pork belly clay pots; and Peking duck served with Tsar Nicoulai caviar. This is the place to step out of your comfort cocktail zone to try a smoky Negroni with Botanist gin or Cha Butterfly with Hwayo 25 Soju, Chareau Aloe Vera liquer, coconut water, clarified lime, mint, and blue butterfly tea. Make a reservation at Hakkasan New York.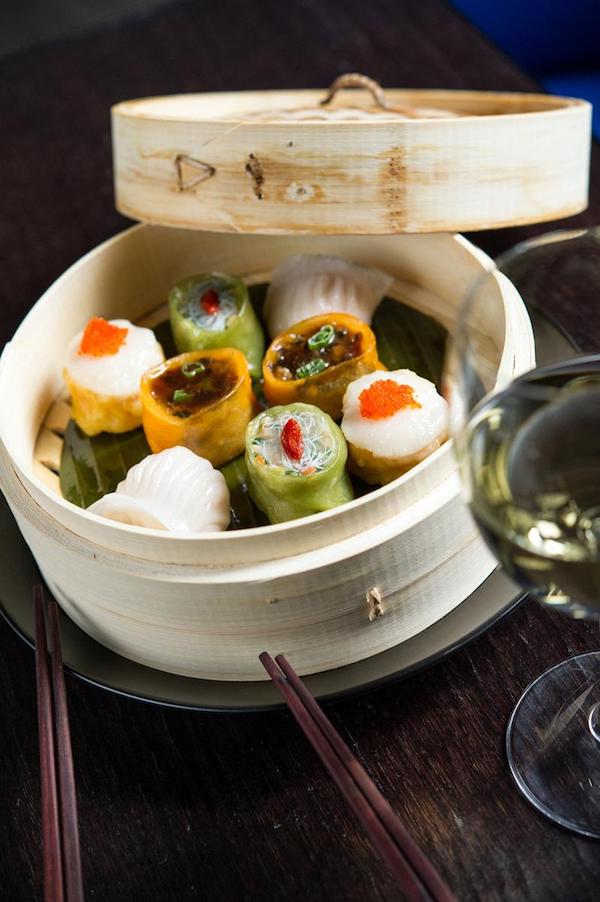 Wreck Bar and Naked Crab at B Ocean Resort, Fort Lauderdale, Florida
Family drama isn't included at Wreck Bar and Naked Crab — even though many guests know it from the film Analyze This featuring a neurotic mobster played Robert De Niro and therapist portrayed by Billy Crystal. Wreck Bar and Naked Crab ups the fun quotient, with its live underwater mermaid and aqua burlesque shows. The restaurant's usual Mermaids & Mimosas brunch is an extra-special treat on Mother's Day when the festivities morph into 'Moms, Mermaids + Mimosas' and dining comes with views of mermaids swimming in your line of sight. Expect a buffet and raw bar with oysters, snow crab claws, shrimp, ceviche, salmon belly, and ahi tuna, a salumeria and cheese station, a Nova Scotia salmon station, and salads, plus omelet and carving stations. Make a reservation at Wreck Bar and Naked Crab.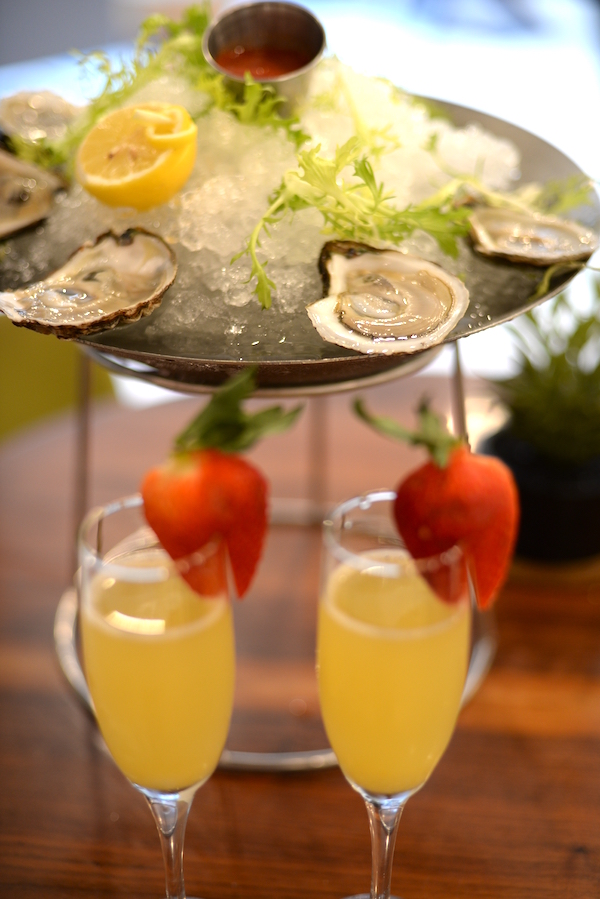 Dirty French, New York, New York
This Lower East Side French bistro will be swamped with moms craving duck with confit legs and fried eggs, but Dirty French also highlights the very best of the Bennys with ham and brown butter Hollandaise, and steak frites. Order Mom the Imperial Planters Punch for two, blending Trinidad and Martinique Rums, Planters Spices, fresh grapefruit, and lime. Make a reservation at Dirty French.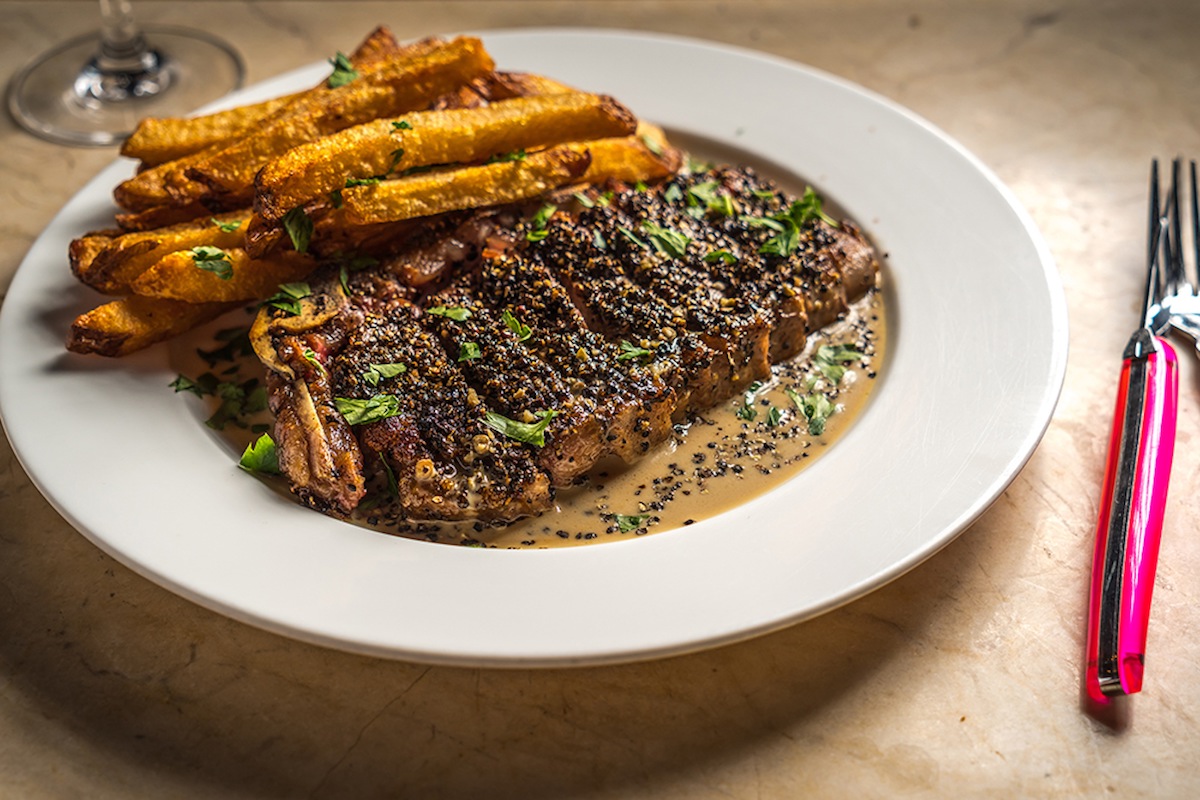 Sunda, Chicago, Ilinois
On a list of dream Mother's Day dishes, the pork belly Benedict is a standout at Sunda, along with oysters on the half shell, sushi rolls, and an omelet station. Each of the moms gets a complimentary glass of Champagne while kids can indulge in the family-friendly section of the buffet. Make a reservation at Sunda.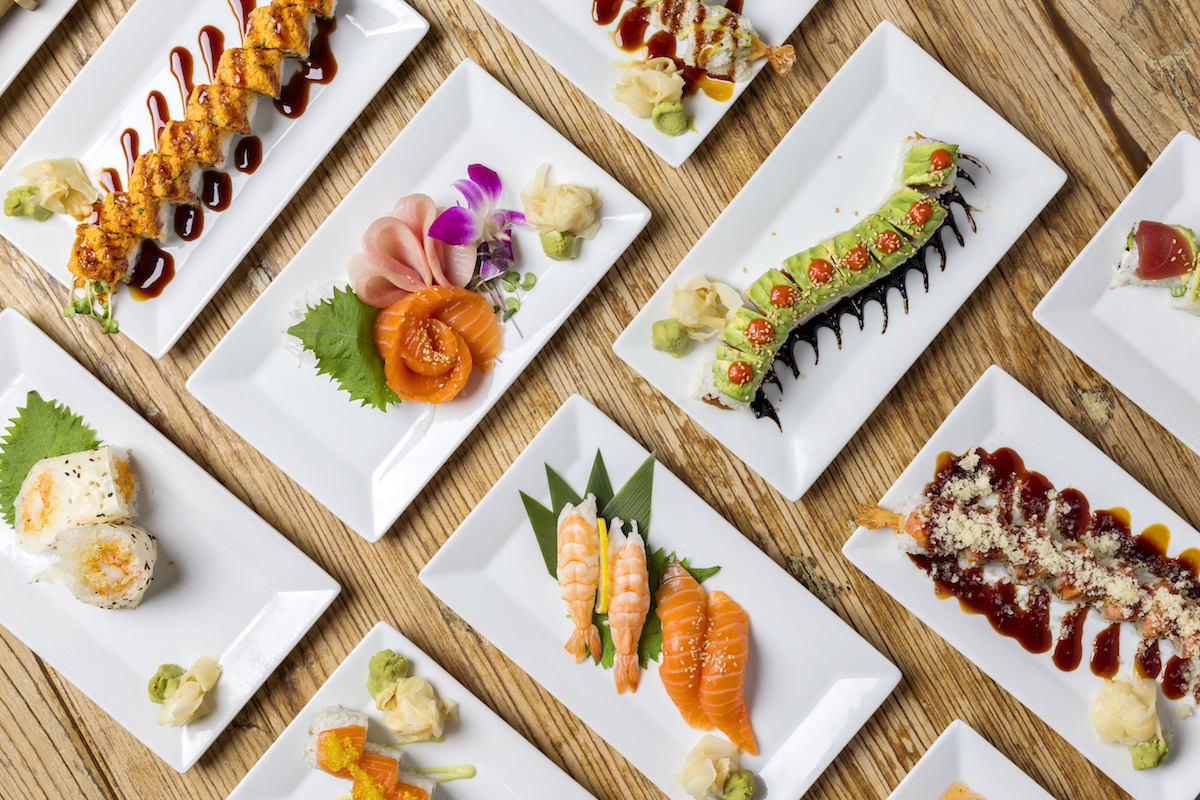 Tell us which Mother's Day 2019 menus you're craving here in the comments or over on Facebook, Instagram, Pinterest, or Twitter. And, remember to snap + share your #dishpics with us on Instagram for a chance to win in our weekly giveaway.
Kelly Merritt is an author and freelance journalist specializing in culinary travel. Follow her on Twitter @kellywrites + Instagram @kellymerrittwrites + Facebook at KellyMerrittWrites.
Photo credits: Lucy Ballyntyne of Lion + Lambs (Arlo Bloom). All photos courtesy of the featured restaurants.