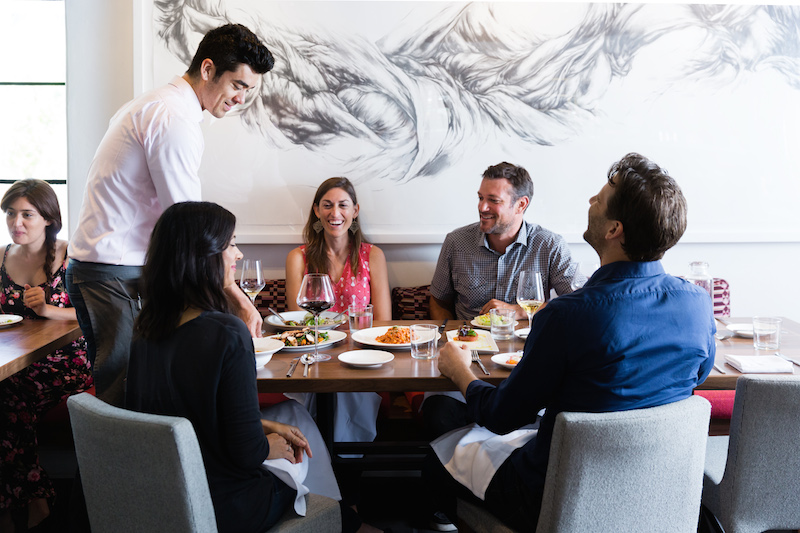 Alton Brown once said, "Good service can save a bad meal, but there is no level of food that can save bad service." Oftentimes the errors can be glaring, but sometimes the slights to the guest are more subtle. So what are the signs you're receiving bad restaurant service?
To find out, we spoke to front-of-house all-star William Washington. A managing partner at Farmers Fishers Bakers in Washington, D.C., he's a veteran of The Source by Wolfgang Puck, Blue Duck Tavern, and the Inn at Little Washington. He clued us into seven common service slip-ups that can turn what should have been a great meal into an unforgettable disaster.
You're not seated at the time of your reservation.
"After five minutes of waiting for your table, it's okay to check in with the host to make sure you're on their radar, but this doesn't mean you should be complaining. If they're 15 minutes behind schedule, it's more than reasonable to ask for a manager. They should do something for you at that point – at the very least an apology, but maybe a drink, too. At 30 minutes you have a right to be infuriated and the restaurant should definitely do something for you."
A staff member doesn't acknowledge you when you're seated.
"Someone should greet you within two to three minutes of you arriving at your table. Within five minutes, you should have a server getting your drink order and addressing any issues with the table or the experience. You don't have the right to ask them to change the music necessarily, but if it's a hot summer night and you're sweating, you can ask them to check to see if air conditioning is working."
You don't have a drink in hand within 10 minutes.
"And it should only take that long for craft cocktails. Also, the sommelier should visit the table while you still have the wine list open – not after you've ordered."
You're not noshing on appetizers within 15 minutes.
"Unless it's something convoluted. In that case, a server should tell you up front, 'The shrimp soufflé takes extra time, so please be aware.' If you only order mains, they should be to you within 20 minutes."
Food is prepared incorrectly.
"Maybe you ordered a steak medium and you get it well done or something is too salted. No matter what, you should say something. It might be an indication that there's poor communication between the server and the kitchen."
A staff member corrects you rudely or makes you feel stupid.
"Some diners might not know gazpacho is supposed to be served cold, but they shouldn't be mocked if they complain their soup isn't hot. Restaurants are in the happy business, so guests shouldn't be made to feel bad."
The table isn't cleared in a timely manner.
"If someone is still eating at your table, you shouldn't expect the server to automatically clear the other dishes. Once everyone has laid down their silverware, though, someone should clear it within two minutes."
What are your pet peeves when it comes to bad restaurant service? Let us know here or over on Facebook, G+, Instagram, Pinterest, or Twitter.
Nevin Martell is a Washington, D.C.-based food and travel writer and the author of several books, including Freak Show Without A Tent: Swimming with Piranhas, Getting Stoned in Fiji and Other Family Vacations. Find him on Twitter @nevinmartell and Instagram @nevinmartell.