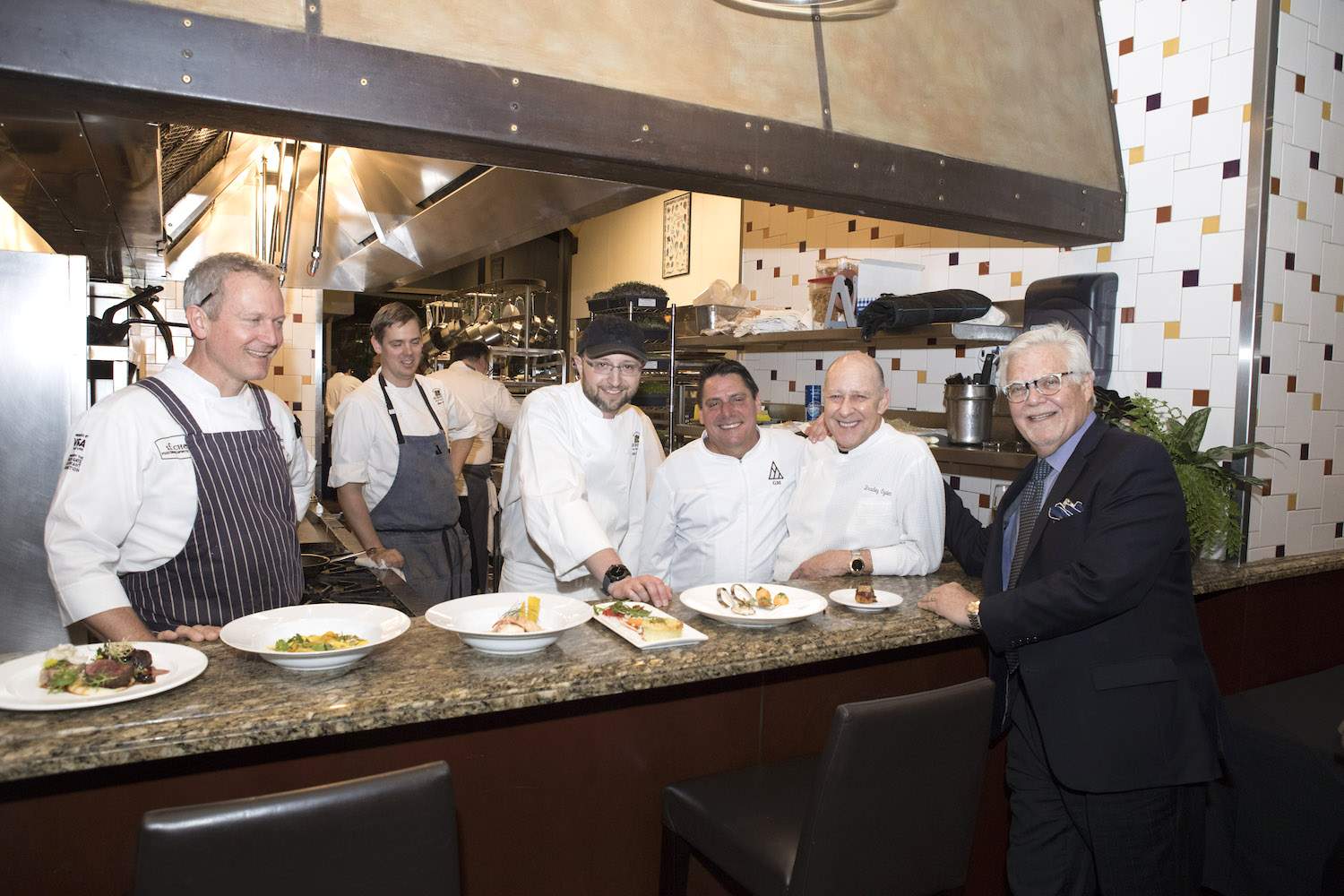 It's One Market restaurant's 25th anniversary, and an invitation announces a cocktail party celebration with hors-d'oeuvres, libations, and live entertainment from 5:30 until 7:30. But like everything One Market does, it's so much more than that. Guests arrive through the "Wine and Wall" gallery-event space attached to the atrium pavilion connecting it with One Market. Everyone is greeted with Champagne. In the atrium is a raw bar with large shrimp and oysters on the half shell. At a carving station, chefs serve individual barbecue brisket sandwiches and waiters pass trays of appetizers while a jazz trio plays. This is just the beginning. Inside the restaurant proper is a whole roasted pig being sliced and offered in banh mi tacos. Let's just say, it's not your typical cocktail party, but, then again, nothing One Market does is typical.
One Market has been a part of the San Francisco dining scene for such a long time that it's easy to forget some their "firsts." They were one of the first major restaurants to ban smoking, feature a wood-fired grill, offer live music every night, and have a chef's table. Highlights over the years include Apple's annual Bay To Breakers party for 1,500 people and the NFL buyout when San Francisco was the host city. Michael Dellar, the founder and managing partner, and Larry Bouchard,  partner and general manager, express an enthusiasm about these events that speaks to their passion for the business. They love their city, their guests, and going big — in every way possible.
Location, Location, Location
Center stage greeting his guests at the cocktail party including longtime customers, movers, and shakers and press is Dellar. He is just as warm and friendly with people he's meeting for the very first time as he is with old friends – a consummate restaurateur. But, in talking to him a week or so later, I learn he's also a marketer by trade with a background in consumer packaged goods. Dellar tells me about the beginnings of the restaurant, starting with the building itself. It was the headquarters for Southern Pacific Railroad and it dates back to 1917. While the railroad never had tracks leading to the building as planned, it's still a fitting history for a structure that has something like 5,000 people working inside. On any given day, the lobby might as well be Grand Central Station.
The restaurant has seen incredible changes in the city, including the demolition of the Embarcadero freeway, which opened up views to the waterfront, the opening of the Ferry Building, AT&T Park, and the historic F-line streetcar on Market Street. But the vision at One Market stayed the same. It's about creatively prepared, seasonal, farm-fresh American fare in a bustling downtown food emporium, says Dellar, "We make people feel welcome and important and serve them great food and drink and keep it fresh and always offer great value."
Named for its iconic address, Dellar tells me the building has great bones and that he spent a fortune on beautiful millwork and the slate floor and that those elements have stayed the same, but updating the look and feel of the place is one of the hallmarks of One Market. Every five years or so, they've made significant changes, including the furniture, lighting, bar, the wallpaper, artwork. Is it all necessary? For Dellar, the answer is yes. "Some places never have to change, but even though we are traditional in style, we have to make changes to make people more comfortable and give them a reason to come back in."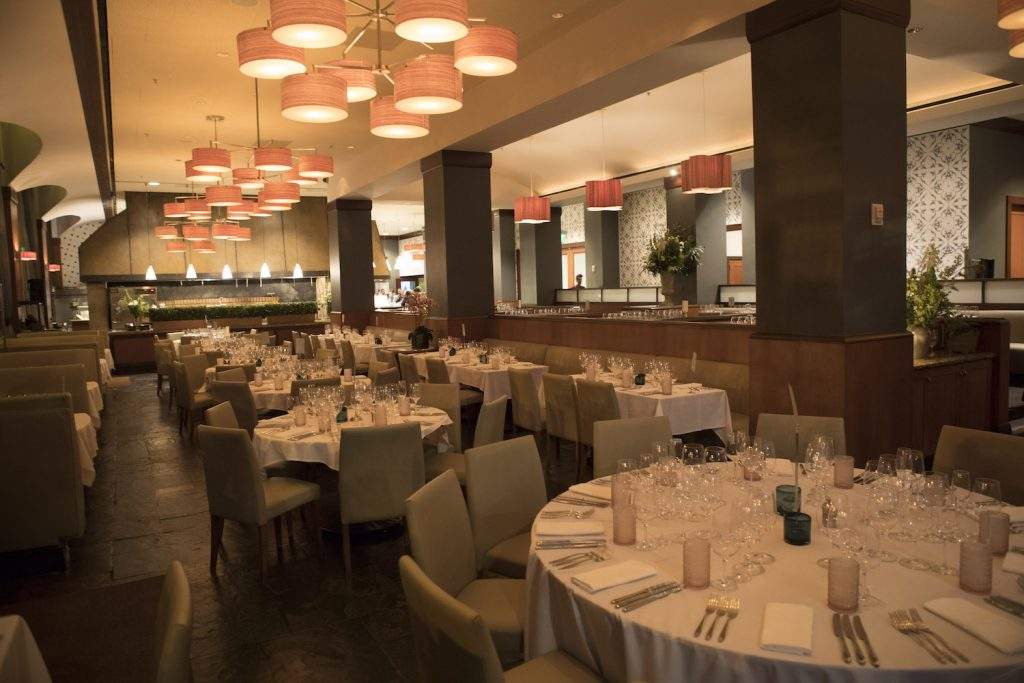 Ch-ch-ch-ch-changes
Changes are also about keeping up with the times and being in step with a younger, more casual clientele. Dellar tells me that back in 1993 the anchor tenants were the accounting firm Arthur Andersen and a law firm, Brobeck Phleger & Harrison, but that was then and this is now. Today, Google has 500,000 square feet of space in the building, which has introduced a more diverse diner base. Says Dellar, "We have to keep our traditional business person but also attract a younger base — many of whom are getting lunch provided for them every day." Gone are formal uniforms, and in their place are more-relaxed-yet-still-stylish attire. Likewise, Larry Bouchard tells me he no longer wears a suit and tie to work after some tourists told him they felt underdressed and chose not to dine there. That was a wake-up call. "We're not New York," he says, "In the nineties, it was all suits and ties and now it's all jeans and t-shirts." Service, too, has become more relaxed. Bouchard notes that you can accomplish the fundamentals without the formality. "We're more approachable now, more fun and engaging. We want to help but not intimidate." When the summer rolls around, they will hold their "back porch barbecue" promotion again, allowing tenants to order ahead and take home their dinner.
Marketing Maven
Of course, the business climate has affected the customer base as well as the staff. Dellar tells me, "When we opened more than a thousand people applied for one-hundred-and-fifty jobs." The restaurant had 200 seats and was frequently doing 600 to 700 meals a day. He admits that it costs more to do business in San Francisco today than ever, and mentions the healthcare ordinance, higher minimum wage, mandated sick leave, and the employment tax. On the flip side, he praises the vital tourist business and sophisticated diners as the perks to being in San Francisco. Ultimately, he says, San Francisco offers something every restaurateur dreams of, great customers. "There's a new good restaurant opening each week, so how do you stay top of mind? We've got a lot of seats to fill. We stay active in the community; we make hundreds of donations. We invest heavily in marketing the restaurant."
One Market's marketing and public relations are handled by AF&Co. The founder, Andrew Freeman, praises Dellar's leadership, saying, "A lot of times restaurants get stale or rest on their laurels but not Michael Dellar. He's open to new programming, as long as it fits in the vision of the modern American landscape. He's a risk taker." Theirs is a relationship Freeman prizes, "As a client, he is so marketing oriented; he always wants to look at the end result. That marketing background is an advantage. He pushes us and he's complimentary when the results are great but analytical when they're not." Says Dellar, "Our philosophy is to share some news with people. We run a weekly ad in the paper and it's always newsworthy. Over the years we've done different things — food festivals, half-priced wine in July. You can't sell it if you don't show it." He eschews what he calls boilerplate marketing and despises puffery.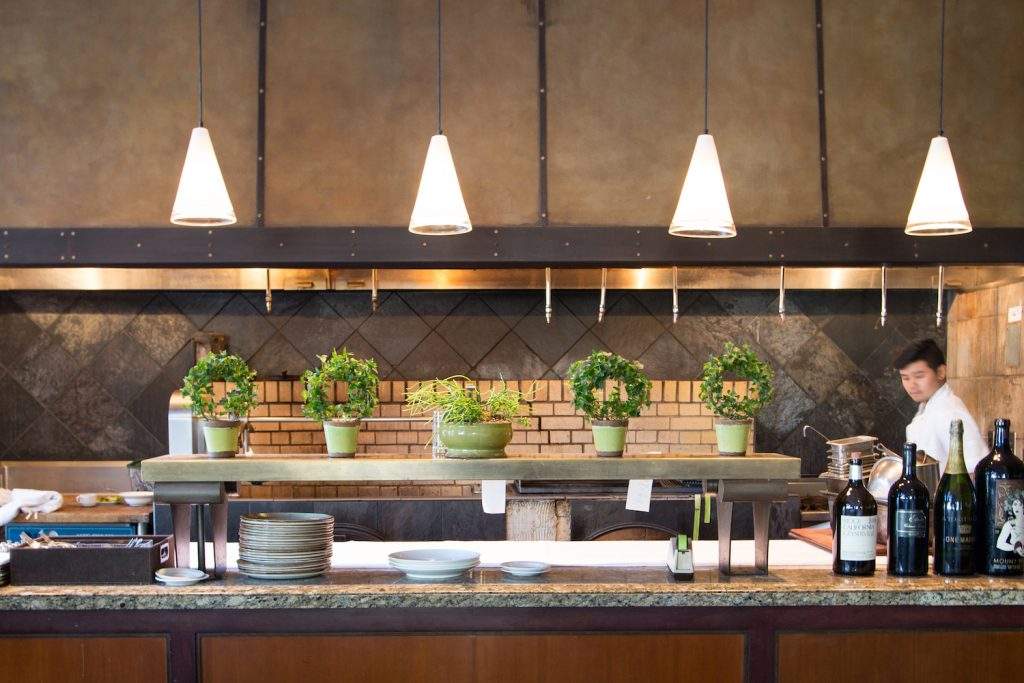 Putting People First
Also important is staffing. Says Dellar, "You have to treat your employees well and give them a good place to work. Lead by example and call people out for doing a good job. We offer thousands of dollars worth of incentives and rewards. You can throw all the bells and whistles at it, but it's how you treat people every day that matters."
Part of treating people right is also offering partnerships to key players including the general manager and the executive chef Mark Dommen, who has been with One Market since 2004. Dellar explains that the way people become a partner is that they are given an interest in the founders' interest. "We take only from the founders' shares and assign an interest to partners and they have a significant interest in the ownership and profitability of the restaurant. There are a lot of opportunities to grow. The key people who are responsible for profitability should share in it. It's an incentive but also a reward" explains Dellar.
After all the 25th anniversary celebrations, Freeman and his team debrief with Dellar and the first thing on the agenda? True to form, Dellar suggests it's time to start planning for the 30th anniversary.