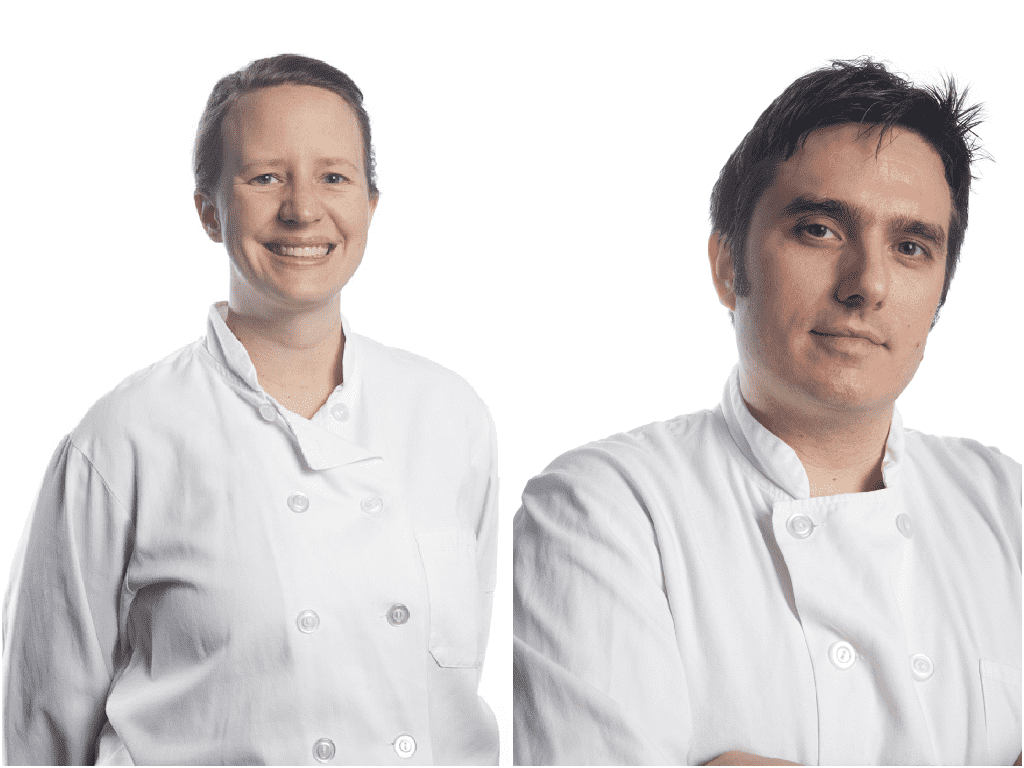 With Valentine's Day around the corner, we're talking to couples who live and work together in the restaurant industry to learn how they balance business with family. Gabe and Katherine Thompson are the Executive Chef and Executive Pastry Chef at Epicurean Management, which operates the New York City restaurants dell'anima and L'Artusi, along with wine bar Anfora. If that's not enough to juggle, they are also parents to a son, Luke, and a daughter, Emily. Here, they share their story: love at first sight, a Per Se wedding, and how they became the yin and yang of their restaurants.
Tell me a little about how you got started in the restaurant world.
Katherine: I started off not in the food world at all but was always obsessed with food. After going to college and getting a regular office job, I thought I should take this seriously. I went to the Culinary Institute of America, and when I graduated I decided New York was the only place to be. I moved to New York and bounced around the front of the house and back of the house, doing all sorts of jobs, and luckily enough I ended up working at Del Posto. I left, but I found a friend of mine a job there. After that, Gabe started working there. Our friend introduced us, and that's how Gabe and I met.
Gabe: I started cooking by accident. I wasn't much of a person to go to college, so I started working at a restaurant as a busser and eventually moved into the kitchen and fell in love with the whole camaraderie. My very first two jobs were in Olive Garden and Spaghetti Warehouse. My first real job was at this place in Austin where we made everything from scratch. I fell in love with it even more because those guys were all super passionate and artistic. I went to culinary school in Austin and, when I felt like I'd hit my ceiling in Austin, I moved to New York. My first job in New York was at Le Bernadin, then I had a bunch of half-assed jobs for a while, and then I got a job at Del Posto. That's where I met the person who introduced me to Katherine.
Tell me about the first time you met.
Gabe: We met at this restaurant in the East Village that could be one of the worst restaurants in New York. It was terrible. I was in between gigs at the time and called my friend Elizabeth. I was like, what are you doing tonight? She was like, I'm hanging out with a friend of mine and you can come if you want, but it's going to be boring for you because we're going to talk about work stuff.
We meet up at this restaurant, and Katherine's running late because she's always running late [laughs]. She comes in. She had really blonde hair that was all over the place, and the sun was shining through her hair, and she was wearing this chiffon-y scarf with all these different colors in it, and a white jacket. I just kind of fell in love with her. I thought she was beautiful.
Katherine: Meanwhile, I thought he was sleeping with my friend, so I didn't think I could go for it. The whole time he complained about the food—
Gabe: It was terrible!
Katherine: It was terrible. I guess it kind of was love at first sight. But for me, it was the first meal that he cooked for me, days afterward. He cooked this meal for me, and it just blew me away.
What did he make?
Katherine: It was such a simple meal, but it was so beautiful and the flavors were so refreshing. He made a braised celery salad. We tried putting it on the menu at dell'anima, but no one wanted to order it.
You're right—it doesn't sound sexy, exactly.
Gabe: You braise celery in verjus or white wine, cut it in half, add a caper citronette and fresh celery leaves and radishes and hard-cooked egg. It was good.
Katherine: It was unbelievable. He made this butter lettuce salad that had a lemon-cream dressing with hazelnuts and olives and gorgonzola. Everything was fresh and bright, and it was an interpretation of Italian food that I hadn't been exposed to. For me, that meal pretty much sealed the deal.
Gabe: That meal got me my job at dell'anima. Later, Katherine worked with Joe [Campanele, Executive Beverage Director or Epicurean Management] and August [Cardona, CEO] at Italian Wine Merchants, and when August found the space for dell'anima he approached Joe because he wanted to do the restaurant with Joe. They were talking about who they should get to be the chef, and they both thought: Katherine. Katherine was like, I don't want to be the chef of a restaurant in Manhattan, but this guy I just started dating might be perfect.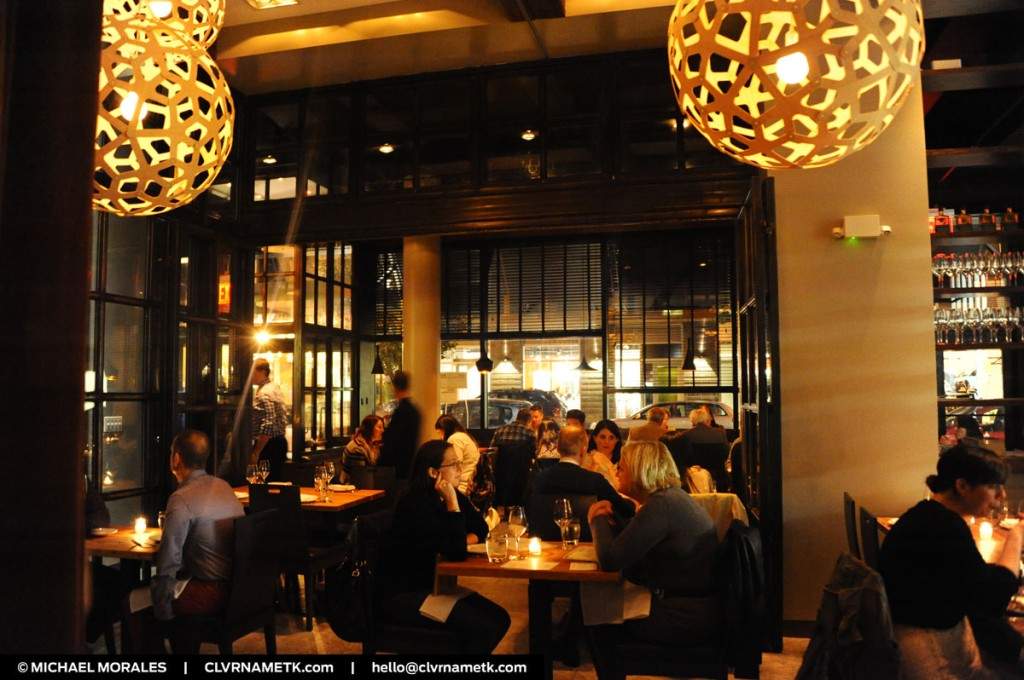 So how did you end up working together?
Gabe: When we first opened dell'anima we couldn't afford to have both Katherine and me on the payroll, so she took a pastry sous job at Brasserie 44 with her pastry mentor. Katherine did our pastry program from there. She'd bring us food after work, and they'd send her pastry cook from Brasserie 44 to help us.
The first day we opened we had nothing on the dessert menu. We went out and bought ice cream from the store. On New Year's Day we decided we needed to bring her on.
Katherine: Meanwhile, even though I helped open the restaurant, I was a little nervous. Gabe and I met not long before that, and probably the best way to kill a relationship is to open a restaurant together and work together. A lot of couples can't handle that. But the reality was that was all I wanted to do—to be with him and be at the restaurant. It was a no-brainer for us to be together nonstop.
Gabe: It was nonstop. We were open until 2 every night, and we had one day off a week.
Katherine: But you know, it was kind of fun because dell'anima is such a tiny restaurant, only 50 seats. The kitchen's open, so literally the line is in the middle of the restaurant. At the time, Gabe was a typical chef who didn't want to make substitutions to his recipes or cater to the guests' requests. I was acting as the front of house manager and having to deal with these guests. There were times that I had to confront him in front of the entire restaurant. "You are going to do this, because I don't want to deal with this person." [Laughs.] He's mellowed out since then.
How did your relationship grow as you were working together?
Gabe: I miss having Katherine around. We have two kids now, so her full-time job is being Mom. There are things that I'm lacking as a manager that I only recently realized, because Katherine used to be there to help balance me. We're a really good yin and yang at work. In areas where I'll maybe let something slide, she keeps me on my toes.
Katherine: In terms of food, working with Gabe has been amazing because he understands balancing flavors and using salt and acid to highlight different ingredients in a dish. For me, whenever I'm putting together a dessert if I think it needs something but can't figure it out, it's so great to come to Gabe. We collaborate a lot.
Gabe: At work, no one's willing to tell me if something's lame. Katherine would just look at me like, that tastes like sh*t. You need to re-work that. That always was refreshing and nice.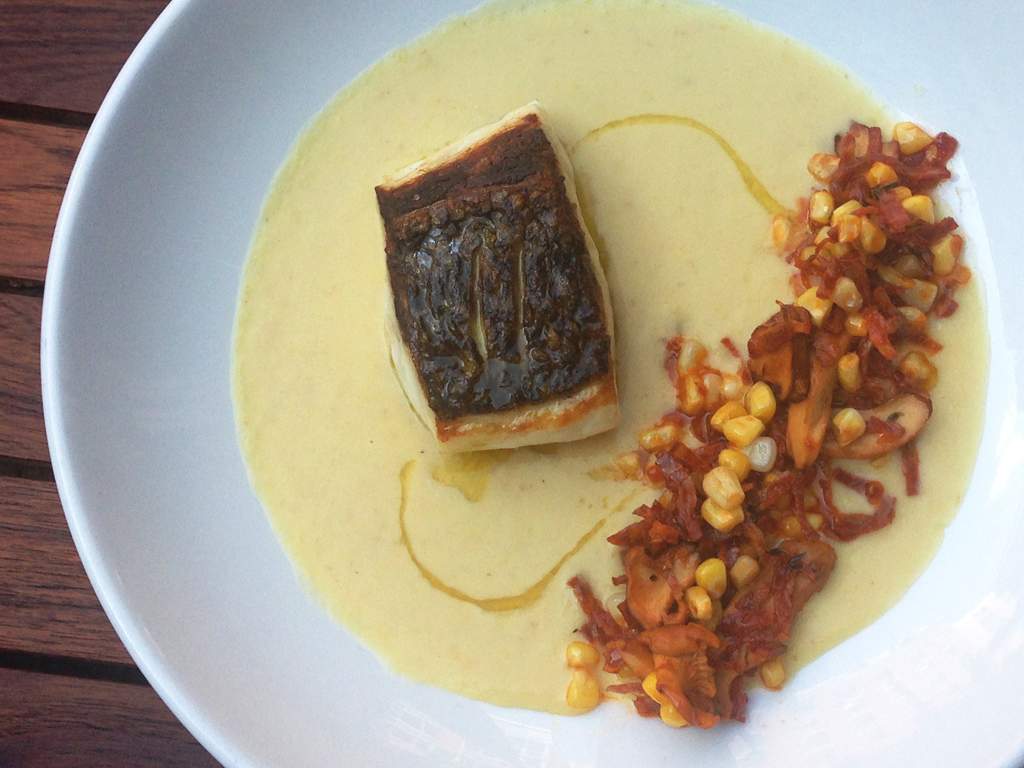 How have things changed since you first started working together?
Katherine: A year after we opened dell'anima we got married. We had one day off a week, which was a Tuesday, so we decided to get married on a Tuesday.
Gabe: When we got engaged we got a gift certificate from the investors at dell'anima for dinner at Per Se. We organized our wedding around when we could get a reservation on a Tuesday.
Katherine: Per Se decided when our wedding day would be. So we got married and then two months later we opened L'Artusi.
Gabe: That's when Katherine moved to the kitchen. She became the full-on pastry chef in the kitchen. Investing in that took us to a new level.
Katherine: For me, it was great because I was done being a front of house manager. I'm not comfortable in that role, and I'm much more comfortable in the kitchen. That's just what I love to do. It was a rough opening.
Gabe: It was December 2008, so everyone in America knows how bad it was.
Katherine: Restaurants were closing left and right, and here we were trying to open a restaurant. We were dead. We also opened with a pretty ambitious, quirky menu that maybe chefs would be interested in, but not normal diners. We had Wagyu tongue—we went out there. I don't know what we were thinking. We got horrible reviews.
And talk about adding stress on a relationship. We were just married, opened up this risky restaurant in the economic downturn of the century… but at the same time we just put our heads down and tried to make food that we wanted to eat.
Gabe: We worked out all the mistakes we had made. It took about a year for us to get it on track.
Katherine: Now, we're constantly shocked that it's getting busier and busier. It's a great problem to have. And in January 2011 we had our first child, Luke.
Gabe: And that was the beginning of the end of Katherine at the restaurant.
Katherine: I was still heavily involved up until we had our second child, Emily. She's only 15 months old. I thought I could do everything—have two children and work all the time—and I'm realizing that's very difficult to do. While I've taken a step back right now, I oftentimes talk about when she's in pre-school, how am I going to get back in? I miss it. I'm pretty nosy in the background about things because I can't NOT be involved.
What is your schedule like now, Gabe? Do you get any extra time off to be at home?
Gabe: It isn't the same very often. I do my best to take weekends off, and for the most part it works out, but something can change last minute.
Katherine: The one nice thing is that I get it. Sometimes I think it's hard for couples where one person's a chef and one isn't—it's hard for the non-restaurant person to understand that things happen. I've been there, I know the hiccups and nightmares.
Gabe: This is my second marriage, and my ex-wife wasn't in the industry. She always worked a 9-to-5 job and was upset by my schedule. Katherine's like, OK! Being so cool about it takes a lot of pressure off of the mishaps that happen in a restaurant. It's good that you can jump in and take care of things and not worry that it's going to ruin your relationship.
You both have a sense of the bigger picture and what's going on.
Gabe: At the end of the day, the most important things are your family and your wife. Having that understanding and ability to compromise here and there, to be understanding.
When you were working such long hours together, did you have any rules about talking shop outside of work?
Katherine: We were actually the opposite. All we did, and all we kind of still do, is talk about work.
Gabe: Work for us is also eating and cooking. The reason why we're both cooks is that we both love cooking. If we're not at work, she's constantly looking at Instagram pictures of other pastries, or food magazines, or we're talking about restaurants we want to go to or dishes we're putting on the menu.
Katherine: We brainstorm the next restaurant we want to open. We're sort of obsessed. Before we had kids all we did was talk about food and the industry, and now that we have kids, if it's not food and the industry it's about our kids. It's our passion, and we share that equally. Work is our normal conversation.
So do you think you'll open another restaurant?
Gabe: I think I've got five ideas that I want to do.
Katherine: We do, but we also have three restaurants and a wine bar that we're managing now. You run the risk of stretching yourself too thin. At the same time, we have the most incredible staff behind us, and we want to give them the opportunity to grow and promote them. Sometimes it makes the most sense to open another restaurant because we're able to give our staff more things to do and learn. Right now we're obsessed about wanting to open a Tex-Mex restaurant. New York City needs some queso and frozen margaritas.
I think we all do! Last question: do you celebrate Valentine's Day?
Katherine: It's pretty much a given that we're never going to spend Valentine's Day together, because it's the busiest night of the year. Gabe is guaranteed to be working. He doesn't know about this yet, but I think he might have Friday night off so I've been looking up a few recipes. Maybe once the kids go to bed we can have a nice dinner together. Open a decent bottle of wine. Gabe is a big fan of my chocolate budino dessert, and it's an excuse to make something delicious like that. You learn how to celebrate on the off days.