There's a lot more to these briny bivalves than dollar oyster night. Restaurants are eschewing straight-up horseradish and lemon for artfully composed half shells. Broiled, grilled, or fried, here are oysters that are beyond basic.
North Square Oyster, Boston, Massachusetts
Setting up shop in one of the seafood capitals of the world may be a daunting feat, but newcomer North Square Oyster is already making a splash. With an oyster menu that rotates daily, no one dining experience is alike and there's plenty to choose from across New England's waters in this light and airy space overlooking the loveliest corner of Boston's Little Italy (North End neighborhood). Try the poke, or, for lighter and more delicate fare, composed oysters with delicate quail yolk, lychee pearls, chartreuse jelly; hibiscus ponzu and lemon verbena; or watermelon pearls, rose, and crème fraîche. Make a reservation at North Square Oyster.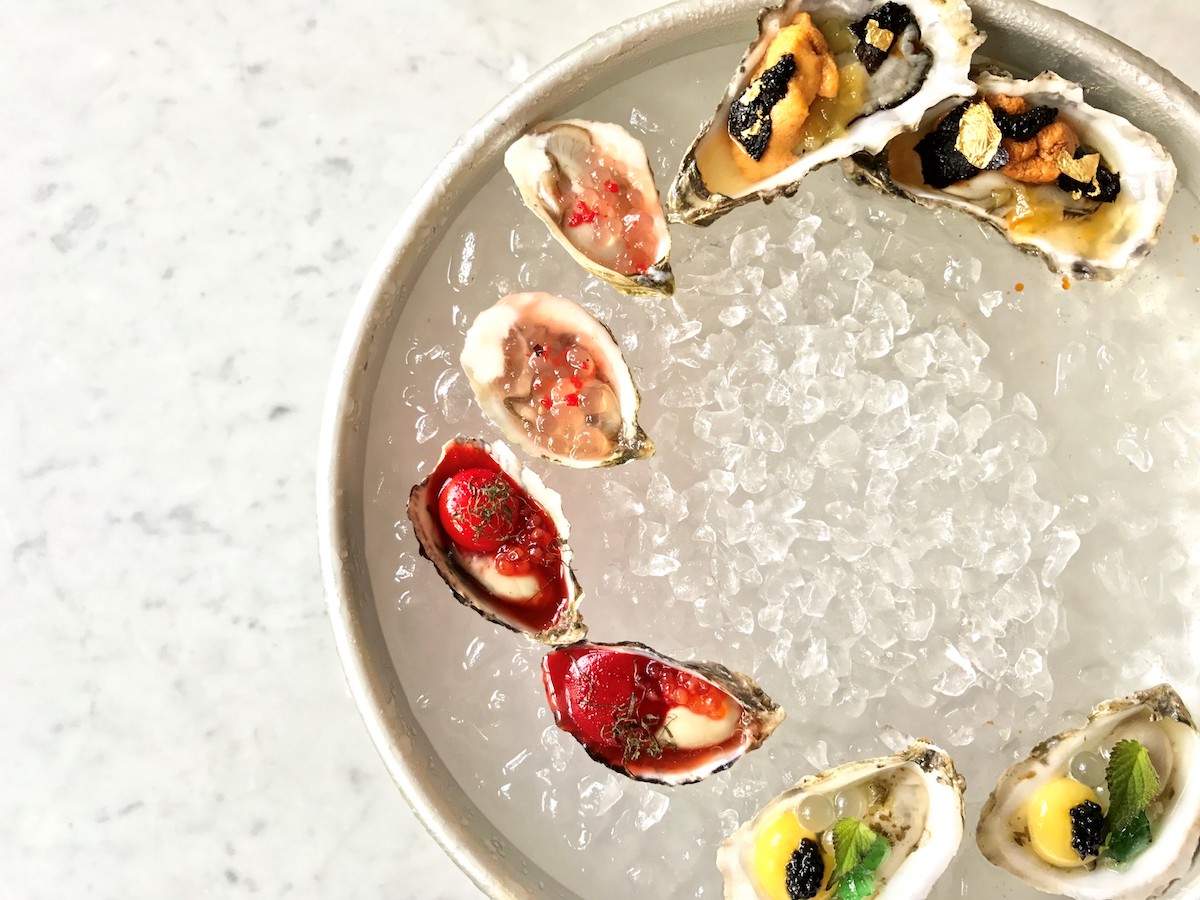 Del Campo, Washington, D.C.
What's the only thing that could amplify the briny bounty of the Atlantic? Topping it with tart ceviche to make oysters a full meal. Chef Victor Albisu's platters serve up half-shells with the flavorful marinated fish so the latter can be used as a topping like a mignonette. Ceviches rotate weekly, but recent offerings have included corvina with Peruvian tiger's milk (citrus-based marinade), pickled chili, and radish. Make a reservation at Del Campo.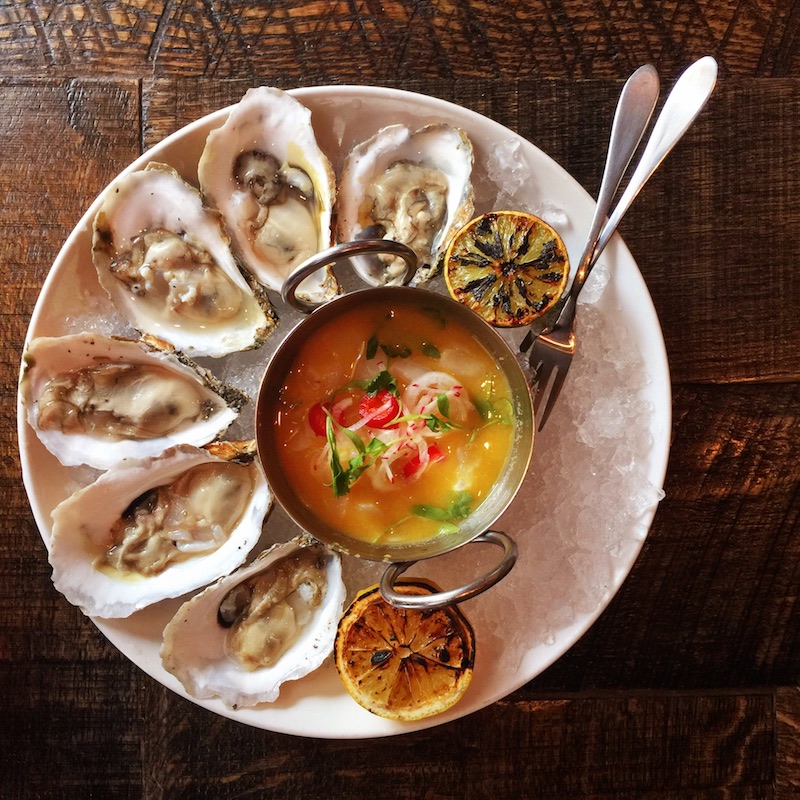 Homestead on the Roof, Chicago, Illinois
Push the horseradish aside. Homestead's shellfish are already dressed for a party, thanks to executive chef Scott Shulman's creative take. Delicate Beau Soleils from New Brunswick are artfully presented with a mignonette that replaces the vinegar and black pepper in the sauce with yuzu and jalepeño, balancing citrus and heat. Puffed rice and a chiffonade of shiso add texture for the most delicate of slurps. Make a reservation at Homestead on the Roof.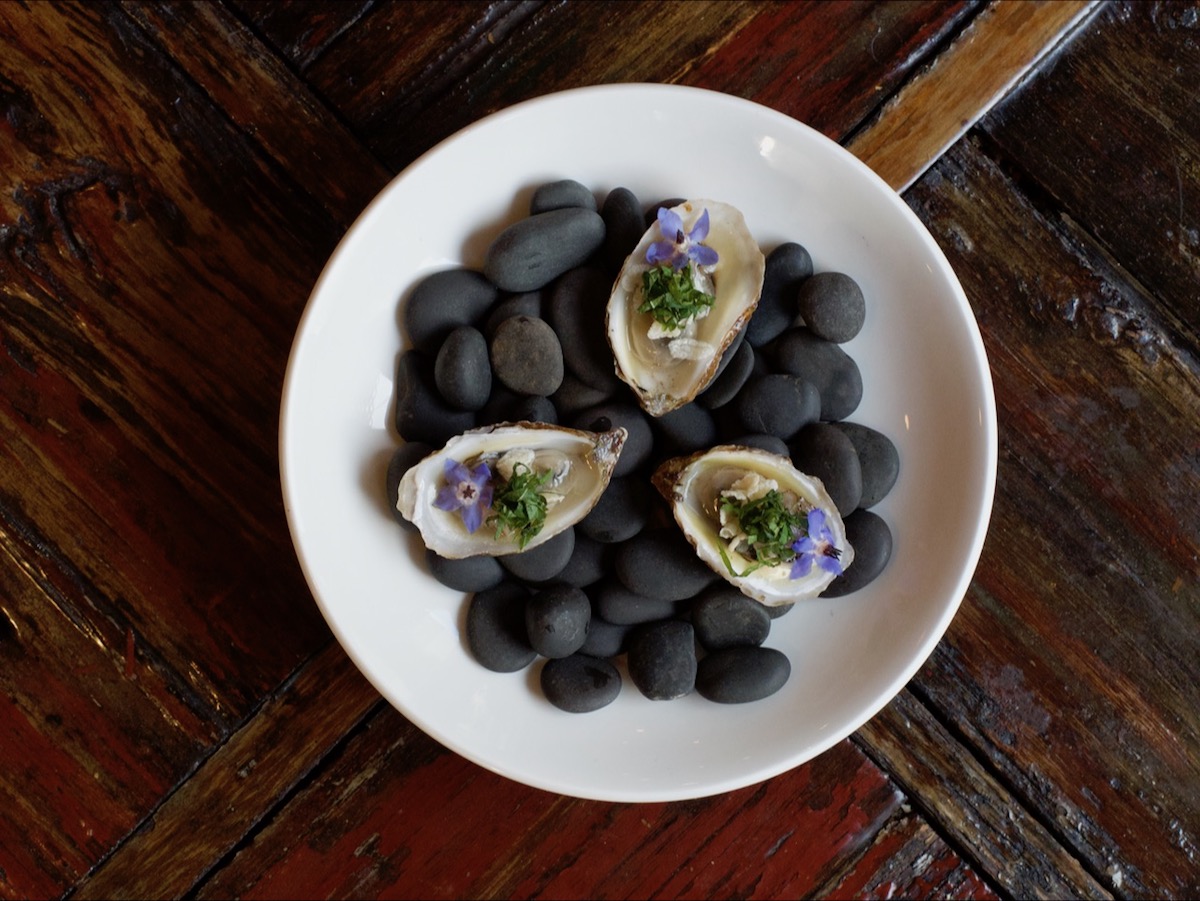 Craft & Commerce, San Diego, California
Forget the burgers and dogs — Craft & Commerce's wood-fired oysters are enough to turn even the biggest meat-eater's attention toward the sea. While the San Diego restaurant was named one of Food & Wine's "Top 50 Bars in the Country," the fare is anything but bar bites, and chef Ted Smith's presentation of Phantom Creek oysters is straight-up art on a plate. Check out grilled bivalves with rich housemade Ethiopian curry, garlic, and scallions. Make a reservation at Craft & Commerce.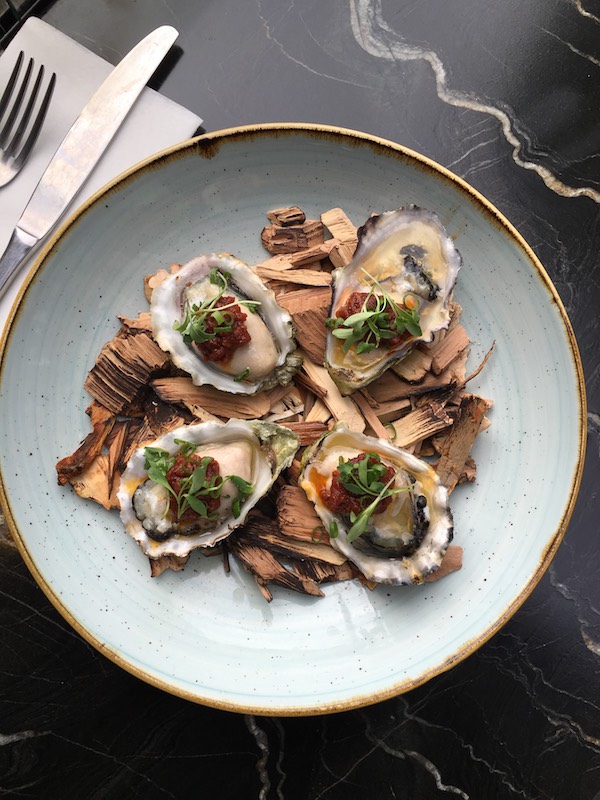 Fin & Pearl, Nashville, Tennessee
Executive chef Matt Farley puts a decidedly Southern twist on his oysters but still manages to give a presentation with panache. One of his most popular dishes includes oysters grilled with bacon, roasted tomato, bread crumbs, micro celery, and "Miracle Whip," a housemade aioli that called such would have any traditional Nashvillian wagging a finger. The dish is the star of a raw bar menu that includes classic shrimp cocktail, poke, caviar, and both hot and cold oysters. Make a reservation at Fin & Pearl.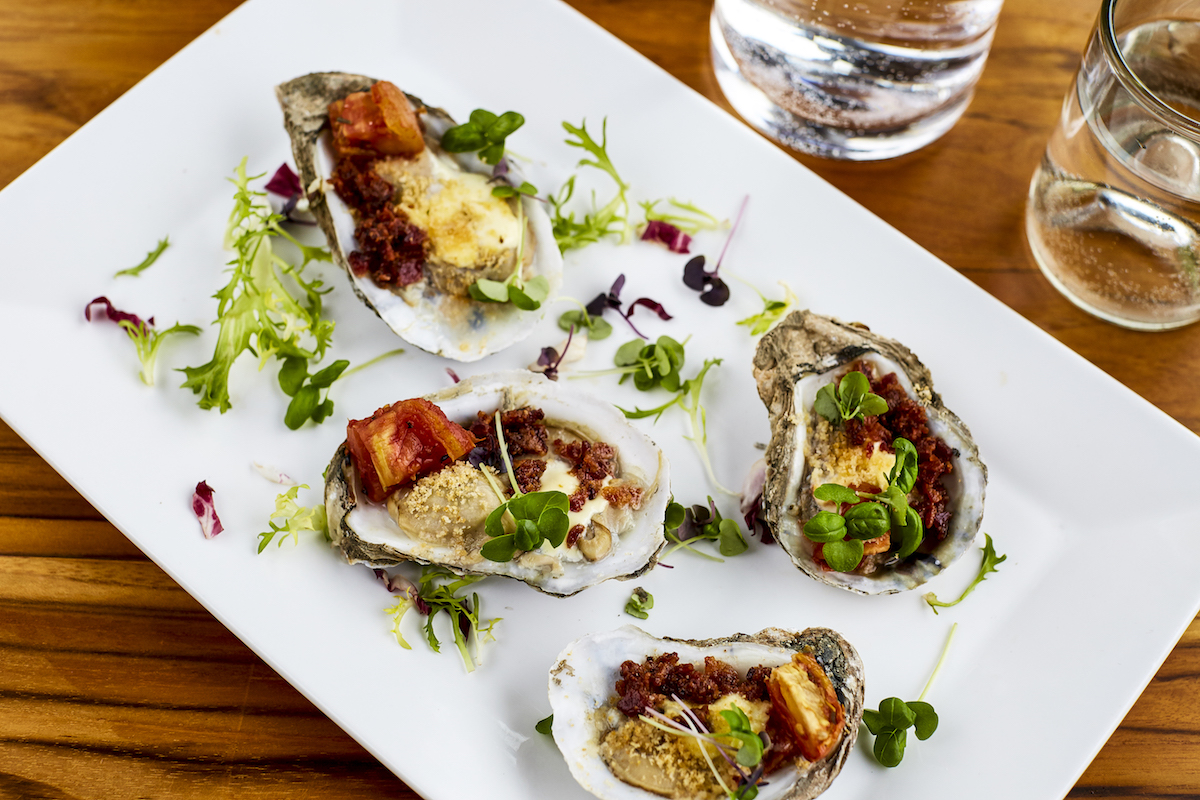 Waypoint, Cambridge, Massachusetts
Chicken-fried oysters don't sound like anything you'd get north of the Mason-Dixon line, but chef Michael Scelfo has a history of churning out surprises. This one's fried after a quick buttermilk soak, and then served on the half-shell with whipped and aerated buttermilk yogurt, a generous dollop of caviar, fresh herbs, chive blossoms, coarse salt and pepper, and a drizzle of olive oil. Scelfo says it meant to be a play on the fried-chicken-and-caviar trend he's seen popping up in the States. Make a reservation at Waypoint.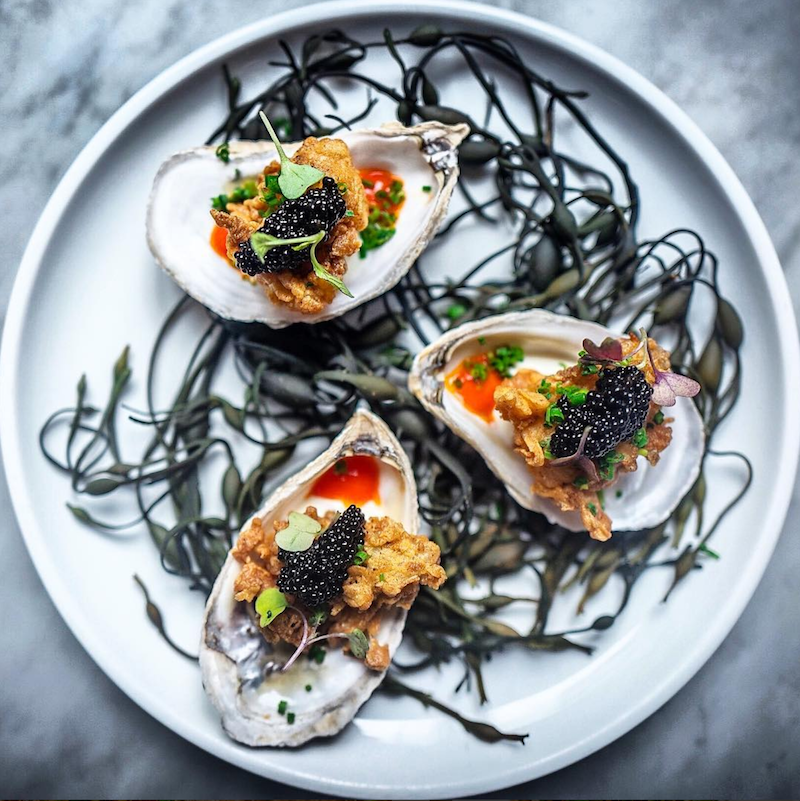 Trace, Austin, Texas
Austin isn't exactly renowned for its beaches, and Trace is known for a menu that puts the focus on what's farmed in Central Texas, but the bivalves here are winning over visitors who get to feast on oysters escabeche, with Texas olive oil, lime, pickled chilies, Vietnamese coriander, scallion, and golden beets. Make a reservation at Trace.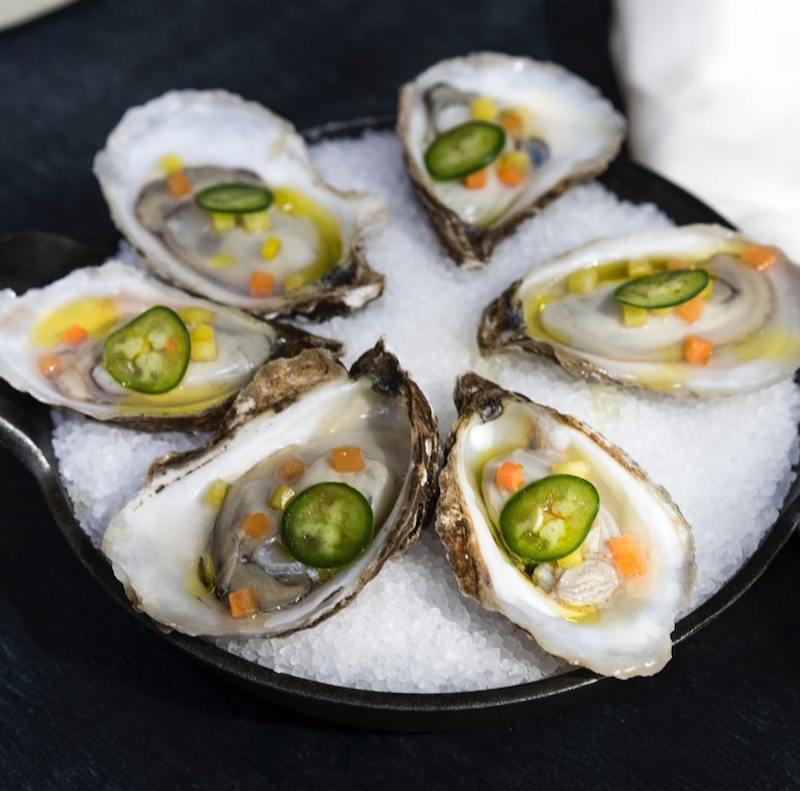 Who is serving the best-dressed oysters you've been ordering? Let us know here or share your experiences over on Facebook, G+, Instagram, Pinterest, or Twitter. And, remember to snap + share your #dishpics with us on Instagram for a chance to win in our weekly giveaway.
Carley Thornell is a travel writer whose experiences eating street food in Japan, English peas in the UK, free-range steak in Argentina, and Brussels sprouts at Estragon tapas in her hometown of Boston have provided unforgettable culinary inspiration. Shout out at carleythornell@gmail.com.
Photo credits: @logibird (Trace).