Long before the widespread use of industrial chemical preservatives, butchers shops kept their meats from spoilage using a battery of techniques that not only preserved them, but greatly enhanced their flavors and textures. Today, OpenTable chefs have embraced these techniques by making their own bacon, sausages, pâtés, and more in-house. If you're a fan of mortadella, head cheese, galantines, and terrines, book a table to sample the delicious creations from these top restaurant charcuterie programs.
Lusca, Atlanta, Georgia
Jonathan Sellitto serves as head butcher for this seafood-forward restaurant. After a stint working on a hog farm outside Siena, Italy, Sellitto returned to the U.S. to practice traditional Italian and French charcuterie. "One of the things I love about charcuterie is that it has stood the test of time," says Sellitto. "Old world techniques are still relevant and have become a bit of a specialty art."
His charcuterie board changes weekly, but is likely to have two cooked meats (e.g., terrines, pâtés) and two cured meats, served with house pickles and charred bread. He says diners have an increasingly greater appreciation for the whole animal and for Old World techniques for preserving meats. He's also not a fan of shortcuts. "A proper terrine should take you three to four days," says Sellitto. "If you rush the steps, it's very noticeable."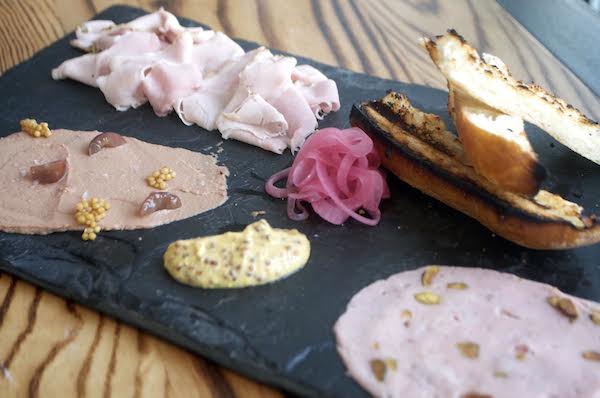 The Wharf Pub, Newport, Rhode Island
Executive Chef Scott Kirmil cures his own porchetta, pâtés, and terrines using grass-fed heritage pigs that he sources locally. "The difference in flavor and texture is huge when compared to the pork belly you can get from large food distributors." Of course, it costs more, but Kirmil says it is well worth the expense. "We feel our charcuterie should be something that gives guests items they can't just serve up at home without spending some serious time in the kitchen," says Kirmil. The Wharf Pub makes as much of its menu as it possibly can — from bread to cured and ground meats — in-house.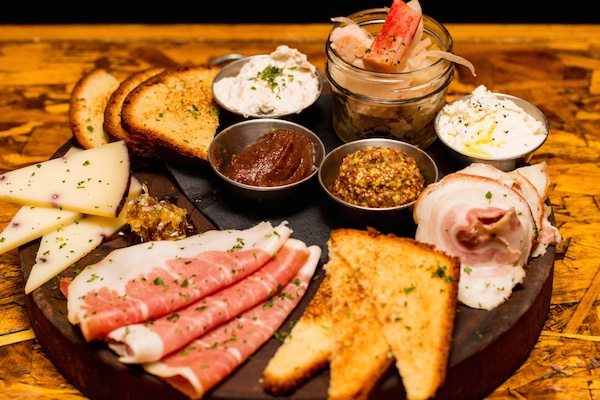 Mandolin, Raleigh, North Carolina
Expect an enormous selection of house-cured and smoked meats, terrines, pâtés, and sausages. From smoked bacon and hams to pancetta, lambcetta, head cheese, bologna, mortadella, and soppressata, just to name a few. "Most meat-centric charcuterie is really just trying to bring out the layers of flavor already present in the meat by using traditional curing, smoking, and curing techniques," says executive chef Sean Fowler. "Accordingly, we choose flavor components (herbs, spices, vegetables, fruit) that complement a particular protein." And like many chefs with a passion for charcuterie, Fowler fashions himself a traditionalist. "Most of our methods and recipes are pretty classical," he says. "We do play around a bit with some of the ingredients in our uncured sausages, incorporating things like pickled blueberries, sauerkraut powder, and black garlic. But really good meat and sound technique are the foundations of our program."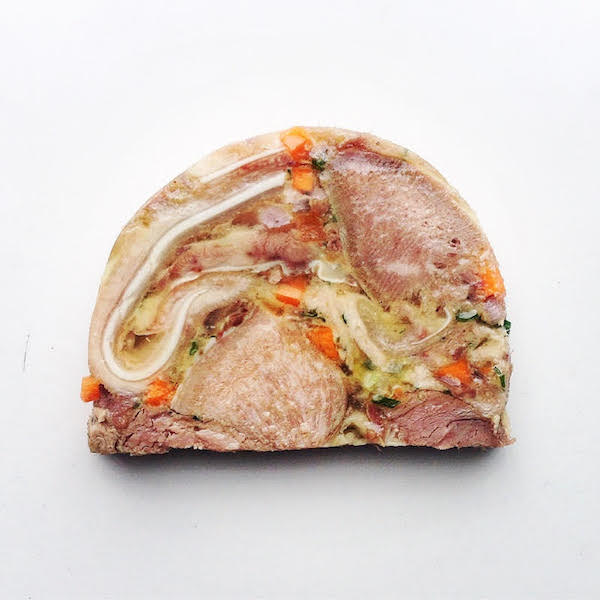 Argyll Whisky Beer, Denver, Colorado
Charcuterie chef Aaron Faulkner squeezes out six kinds of sausage, rabbit pâté, duck liver mousse, head cheese, and so much more, on a menu that he changes up bi-monthly. "I try and go mostly for traditional French flavors but am influenced by Germany and Poland when it comes to sausage," says Faulkner. "I like to use classic techniques with a small amount of molecular gastronomy in my charcuterie. I love to use tougher cuts and offal, stuff that can turn a lot of people away, and try to develop flavors and textures that will be less intimidating to most people so they can expand their palate."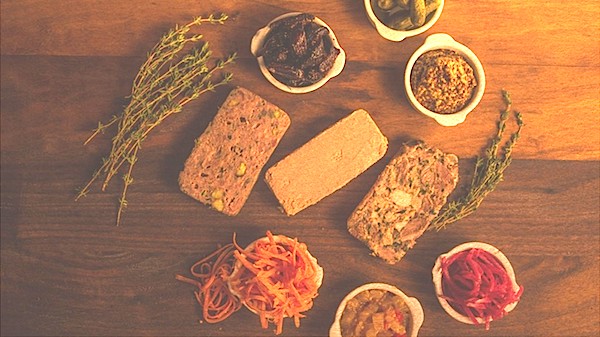 Puritan & Company, Cambridge, Massachusetts
Puritan & Company has what chef-owner Wil Gilson calls a "small but fun" charcuterie program that ranges from simple techniques like chicken liver mousse and bluefish pâté to the more adventurous with its swordfish pastrami, duck pâtés, and foie gras mousse. While fish is a mainstay of their charcuterie menu, they also cure their own coppa, pancetta, and salami, as well as sausages and terrines. "We always bring in primal muscles and treat the charcuterie as the by-product that we get for 'free' after breaking down the meat," says Gilson. "We treat the slice of terrine or the link of sausage as though it is paying homage to the animal that we used to make it. It's not just scrap shoved in a mold or a casing. It's a tribute to the process and the life that inspired it."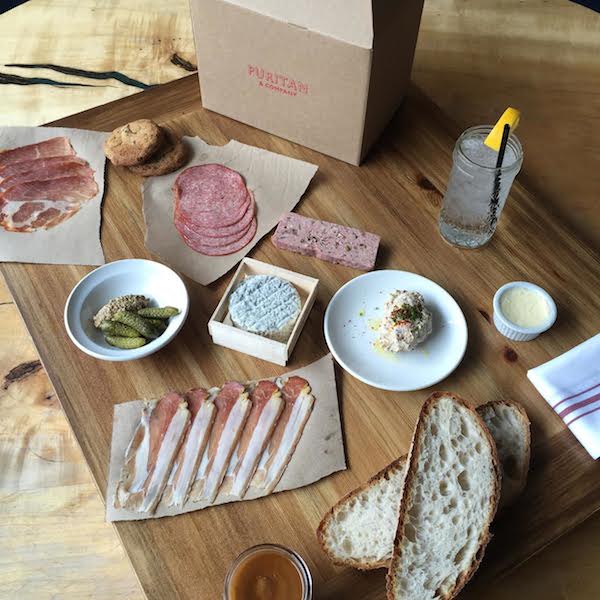 Southern Art, Atlanta, Georgia
All the charcuterie offered on Southern Art's butcher's board are produced in-house. That goes for the pork terrine, duck rillette, chicken galantine, coppa, and andouille sausage. Chef Didier Lailheugue sources most of the pork from Heritage Farms in North Carolina. "I have a great relation with the Ivey Family; they are always working with me on special requests, different cuts, and they produce some of the best Cheshire pork." Offerings change weekly, but the basic concept stays true: "We try to reproduce charcuterie that you could have in France or Italy," says Lailheugue. "That means authentic flavor, prepared with consistency and variety."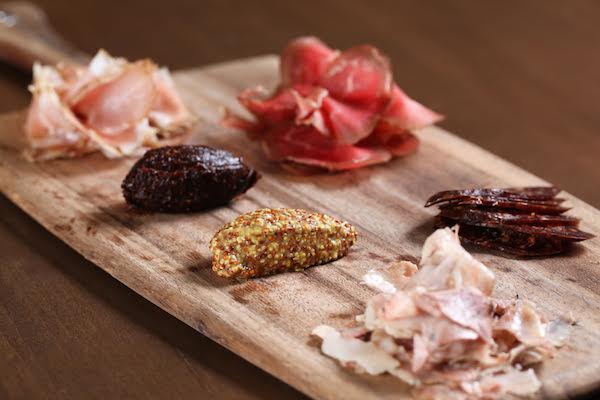 Stoddard's Fine Food and Ale, Boston, Massachusetts
Executive chef Jason Fiset has been developing a charcuterie program at Stoddard's that includes jewels of the sea, such as octopus terrine, smoked salmon, shrimp mouse, salt cod rillette, house-cured sardines, and assorted pickles (pickled mustard seeds!). That makes sense when you've set up shop in New England. His locally caught cod is dried before being reconstituted and mixed with herbs and oils. The mousseline-based shrimp mousse is a blend of egg whites, cream, herbs, chiles, and other spices, all rolled into a log, then lightly poached and shocked. But stay tuned for new items on the menu because Fiset loves variety: "I'd rather eat a million different things than one big thing," Fiset said. And he hopes you'll agree.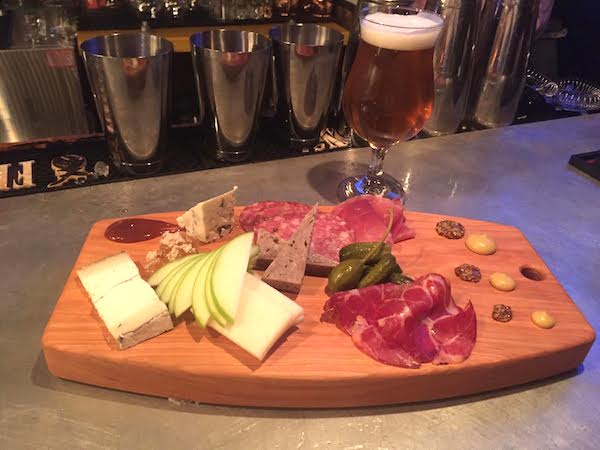 Do you have a favorite place for tucking into a plate of charcuterie (with a side of cheese) and washed back with some fine wine? Let us know here or over on Facebook, G+, Instagram, Pinterest, or Twitter.
Michael Rice is a New York-based writer, musician, and food enthusiast whose work has taken him to China, Japan, and throughout the United States. You can follow him on Twitter @mricenyc.