Marcus Samuelsson was born in Ethiopia, raised in Sweden, and now makes Harlem his home. He developed a deep love for cooking from his grandmother and gained wide praise as executive chef at New York restaurant Aquavit, winning multiple awards including a James Beard Award, and starring in TV shows including Top Chef and The Feed. He opened the Red Rooster Harlem in 2010, followed by Ginny's Supper Club, and several other concepts in the U.S. and abroad. A celebrity chef and style icon with plenty of star power, he's also a New York Times bestselling author. His new book The Red Rooster Cookbook: The Story of Food and Hustle in Harlem is out now.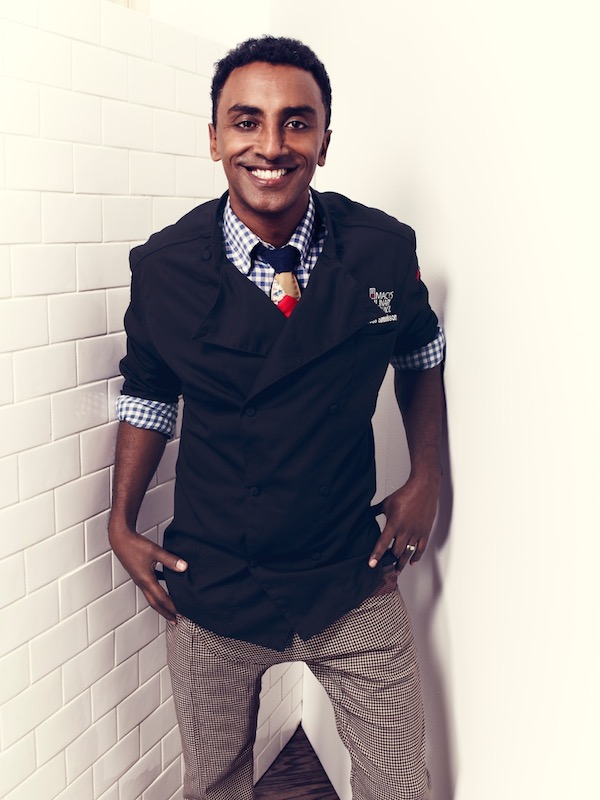 Congratulations on The Red Rooster Cookbook!                                      
I'm very excited about the book—it took four years to write. It's a follow-up to Yes, Chef, which ended in Harlem and this book begins there. I really love the stories, the illustrations by Rebekah Maysles and Leon Johnson, and the photographs by Bobby Fisher. It's a love letter to Harlem, the place where I live with my family. The Red Rooster Cookbook isn't just a cookbook, it's about stories; it's a window into Harlem. It's a window into the neighborhood.
What's happening in Harlem these days?
I worked with Macy's Culinary Council to bring a food festival to the neighborhood, Harlem EatUp! There are more restaurants, more jobs — it's becoming a vibrant hospitality environment. That's something I take a lot of pride in.
Which recipes from the book are you most proud of?
Our fried chicken recipe, but also the pig ears, the simple catfish; there's a wide range of recipes for all kinds of cooks. A great cookbook has some aspirational recipes and some you can make in 10 minutes!
If readers make only one recipe in the book, which should it be?
Either the berbere crusted lamb or the fried chicken.
What recipes do people request from you?
People always ask how to do a great chicken recipe. I think that's because it's a protein we can all eat, regardless of our spirituality. Roast chicken is a classic.
Where do you eat when you're in New York City?
I love to discover a neighborhood. I love Estela in Soho, Roberta's in Brooklyn, and Malecon in Washington Heights.
When you come to the Bay Area, where are you eating in and around San Francisco?
I seek out things we don't have in New York, like great Burmese food, and in the East Bay, I go to Camino. The range here is so amazing; I had great dim sum downtown earlier today.
What dining and restaurant trends impress you the most?
I appreciate the idea that great food is not owned by Europe anymore — there's great regional Chinese and Peruvian; it's not just French food anymore. You can experience great food from many regions. There's a modern narrative to great food, and it's about more than just what's happening in France.
You're a chef with a broad view. What are the social issues relating to food that concern you the most?
I consider great food a civil right. I work to make sure we have farmer's markets in Harlem, I work with Careers through Culinary Arts Program to hire young inner city kids. One of my top priorities is hiring from local communities.
Why is cooking important?
If you teach people how to cook; they will shop differently. That's important because if you buy something whole you learn how to prepare the whole thing. The more we know where food comes from and learn how to cook the better we can combat food waste. It's like learning to swim: once you learn to swim, you will always appreciate the ocean.
Have you dined at Red Rooster Harlem? Share your experiences here or over on Facebook, Instagram, or Twitter.
Amy Sherman is a San Francisco-based writer, editor, blogger, and cookbook author. She is the publisher of the food blog Cooking with Amy. She currently contributes to numerous online publications including Food Network, Fodor's and Refinery 29 and never says no to a warm donut. Follow her @cookingwithamy.