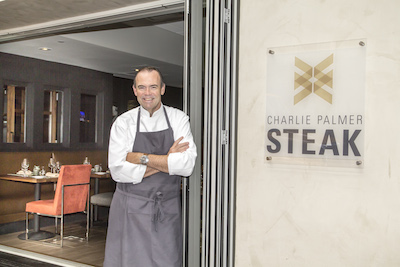 This fall, chef-restaurateur Charlie Palmer opened Charlie Palmer Steak in the Big Apple, a much-welcomed addition to Manhattan's midtown east neighborhood. Joining sibling Charlie Palmer Steak restaurants located in Las Vegas, Reno, and Washington, D.C., Palmer and his team are ready to wow savvy steak-loving New Yorkers with carefully sourced and deliciously prepared meats (and more). Renowned for his restaurants, hotels, and food-forward wine shops around the nation, he discusses the Charlie Palmer Steak menu, how his restaurant differs from the fabled Peter Luger, what's in chef Matthew Zappoli's signature cocktail sauce (sort of!), and diners' longstanding love affair with the steakhouse in this exclusive Q+A.
You're a native New Yorker and you opened your very first restaurant, Aureole, there. You have other locations of Charlie Palmer Steak around the nation — what made you decide to bring Charlie Palmer Steak to Manhattan at this point?
I'm actually from upstate New York, a small town called Smyrna, surrounded by farming communities. I opened Aureole in 1988 here in New York City, followed by Astra (which we just closed this year and are reopening as Upper Story in the next month), Kitchen 22, Kitchen 82, Metrazur, and more. So, I've long had a footprint and a place in New York City. We've been searching for the right location for a Charlie Palmer Steak in Manhattan for quite some time, and this one landed in my lap earlier this year.
Dating back to Peter Luger, the steakhouse feels like a very New York convention. What are the challenges of this market? What do diners expect from a New York steakhouse—and how do you deliver that?
It's true. The steakhouse, or actually the 'beefsteak', has been a New York tradition since the 1800s. I think the challenges are numerous, but so are the successes. There are a ton of steakhouses in this town, so it's about standing out, serving top quality beef, and providing the best service. My philosophy on steakhouses has always been different from the Luger format. I don't want it to be a men's club—I want it to be a place where men and women are both equally comfortable and the food goes beyond the beef—to really thoughtful, composed seafood dishes and hearty salads.
Why do you think we, as a nation of diners, have such a longstanding love affair with steakhouses? What is the ongoing allure? 
I think there are a few things working together on this. One, it's the primal nature about eating steak—a big, solid cut of beef. We often crave this as human beings. Secondly, I think it's the social scene of the steakhouse—the friendly bartender, the waiter whose kids you know the name of, etc. It truly is like one of the eating clubs of old, and this country, and particularly us as New Yorkers, continue to have an infatuation with it.
Charlie Palmer Steak New York City executive chef Matthew Zappoli has a solid history with your restaurant group, but left to strike out on his own. How did you decide he was the right chef to helm this restaurant with you—and how did you lure him back?
Matt's a great chef, and I'm thrilled to have him back here with us. He was talented when he left our company five or six years ago to strike out on his own. Now, he's still talented, but he's matured and it's so great to see that over time. That's what I hope for with all the cooks and chefs that come through our kitchen doors. Matt and I have kept in touch over the years, and while he was really happy in New Jersey with his restaurant, he was thinking about the next steps for himself. It wasn't a hard sell.
Are there items on this menu that expand on the idea of a classic steakhouse menu?
Yes, definitely. We are bringing back the clams casino, but instead of being breaded, the clams are simply grilled with a little butter, a little lemon, and, of course, bacon. They're these perfect tasty morsels. You need to come try them! We also have a sashimi with espelette pepper on pink rock salt. It's a light starter for a steakhouse, but I think a step above your typical oysters, clams, and so on, which we also have. Additionally, we're doing a Ritz Cracker stuffed lobster. Pretty unique and really awesome flavor.
That sounds delicious. As does Matt's spicy cocktail sauce! Can you tell us what's in it?
Ha! Well, it's a pretty well rounded mix of classic cocktail sauce ingredients – ketchup, horseradish, salt, pepper, lemon, etcetera, but he adds Worcestershire, Sriracha and Tabasco for some kick. There's a secret ingredient too, but I can't tell you what that is.
You have a cheesecake pudding on your dessert menu—but not a classic New York cheesecake. Is that a way of meeting certain expectations yet bringing something different to the table, if you will?
So, this recipe came from my director of operations, Steve Geddes. Steve is a Renaissance man–he's a chef by trade and a master somm, and, apparently, a cheesecake master, too. I loved this recipe so much that I had to put it on the menu in place of the standard cheesecake. But, yes–I think it's a modern twist on that classic cheesecake.
Is there a signature cut or do you have an absolute favorite cut—and, what's your order in a steakhouse?
My favorite cut to eat, cook, and serve to our guests is the bone-on, dry-aged New York strip. The meat just tastes so much better on the bone.
I like to start with something light, maybe a salad or a sashimi, and if I'm not ordering the strip—because I can't eat steak every night—I go for one of our simple fish dishes. We put a lot of emphasis on the sourcing and preparation of our fish. Or, I go for our chicken—it's my good friend Gerry Hayden's recipe and is a perfectly moist and tasty chicken.
Speaking of sourcing, can you share your approach for Charlie Palmer Steak?
Our philosophy is based on bringing in the best ingredients from the best sources. A few things that I think are worth mentioning though—we get some of our top cuts and Wagyus from Snake River Farms and Imperial Ranch. It's important to know where this stuff is coming from. We're getting lamb from Colorado, too—you don't see much American lamb on a lot of menus and these lamb chops are awesome.
Do you prefer a certain style of beef—corn fed or grass fed?
Cornfed for sure—it tastes so much better.
You have another New York restaurant set to open soon, adding to a healthy list of successful ventures you operate. How do you manage to make certain that everything is a reflection of you and your brand—that every bite is just so? And, um, when do you sleep?
Last question first—I don't sleep much! I just don't require that much sleep. As far as success goes, I think it's important to recognize my teams. We have great teams here in New York and throughout the country, and these teams are what make the restaurants. I'm in New York City for two weeks a month and then on the road for the rest of the month, so I certainly can't see everything, but when I am in any one of our restaurants, I do everything I can to make sure that I am in the kitchen during service and not in meetings elsewhere. I am constantly watching, tasting, testing, and cooking. We're certainly not perfect, but we do everything we can to create great restaurants for our guests.
In New York, and other major cities, we've seen longstanding restaurants shutter or change their concept in order to attract new foodies or garner reviews/press. Aureole along with your other restaurants have stood the test of time. Can you comment on how the climate has changed in the industry and how you have achieved longstanding success with your restaurants? 
Aureole has been around for twenty-six years—twenty-one years on 61st street and four years now on 42nd street. We haven't changed the concept entirely – we still do fine dining and really thoughtful American food, but we also have the Liberty Room, our more casual dining room where you can get a burger or our Liberty Duck casserole. It's a bit more approachable.
As far as climate goes, the industry has certainly changed. I do everything I can to look forward and anticipate and create restaurants and food and atmospheres that people want now and in the future. A few years ago, people kept saying that fine dining was going away. That's definitely not true, but I think people want more variety. The same couple who dines in Aureole's dining room might also go for drinks at our casual new bar, Crimson & Rye. It's also important that we stay consistent for our guests. They want to know that they can order the same steak every night and it will always be on point.
What is your approach or motto for cooking and hospitality?
My motto is always to look to the future and not to the past. We can't change what's happened in the past, but we can affect the future. We want to be looking forward to new techniques, unique ingredients, new ways to serve our guests, and not to stay stuck in the past. I think that's been key to our success all these years.
Charlie Palmer Steak New York City is located at 135 West 42nd Street and is open for dinner, Tuesday-Saturday. Book a table today.