As the weather cools down and the aroma of fallen leaves and roaring fires fill the air, we're longing for the smoky, charred flavors that instantly transport us to the warmth of the hearth. Here are seven smoked and singed dishes (both savory and sweet) showcasing fireplace flavors in techniques classic and unexpected.
Smoked Yogurt and Pickled Cherry Bomb Peppers, Bar Sajor, Seattle, Washington
This Pioneer Square restaurant and bar cooks exclusively over wood flames in its wood oven or over the fireplace, which explains the bevy of imaginatively singed, smoky ingredients here (ash-roasted apple, smoked lard, and burnt celery root, to name a few). Bar Sajor's seasonally changing smoked yogurt stars house-cultured, whole milk yogurt that's smoked and paired with zingy pickled cherry bomb peppers along with burnt orange and toasty rye crisps to reinforce the charred flavor. Make a reservation.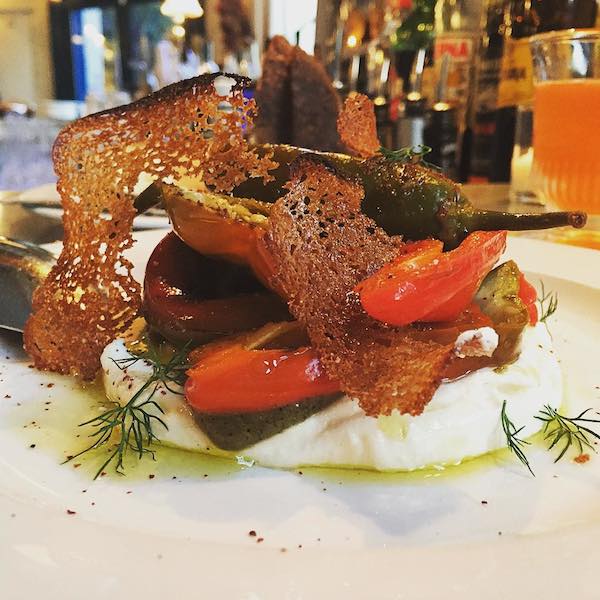 Hickory and Molasses Smoked Duck Leg, The Country Cat, Portland, Oregon
This southeast side farm-to-table restaurant is almost as notorious for chef/co-owner Adam Sappington's expert in-house butchery as its elevated takes on rural American cookery. The result of his meat mastery is a bevy of imaginative, thoughtful meat entrees. Case in point: the mainstay smoked duck leg, which starts with marinating the duck for 24 hours. It's then hickory smoked for two and a half hours and confited for another two and a half hours for a beautifully tender, smoky-sweet result. The duck is served alongside creamy mustard seed spaetzle and grilled apple compote to reinforce the wood-smoked flavors of the duck. Make a reservation.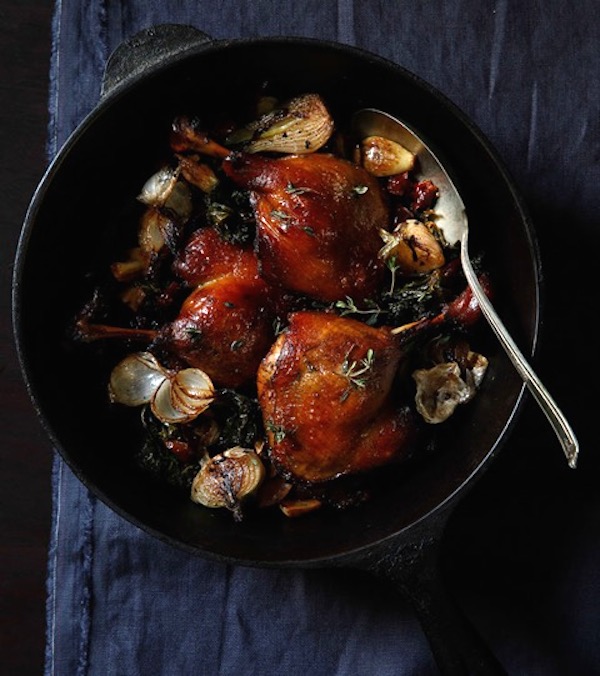 Cabbage Hot Pot, Dirt Candy, New York, York
Leave it to veggie magic worker Amanda Cohen to turn drab, diet-book cabbage soup into something irresistible. The base of this warming, Chinese-style hot pot for two is a rich, smoked cabbage broth that's served in a kettle tableside with ramen "noodles" cut from kale and cabbage dough. Diners can further customize their hot pot with accoutrements (such as spicy watermelon radish kimchi, lotus root, and garlic grilled cabbage) and sauces (homemade chili oil, black vinegar, and soy sauce). Make a reservation.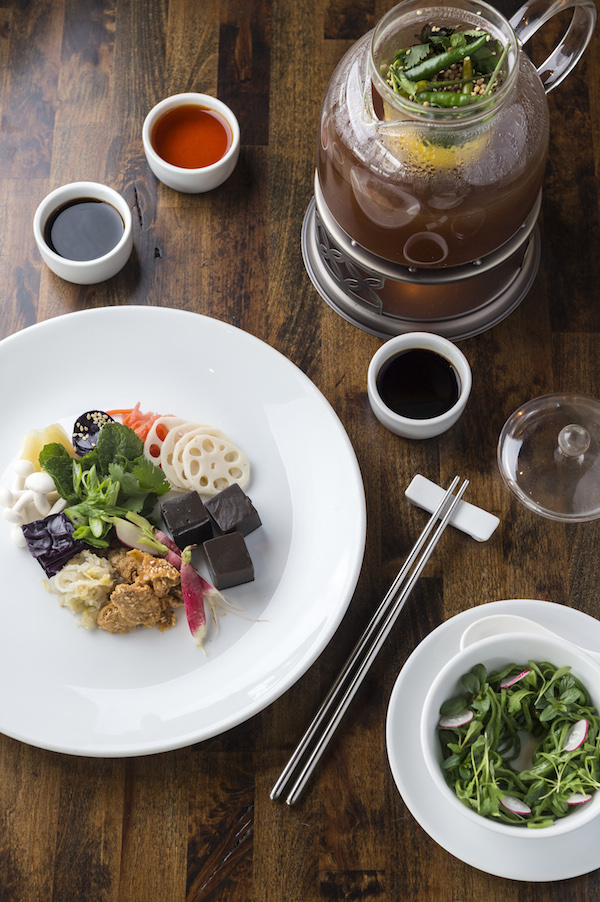 Brisket Bolognese with Smoked Brodo, Juniper, Austin, Texas
This warming pasta dish from executive chef/partner Nicholas Yanes channels the best flavors of Texas barbecue into an Italian pasta, starting with hulking brisket that's brined for 48 hours before spending another 12 in the smoker. A mirepoix of carrots, onion, and celery is sautéed in butter before the smoked brisket broth and fall-apart meat are added and tossed with ribbons of fettuccine. The dish is finished with sweet tomato confit, basil, and a shower of parmesan for a smoky bowl of comfort. Make a reservation.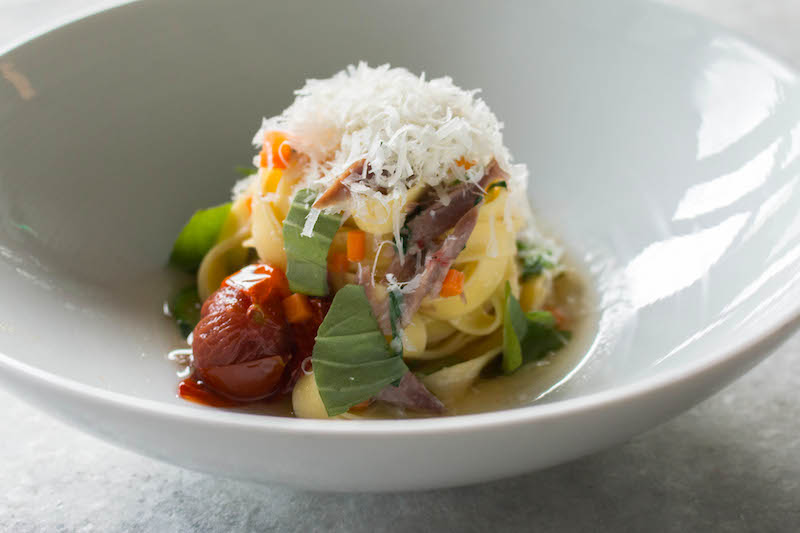 Charred Octopus, Balena, Chicago, Illinois
The meatiest of all mollusks gets charred to ashy perfection in this hearty shared (optional) plate from upscale Italian fixture Balena. Notoriously finicky octopus is first braised before getting a few turns on a blazing-hot grill. (Tip from chef/owner Chris Pandel: Having a bucket of ash on hand keeps the flame from flaring up.) The charred tendrils are tossed in a warming yet bright glaze of white balsamic, tomato juice, orange juice, and cinnamon and finished with shavings of anise-y fennel and piquant Italian kimchi. Make a reservation.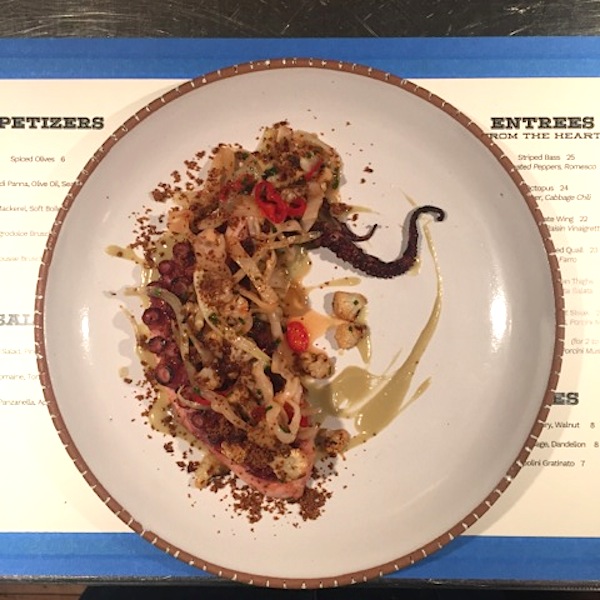 Lola S'more, Lola, Cleveland, Ohio
This beloved dessert at Michael Symon's famed Lola Bistro channels all the inner child-pleasing flavors of this campfire fave, plus a little extra smoke and heat for the (outer) adult. Pastry chef Summer Genetti dots soft dark chocolate ganache with smoked local honey and a hint of chipotle pepper and then tops it with housemade graham cracker ice cream and graham cracker streusel. The ganache is flanked by housemade Knob Creek bourbon-vanilla bean marshmallows, which are toasted to order. A graham cracker tuile garnish adds yet another textural layer while milk and dark chocolate tiles are playfully manipulated to look like campfire logs. No wonder this is one dish that never comes off the seasonal dessert menu. "I don't like to keep dishes on the menus here for very long … but with this one, the guests have spoken! I can't take it off now!" Genetti says. Make a reservation.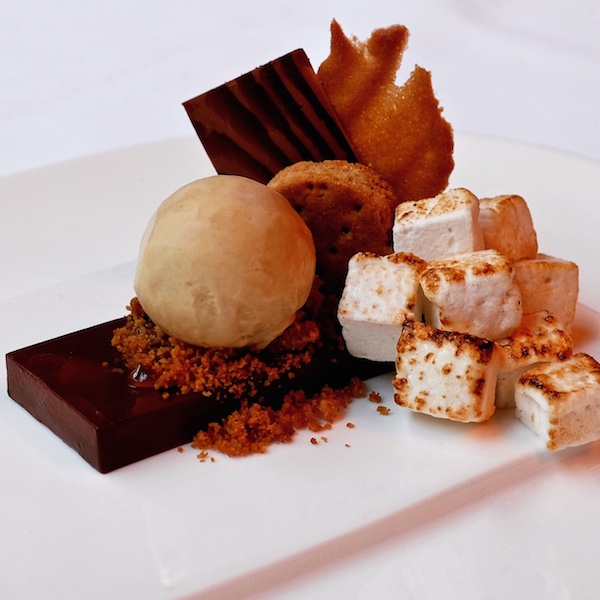 Grilled Carrot Cake, Del Campo, Washington, D.C.
Charred, smoked, and burnt flavors work their way into nearly every dish at this South American-inspired restaurant, so it's no surprise that even the sweets take a turn on the grill. For this charred cake, carrots are grilled until smoky before getting shredded and added to carrot cake batter. Once baked, the cake is buttered and grilled again, then served with sticky-sweet dulce de leche and cream cheese ice cream. Make a reservation.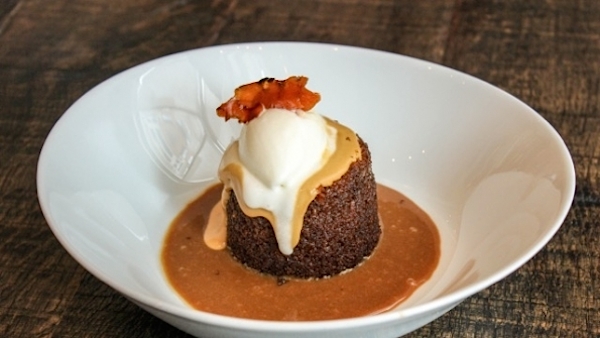 Have you sampled any of these fabulous fireplace flavors yet? Let us know here or over on Facebook, G+, Instagram, Pinterest, or Twitter.
Maggie Hennessy is a freelance food + drink writer and chef based in Chicago. Follow her on Twitter @edible_words and read her other published works at maggiehennessy.com.
Photo credits: Liz Boudreau (Sabor); Heartlandia Cookbook 2015 (The Country Cat); Evan Sung (Dirt Candy); Bill Fitts (Lola).