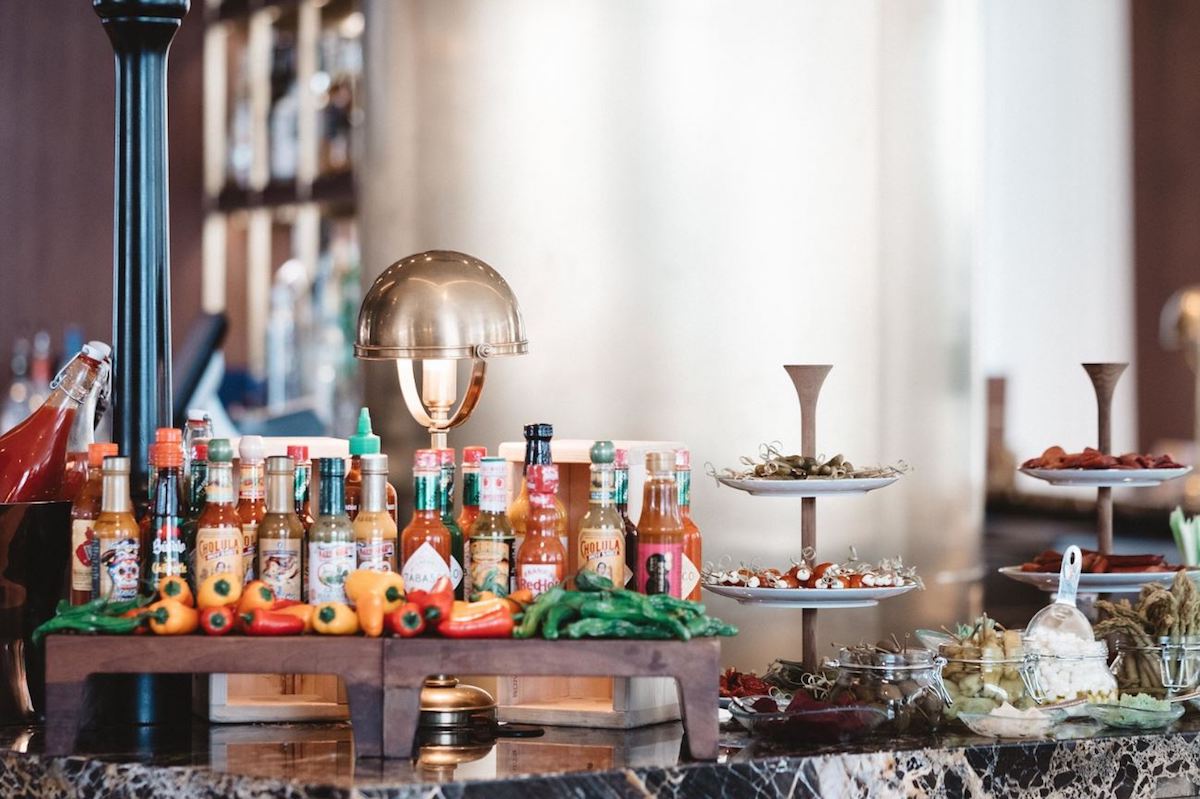 It's Saturday night. The bar is closing. The night feels young, but it's last call. Home in bed, sleep comes easy. Come the morning sun, an unspoken invitation peaks through the curtains. The promise of Eggs Benedict, shrimp and grits, and breakfast tacos awaits you, and, of course, a Bloody Mary in a tall glass, mimosa, or festive margarita. Brunch is that most festive of meals. It's an ideal time to relax and gather with people who make you smile, anticipating all the comfort food you're unlikely to cook at home but can't wait to taste — from someone else's kitchen. So it's no wonder across North America restaurants are upping the spice ante and reinventing the classics for a new crowd of brunchers. And it wouldn't be a boozy brunch without a smart cocktail in hand. Here are a few restaurants for boozy brunches to try whether you're getting together with friends or toasting to another great weekend with your favorite date. Not near one of these spots? Check out OpenTable.com to find the right restaurant near you.
Coquette, New Orleans, Louisiana
In the heart of the Garden District executive chefs and 2018 James Beard Best Chef South nominees Kristen Essig and Michael Stoltzfus have crafted the ultimate boozy brunch hangout. Big on old world Nola charm and offering a contemporary spin on classic dishes, Coquette's fried chicken brunch is served family-style with bread and butter pickles, sides that change weekly, buttermilk ranch dressing, and seasonal hot sauce (just don't forget the deviled eggs.) Here, no fried chicken meal would be complete without Coquette sommelier Ryan Plas's breakfast bottle wine list or chai milk punch or an Italian margarita from beverage director Carlos Quinonez. On the a la carte brunch menu, guests can choose between dishes like rabbit pate, fennel sausage biscuits, and a seafood platter with beet cured trout, smoked catfish dip, and bowfin roe. Make a reservation at Coquette.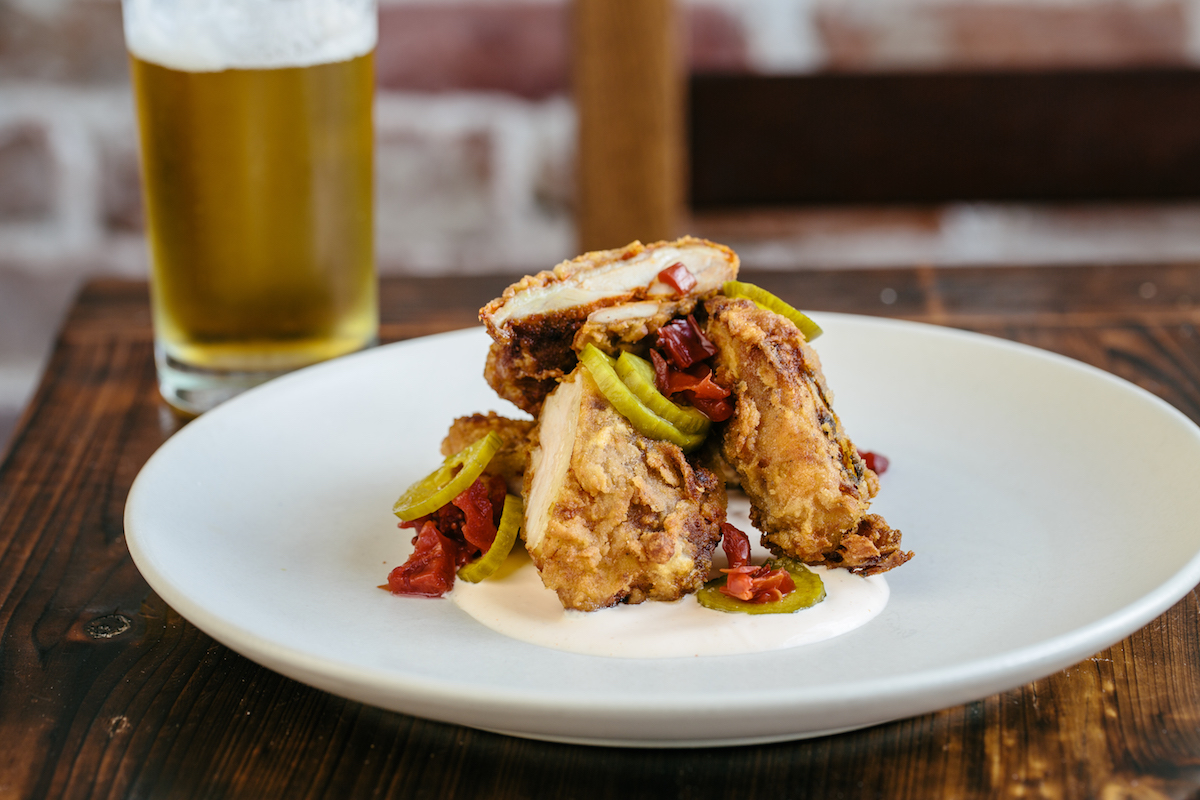 The Victor at Parq Vancouver, Vancouver, Canada
Four words — foie gras French toast — are enough to make any foodie swoon, but it's no secret that Vancouver is home to many fine dining options in this cuisine-centric country. At the Parq Vancouver's shining brunchery, steakhouse, and seafood restaurant, The Victor, this decadent French toast is only the beginning. Their Sunday brunch also features lobster frittata, Oscar Eggs Benedict, an upscale version of the classic steak and eggs, and a Wagyu breakfast burger. The jovial spirit of The Victor really shines in its sprawling Bloody Mary bar and the build your own Caesar bar, plus the tableside mule cart. Make a reservation at The Victor at Parq Vancouver.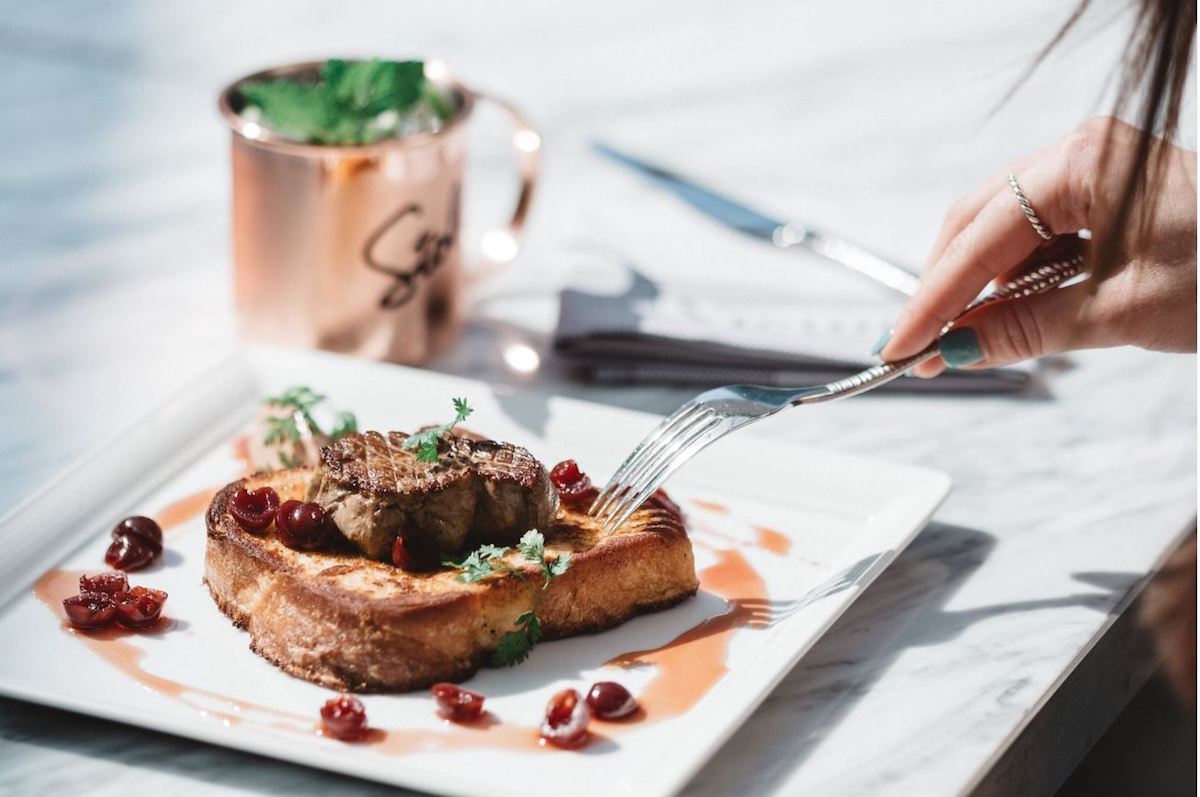 The Greenhouse at The Jefferson Hotel, Washington, D.C.
If the lemon ricotta malted pancakes with lemon zest syrup or crab cake Eggs Benedict with slow-cooked hen eggs, old bay Hollandaise sauce, and asparagus tips don't hook you, the mimosas and Bellinis will at D.C. staple The Greenhouse at The Jefferson Hotel. Even the avocado toast here is something to sing about, prepared with avocado, cream cheese, Gruyere, soft poached eggs, and olive oil on multigrain toast with breakfast potatoes. Let the bartender choose your beverages here – chances are you'll wind up with something delightful, like the Adami Col Credas Prosecco Brut or a classic Bloody Mary as only a beltway bartender can mix. And after 10AM, ask to see a menu from The Jefferson Hotel's The Quill lounge. We recommend a round of chamomile-infused vodka, black tea-infused gin, and peanut washed Tanqueray gin. Make a reservation at The Greenhouse at The Jefferson Hotel.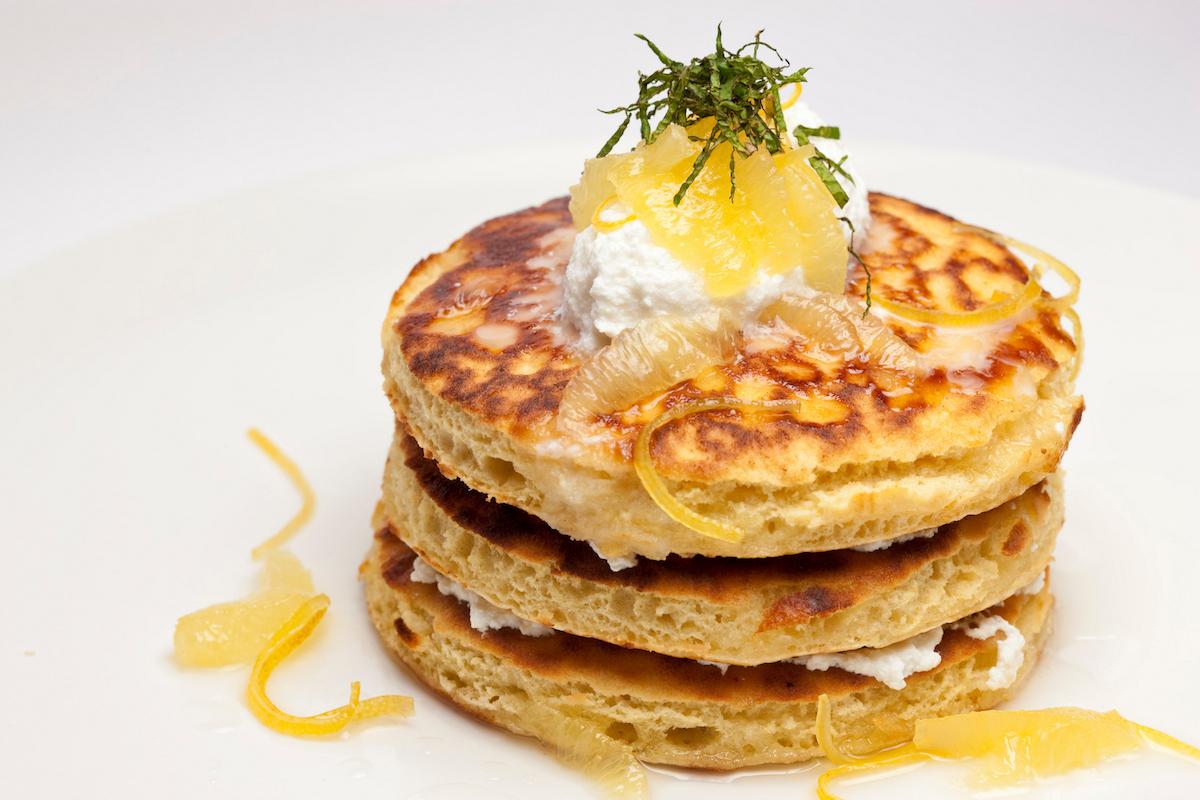 Lolita Cocina & Tequila Bar, Boston, Massachusetts
Who says brunch has to be a formal affair? At Lolita Cocina & Tequila Bar, it's all about the snacks, street food, and tacos. The new Lolita Fort Point location brunch menu is a zero social pressure destination, perfect for weekend warriors who just want to chillax on their downtime. The late-start brunch time helps not-so-early risers, from 11AM to 4PM on Saturdays and Sundays. This SoCal-inspired menu includes dragon fruit smoothie bowls and avocado toasty loco, but don't miss the broken eggs and French toast torta. For true boozy brunchers, don't forget to add a shot of Lolita's house-branded tequila to a glass of fresh juice. And say goodbye to boring mimosas with spicy mango and cava. Coffee lovers can join in the fun by turning a cup of Joe into a house specialty of cold brew, raspberry, vanilla, coffee ice, and Reposado tequila. Make a reservation at Lolita Cocina & Tequila Bar.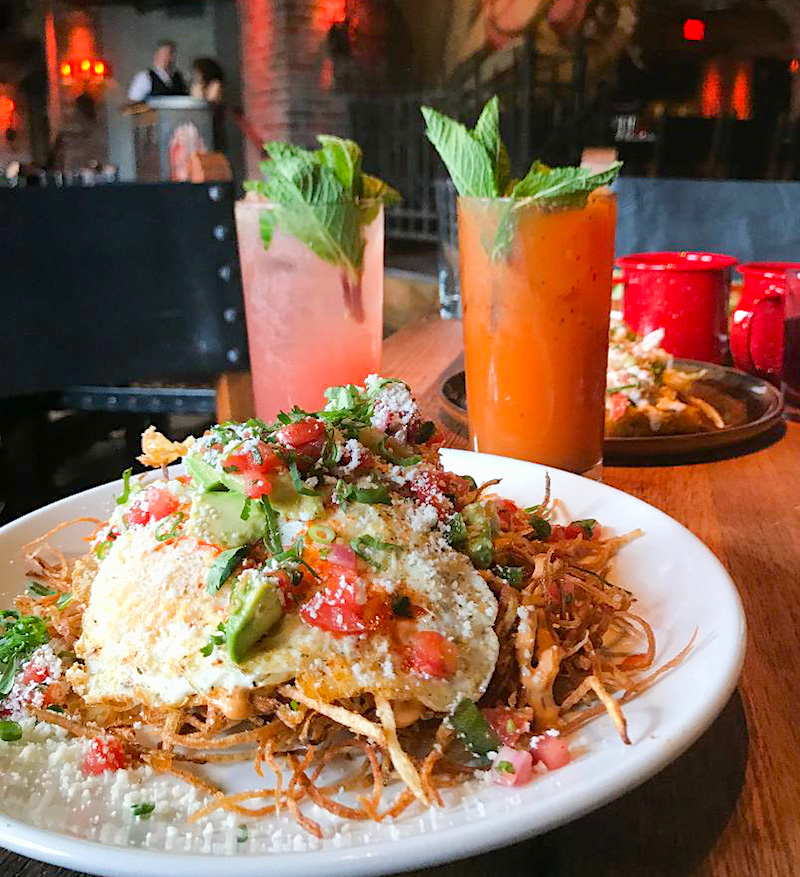 Maple & Ash, Chicago, Illinois
Brunch at Maple & Ash is comprised of multiple food stations, but these are no ordinary posts. Patrons flock to this Chicago eatery for Sunday brunch to partake of freshly carved filet mignon, made-to-order pancakes and omelets, desserts, and individual roasted seafood towers for each table. Also known for eggs in purgatory, most guests can't bear to miss out on Maple & Ash's passed ricotta-truffle agnolotti pasta. At the bargain price of $25 additional charge per guest, Maples & Ash has a 'Bottomless Bubbles' service, which includes Champagne, peach puree, orange juice, and seasonal berries. It's a lively crowd with a DJ mixing beats from start to finish. Make a reservation at Maple & Ash.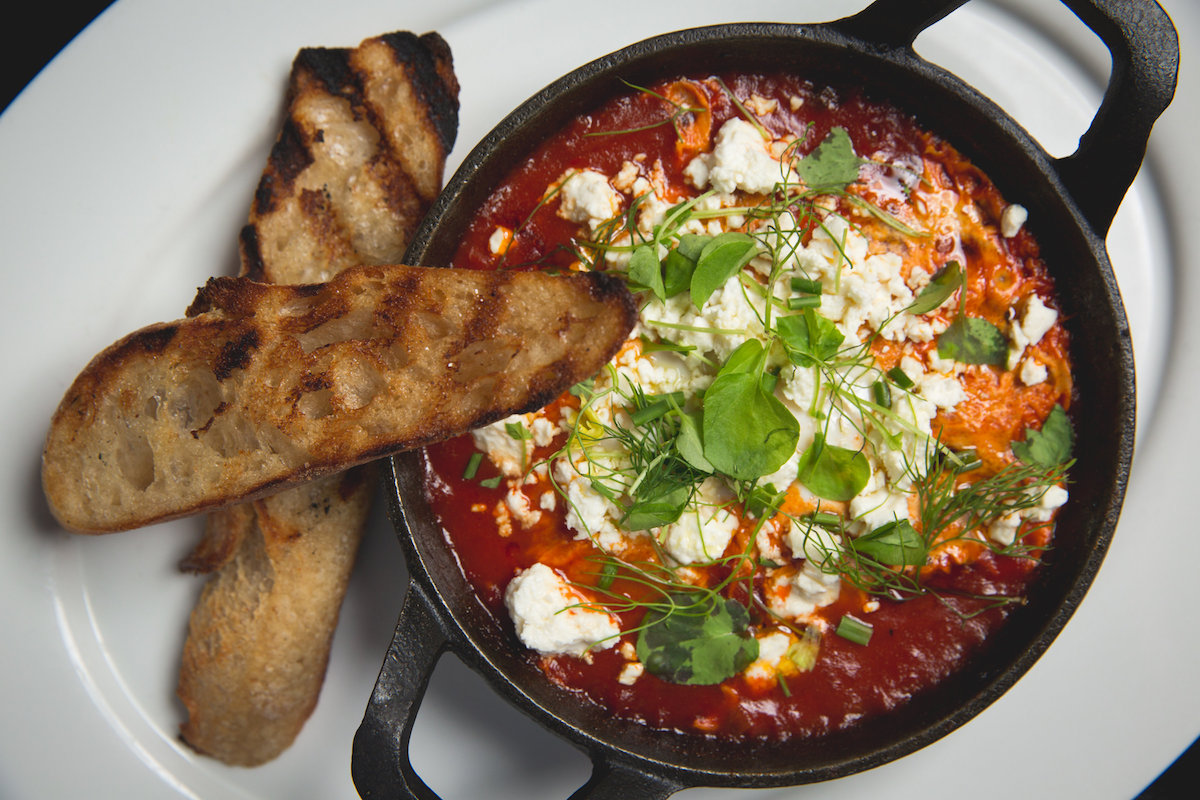 Barcino, San Francisco, California
San Francisco by way of Spain – that's the story on Barcino and its Catalonia region tapas-inspired menu. Among the lip-smacking dishes here, diners find an egg and potato omelette with Dungeness crab, asparagus, Meyer lemon migas, and holandesa as well as jamon serrano and scrambled egg sammies. The cinnamon French toast at Barcino arrives at table dripping in caramel apples and whipped crème fraîche garnished with the crunchy bliss of candied almonds. Sip on a La Boqueria Bloody Mary or Bellota washed vodka with tomato water and lemon, but for gin lovers, try the Amante de Walter with Walter gin, lime, yellow chartreuse, pineapple juice, and maraschino liqueur. Too full for dessert? Indulge in a vanilla ice cream milkshake with almond milk and chocolate – just add booze or coffee. Make a reservation at Barcino.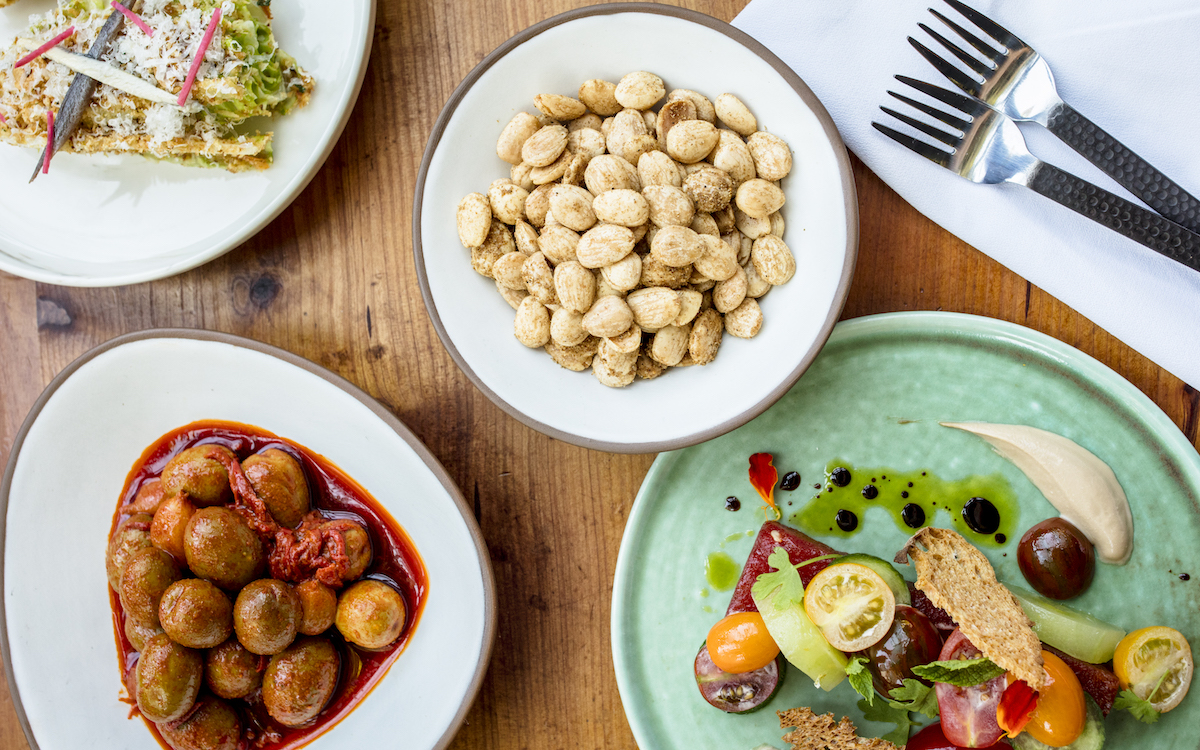 NY Central, New York, New York
Brunch along 42nd Street is a New York tradition and there's no better way to celebrate Sunday in the city than with a helping of lobster Newburg Benedict. This savory breakfast classic gets a VIP treatment with chunks of lobster, poached eggs, and Sherry hollandaise sauce. The chicken and waffles entrée is a stand-out, too, served with a Belgium waffle and crisp chicken tenders spiced up with sriracha ranch sauce and apple-mustard chutney. Because this is one of Manhattan's busiest international hotels, a few items touch on international flavors, like the grilled Spanish octopus with pancetta, chickpeas, roasted potatoes, olives, artichoke, scallion, tomato, and chimichurri, garnished with a dash of harissa oil. NY Central is famed for its packed cocktail hours, one of which has become brunch. There are about a dozen specialty cocktails on a dedicated brunch cocktail menu, including the Upper West Side with Crop Harvest Earth vodka, tomato juice, horseradish, capers, Worcestershire, and hot pepper sauce with a bacon-salt rim. Make a reservation at NY Central.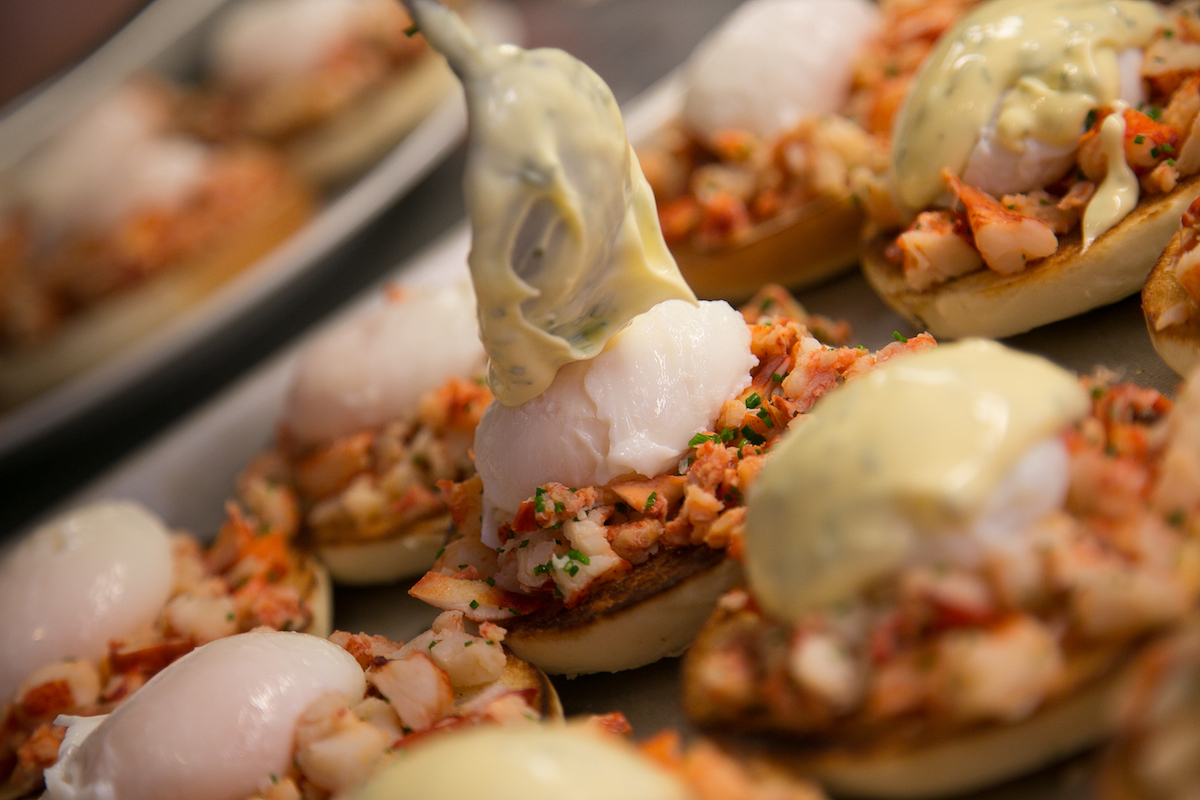 Tallboy Taco, Chicago, Illinois
The housemade watermelon and chia limon aqua frescas at Tallboy Taco are vodka optional, but where's the fun in that? Aside from being one of the tastiest places to get a breakfast taco throughout America, Tallboy Taco is the place to indulge in a morning margarita with Avion reposado, yuzu, avocado puree, and egg whites. A mix of traditional and breakfast tacos is flanked by savory skillets (think smoked brisket with avocado) and the sweeter side of brunch in banana French toast with dulce de leche and housemade churro doughnuts. Save room for the boozy smoothie with rum, triple sec, mango, and strawberry. Make a reservation at Tallboy Taco.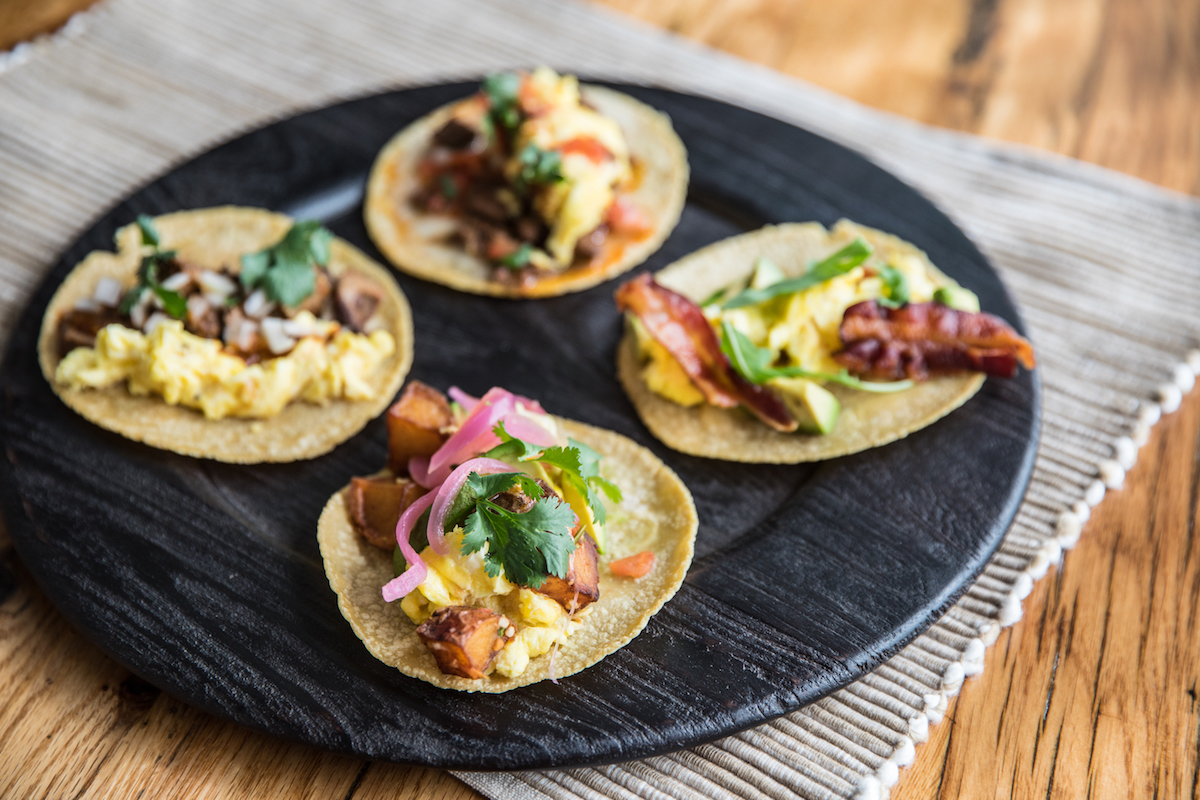 Biella Ristorante, Sunny Isles Beach, Florida
Picture yourself among the swaying palms of Sunny Isles Beach, vodka kiwi crush in hand – that's the new way to brunch at Biella Ristorante. It's all about new and fresh here, especially in drinks like the watermelon caipirinha prepared with Leblon Cachaça, lime, and fresh watermelon, shaken and served on the rocks – though patrons are encouraged to try Biella's bottomless Sangria and fresh fruit mimosas. Buttermilk waffles get the sweet treatment in a dollop of fresh sliced strawberries and bananas drizzled with Nutella and are topped with ricotta, while on the savory side Biella's chefs serve the hanger steak and eggs atop King Crab polenta with a fried egg. People say the caper aioli alone is worth an order of the fresh fish sandwich, while traditional Eggs Benedict gets an upgrade with oxtail and grated Parmesan. Make a reservation at Biella Ristorante.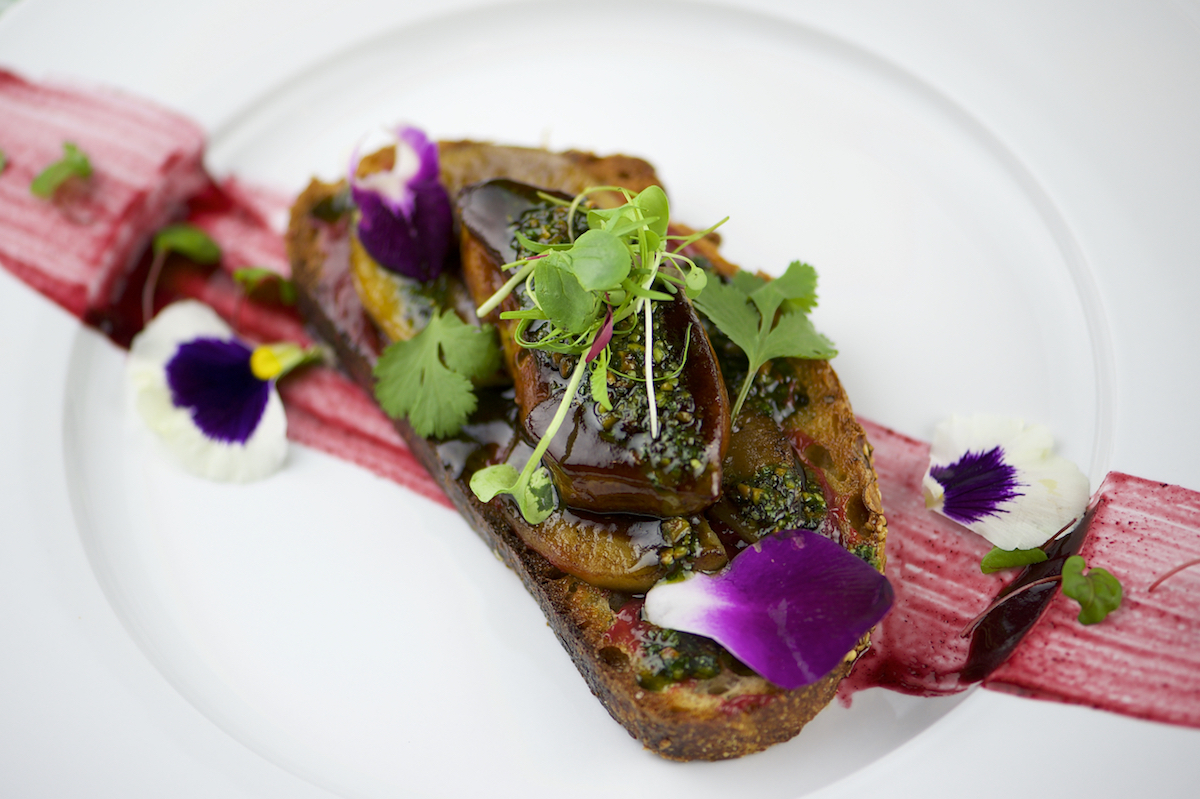 Barrio, Chicago, Illinois
Blood orange mimosas draw brunch hunters to Kinzie Street's Barrio, along with the Tito's vodka Bloody Mary – or her evil sister the Bloody Maria, made with Hornitos tequila and garnished with celery and lime. A bevy of Mexican-influenced dishes includes barbacoa short rib hash, chilaquiles, and a chorizo omelet that might ruin you for all other others. Barrio welcomes brunchers on Saturdays and Sundays to the River North neighborhood until 3PM when the all-you-can-drink option runs out. Until then, all brunch guests get a taste of complimentary breakfast shots made with Hornitos, Rumchata, vanilla chai, espresso, and cinnamon. Make a reservation at Barrio.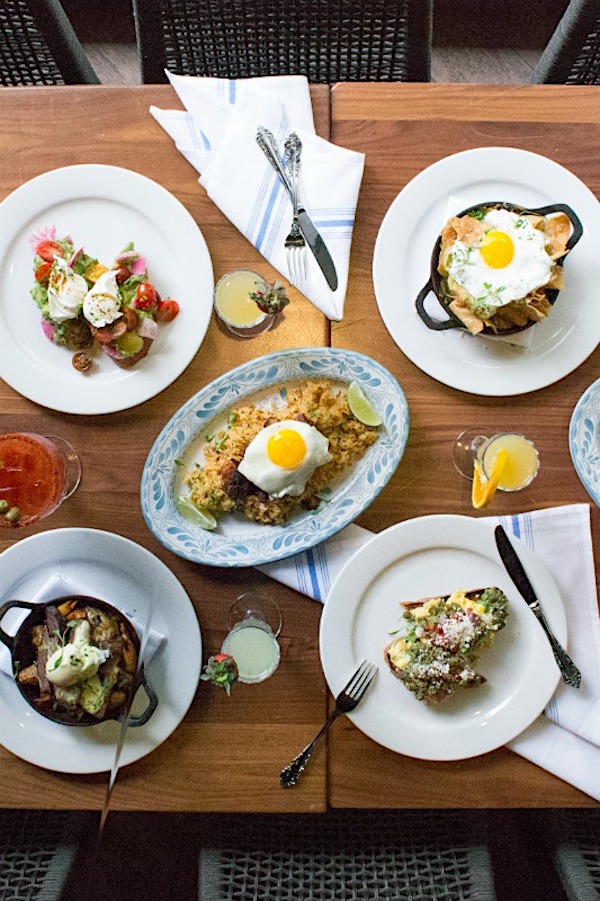 What are your favorite restaurants for boozy brunches? Tell us here or over on Facebook, Instagram, Pinterest, or Twitter. And, remember to snap + share your #dishpics with us on Instagram for a chance to win in our weekly giveaway.
Kelly Merritt is an author and freelance journalist specializing in culinary travel. Follow her on Twitter @kellywrites + Instagram @kellymerrittwrites + Facebook at KellyMerrittWrites.
Photo credits: Sarah Essex Bradley (Coquette).