When calls for diversity in the restaurant industry rang loudly in 2020, a number of talented Black chefs and sommeliers who have been honing their skills and passion for years finally got some well-deserved and overdue recognition. The Black diaspora's culinary traditions impact nearly every corner of the world, from the jollof rice of West Africa to the fiery pepper sauces of the Caribbean to the collard greens and gumbo of the American south. These recipes represent a story of survival and adaptability, and Black chefs today continue to be at the forefront of a legacy of ingenuity in the kitchen.
With the onset of the pandemic in 2020, many chefs invited people to enjoy their inventive approach to dining through special menu collaborations, outdoor dining, themed fundraisers, and social media — where they shared their stories, recipes, and favorite pours.
Just as food and drink represent every region of the world, so do these chefs and their commitment to their craft. Here are ten outstanding Black chefs and sommeliers to follow.
Anthony Caldwell
Anthony Caldwell's story is a testimony to perseverance. The chef overcame addiction and incarceration, made a commitment to attend culinary school, and in 2020, opened 50Kitchen, a Southern American and Asian fusion restaurant in Dorchester, MA. Caldwell first learned to cook in prison, and, after his release, was offered an opportunity to work in the kitchen as a prep and line cook at Legal Sea Foods in Chestnut Hill, then moved on to work in kitchens at MIT and Harvard, as sous chef and personal caterer. 50Kitchen is a counter-service restaurant serving dishes that include jambalaya-filled egg rolls with a spicy gumbo dipping sauce and a smoked brisket banh mi. The restaurant's motto is "beautiful food for beautiful people," and Caldwell aims to give back to the same community that provided the often hard but necessary lessons needed to propel his vision forward in the culinary world.
Douglass Williams
At Boston's MIDA restaurant, chef Douglass Williams is well-known for his precision in pasta making, so much so that it landed him a spot on Food & Wine's 10 Best New Chefs of 2020 list. When he was diagnosed with Crohn's disease at age 16, Williams's relationship with food became a journey of curiosity and healing. That drive to redefine his complicated relationship with food led Williams to become the only Black chef-owner in Boston fine dining at MIDA, with a menu that features traditional Italian dishes such as gnocchi cacio e pepe and bucatini amatriciana. Next he's set to open a new restaurant in Boston's Newton neighborhood in spring 2021, an open-kitchen concept for diners to see his pasta making skills first-hand.
Edouardo Jordan
Edouardo Jordan is a two-time James Beard Award-winning chef based in Seattle. He credits his Southern upbringing, centered around large family dinners, as the spark that kicked off his culinary career. Jordan graduated from Le Cordon Bleu cooking school in Orlando before apprenticing at famed Napa Valley French fine dining restaurant The French Laundry where working the meat station inspired him to travel to Italy to learn about salumi making. With his newfound knowledge, Jordan opened Seattle's Salare in 2015, with a menu inspired by his Southern roots and French and Italian training. That same year, he won Eater's Seattle Chef of the Year title. In 2017, Jordan opened the Southern food-focused Junebaby, which won Best New Restaurant at the 2018 James Beard Awards and earned him three stars from The New York Times.
Gregory Gourdet
Portland chef, Top Chef contestant, and James Beard Awards nominee Gregory Gourdet brings the flavors of his beloved Haiti to the Pacific Northwest with his current pop-up Kann Winter Village. The heated yurt experience serves as a preview to his forthcoming brick and mortar restaurant, Kann. Here, diners can indulge in slow-cooked, family-style meals such as a whole duck braised in tomato, habanero, and thyme, then cooked for three hours in duck fat. Kann pays tribute to Gourdet's memory of merchants in Haiti who sell sugarcane ou tof  barrels, and in all of his endeavors, he hopes to introduce the soulful cuisine of Haiti to palates around the country. This spring, Gourdet's book Everyone's Table Cookbook will be released and features recipes such as Haitian spice pineapple upside down cake and fresh takes on produce like charred cabbage.
Kwame Onwuachi
Kwame Onwuachi made a lasting impression on taste buds and critics with his D.C. restaurant Kith & Kin, which landed him the James Beard Award for Rising Star Chef in 2019. The Afro-Caribbean menu at Kith & Kin received accolades for its exploration of dishes that highlighted his family's roots in Nigeria, Jamaica, Trinidad, and New Orleans. Last year, Onwuachi announced that he would be leaving now-closed Kith & Kin to pursue opening a restaurant of his own. His memoir, Notes From a Young Black Chef, recounts his journey from the Bronx apartment where he was raised to restaurant kitchens throughout the world.
Mariya Russell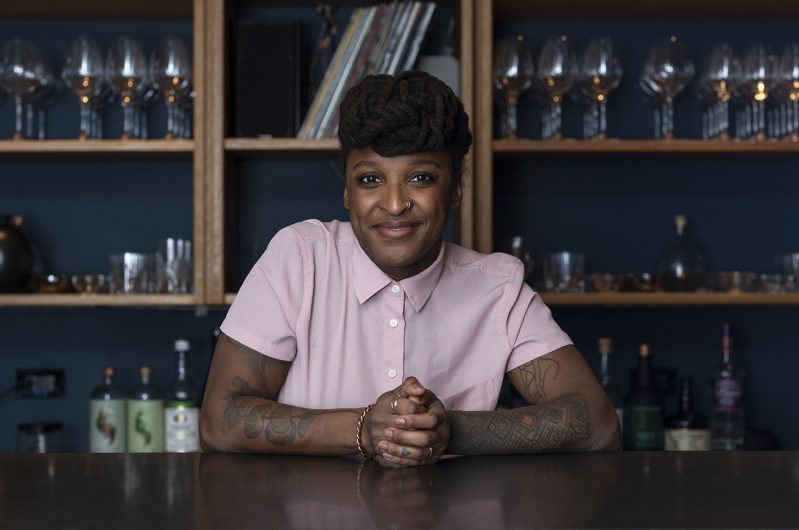 Mariya Russell made headlines in the culinary world in 2019 as the first Black female chef to receive a Michelin star at Chicago's Kikkō. At this 10-seat bar in Chicago's West Loop, Russell served Japanese-inspired dishes such as tofu topped with green almonds and fried bonito flakes to an always-full house. She began her culinary career with technical classes at her high school, then enrolled at the Cooking and Hospitality Institute of Chicago, where she graduated in 2008. Russell recently left her role as chef de cuisine at both Kikkō and the upstairs cocktail den, Kumiko, to pursue her passions and rest with a move to Hawaii. Currently, Russell is working on launching a site that will teach children and adults how to cook.
Reservations for Kikkō:
Reservations for Kumiko:
Mashama Bailey 
Mashama Bailey is executive chef and partner at The Grey restaurant in Savannah, where she puts her own spin on the coastal bounty of the region with dishes such as
pickled oysters and rice middlins (grits) with butternut squash and sunchokes. In 2019, the New York native was awarded a James Beard Award as Best Chef: Southeast. She has also been featured on Netflix's acclaimed documentary series Chef's Table. Her recently released book, Black, White, and The Grey, is co-authored with The Grey's managing partner John Morisano and tells the story of their unlikely meeting and commitment to creating environments that would encourage people to talk about race, gender, class, and culture.
Nina Compton
Nina Compton is a St. Lucia-born chef who owns two restaurants in New Orleans, Compère Lapin and Bywater American Bistro. The James Beard Award winner became a household name when she won runner-up and fan favorite on Top Chef in 2014. At her restaurants, Compton draws on the cultural harmonies between her Caribbean roots and New Orleans's diverse cuisine to create dishes such as curry goat, cassava dumplings, and spicy Creole shrimp hush puppies. Compton continues to be a strong advocate of stimulus relief for independent restaurants and bar workers affected by the pandemic. On her Instagram page, she shares her collaborations with chefs and glimpses of what recipes she's whipping up next in the kitchen.
Tahiirah Habibi
If there's one thing to know about Tahiirah Habibi, it's this: Her presence in the wine industry will not go unnoticed. The Atlanta-based sommelier, known as the Sipping Socialite, was not only named one of Wine Enthusiast's 40 under 40, but she was also the first Black woman to be featured on the cover of the annual issue. A self-proclaimed wine activist, Habibi is the founder of The Hue Society, an organization that connects and empowers the Black wine community. Last year, she joined Carlton McCoy, MS, and Ikimi Dubose to launch the Roots Fund Initiative, which promotes equity in the wine industry through job placement, education, and scholarships. In summer 2021 she will launch Roses & Rosè, the only awards show for the BIPOC wine community.
Tavel Bristol-Joseph
Growing up in Guyana, when Tavel Bristol-Joseph's aunt would send him to the kitchen to bake for Sunday school at church, that time kneading dough and sifting sugar would become the foundation for his expertise in the pastry world today. Bristol-Joseph is the co-owner and executive pastry chef at five different restaurants throughout Austin, including Emmer & Rye, Hestia, Kalimotxo, Henbit, and TLV. At each location, Bristol-Joseph helms a globally inspired dessert menu that features selections such as Basque cheesecake and kakigori shaved ice topped with orange-caramel matcha powder. He was named one of Food & Wine's Best New Chefs of 2020 and the same year launched the Bristol-Joseph Culinary Arts Scholarship at Austin Community College to help Black students attend culinary school.
Reservations for Emmer & Rye:
Reservations for Hestia:
Kristin Braswell is a journalist and founder of CrushGlobal Travel, a company that customizes travel guides and authentic experiences around the world.