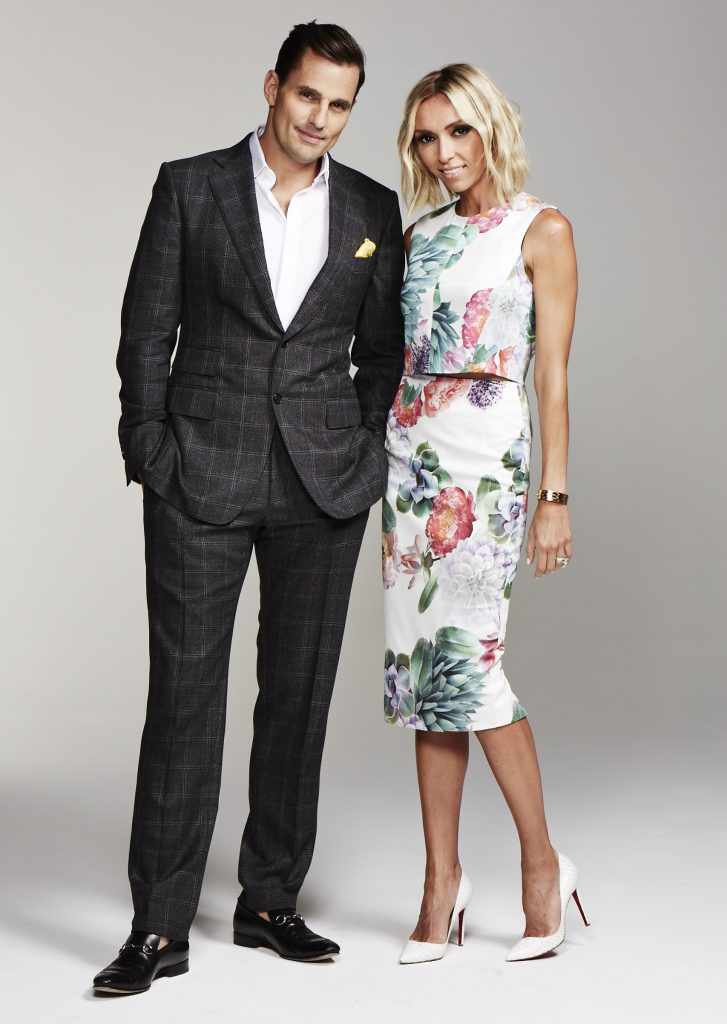 Bill and Giuliana Rancic have held plenty of titles over the course of their careers: entrepreneur, journalist, and reality star, to name a few. And impressively, they've done much of it together as a married couple. Three years ago they added restaurateur to their resumes with the opening of Chicago's RPM Italian, which they started with Rich Melman's acclaimed Lettuce Entertain You restaurant group. Last fall, the team opened a steakhouse, RPM Steak — and more restaurants are already in the works.
Here, Bill and and Giuliana tell us everything they've learned about the restaurant industry, including the ever-important lesson: white uniforms and tomato sauce don't mix. Read on to hear why they love working as a team and their restaurant plans for the future.
Why restaurants? After everything you've done in your careers, what made you want to open a restaurant together?
Giuliana: We actually started talking about it on our reality show. So many people would watch my mom, Mama DePandi, cook on our reality show, and they would see this amazing food she'd be making. And then people started tweeting, and stopping us in the street saying, you guys should open a Mama DePandi's! The next season on the show we would be talking about it, thinking of looking at spots.
The idea was to open a tiny restaurant called Mama DePandi's in Chicago — a real, authentic, old-school Italian restaurant, with checkered tablecloths and that sort of thing. Then, we get a call that there are these incredible restaurateurs — Lettuce Entertain You and the Melmans, which is R.J. Melman, Jerrod Melman, Molly Melman, and their father Richard Melman — that their next project in Chicago is going to be an Italian restaurant. So they said, we hear you guys are opening an Italian restaurant, why don't we talk?
It's funny, because I don't think they realized that the restaurant we had in mind was a 40-seat one and the one they had in mind was 10,000 square feet. It was an interesting conversation, to say the least. They are incredible, some of the best restaurateurs in the world. They have an amazing reputation and so many successful, fabulous restaurants. We realized, we get along so well.
Bill: We took our time, though. It wasn't something we rushed into. We definitely got to know each other over the course of a year or so. We made sure it was going to be the right partnership, because that's important. You don't want to get into business with someone and it not work out. We definitely took our time, and they got to know us, we got to know them, and it worked out great. We definitely have very similar work ethic and a similar vision to what we wanted. We opened RPM Italian almost three and a half years ago.
Giuliana: Wow, yeah. That's basically how all these different roads led to RPM Italian, and we're just thrilled because it's been a huge success.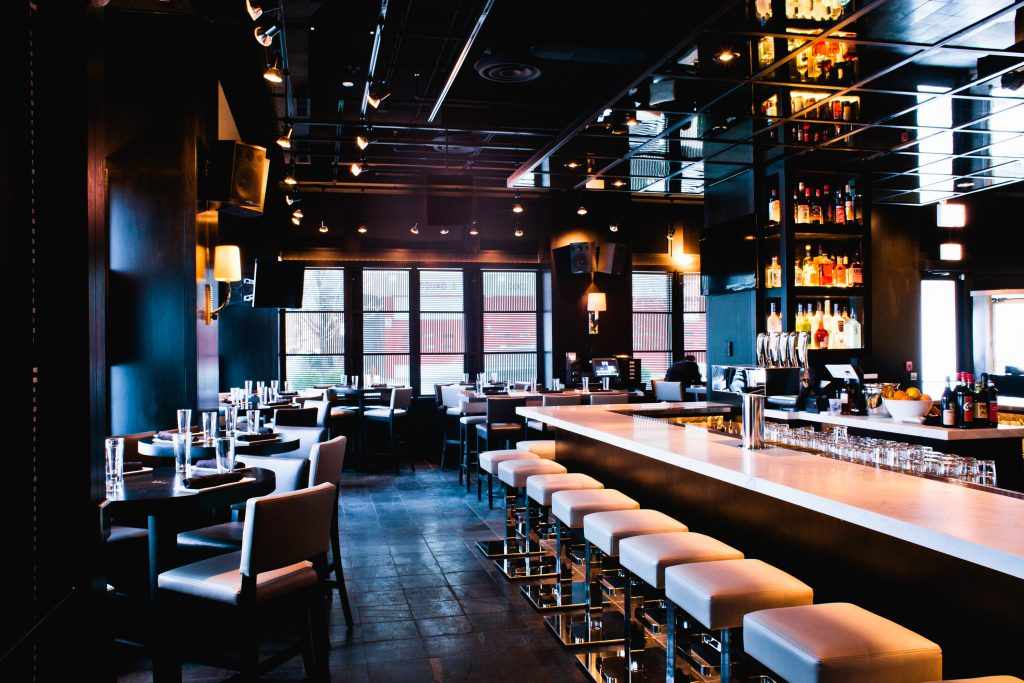 Absolutely! I read that Obama was there not too long ago. 
Bill: He came to RPM Steak. We opened RPM Italian about three and a half years ago, and we had a handful of steaks on the menu that were incredible. They were flying off the shelf, so to speak. We all got together at one of our regular meetings and said, we should really look into opening a steakhouse. We opened RPM Steak last August, and Barack Obama came in for his boys' night out — almost a four-hour dinner. It was incredible. He just walked in the front door, obviously with Secret Service, but he shook everyone's hand and took selfies with everyone. It was definitely an honor. Whether you're a Republican or Democrat — when a sitting President comes in and eats at your restaurant, you're definitely thrilled and honored.
Giuliana: It's funny because that is an honor, but at RPM Italian I remember when Lady Gaga came in for the first time. Me, being on the red carpet and seeing celebrities every night, I was like, what? Lady Gaga? I was so excited. Bill was actually there that night. Remember you sat with her?
Bill: She insisted that I sit with her. We were having a nice conversation and some food was coming out, and I said, I've got to call Giuliana. And I said, someone wants to talk to you. She thought I was punking her. Lady Gaga said, "Hey, it's Gaga." I'm sure Giuliana was rolling her eyes, like, who is this really?
Giuliana: It was cool. Lady Gaga came in, and Michelle Obama came in with friends. We've had so many people come to RPM Italian, too. It's been a lot of fun.
What do you attribute all of the success to?
Giuliana: The food!
Bill: That's it. Truthfully. That's always been our mission. We always say that we can promote it and get people to come in the door, but if the food isn't amazing they're only going to come in that door once. I get reports every night and every morning, and it's repeat guests. John Smith, 14th visit. Sheila Johnson, 19th visit. It's the food. It wasn't about having the fanciest bathrooms or the fanciest booths. Obviously it's a very chic, sexy restaurant — both of them are — but it was always 100% focused on the food.
We're opening RPM Italian D.C. this summer, and it's the same thing there.
Giuliana: I'm really active on social media, both Bill and I are, and as much as we hear people love RPM because of the food, it's also the service. People tweet us about the service. They'll name their waiters. They'll go, Alex was amazing, best server ever. RPM is known for that. People tell me all the time that the food is amazing, but the service is incredible, too. I love hearing that. It's such a well-run restaurant. It's part of the experience for people.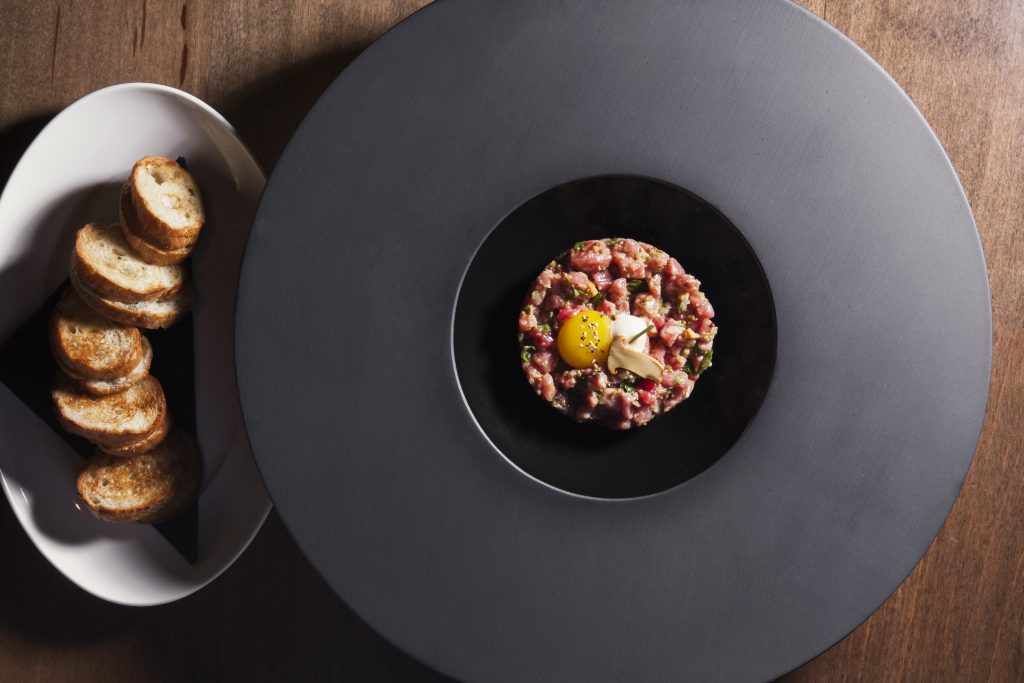 I hear that from restaurateurs a lot — that the food is important and should be wonderful, but the service can take an experience to the next level. 
Bill: We went out to a last-minute dinner the other night in L.A. — hamburgers, believe it or not. We went to this restaurant, there's no one in the place. I said, we'd like to sit over at the window. Now, there's hardly anyone in this place. It's 5:30; we were going for an early-bird special because we wanted to go back to put Duke down to bed. She says, I'm sorry, that's only reserved for four people.
I said, are you serious? There's no one in here, we'll be in and out in 30 minutes. I said, let's go somewhere else, and then all of the sudden she was going to seat us there. But I won't go back there again.
Giuliana: She actually said, you can sit at the four-top, but if someone else comes and I need the table I'm going to have to pull the two-top away. I was like, are you joking? Restaurants wonder why people don't come back. The service is important.
What was your vision for the restaurants? What did you want to create? 
Bill: In the beginning, we knew we wanted to utilize a lot of Giuliana's family recipes. That was important to us, because that was what people had seen on the show and what we had fallen in love with. Many of these are from her mother, her grandmother, so we wanted to make sure that that translated well.
We were in the early stages of looking at locations. The one thing I knew about the restaurant business five years ago when we started this was that I knew nothing. I was very cautious about this. Giuliana was a little more gung-ho than I was. We were looking at a lot of small, 60-seat restaurants, very old-world Neapolitan. We got married on the island of Capri — these great, cute little mom-and-pop operations that ultimately probably would have failed. Knowing what we know five years later — we got a Ph.D. in the restaurant business, having worked with Rich Melman and R.J. and Jerrod. He's the godfather of the restaurant world. It's been an incredible education. Knowing now what we know, that 40-seat restaurant would have been doomed.
Giuliana: Once we partnered up with them and the idea started coming together for RPM Italian, I loved the idea of a chic, sexy, modern Italian restaurant with terrific food and great ambiance. I'm all about food and ambiance. I love a good ambiance. I love specific lighting and a certain vibe, certain music. Remember Bill, I was always commenting on the music? People want an experience, and for me it was all about that. At RPM Italian, when the doors opened, it surpassed all my expectations of what it was going to be. It was popular very quickly and the feedback was tremendous. Three and a half years later, it's only more popular than it was the day we opened the doors, which is pretty amazing.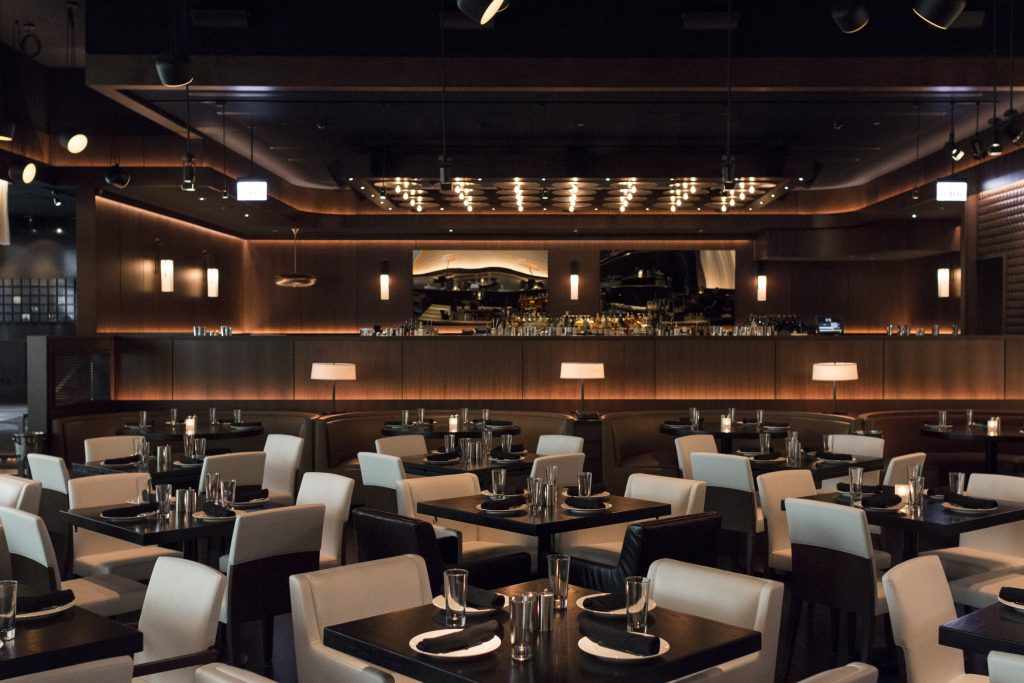 Bill, I'm curious about your experience hosting Kitchen Casino. Did that change your view of the restaurant industry at all? 
Bill: It was a lot of fun, because we got to give a lot of up-and-coming chefs a great opportunity. We gave them some great exposure. It was definitely thinking on your feet. They had to produce these gourmet meals in oftentimes 30 minutes or less, having the ingredients thrown at them. It was exciting to see. I got to taste all the food, and it was incredible what many of the young chefs were able to do in 30, 25 minutes. I was shocked at the talent.
How are each of you involved in the restaurant? Do you have respective roles, or are you consulting on every part of the business?
Bill: It is complicated. We are very hands-on and we like to be involved in just about every aspect of it. But the reason they run so well is that everyone knows their role. Certainly we're all involved, I go to meetings on a regular basis and Giuliana does as well, but in the beginning, with the first one, everyone was involved in every aspect of it.
One of the funny stories I remember is that we would always meet and vote on different things. We were picking out the server uniforms, and Giuliana decided to host a runway show for all of us. She had some friends of hers come in and model. These models were wearing $1,200 white Chanel pantsuit outfits, carrying these handbags.
Giuliana: It wasn't Chanel, it was Gucci, honey.
Bill: They were white! For this Italian restaurant. Red sauce…
…Red wine.
Giuliana: They had clutches with their lists! [Laughs.] Yeah, no one was into that idea, unfortunately. But like Bill was saying, we all know our roles. We leave our ego at the door, and I think that's very important. And we know we have incredible partners who have been in this business forever.
I love fashion, I love music, I love design — so that's what I'm able to bring to the table. Bill's an incredible businessman and he knows what people want and expect. Bill's favorite line is: under-promise, over-deliver. We work off of our strengths and don't try to act like we can do something that we know nothing about. I don't think RPM would be as successful as it is today if we thought we could do that.
You've had so many different projects throughout your career. Are there any specific challenges you've found in the restaurant industry, or any learnings? 
Bill: The great lesson we've learned is that it's really like a symphony, and there are a lot of different musicians. At the end of the day, you've got to learn how to conduct all the different instruments that are involved. When you go into the kitchen on any given night — whether it's RPM Steak or RPM Italian — it's an impressive sight to see. The way it's run is just so seamless. At RPM Italian on a Friday night, we could have 800-900 people come in for dinner, easily. It's without a hitch.
I have to give a lot of credit to the way the infrastructure is set up and the way our partners have trained the staff, because that's really their strong suit. They know how to recruit the right talent, how to train them, and how to manage and incentivize them. I love bringing people back to the kitchen on a Friday night — they're blown away by it. For us, it was neat to learn how the whole operation worked. It was great learning from people who have done it a long time and have had tremendous success. If you look at the career of Rich Melman, he's getting a Lifetime Achievement Award this summer. He has had an impressive career, 44 years in the business now, and it's been one tremendous success after another. The fact that we have gotten to learn and work with him and his family has been incredible.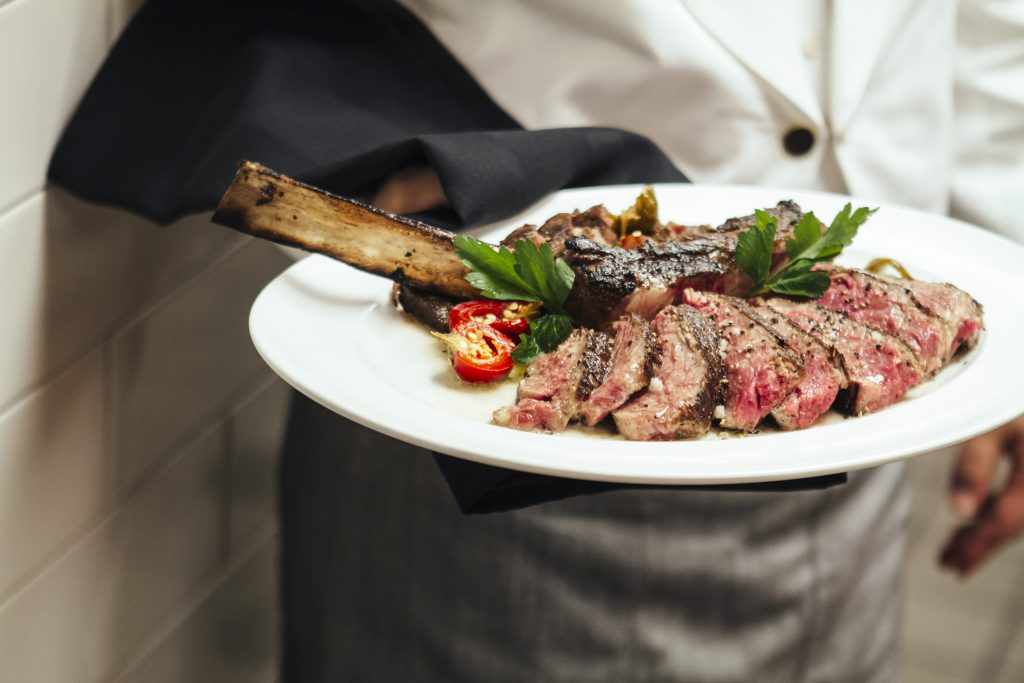 I'd love to talk about how you work together, with the show and different projects. Have you found that you have similar work styles and it's easy for you, or have there been challenges along the way?
Giuliana: Honestly, no. Bill and I are very similar when it comes to business and we have a similar mindset. Thankfully, we've had no issues in all these years we've been doing this.
Bill: Knock on wood.
Giuliana: I might want one thing, Bill might want another, but we're really good at voicing our opinions and explaining why we think something should be a certain way. We really respect each other, and I think that's really important to be successful in business, especially as a couple.
Especially in the restaurant business, there's a lot of ego. And you have to leave your ego at the door. It's not about that, it's about what's best for the restaurant. So, so far it hasn't been a challenge; it's been pretty seamless.
I have heard that from people, that there is a lot of ego in the restaurant business. How does it compare to the entertainment business?
Giuliana: Don't get me wrong — there's a million times more ego in the entertainment industry. Trust me on that! But the restaurant business certainly has it as well. Just not as bad.
What about separating work and family life? Especially now that you have your son, do you make any efforts not to talk about work at home? 
Bill: That's kind of hard for us to do.
Giuliana: We always talk about work at home! We put our son to sleep around 7:30, and then our night begins, where we talk about work. We save those conversations until then. Before Duke goes to bed we spend our afternoons and evenings with him, and then we save the work talk until he's in bed.
Bill: We do it early in the morning. We were up at about 6:15 going over the calendar and travel schedules. I usually wake up and grab coffee and bring it in the bedroom and we start talking shop. I know that sounds really romantic.
Giuliana: We don't find it hard to balance.
Any Valentine's Day plans this year? 
Bill: Well, it's going to be a romantic table for three.
Giuliana: Exactly.
Will you celebrate at home or go out?
Giuliana: I don't know! We were thinking actually that we might go to Chicago this weekend, so if we go of course we'll hit RPM. It's always hard deciding which one. It was always easy when it was just RPM Italian, but now we spend 10 or 20 minutes debating every time we're in Chicago. We're like, steak? Italian? We go back and forth all the time.
Bill: I was there last week for three days and I had to alternate. I did Wednesday night at RPM Steak and Thursday night at RPM Italian. Spread the love. It's like picking a favorite child.
Giuliana: The biggest perk of getting involved in this business and having a restaurant is that it's pretty cool having two of the hottest restaurants in town, because you can always get a table. That's like the best thing ever. People tweet us, friends call and text us, like, can you get us a table? You guys are booked!
Bill: I had three requests tonight.
Giuliana: All the time. It's pretty nice to be the "R" in RPM because you can always get a table.
You mentioned RPM D.C. What's next after that? Any plans you can share?
Bill: Giuliana came up with this idea to start Xo, G wine, which is exciting. That's in all the Wal-Marts, we're partners in that. That's taking off like wildfire. We're definitely staying busy, to say the least. But eventually we want to settle down in Chicago and eat at RPMs every single night, alternating nights and maybe a jaunt to D.C.
The next RPM would be Las Vegas. I know we're looking at some locations there. And we were just in Dubai recently, and they are really, really interested in having an RPM Italian Dubai. We're talking with them, and I think that could be a natural fit. It was impressive to see the restaurant scene there — people eat out every night. It's incredible. The restaurants are packed, and there are so many American brands there. I think RPM would be a perfect fit. We're in talks now, and that's a strong possibility.
Have there been any challenges in expanding RPM to new locations? 
Bill: I don't think so. You've got to have the right location, and in D.C. I was on the site scouting and we looked at probably 20 or 30 locations. When we signed the lease on RPM Italian D.C., a week later one of the newspapers there picked the best intersection in D.C. and lo and behold, it happens to be the intersection where RPM Italian D.C. is going. Thank God we signed the lease when we did! Had we waited a week or two after the article went out, I'm sure they would have tried to bump up our rent.
Great timing!
Bill: We're excited about it. We have to give credit — we have great partners. We couldn't do it without them. It's a great team; we know what we need to do and we get it done. Like Giuliana said, we all check our egos at the door.