The USDA estimates that 30 to 40% of the United States' food supply is wasted, so it's not surprising that one key element of the zero waste movement is reducing food waste in particular. 
Some cities like San Francisco and New York are passing legislation to achieve the goal of zero waste, and restaurants in Europe – such as Silo in the UK, Amass in Denmark, and Nolla in Finland – have become models of zero waste. It's not clear whether those efforts will be enough to combat climate change, but according to Anthony Myint, one of the founders of Zero Foodprint and the Perennial Farming Initiative, restaurants hold the key to literally reversing global warming through regenerative agriculture. 
If that sounds crazy, it's important to note that very recent research shows that removing carbon from the soil is a major solution – perhaps even the primary solution – to the climate crisis. Recognizing that the restaurant industry represents the biggest economic sector in the food system (beating retail and agriculture), Zero Foodprint not only helps restaurants to improve sustainable practices, reduce food waste, and become carbon neutral, but also to fund regenerative agriculture by connecting diners, restaurants, and farmers. 
"Many restaurateurs are pretty disconnected from farming, so they don't understand the potential that the 8 billion acres of farmland and grassland represent to society in terms of turning bad atmospheric carbon into good soil carbon," Myint explains. "They also don't understand the actual levers for change." 
Myint says that nature can heal itself quickly as soil increases in vitality, and as atmospheric carbon becomes living things in the soil. A ranch that sells cows into a feedlot may not have the money or resources to switch to grass-fed practices, but "society needs them to use that land to take carbon out of the atmosphere." With a different model, the same ranch might be able to pull enough carbon out of the atmosphere each year to offset the emissions of millions of gallons of gas. 
"This program allows an average restaurant, and by extension, the average citizen, to invest in projects on the land," says Myint.
The Zero Foodprint website details their crowdfunding approach to capturing emissions through farming, using restaurants as the engine and the science behind the project. A few cents from every meal at a participating restaurant (1% added to the customer's bill) adds up to provide the funds needed for farms to switch to renewable farming practices, or restaurants can participate by going carbon neutral, which begins with an audit, called the Life Cycle Assessment.
While most Zero Foodprint restaurants are in San Francisco, New York, and Copenhagen, we spoke with three chefs and restaurateurs in other parts of the country to learn how they have adopted more sustainable practices in partnership with Zero Foodprint.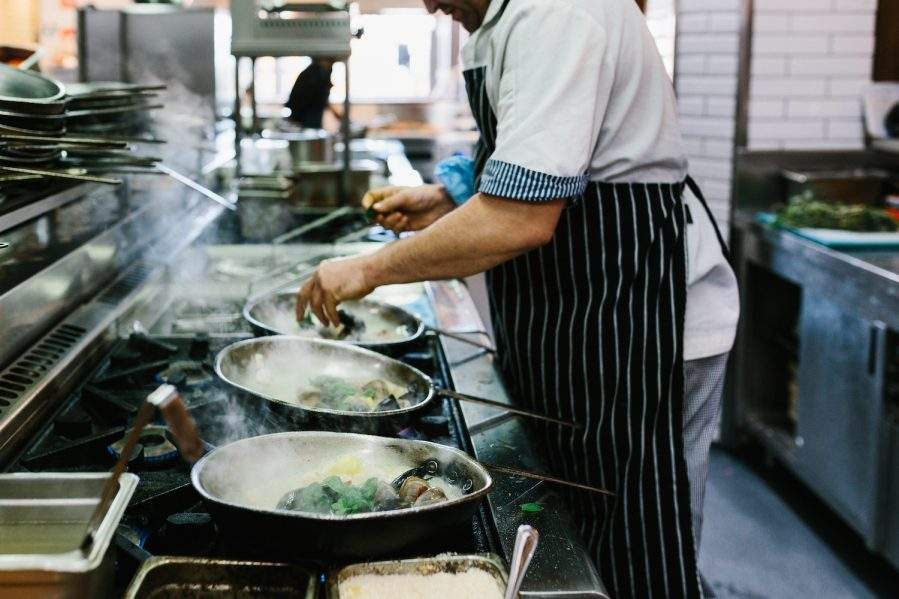 Audit
The Zero Foodprint program requires a Life Cycle Assessment, which gauges the climate impact of operations in the restaurant. 
For chef and restaurateur Stephen Williams of Bouquet in Covington, Kentucky, the audit was fairly easy. As a farm-to-table restaurant, he says, "we were already composting and using compostable paper and little to no plastic. Most of our food is locally sourced. It just took time to fill out the form." 
Executive chef and co-partner Kevin Fink of Emmer & Rye in Austin, Texas agrees, adding that an energy audit from your city is an easy first step that allows you to "recognize very quickly where you're wasting energy." 
Chef-owner Ryan Ratino of Bresca in Washington DC points out the simple, achievable changes, noting that a lot of ideas save money without impacting the guest experience. "We eliminated 80% of the gas in the kitchen – there's one gas range and everything else is electric or wood fire," he says.
Sustainable practices
Each chef shared ways in which their restaurants have become more sustainable and saved energy. 
For Williams, a mindset change came from working more closely with farmers. "Once I worked with the farmers, I took on their mentality," he says. "Now I'm trying to prevent waste instead of just recycling." 
Fink already had a massive compost program at the restaurant and notes that 100% of their produce comes from within a hundred miles. They also make their own spices and vinegars rather than purchasing them. 
A key change at his restaurant was making sure that every cook has a bin next to their station so that scraps can be sorted, reused, and repurposed for sauces, lacto-fermentation and more. Now, they are purchasing far less.
Another change? "We had new Nest thermostats installed with settings for work so there are only lights on in the dining room when the room is occupied." 
While many restaurants use disposable plastic tasting spoons in the kitchen, Ratino purchased metal tasting spoons, which are washed and reused, saving money and reducing plastic. His restaurant never used plastic straws, and after the audit they switched vendors to avoid the six plastic rings surrounding tonic water and club soda.
Additionally, he says, "switching to-go containers was really easy for us because we don't really do carry-out, so the increased price of a different carry-out container or bag didn't affect us financially as much as it might for another restaurant." 
Ratino is also a fan of preserving and fermentation. "We pickle and ferment and we use different techniques," he says. "We dry carrot tops and them and grind them, and they taste like seaweed." 
Other changes Ratino mentioned include cutting back on the number of deliveries per week and even picking up some things directly from the airport, since it's on his route to work.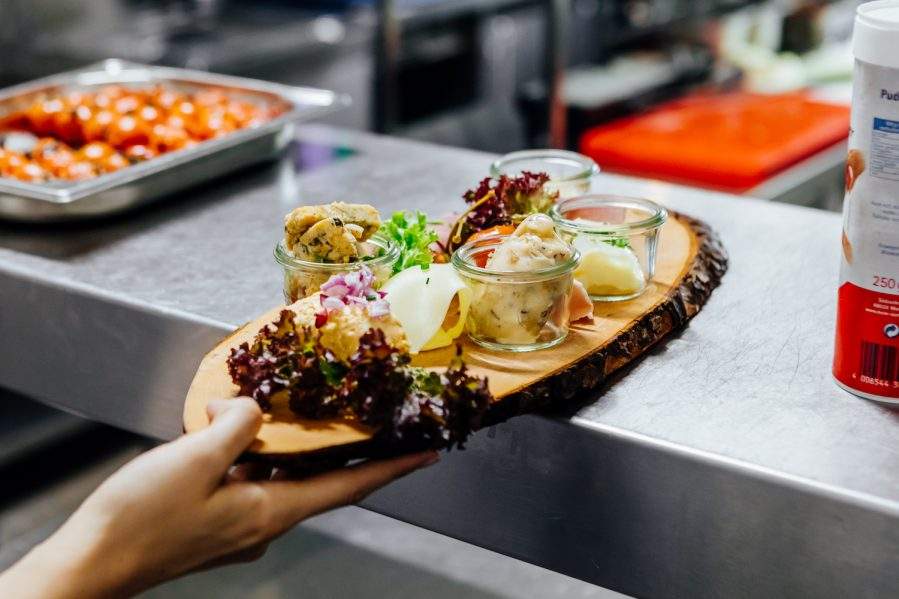 Benefits
Chefs were drawn to Zero Foodprint initially because they care about the planet and sustainability, but since they got involved, their food is often fresher and actually tastes better. 
Fink saw a big benefit from the audit process. "The process taught us things that we didn't know that impact the environment and to look closer at the way we store and source everything." 
Another major benefit is in marketing. Rantino mentions booking groups and selling out some events thanks to customers who react positively to the Zero Foodprint statement on the restaurant's website. Zero Foodprint backs this up: the organization says that 88% of consumers want brands to address climate change. Also, Williams says he sees distributors offering more local products due to restaurant demand. 
Because of Zero Foodprint's collaboration with the state of California, Myint says, "Corporations like Salesforce and Square have agreed to make the Zero Foodprint participating restaurant a preferred vendor. This is an easy way for companies to align their climate goals and Corporate Social Responsibility Programs with their restaurant spending."
More tips from the chefs: 
Start with processes that don't cost any money – and save on utility bills

Embrace the diversity of vegetables and plate dishes to showcase them

Preserve ingredients by making sauces and vinegars and through lacto-fermentation

Ask staff for their ideas to reduce waste, so they can visualize where they can make a difference

Connect with other chefs through Slow Food and Chef's Collaborative to help with buying power and piggy-back purchases with others.

Join Zero Foodprint! Sustainable practices draw savvy diners (and it never hurts to be mentioned in the same breath as the world's most innovative restaurants).