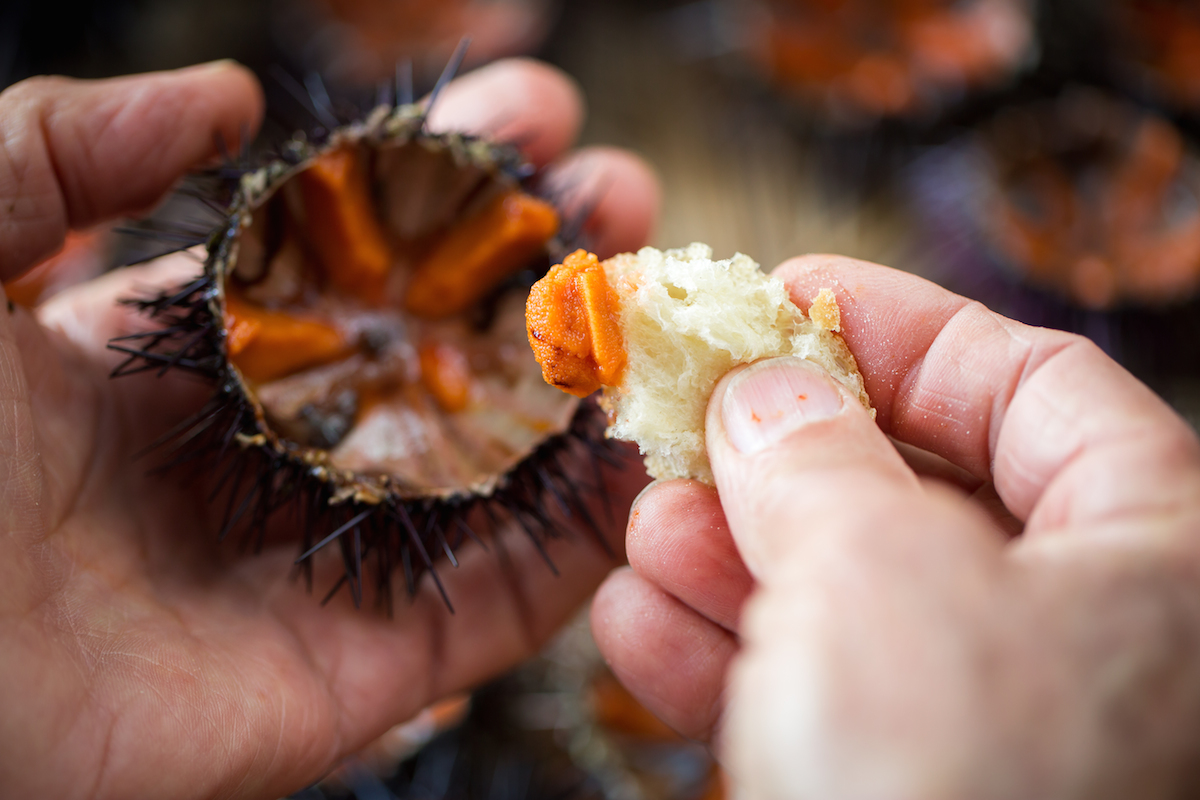 Sea urchin, a type of marine animal related to sea stars and sand dollars, have been around for some 540 million years. Harvested from Vancouver Island to Baja California on the west coast and along New England's shoreline from Marine to Massachusetts, sea urchin is prolific, sustainable, and usually available year-round. Divers, connected to a boat-based hooka, plumb the depths of water thick with seaweed to hand harvest red and, less in demand, purple sea urchin. A delicacy in Japan, uni – as it is called there – has recently become a regular feature on menus that feature cuisines from other regions.    
San Francisco-based chef and partner of four Bay Area restaurants, Jennifer Puccio refers to uni as "the foie gras of the sea." Puccio, who opened her latest restaurant, Leo's Oyster Bar, in San Francisco last year, admits to having fallen in love with uni. She mixes it 50-50 with butter to slather on lobster rolls and uses it as a dip for chilled oysters. "A lot of people request it for French fries," she admits. But adding uni, she says, is all about bringing out the flavor of the sea. "Uni adds a seafood quality without being over the top or superfluous," Puccio says. "It really brings out the brininess of the star ingredient." Here are 8 top uni dishes that celebrate this tiny marine animal.
Saffron Spaghetti with Uni Sauce, Clams, and Sweet Peppers, GreenRiver, Chicago, Illinois
Executive chef Aaron Lirette of GreenRiver, who recently earned a Michelin star for his modern Midwestern cuisine, quickly discovered a signature dish in his saffron spaghetti with uni sauce, clams, and sweet peppers. Though the dish's protein and vegetables change with the seasons, the sauce, a deceptively simple reduction of shallots, onions, fish stock, and dry vermouth, remains the same. Finished with heavy cream and uni, the sauce is tossed with the noodles, adding a precision-tuned coating to every strand. Each bite is infused with the ineffable briny flavor of the uni, ensuring the dish's popularity all year long. Make a reservation at GreenRiver.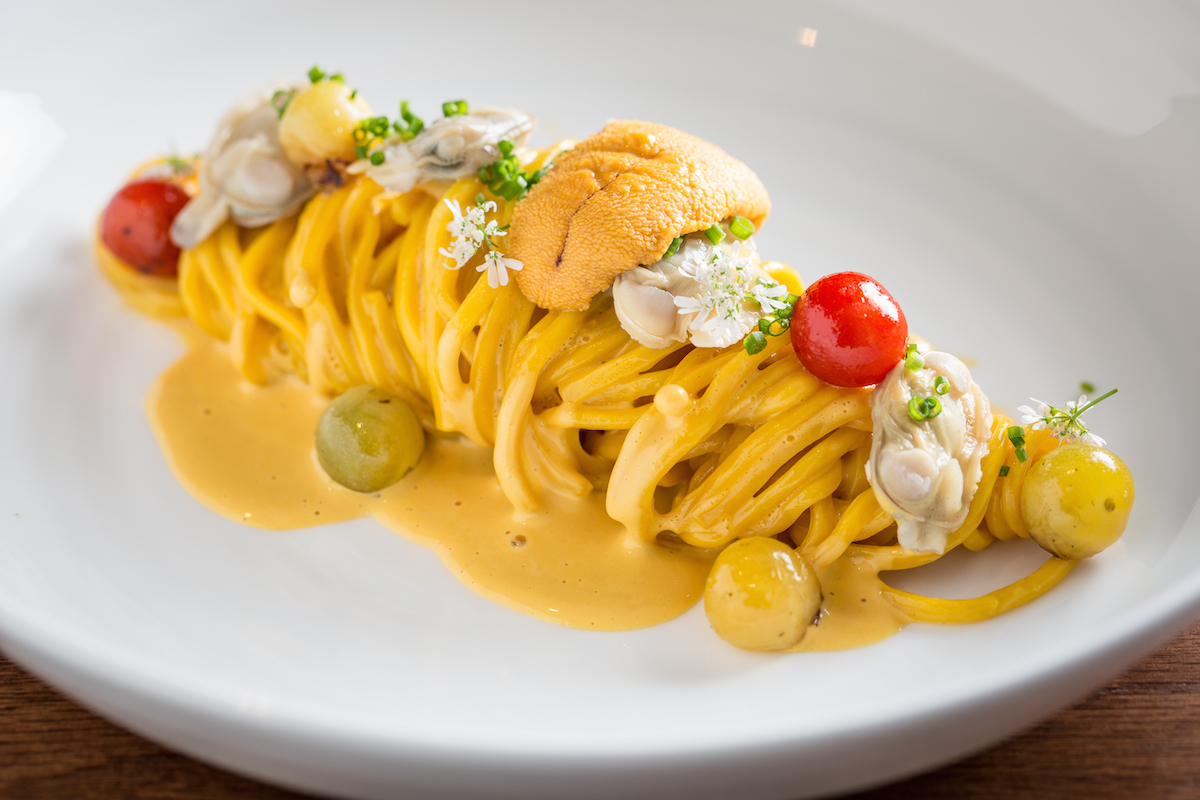 Uni Tostada, Cosme, New York, New York
Renowned chef Enrique Olvera is known for his commitment to the Mexican flavor repertoire, but at his New York outpost Cosme, chef muses on the interplay between Mexican and North American flavors. His uni tostada riffs on a classic American dish surf and turf. Of course, the corn in the tostada is milled in-house using different Mexican landrace, or ancient corn varietals, each day. The crab is swaddled in a bone marrow-enriched tomato salsa that coaxes subtle sweet smokiness from burnt habaneros. The dish finds an even deeper richness from the lobes of uni that top the dish and unite the flavors of Mexico and American with the flavor of an ocean shared by both — the Pacific. Make a reservation at Cosme.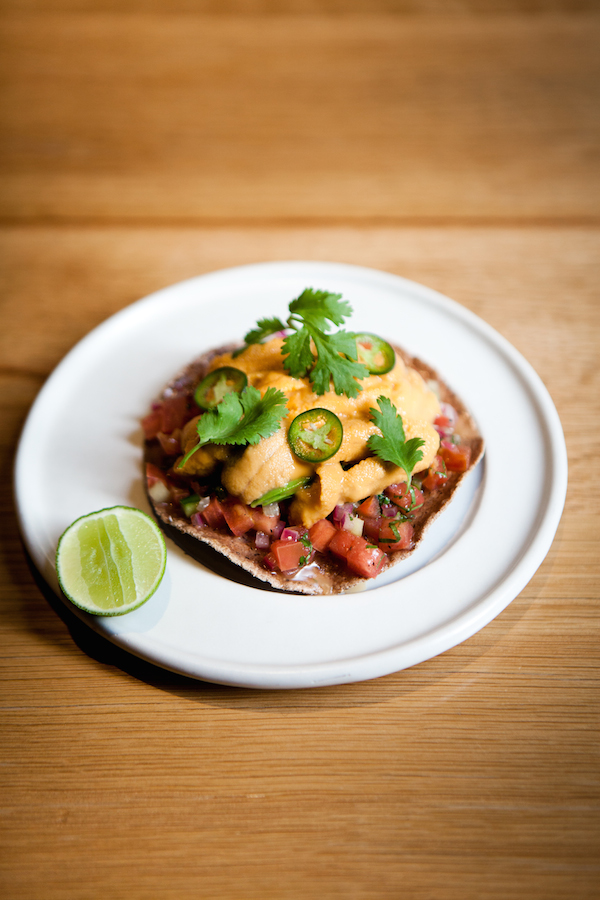 Red Abalone with Chanterelle Mushrooms, Eel, and Sea Urchin, Navio, The Ritz-Carlton Half Moon Bay, California
Jason Pringle, chef de cuisine at The Ritz-Carlton Half Moon Bay, adds uni to the menu at Navio wherever he can. "Uni is extremely versatile," he says. "I often use it to finish sauces as it adds a sweet brininess without adding salt." Foraged ingredients are at the center of the red abalone with chanterelle mushrooms dish with everything but the eel hand-harvested in California. The fattiness of the Japanese eel seems over the top when paired with the rich softness of the uni, but it straight up works. It's a dish designed for the cool evenings of coastal California. Make a reservation at Navio.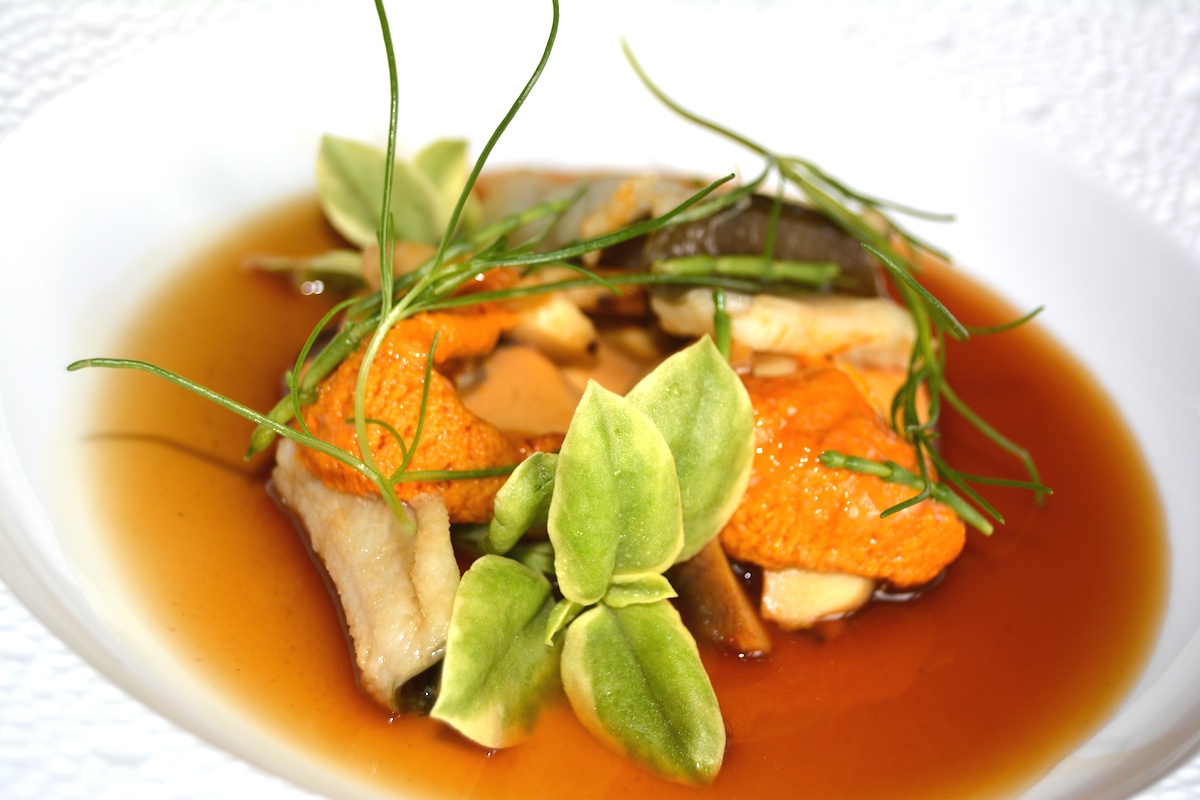 Petrale Sole with Mushrooms and Uni Butter, Headwaters, Portland, Oregon
Chef Vitaly Paley admits to a passion for reinventing classic dishes. At his newest Portland area restaurant Headwaters, he riffs on sole bonne femme, a dish from the French canon. Paley stuffs local petrale sole with Dungeness crab or mushroom duxelle but always serves the dish with a sea urchin vin blanc sauce. "The sauce gets a bright orange color from the urchin," Paley says. Paley normally works with Santa Barbara sea urchin but enjoys Maine's harvest when he can get it. "They are sweeter," he says. Served with the bone as a decorative adornment, the dish is an instant hit, as much for its optics as for its rich flavor. Make a reservation at Headwaters.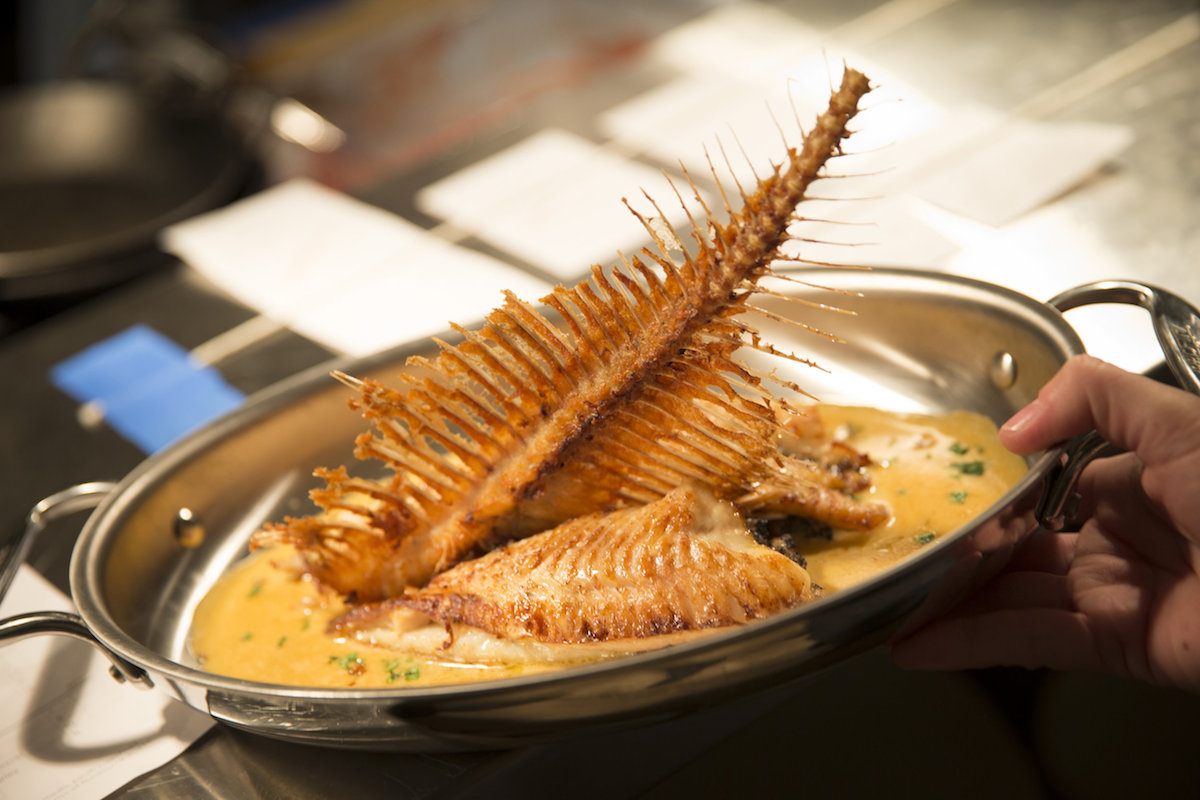 Uni Bucatini, Waypoint, Cambridge, Massachusetts
Chef Michael Scelfo built the Waypoint menu to feature coastally-inspired fare. On the menu since Waypoint opened last summer, the uni bucatini keeps the focus on pristine ingredients. The dish features just a few well-curated ingredients, including pasta made with house-milled flour, Italian bottarga, Maine sea urchin, and a wood-smoked egg yolk. It may appear simple, but the result is a pasta dish sauced to coat the palate so perfectly with alternate hits of salt and fat, it skitters across the earthly realm and flirts with the divine. Make a reservation at Waypoint.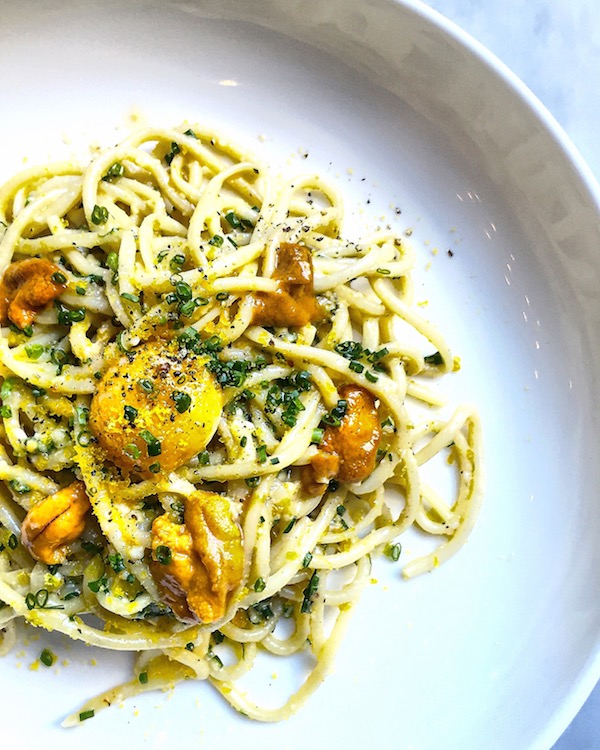 Braised Short Rib with Uni Butter, Leo's Oyster Bar, San Francisco, California
Though beef may not seem like the best protein to showcase uni's unique umami qualities, chef Jennifer Puccio of Leo's Oyster Bar loves the surf and turf combination. Braised with red wine, veal stock, and herbs, the ribs are served with a demi-glace topped with chunks of bone marrow. House-cultured uni butter is drizzled over the dish, that, when mixed with the accompanying mashed potato and demi-glace, makes the dish impossible to stop eating. "Bone marrow steps in as an ideal flavor partner for uni," said Puccio. "We like this combination so much, we created a new dish to feature these two ingredients." Look for roasted bone marrow topped with uni tongues on Leo's Oyster Bar new spring menu. Make a reservation at Leo's Oyster Bar.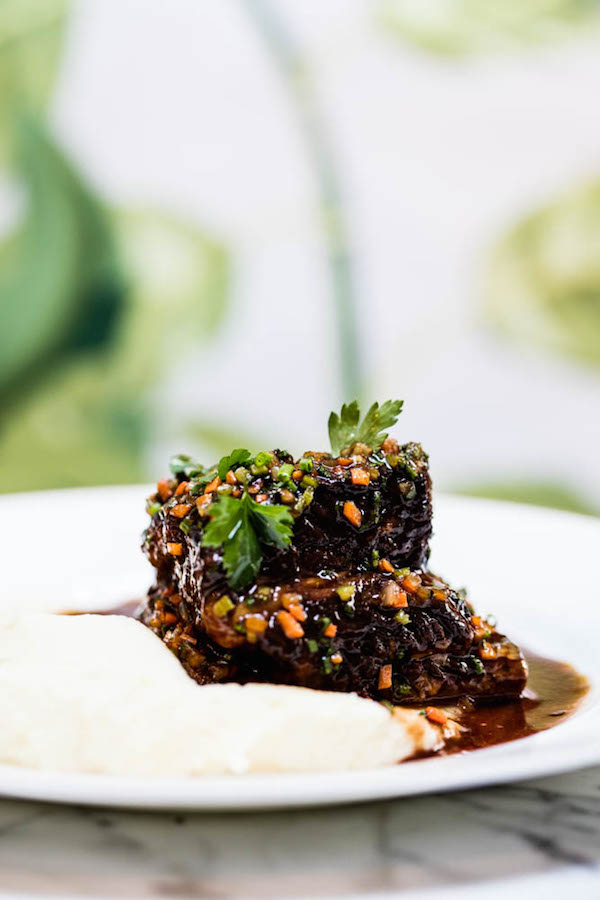 Smoked Uni Spoon with Osetra Caviar, Quail Egg Yolk, and Yuzu, Uni, Boston, Massachusetts
Chef Tony Messina, onboard since 2012, sought a fresh take on a dish that was Uni's signature since opening in 2002. Designed as one perfect bite, the uni spoon starts with a raw quail egg yolk. Messina adds a lobe of applewood-smoked sea urchin, sourced from Maine, and Israeli osetra caviar tossed with yuzu juice and chives. It's a satisfying and flavorful bite. Be warned, dear reader, that it is hard to eat just one. Make a reservation at Uni.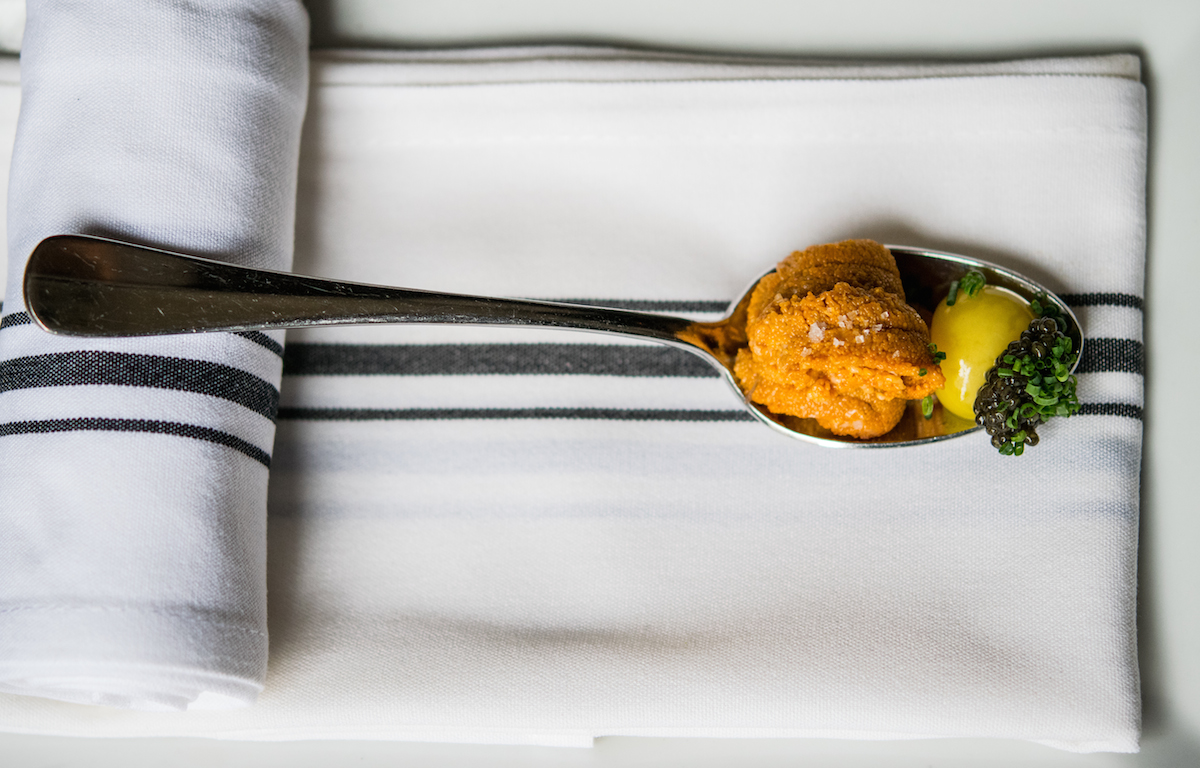 Squid Ink Farfalle with Pheasant Confit, Lemon, and Uni, Oak & Rowan, Boston, Massachusetts
With a focus on steak and seafood, Oak & Rowan is a recently opened spot for unconventional pairings. Pasta and uni are natural partners, but executive chef Justin Shoults reinvents the idea with housemade squid ink pasta and pheasant confit. "The umami flavor of the squid ink is reinforced with the uni," says Shoults, who works with Maine-sourced uni. And the dark pasta provides a beautiful color contrast to the pale uni. It's a match made in heaven. Make a reservation at Oak & Rowan.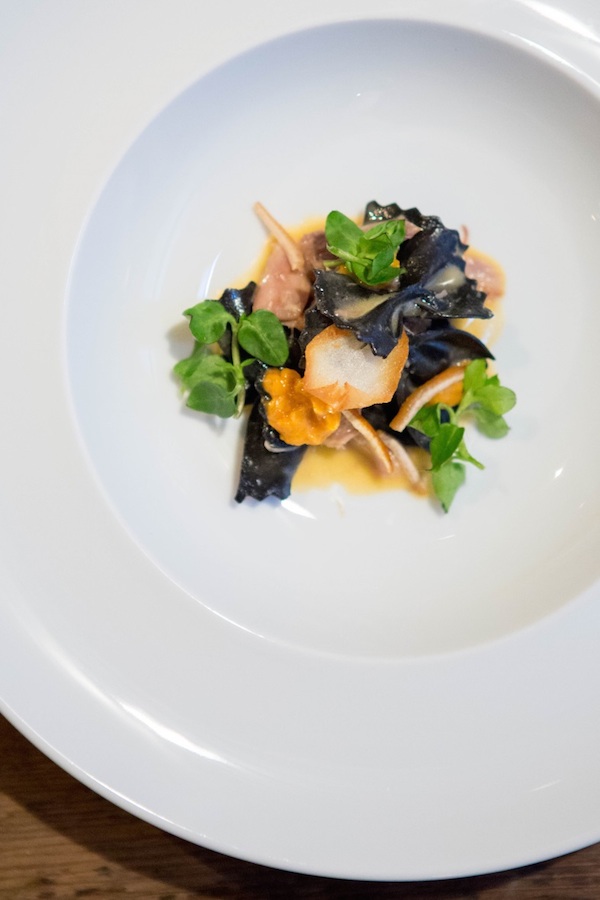 Which restaurant gets your vote for serving top uni dishes?Let us know here or over on Facebook, G+, Instagram, Pinterest, or Twitter.And, remember to snap + share your #dishpics with us on Instagram for a chance to win in our weekly giveaway.
Christina Mueller is a San Francisco-based writer, epicurean adventurer, and culinary sleuth. Find her at //christinamueller.com and follow her on Instagram @EatDrinkThink and Twitter @EatDrinkThink.
Photo credits: Fiamma Piacentini (Cosme); Andrea Merrill (Uni); Galdones Photography (GreenRiver); Megan Swann-StarChefs (Oak + Rowan).