O, Canada. You do winter so fine. With fireplaces, warm, intimate settings, and heartening seasonal menus. Bright, spirited cocktails, too. Winter in Canada is not a season, it's a reason — to relax, enjoy the long, lingering nights and dine out at cozy restaurants like these 10 hot spots. Whether you're looking for a fireside table to set the mood on a date or you want to tuck into a toddy with your best friend, OpenTable has you covered with these and thousands of other restaurants around the world.
The Nook Chophouse-Fairmont Jasper Park Lodge, Alberta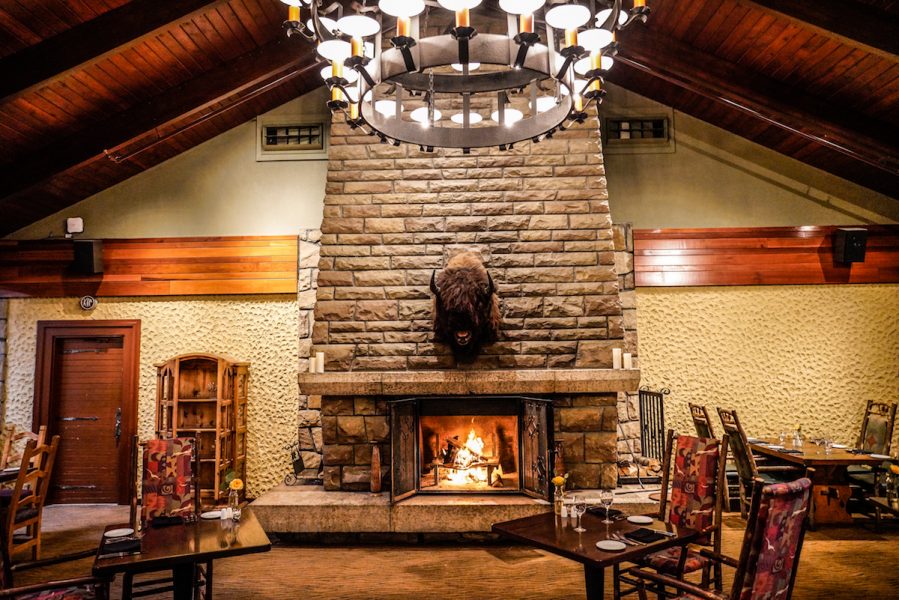 It's the ultimate cozy cabin escape — an upscale rustic mountain chophouse that serves hand-selected wild game, organic meats, and locally-sourced seafood — and a roaring stone fireplace for flame-side convos about your ski day or snowshoeing adventure. An extensive wine list (238 bottles!) makes a perfect pairing for a locally-farmed dry aged AAA Alberta ribeye or bacon-wrapped bison tenderloin, both served with applewood smoked potato gratin, Brussels sprouts with dried cranberries, and maple vinaigrette. Make a reservation at The Nook Chophouse-Fairmont Jasper Park Lodge.
Chez Muffy, Quebec City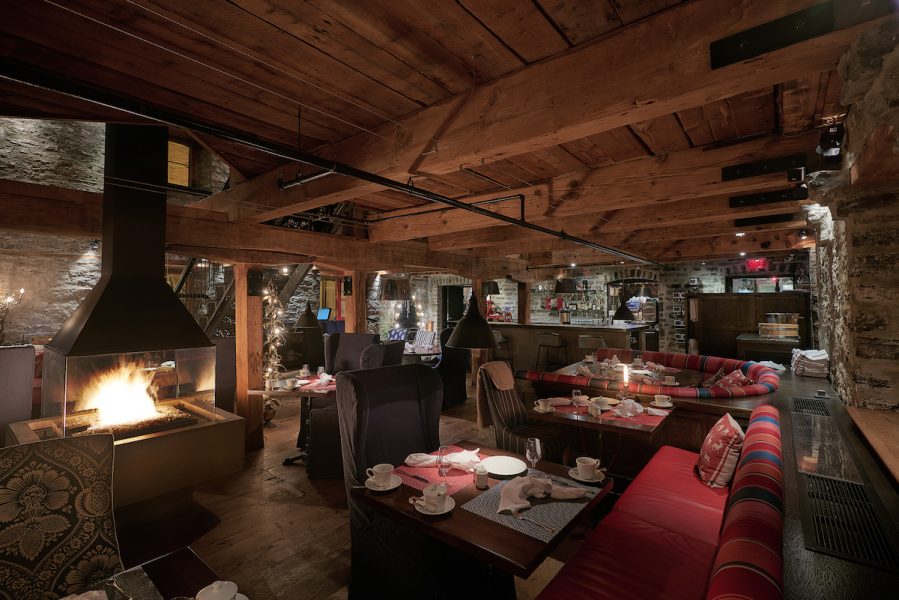 Featuring family-style, farm-to-fork fare, this Old Quebec dining destination is a favorite of Quebecois. Housed in a historic 1822 maritime warehouse and sitting pretty on the St. Lawrence River, the original walls and wooden beams radiate charm while the menu, helmed by executive chef Julien Ouellet, shows off classical French and Canadian seasonal cuisine with ingredients sourced from the hotel's farm on Île d'Orléans. Think deer sausage with apple spaetzle, pan-seared duck foie gras, lobster Champagne risotto, a Quebec cheese platter, and apple buckwheat cake for dessert. Make a reservation at Chez Muffy.
Taverne Square Dominion, Montreal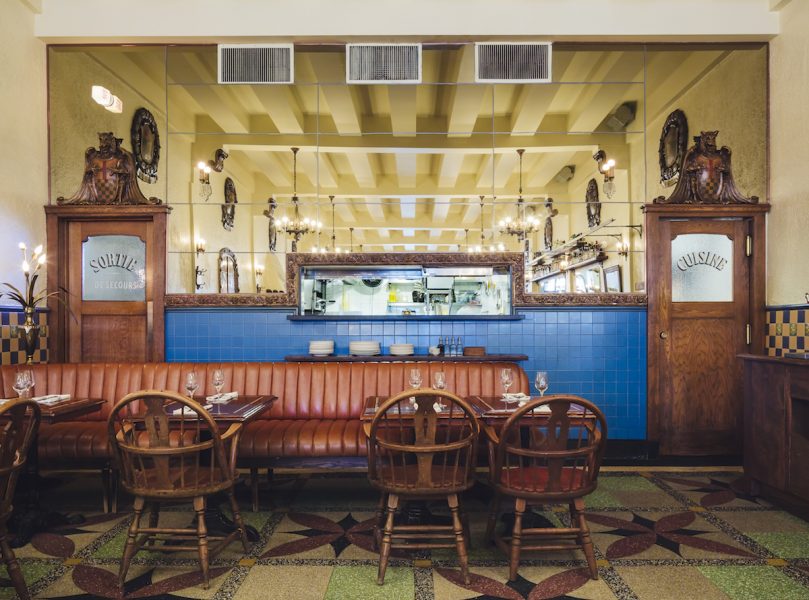 This tavern has good bones. Dating to the 1920s, it's unpretentious yet refined with cheerful, dangling chandeliers and wintry comfort food, the kind you especially you crave on a snowy day including classic British dishes like Cornish hen, Scotch egg, and bangers and mash. And because freezing temps are a darn good excuse to eat a rich, comforting dessert, save room for the sticky toffee pudding. Pre-dinner, kick back at the handsome, elongated bar for a pint of beer, a glass of wine, or a Canadian Old Fashioned. Make a reservation at Taverne Square Dominion.
Maison Boulud, Montreal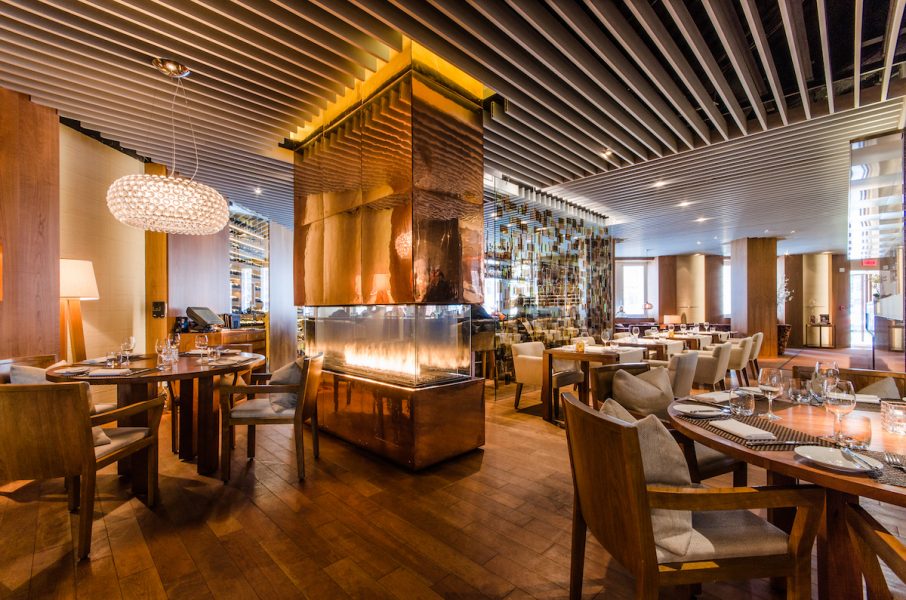 This: a flame-throwing, glass-enclosed fireplace that's the heart of the restaurant in the middle of the room between the bar and dining area. "We can definitely say that it is the centerpiece of the restaurant that brings a warm and cozy atmosphere," says Francois Parmentier, Ritz-Carlton Montreal communication manager. The fireplace stokes heat as do the hearty winter dishes like oxtail onion soup with Gruyere cheese and sea bass with za'atar, chickpeas, and pomegranate. Make a reservation at Maison Boulud.
Sky Yard at The Drake Hotel, Toronto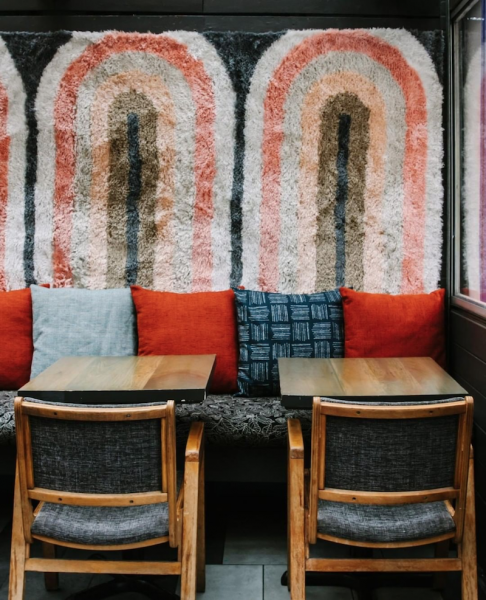 Summer doesn't own rooftop season at this stylish urban spot, with a Marfa-inspired terrace that's all about lush greenery, bright colors, and intoxicating city views. The partly-covered, open-air, year-round rooftop remains toasty with heated lamps and winter-loving dishes like a roasted lamb sandwich with tomato jam, caramelized onion, and Gruyere; a sourdough brie grilled cheese; steak tartare; sushi rolls; and comfy classics like chicken leek pie and buttermilk fried chicken. Make a reservation at Sky Yard at The Drake Hotel.
The Grill Room at Fairmont Chateau Whistler, Whistler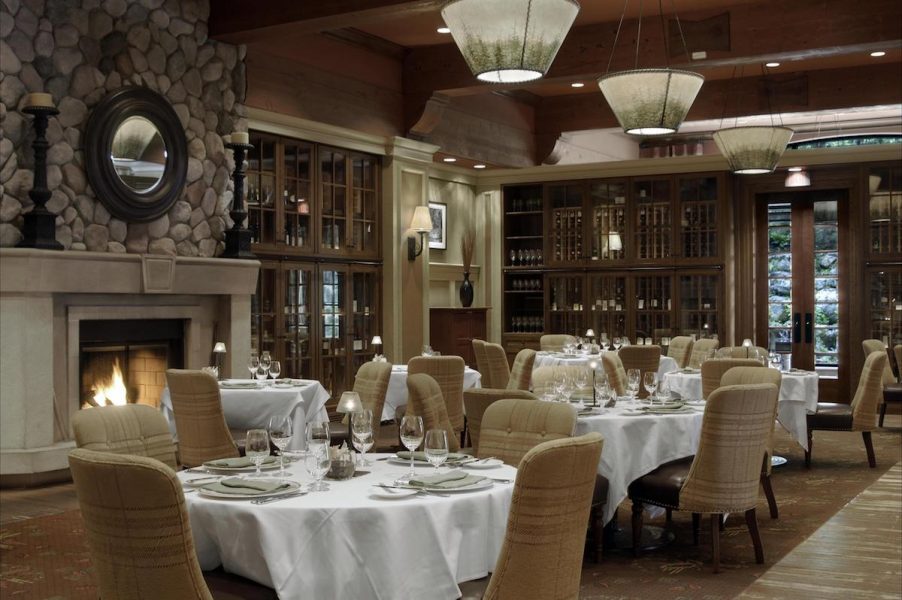 The impressive stone fireplace is one reason to dine here in the middle of winter and, because it's flambée season, go with the tomato gin soup made with locally-sourced mushrooms, double-smoked bacon or confit duck, flambéed tableside with Schramm gin. The wine list shows off British Columbia's finest, including the occasional sabered bottle of sparkling wine. It's also hot cocktail season — sip an alpine warmer like the chocolate raspberry peppermint liss (Chambord raspberry, peppermint schnapps, and hot chocolate). Make a reservation at The Grill Room at The Fairmont Chateau Whistler.
Vieux-Port Steakhouse, Montreal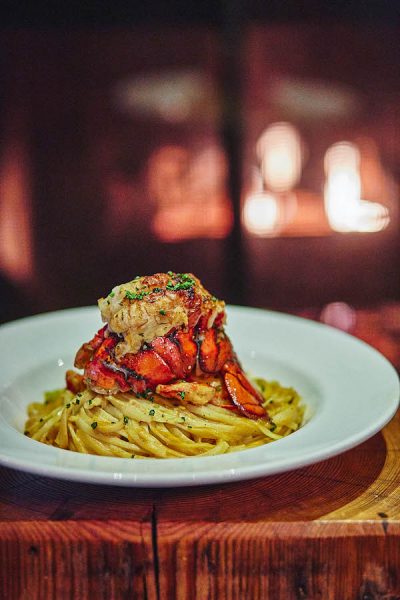 Expect not one but several roaring fireplaces at this restaurant that's housed in a century-old building with solid stone walls to trap that heat. The escargot au gratin and garlic is a perfect fireside app, as is the French onion soup au gratin. The menu also features steaks that are AAA Canadian certified and aged for at least 30 days — the Quebec ribeye is a standout. Or, if seafood warms your palate, the fresh lobster linguini served with fresh herbs and cream sauce awaits. Make a reservation at Vieux-Port Steakhouse.
Modavie, Montreal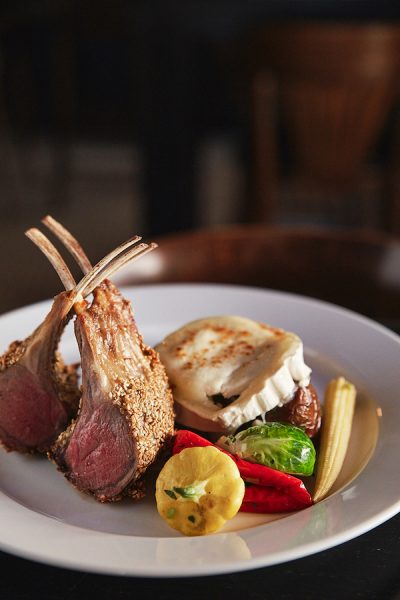 Old Man Winter would choose this jazzy French bistro for its warm, soulful tunes and vibe — ingredients for a perfect respite from the cold. The hot jazz bar is home to live local bands seven nights a week, and the far-reaching winter menu brings the bistro to another octave with rack of lamb with sesame crust (grelot potatoes, paillot de chèvre, seasonal vegetables) and chicken supreme (grain-fed chicken, caponata sauce, truffled mashed potatoes). And generous pastis tastings are guaranteed to take the chill off on a frigid night. Make a reservation at Modavie.
Taverne Gaspar, Montreal, Canada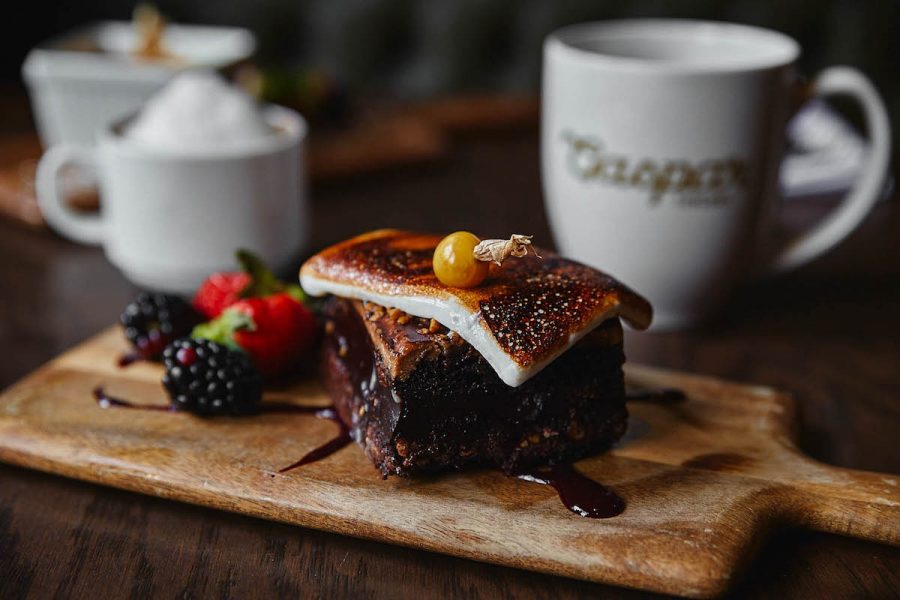 Mention s'mores and warm campfires come to mind — nice in the summer but even more appreciated when it's single digits outside, no? The nostalgic childhood favorite served here is an especially rich s'mores dessert, built with chocolate cake, mousse, crumble, and homemade melted marshmallow. And the cozy level at the tavern is upped with comfort food favorite mac and cheese that's made with lardons, green peas, mozzarella, and aged cheddar. You'll want s'more. Make a reservation at Taverne Gaspar.
Verses Restaurant, Montreal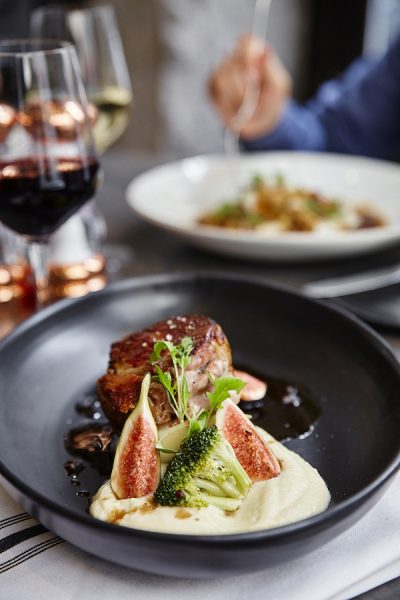 Poetic justice is served at this lively bistro with floor-to-ceiling windows that peek out onto the snowy streets of Old Town Montreal, bundled-up passersby strolling by. The menu is well versed in locally-sourced ingredients. Standouts include the foie gras parfait, an appetizer of foie gras, crumble, gingerbread, kumquats, and cannelé and the grilled celeriac entree made with compressed fennel, carrot puree, fried oyster mushrooms, puffed quinoa, and nuts. Make a reservation at Verses Restaurant.
What are your picks for cozy Canada restaurants? Tell us here or over on Facebook, Instagram, Pinterest, or Twitter. And, remember to snap + share your #dishpics with us on Instagram for a chance to win in our weekly giveaway.
Laurie Bain Wilson is a Boston-based journalist, author, and essayist who writes often about travel, food, and baseball. Find her on Twitter @laurieheather.