Treat your taste buds: Explore McPherson Square restaurants.
McPherson Square Restaurants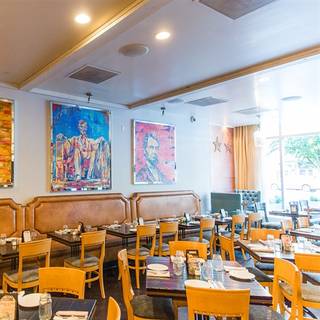 Lincoln - DC
Booked 105 times today
We were very pleased with the menu choices. The only problem was that the salmon dish stated "root vegetables" which turned out to be mainly beets (not a favorite at all). Change the menu to specify beets. Love all root veggies except beets-I know I'm not alone. More

OpenTable Diner -
Discover McPherson Square
McPherson Square is the location of many food trucks that specialize in all types of authentic cuisine. In addition to tacos, pizza, falafel, and sandwiches, there are even trucks that offer Thai, Indian, and Ethiopian food, as well as some innovative fusion recipes. If you are looking for more of a traditional sit-down restaurant, there are plenty of options for American fare. These dining establishments serve prime cuts of steak and seafood. Italian delights are also plentiful in this neighborhood, so you can enjoy classics like chicken parmesan or shrimp scampi. There is also some great soul food in the area.
More Neighborhoods Nearby McPherson Square
Explore the best restaurants near you