Treat your taste buds: Explore Chantilly restaurants.
I visit the Westfields Marriott for special occasion brunch such as Christmas, Easter, etc and always find the food, ambiance and service to be excellent,and will continue to do so as long as it is available. The complimentary champagne is always a nice touch. More

OpenTable Diner -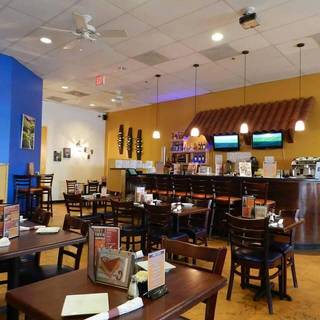 Don Churro
Booked 1 time today
Don Churro is a fusion Peruvian restaurant bringing together traditional recipes and ingredients with new trends. The ceviches are a must to try! The trio of ceviches presented by our chefs will transport you to Lima, Peru where life revolves around its gastronomy. Aside from ceviches, Don Churro is praised for its lomo saltado, chaufas, seco de cordero, arroz con mariscos and of course, the bistec de barrio, a meat lover's first choice. But let's not forget about the famous churros rellenos with dulce de leche (caramel) and nutella that are just delicious! More
Discover Chantilly
One would expect an area as ethnically diverse as the Chantilly neighborhood in Washington, D.C., to have quite the variety of restaurant options. On this account, you will not be disappointed. There are 103 Asian restaurants alone, such as many Thai and Chinese dining establishments. Illustrating an appreciation for the Hispanic heritage of the region, there are also 43 different Mexican restaurants to enjoy. These include national franchise chains along with some homegrown favorites. You can also find traditional American food throughout the neighborhood. Grilled hot dogs and burgers are among some of the most unique and delicious foods to be found in the region.
More Cities Nearby Chantilly
Explore the best restaurants near you