Treat your taste buds: Explore Gibsonia restaurants.
We'll be back! Delicious spiral zucchini appetizer, very unique root vegetable soup of the day or entrees were very good as well. I ordered the winter vegetable bolonaise with potato gnocchi, my husband raved about the chicken pot pie and my brother in law enjoyed the fish and chips. Just the best on a frigid January evening! More

OpenTable Diner -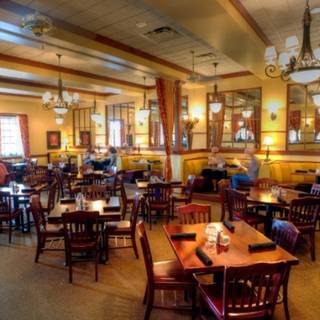 Atria's - Richland
Booked 1 time today
Always good food, and great service. Used a coupon sent to me by Atrai's. Will be back again this month. More

OpenTable Diner -
Kings Family Restaurants is a chain of family restaurants based in North Versailles, Pennsylvania. It has locations in Pennsylvania and Ohio. Kings opened its doors in 1967 with a handful of family recipes, handed down through generation, like meatloaf, chicken fried steak and roasted turkey. Through the years Kings has made lots of changes and grown with you, our loyal fans. While you will still find you favorites on the menu, we've added new dishes and are sure to please like Grilled Strawberry Salmon Salad, deep Fried Brussel Sprouts and the wildly popular Ultimate Craft Burger. Our goal has always been to please, and we prepare your meals fresh daily, with love. Kings is honored to serve you. So, take a load off, relax and let us feed you. We are sure you'll find something to satisfy your appetite, fries and all. Life, eat it up!More
Discover Gibsonia
Located just 17 miles north of Pittsburgh, Gibsonia features a vibrant and diverse restaurant scene that includes a choice of cuisine for any diver. Phenomenal Mexican, Italian and Chinese eateries cater to more adventurous palates, while classic American comfort food is found at several budgetary levels, from diners to American gastropubs. Gibsonia's most commonly offered meal is pizza, however, as the town is home to a variety of outstanding pizzerias and sandwich shops that'll leave both you and your wallet full. If you're looking for Pennsylvania specialty foods, Gibsonia eateries offer plenty of local options like pork and sauerkraut and "dipsy" eggs.
More Neighborhoods Nearby Gibsonia
Explore the best restaurants near you