Treat your taste buds: Explore Solon restaurants.
Harvest Kitchen & Lounge
Booked 10 times today
Well duck confit was my favorite...until the CLASSIC beef stroganoff special last Wednesday. WOW! What a winter dish. More

OpenTable Diner -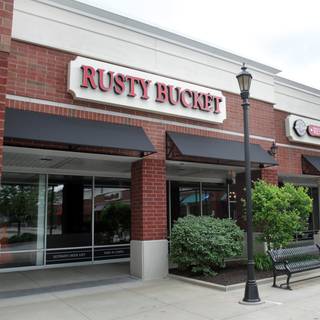 Rusty Bucket - Solon
Booked 2 times today
Rusty Bucket is a casual American restaurant and tavern, a gathering place where people come to share laughter, smiles, and great conversation over food that makes everyone happy. Satisfying and familiar, the menu is classic American fare, thoughtfully prepared from scratch by each location's Executive Chef. Cocktails are considered a craft, made-to-order by highly-skilled bartenders. From barrel to glass, no short cuts are taken with the carefully selected beer list. The perfect draft is guaranteed. Join us for lunch, grab a drink after work, bring the kids for dinner - we've got a seat for you! Great Food. Great Drinks. Great People. The Bucket Life.More
Discover Solon
Solon is an eastern suburb of the Greater Cleveland area of Ohio. This neighborhood has many family friendly dining options, including Japanese-style hibachi restaurants alongside plenty of taverns, bars and grilles. Solon offers quite a few coffee shops, bagel delis, cafes and breakfast places. One breakfast spot is known for its giant Belgian waffles topped with sliced banana, chopped pecans, whipped cream and caramel. Solon has over twenty different quick service restaurants, many of them specializing in farm-fresh produce in their salads and on their sandwiches. For another taste, choose a sandwich shop serving up juicy cheesesteak sandwiches made with the freshest steaks on house-baked bread.
More Neighborhoods Nearby Solon
What's your craving? Search by cuisine
Explore the best restaurants near you