Clayton Locals Are Talking About
What's great about the dining scene in Clayton?
Lovely small town feel.
OT
OpenTable Diner - Atlanta
What's the dining scene like in Clayton?
Diverse. Vibrant. Interesting.
Treat your taste buds: Explore Clayton restaurants.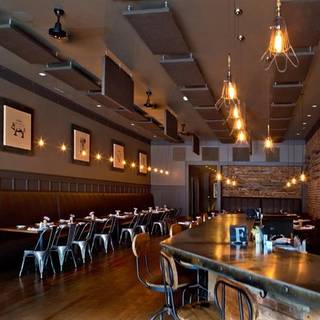 Fortify Kitchen and Bar
Booked 8 times today
Great food. Service was a little slow . Very nice dinner for my wife's birthday. Will make a return trip. More

OpenTable Diner -
Dining in our Wine Cave: Beechwood Inn now offers private dining in our latest addition "the Wine Grotto" a private dining area adjacent to our wine cellar. This is an old cellar room we have transformed into a pretty cool place to enjoy our Chef's Table Dinners. More
Discover Clayton
The small north Georgia town of Clayton is lush, green and buttressed by the Smoky Mountains. It seems remote, but it is surprisingly accessible via a ninety-minute drive from Atlanta. Outdoor enthusiasts will find plenty to keep them busy, but the city's thriving dining scene should not be overlooked. Keep in mind that this is a mountain town nestled in Georgia wine country. Where better than to enjoy a leisurely wine tasting than at one of Clayton's several vineyards? While its downtown area is small but charming, it features everything from the patio cafes beloved by its locals to restaurants led by award-winning chefs. The traveler will find delicious unique homemade desserts alongside gourmet offerings that favor locally grown ingredients wherever possible.
Neighborhoods Nearby Clayton
More Neighborhoods Nearby Clayton
What's your craving? Search by cuisine
Explore the best restaurants near you