Treat your taste buds: Explore Bath restaurants.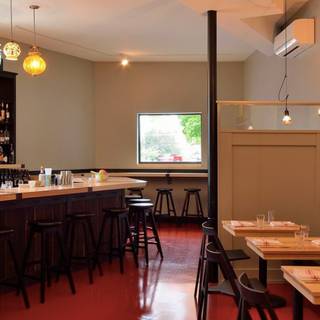 Salt Pine Social
Booked 3 times today
Salt Pine Social never dissapoints! The food is local, creative & delicious. The hamburger is cooked on charcoal & maybe wood? Yum. Gluten free buns available for those of you who appreciate this! The bar is always a great place to sit if you are looking for a more casual night out. More

OpenTable Diner -
Discover Bath
Located near the Atlantic Ocean and featuring plenty of bodies of water in its own limits, Bath, Maine, is a gorgeous city that's home to an appropriately impressive restaurant scene. Beautiful waterfront views can dazzle your eyes while carefully cooked burgers, steaks, and seafood wow your taste buds. If you're looking for a specialized restaurant, Chinese, Italian, and Irish eateries are available as well. Eating in Bath—and all of Maine—is a joyous experience that should be mapped out with your preferences in mind. It must also be mentioned that the city's absolutely delectable fresh-caught seafood, including shrimp, lobster, crab, trout, and salmon, are some of the best in the region.
Explore the best restaurants near you