Western MA Restaurants
Make a free reservation
Treat your taste buds: Explore Western MA restaurants.
Diners' Choice Winners: Best Overall
Western MA's best restaurants based upon thousands of OpenTable diner reviews
New to OpenTable
Western MA restaurants that recently joined the OpenTable network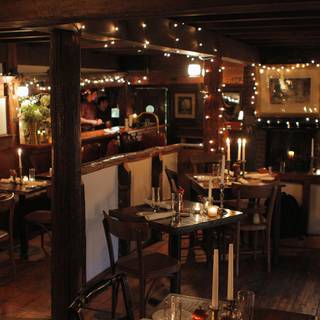 Stagecoach Tavern
Booked 2 times today
The Stagecoach Tavern at Race Brook Lodge dates back to the early 17th century. The candlelit Tavern boasts hand-hewn beams and wide-plank floors spanning multiple levels. It has been a warm and convivial gathering spot for friends, families, and lovers for almost 200 years. Cozy up by our roaring fire in winter months or in the summer relax with a drink under the stars in our courtyard.

Chef Laurel Barkan is originally from San Francisco, where she learned the art of cooking working under acclaimed chefs such as Judy Rodgers at Zuni Café. She has spent the last decade in Mexico cooking for restaurants, retreat centers, and private families.

Laurel is passionate about local, sustainably-produced ingredients and slow food. She draws inspiration from a variety of world cuisines and uses whatever is fresh and in season to make real food -- from scratch.More
The Mick is the best place in the Valley to get together with friends, listen to live music and have a drink and a bite to eat. Come in Tuesday for Burger Night and see why The Mick has Western Massachusetts' perfect burger. Wednesday's Red, White and Brew special is you perfect mid-week pizza and beer fix. And every Thursday, our Mickaroni menu features all of you Italian favorites. Like incredible fish? Kick off the weekend with Thank Cod It's Friday (T.C.I.F), featuring the freshest, tastiest seafood around. We generally keep it casual in here, but Sunday nights can get a little heated with Western Mass's top Trivia Night. Bring your friends.More
Discover Western MA
The down-home feel of Western Massachusetts creates some of the best farm-to-table treats in the country. Stop in for a breakfast of two sunny-side-up free-range eggs with a locally produced sausage patty. For a different taste at lunchtime, visit a seafood cafe and enjoy deep-fried shrimp on a brioche bun drizzled with aioli and accented with coleslaw. When evening comes, find a local restaurant that serves appetizers of full-sized olives roasted in garlic, chili and lemon sauce to spice up your palate. Move on to a pasta salad infused with local red peppers, cabbage, carrots and peanuts adorned with a sesame vinaigrette. For an entrée, select a roasted whole chicken stuffed with cornbread accompanied by summer squash and red pepper jelly for an updated classic New England taste.
More Western MA Neighborhoods