Central Illinois Restaurants
Make a free reservation
Popular Neighborhoods
Dine in the most popular neighborhoods
Treat your taste buds: Explore Central Illinois restaurants.
Diners' Choice Winners: Best Overall
Central Illinois's best restaurants based upon thousands of OpenTable diner reviews
New to OpenTable
Central Illinois restaurants that recently joined the OpenTable network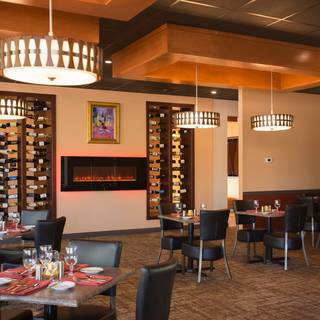 Loukinens' on 4th
Booked 9 times today
We offer a balance of delicious Contemporary American fare with a twist of Classical French technique. Chef Loukinen has created a lunch menu of flavorful soups, salads, sandwiches and more. Dinner is a dining event of palate pleasing courses meant to be savored throughout the meal. Join us today and create your own memory at Loukinens' on 4th!More
Established July 1, 2011, Tuscan Hills Winery is a family owned and operated business. We are especially focused on creating well-balanced wines of the highest quality. We pride ourselves in providing excellent products and the people who work here are knowledgeable hosts who are connected to the story of the winery. As everyone's sensitivities to the smells and tastes of wines are different, our staff is trained to help guests compare the subtle differences in our wines until they find a desirable favorite. Besides our selection of wines, we also offers sangrias, specialty craft beers and a broad range of liquor products for every palate. You are welcome to bring your own food or we have a cooler of specialty meats and cheeses and a menu of Italian breads and pizzas. Tuscan Hills Winery is a family and pet friendly winery with a relaxing, intimate environment and an old world Tuscan feel.More
Discover Central Illinois
With flavors from all over the world, the Central Illinois area is home to some of the state's most diverse dining options. For starters, you can sample some American favorites, such as chicken wings, halibut, and cream of mushroom soup, in a warm and inviting farm-to-table roadhouse. If you'd like to try some south-of-the-border flavors, you won't be disappointed. Head to one of the many nearby Mexican restaurants for authentic dishes or sample something new like octopus carnitas or black cod. There's also a selection of French restaurants that offer elegant dining atmospheres and traditional meals like steak tartare, rillette of pork, and turban of lobster.
Central Illinois Neighborhoods
More Central Illinois Neighborhoods