Treat your taste buds: Explore Leather District restaurants.
Leather District Restaurants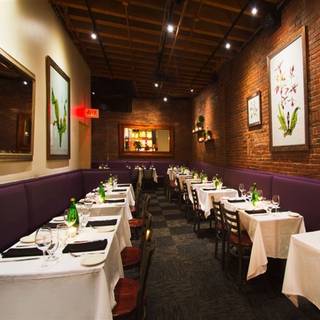 Les Zygomates Wine Bar Bistro
Booked 30 times today
This was a birthday dinner (mine) and we went for the oysters ($1 oysters are available in sit down not just at bar and are delicious). Overall a good meal. Great cocktails. A couple of small boo-boos: our server was initially a bit rattled/seemed unsure of himself--he wrote down the drink order but came back to ask what we had ordered but did not apologize. I suspected an unfamiliarity with the menu/language, but he was very attentive despite serving 5 tables. Management made an appearance a few times to see how we were doing. The Bouillabaisse was billed as coming with lobster but mine did not; also out of two Apple and Beet Melange salads ordered one was missing the apple--salad was delicious though. My husband got the pork loin, which was huge and perfectly cooked, and the sweet potato puree with thyme was amazing. My Bouillabaisse full of seafood despite the missing lobster, good flavor but the broth was a tad salty. The cheese plate was abundant although I think I could have picked better cheeses from Whole Foods. It turned out to be a pleasant 2+ hour meal (our intent); I would definitely return, but stay in the bar and get the $1 oysters and some good ale. More

OpenTable Diner -
Savvor Restaurant and Lounge
Booked 2 times today
Great choice the only disappointment was there was no dessert . I totally understand not having a large amount of desserts offered on the slower nights, but they should offer one feature dessert for the patrons that do venture out on a week night. It was a birthday dinner and to not have a dessert to cap off the night was a little disappointing. Other than this we enjoyed our food and the waitress was awesome. More

OpenTable Diner -
Discover Leather District
Boston is a city rich with diverse neighborhoods offering an eclectic array of activities and dining spots to enjoy. The Leather District is a Boston neighborhood made up of historic warehouse buildings that were used to manufacture leather goods in the 19th century. Within the neighborhood are various seafood restaurants serving lobster dishes, clams, and Boston's best-known dish, New England clam chowder. The area is also home to great French cuisine influenced by the cooking of Julia Child, a resident of Cambridge for over 40 years. Other dining options in the Leather District include small Japanese restaurants, American diners, and imaginative Italian cafes. Contemporary restaurants with award-winning cuisine and live music are also neighborhood favorites.
More Neighborhoods Nearby Leather District
Explore the best restaurants near you