Treat your taste buds: Explore Folly Beach restaurants.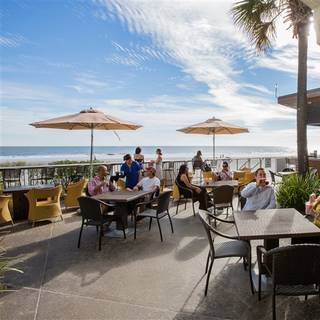 BLU Restaurant & Bar
Booked 3 times today
We've eaten there before and I've always enjoyed the food and the service. A really great place right on the ocean. The people who work there are tops! More

OpenTable Diner -
Discover Folly Beach
From bold, colorful sunsets, to beautiful stretches of beach, to the rich flavors of the food, Folly Beach is one South Carolina location you need to explore. Diners here can savor Frogmore Stew or peel and eat shrimp, then finish it off with a delicious Key Lime Pie and a cold draft beer. What could be better than Caribbean Jerk Chicken, crispy grouper, or a gourmet burger as the sun goes down after a fun-filled day at the beach? With some of the best Southern breakfasts one can find, Irish pubs, international fare, and options for vegans and vegetarians, Folly Beach is a bright summer paradise that discerning foodies should make part of their vacation plans.
Cities Nearby Folly Beach
More Cities Nearby Folly Beach
What's your craving? Search by cuisine
Explore the best restaurants near you