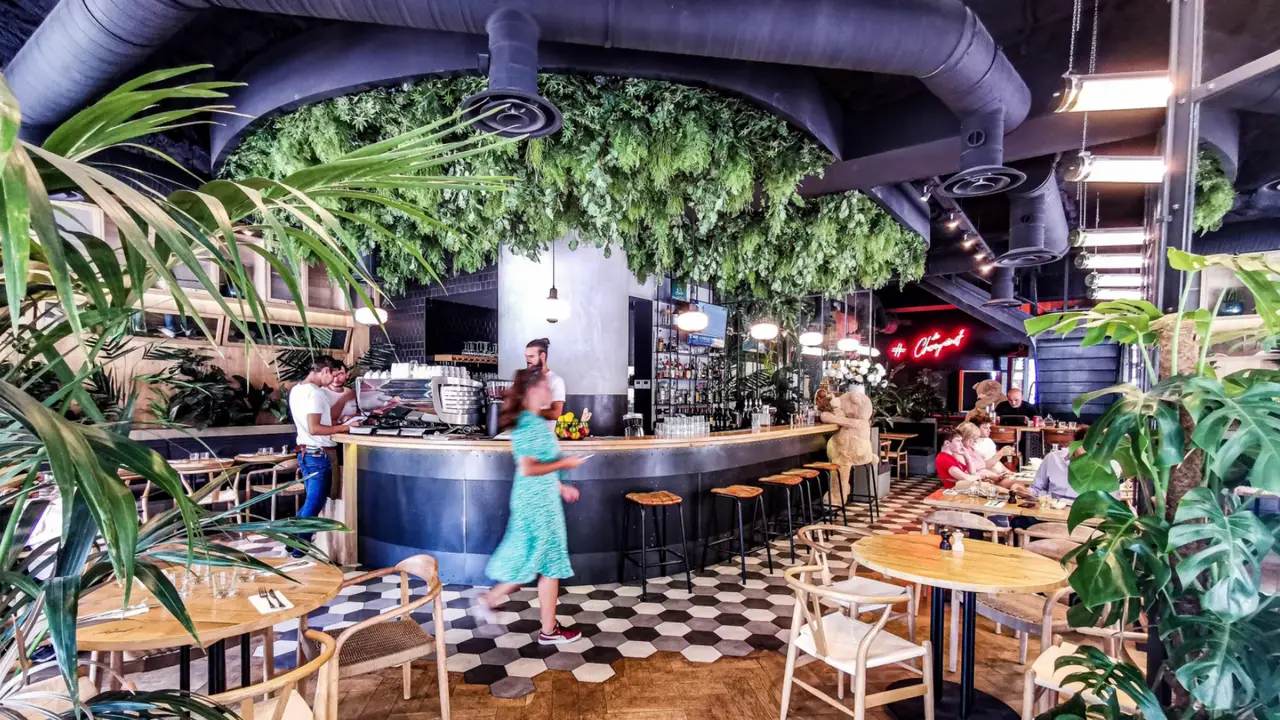 Make a reservation
Order delivery or takeout
Additional information
Dining style

Casual Dining

Cuisines

French, Brewery, European

Hours of operation

Mon–Thu, Sun 12:00 pm–11:00 pm Fri, Sat 12:00 pm–11:30 pm

Phone number

01 42 03 09 93

Dress code

Business Casual
Cross street

Jardin du Luxembourg, entre le Panthéon et le Sénat.

Parking details

Public Lot

Public transit

RER A &amp; B<br />Bus 21 &amp; 38 &amp; 84

Additional

Bar/Lounge, Beer, Beer Garden, Cafe, Cocktails, Counter Seating, Dog Friendly, Full Bar, Gluten-free Options, High Tea, Outdoor Smoking Area, Patio/Outdoor Dining, Patio/Outdoor Dining, Takeout, Vegan, View, Wheelchair Access, Wi-Fi available, Wine
What 49 people are saying
Overall ratings and reviews
Reviews can only be made by diners who have eaten at this restaurant
4.3 based on recent ratings
4.3

Food

4.1

Service

4.3

Ambience

4.2

Value
Dined on October 19, 2023

overall

4

food

4

service

4

ambience

4




Le ChoupinetResponded on October 24, 2023




Dined on October 13, 2023

overall

3

food

3

service

3

ambience

3




Le ChoupinetResponded on October 17, 2023




overall

5

food

5

service

5

ambience

5




Le ChoupinetResponded on October 12, 2023




JG

JoannaG

New York Area

vip

Dined on September 1, 2023

overall

1

food

1

service

1

ambience

1




Le ChoupinetResponded on September 7, 2023




OT

OpenTable Diner

Phoenix

vip

overall

2

food

1

service

1

ambience

5




Le ChoupinetResponded on August 24, 2023




overall

5

food

5

service

5

ambience

5




Le ChoupinetResponded on August 1, 2023




overall

5

food

5

service

5

ambience

5




Le ChoupinetResponded on July 24, 2023




overall

3

food

4

service

2

ambience

4




Le ChoupinetResponded on July 12, 2023




overall

4

food

4

service

5

ambience

5




Le ChoupinetResponded on July 4, 2023




1 person found this helpful

OT

OpenTable Diner

Fort Lauderdale

vip

overall

1

food

1

service

3

ambience

4




OT

OpenTable Diner

Los Angeles

overall

5

food

5

service

5

ambience

5




Le ChoupinetResponded on June 23, 2023




1 person found this helpful

overall

4

food

5

service

4

ambience

5




Le ChoupinetResponded on June 9, 2023




1 person found this helpful

OT

OpenTable Diner

Orlando

vip

overall

5

food

5

service

5

ambience

5




Le ChoupinetResponded on June 5, 2023




1 person found this helpful

OT

OpenTable Diner

Minneapolis

overall

5

food

5

service

5

ambience

5




Le ChoupinetResponded on May 30, 2023




1 person found this helpful

overall

5

food

5

service

4

ambience

5




Le ChoupinetResponded on May 30, 2023




1 person found this helpful

overall

5

food

5

service

5

ambience

5




Le ChoupinetResponded on May 25, 2023




2 people found this helpful

overall

4

food

5

service

4

ambience

4




Le ChoupinetResponded on May 19, 2023




1 person found this helpful

OT

OpenTable Diner

Greater Boston

vip

overall

5

food

5

service

5

ambience

5




Le ChoupinetResponded on May 11, 2023




1 person found this helpful

overall

5

food

5

service

5

ambience

5




Le ChoupinetResponded on May 11, 2023




1 person found this helpful

OT

OpenTable Diner

San Diego

overall

5

food

5

service

5

ambience

5




Le ChoupinetResponded on May 10, 2023




1 person found this helpful

overall

4

food

5

service

3

ambience

4




Le ChoupinetResponded on May 10, 2023




1 person found this helpful

OT

OpenTable Diner

San Diego

overall

5

food

5

service

5

ambience

5




Le ChoupinetResponded on April 18, 2023




1 person found this helpful

overall

5

food

5

service

5

ambience

5




Le ChoupinetResponded on April 8, 2023




2 people found this helpful

overall

5

food

5

service

5

ambience

5




Le ChoupinetResponded on April 4, 2023




1 person found this helpful

OT

OpenTable Diner

Munich

vip

overall

3

food

4

service

3

ambience

4




Le ChoupinetResponded on April 4, 2023




Dined on February 19, 2023

overall

3

food

4

service

3

ambience

3




Le ChoupinetResponded on March 7, 2023




Dined on February 18, 2023

overall

5

food

5

service

5

ambience

5




Le ChoupinetResponded on February 18, 2023




1 person found this helpful

Dined on February 16, 2023

overall

1

food

1

service

1

ambience

1




Le ChoupinetResponded on February 18, 2023




Dined on February 13, 2023

overall

5

food

5

service

5

ambience

5




Le ChoupinetResponded on February 21, 2023




1 person found this helpful

Dined on February 3, 2023

overall

2

food

4

service

1

ambience

1




Le ChoupinetResponded on February 6, 2023




Dined on January 28, 2023

overall

4

food

4

service

4

ambience

4




Le ChoupinetResponded on March 20, 2023




1 person found this helpful

Dined on January 12, 2023

overall

5

food

5

service

5

ambience

5




Le ChoupinetResponded on January 13, 2023




1 person found this helpful

Dined on January 10, 2023

overall

5

food

5

service

5

ambience

5




Le ChoupinetResponded on January 12, 2023




1 person found this helpful

Dined on January 10, 2023

overall

5

food

5

service

5

ambience

5




Le ChoupinetResponded on January 12, 2023




1 person found this helpful

Dined on January 10, 2023

overall

5

food

5

service

5

ambience

5




Le ChoupinetResponded on January 11, 2023




1 person found this helpful

overall

4

food

3

service

5

ambience

5




Le ChoupinetResponded on January 5, 2023




1 person found this helpful

overall

5

food

5

service

5

ambience

5




Le ChoupinetResponded on January 3, 2023




1 person found this helpful

overall

5

food

5

service

5

ambience

5




Le ChoupinetResponded on February 2, 2023




Dined on December 29, 2022

overall

5

food

5

service

5

ambience

5




Le ChoupinetResponded on January 1, 2023




2 people found this helpful

Dined on December 28, 2022

overall

5

food

5

service

5

ambience

5




Le ChoupinetResponded on December 30, 2022




2 people found this helpful
FAQs
You can order delivery directly from Le Choupinet using the Order Online button. Le Choupinet also offers takeout which you can order by calling the restaurant at 01 42 03 09 93.
Le Choupinet is rated 4.3 stars by 49 OpenTable diners.
Yes, you can generally book this restaurant by choosing the date, time and party size on OpenTable.
Make a reservation
Order delivery or takeout
Additional information
Cross street

Jardin du Luxembourg, entre le Panthéon et le Sénat.

Hours of operation

Mon–Thu, Sun 12:00 pm–11:00 pm Fri, Sat 12:00 pm–11:30 pm

Cuisines

French, Brewery, European

Dining style

Casual Dining

Dress code

Business Casual

Parking details

Public Lot

Public transit

RER A & BBus 21 & 38 & 84

Additional

Bar/Lounge, Beer, Beer Garden, Cafe, Cocktails, Counter Seating, Dog Friendly, Full Bar, Gluten-free Options, High Tea, Outdoor Smoking Area, Patio/Outdoor Dining, Patio/Outdoor Dining, Takeout, Vegan, View, Wheelchair Access, Wi-Fi available, Wine
Phone number

01 42 03 09 93