Treat your taste buds: Explore Avon (Ohio) restaurants.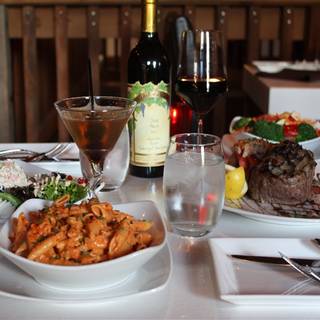 Strip Steakhouse
Booked 16 times today
In one word OUTSTANDING ! The food is great the service is great atmosphere is great . Drinks are awesome! One word outstanding! More

OpenTable Diner -
Veranda Bistro & Bar
Booked 1 time today
I always enjoy going to Verandah. Nice atmosphere and friendly staff. I will be back again! More

OpenTable Diner -
Discover Avon Lake
In the Ohio towns of Avon and Avon Lake, you can enjoy some excellent dining options from these close-knit twin communities. Avon and Avon Lake sit just on the coast of Lake Erie and down the road from Cleveland. From first-rate pizzerias and Turkish diners to reasonably-priced Greek restaurants and steakhouses, Avon Lake offers diverse choices for your lunch or dinner. Opt for some Di Parma pizza at an upscale pizzeria, and end the evening with tiramisu. For an exciting Turkish experience, grab a doner kebab sandwich wrapped in Turkish flatbread and garnished with savory sauces and fresh salad veggies. from the area! For a neighboring take from the Mediterranean, try some chicken skewers with a spicy feta dip at a local Greek favorite. You can also opt for a comforting meal at large national chains featuring seafood, steak or hearty sandwiches.
More Cities Nearby Avon (Ohio)
What's your craving? Search by cuisine
Explore the best restaurants near you