Treat your taste buds: Explore Waynesville restaurants.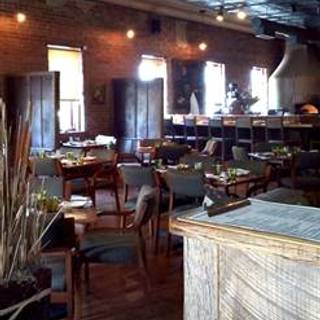 Frogs Leap Public House
Booked 1 time today
We were visiting from out of town and Frog's Leap was recommended for my husband's birthday celebration. Everything was simply amazing! More

OpenTable Diner -
Stayed at Inn. Restaurant was an unexpected surprise. Excellent food and service. Arrived late and did not have to leave the Inn for dinner. More

OpenTable Diner -
Discover Waynesville
Waynesville's friendly and welcoming atmosphere is reflected in its food. Barbecue is the town's chief calling card: Pork roasts play host to regionally produced barbecue sauces in flavor combinations that are spicy but tasty. Brook trout is a classic in Western North Carolina cooking, and it's right at home pan-fried in Waynesville's country kitchens. Oysters taken in from the coast lend a refreshing sea flavor to dishes here. Revitalization projects in Waynesville extend to the town's restaurants, diners and pubs as modern flavors infuse with country classics. The region offers a number of food tours that allow you to experience everything Waynesville has to offer. Of course, no meal in Waynesville is complete without a slice of sweet potato pie.
Cities Nearby Waynesville
More Cities Nearby Waynesville
What's your craving? Search by cuisine
Explore the best restaurants near you