Best Italian Restaurants in Duck
Duck Locals Are Talking About
What's the dining scene like in Duck?
A mix of very casual to very nice dining for all three meals.
OT
OpenTable Diner - Wilmington
Treat your taste buds: Explore Duck restaurants.
We went after a snowstorm in the OBX and they were open! We had eaten there a few years back and had a terrible experience with food and service, and committed never to return. We we're glad we gave them a 2nd chance. We we're warmly greeted and taken care of. Our server/service was fantastic. The salads ordered were top-notch. The seafood pasta could have shined if the scallops and shrimp were larger. Scallops no bigger than a dime & shrimp were extra extra small Great special in a flat-iron steak. Side of shrimp ordered were the same size. Being by sound/ocean better quality/size would keep folks coming back. More

OpenTable Diner -
Always wonderful Danielle & Jaime are fabulous Fantastic scallops Enjoyed every minute and it's such a pleasure to return and Danielle remembers us and greets us with a smile and hugs Love this place More

OpenTable Diner -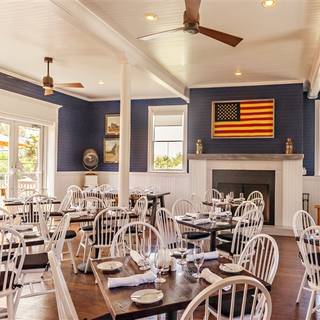 The Lifesaving Station - Sanderling Resort
Booked 2 times today
Absolutely great food and service. Loved the Christmas menu. More

OpenTable Diner -
Discover Duck
Duck is a quaint, residential town that is situated along North Carolina's spectacular Outer Banks. With its gorgeous beaches, beautiful homes and excellent food scene, it's easy to see why Duck is a perfect tourist destination. Being surrounded by water, seafood restaurants abound, and you can find everything from crab cakes to fried clams to fish tacos. The charming downtown is a walkable area that boasts a range of dining options. You can enjoy a slice of pizza, some barbecue or a glass of wine at one of the waterfront raw bars. End the day with a stroll along the boardwalk for a chance to watch the sunset and satisfy your sweet tooth at one of the delicious ice cream or donut shops.
What's your craving? Search by cuisine
Explore the best restaurants near you